DOWNSHIFT STUDIO HONDA CX500
Well today's blog is cool as I consider this builder as a friend of mine, DownShift Studio is run by Jeremy Lacy, an industrial designer based in Denver who specializes in illustrations and sketches of custom bikes, often helping fabricators and builders from around the world visualize their ideas and projects before the metal is cut and the tools come out.
Jeremy had done some prototype sketches for me before and even did the memorial Bike Sketch I am creating in memory of my Mum that passed away and will be raffling the bike off and donating to the Hospice when completed.
The Honda CX500 you see here is his first hands-on project, it's the result of a collaboration between Jeremy and Joel Fitzgerald, and the bike shows far more technical skill than we're used to seeing in a first custom. I knew that Jeremy would do well as he has the foresight in his sketches to see how something will look when it goes under the knife, and under the knife this old CX500 Maggot went, Jeremy had been learning how to weld and fabricate recently, and this would be an exceptional Sketch pad for his platform bike to transform Honda's number 1 chosen Dispatch Rider bike, into a head turning Brat/Tracker.
Jeremy's JD2 Tube bender got a pretty good thrashing, as he designed and hand fabricated the rear tubular swing arm for this CX500 and in its construction Jeremy wanted to make sure that the swing arm had its strong Rigidity and didn't want any compromise on safety that would cause any sort of issue or integrity of the geometry, with the addition of three safety reinforced mounts to the swing arm, gave this set up a very robust structure to handle any road condition that was thrown at it. Have a look and see the work involved, as this is a great looking machine and now a Mono shock, getting the Geomatary is key here and you will soon see if you got it wrong as the bike will bounce like a kangaroo if the angle of the shock is off.
The Sub frame was hand made using 065 wall Cold rolled steel and shaped at the shop to have that sleek look and a minamalistic feature, then they hand pounded, bent and curved a steel sheet to fit over that frame and sent it off to Master Upholsterer Ian Halcott who did his magic using Low profile high density Foam, then lavished with leather Hyde and stitched to perfection.
The front end of the CX sat too high, giving this Project an ugly stance, so a quick strip down and New Race-Tech Springs were added and then the fork tubes were slide through the upper trees to give that lowered stance that they were seeking. Then the front wheel was painted black to stealth up the 19 inch front and the rear had a new 18 inch Comstar rim also painted Black and then had some Blackwall Shinko 705 Rubber shoehorned on, giving the Honda a better profile and ride now, nice stance and a more comfortable posture for the rider now.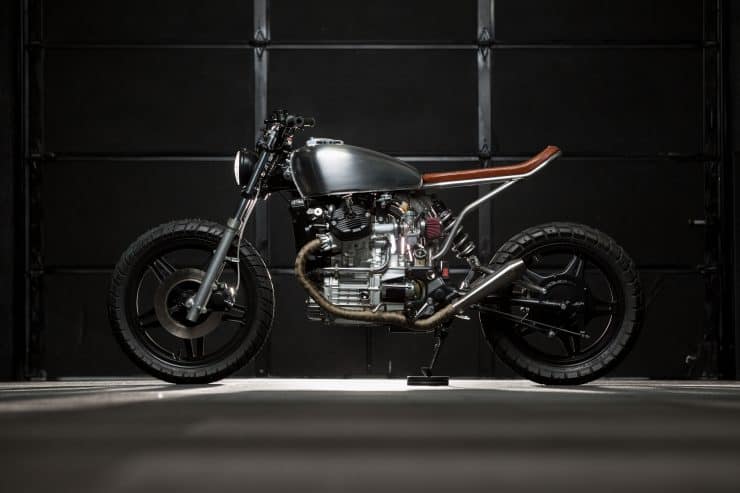 The Bent Four Mill was in pretty good shape, so to save time and money, they just serviced the old girl, removed the stock Carbs and fitted new intake Manifolds of which then got a Brand spanking new set of 34mm Mikunis Gas drinkers attached to make sure this Japanese Iconic  4 Valves per cylinder gets enough Motion Lotion, these are a fun bike, not an arm ripper but the  497-674cc water cooled Longitudinal OHV  80 degree V- Twin gives smooth transitional linear power that just goes on and on and on, how do I know?  I have owned many of them in the UK as I was a Dispatch rider and just having a smooth running motor that handles traffic and of course has great engine breaking, this was a Work Horse machine that I did Hundreds of thousands of miles on over the years.
Plenty of Modern technology sprinkled onto this machine and Jeremy used Motgadget for the two button controls, then they were mounted on a brand new set of Renthal handlebars, the rear of the bike got new LED combination brake light and turn signals to make sure traffic behind him knew he was there. The handlebars received Bran new comfortable grips, New levers and a new throttle assembly set up for a smooth action. The Motor got some detailing too, and the headers were wrapped with some Titanium heat wrap by DEI, on the ends of the headers were fitted some Cone Engineering megaphones that give this V-Twin some Growl.
Jeremy managed to bag, Fettle, smooth and clean up the machine just in time for the  2017 Handbuilt Motorcycle Show of which is one of the best shows in the USA for Hand Fabricated machines that are unique to everyone, this is over in Texas but well worth the trip to show their hard-work off. The Gas tank looks great as all the paint was removed and a Classic brushed finish was completed in time for the show.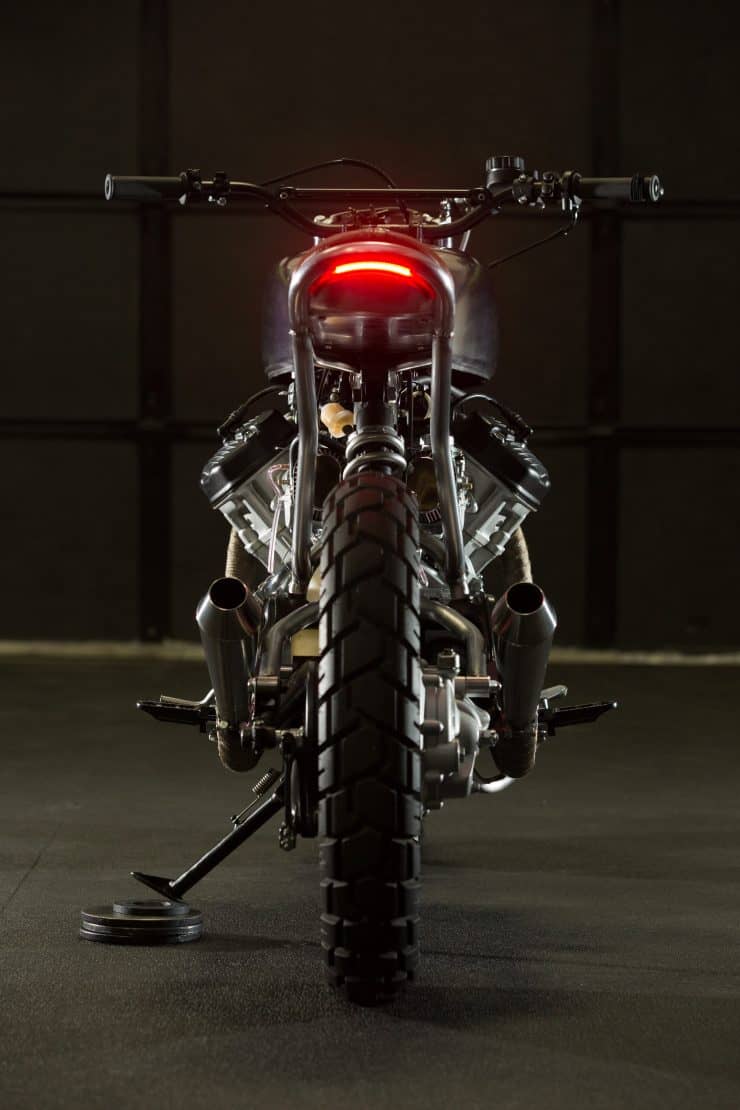 Both these guys did a great job and the HONDA CX500 was well received at the show, put on by the super talented  Revival Cycles. Lots of cool work, hiddent electrical harness and of course battery just add to the many hours of time that was eaten up bringing this machine to life, Great Job Guys.
If you like the look of this minimalist CX500 street scrambler I have good news for you, DownShift Studio currently have it up for sale to help fund their next projects. If you'd like to read more or enquire after the bike you can click here to visit DownShift Studio.

Thanks for reading my Blog and good Luck to jeremy, he is a great designer and now a builder.
Here is some footage of the Handbuilt show for you.

A Few other Videos for you to have a look at.
Comments
comments