Exhaust for SOHC Honda's 1969-1978 The SIDEWINDER
I have been getting a lot of compliments on the 4 into 1 Exhaust I manufacture called The Sidewinder, this really is a great performing system that not only fits well, it sounds crisp and is a true Performance pipe.
These power houses are available in Raw steel, for that Industrial Look, or you can wrap them with Heat wrap for your Custom look, but also I get these Cerakoted in Ceramic and have a Choice of Colors of Black, Silver, Titanium and Burnt Bronze.  These are designed to fit the HONDA CB750K CB750F inline Four Models of the SOHC size, that's from 1969 up to 1978.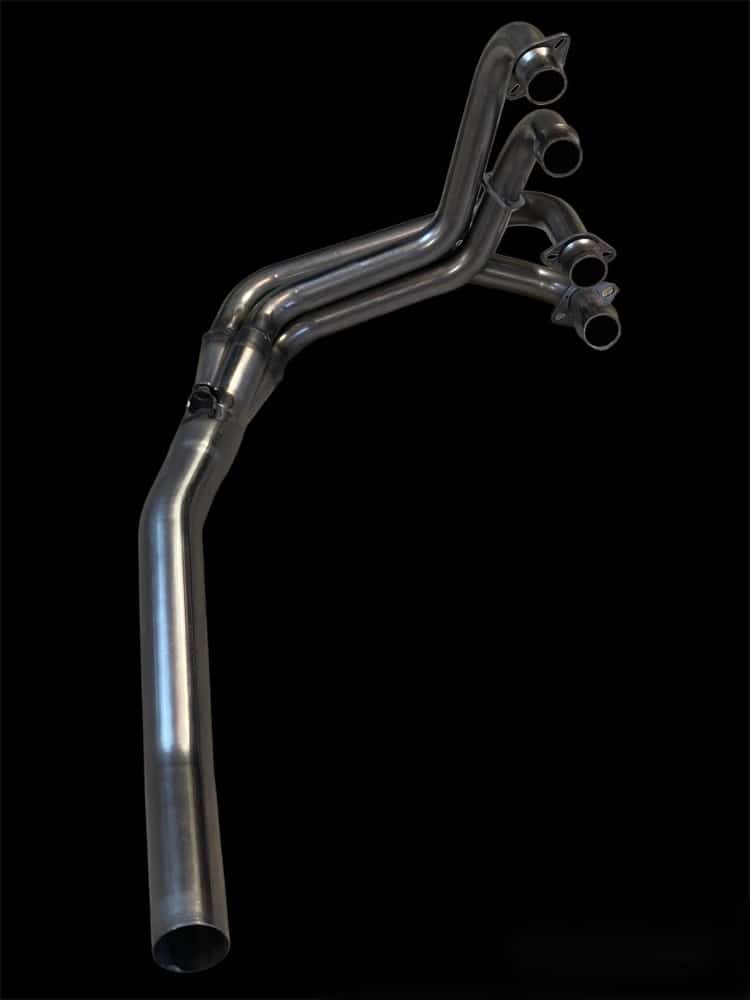 Also , the advantage of this system is that you can still run with your center stand attached as these pipes wrap to the right hand side of your engine and clear the oil pain, the second thing is you have a totally clear access area to your Oil filter housing, which makes for easy oil changes and filter swaps etc.  A really well made system that is affordable and pretty easy to fit, even on your own.  I have done this many times and so glad I went this route, the whole system itself is about 13 pounds so easily lighter than the stock version.
These are all made right here in California and ready to fit to your bike and get you back on the tarmac, these are held into the Cylinder head by floating Flanges, so no more messing around with either half shims or them finned pinch clamps, simply bolt on with 8X35mm Bolts or if your head has studs, then these just slide right on into the ports and simply tighten sequentially.  I use a Stainless Bolt to attach the tail pipe to the header, as springs tend to jump off over bumps, mostly made for the track, so a tried and tested method is a high quality stainless bolt that I supply with the system.
Yes these do come with a Baffle and I do not add any packing to it, I like the 95 Decibel output but if you feel it is a tad loud for your area, then any local Motorcycle shop sells the fiberglass packing or use some steel wool and wrap around the baffle and refit until required sound is found.  No other sound like this, other than a 30 year old Yoshi.
The Photos I have shown are Raw steel, but Ceramic coating is available but takes 10 from order as I take it out to the company to do their coating but worth the wait, I do not store any in house coated, only because we get the odd Earthquake and don't want to scratch anything if they moved when we get a shaker here.
I personally Pack these systems and send them out to you, I help Over sea's Customers on the duty form, so you don't get any silly fee's, remember, I have been doing this almost 23 years, so know my way around the shipping forms. I packed these in a 16x16x21 double walled box and make sure that it doesn't move when in transit.
Let me know if I can help you with one of these systems for your Machine, be it Stock, Custom, Café Racer. Brat. Tracker or a Dailey parts Runner, this exhaust will give you more pep and looks pretty cool too.  It breathes so well you will be stoked at the velvet tone that it emits at the rear end.  Looks Great and value for money, way better than the Chinese stuff that's out there.
I am super stoked at these systems and have many repeat Customers from all over the states and the globe, I love to hear from customers that really do enjoy the burble that these 4 into 1 exhausts make and the throttle response is second to none. All would suggest you up jet 2 sizes on the main, but that's it, these run so good.
If you need any more information, please drop me a line at carpy@carpyscaferacers.com or call or even text me on 714-598-8392, thanks for checking in and hope that you enjoyed this page on the Sidewinder Exhaust.
Raw Steel System : $380
Cerakote Coated :    $480
Comments
comments