Joshua Tree for a few days on 2 wheels Celebrating the 59 Club OC section 3rd anniversary.
Entire industries have sprung up to foster a growing tendency of people to remove themselves from the rigors of daily life, especially into the Motorcycle and Custom World. To be able to get away from the Rat race, the crazy traffic, the continuous phone messages and just living life in the fast lane, to be able to get away from the hustle and Bustle of today's life, we thought that a little get away is warranted, and as the weather up at Joshua Tree is forcast to be really nice for riding and camping, well, we just could not let this opportunity fall from our anticipated hands.
I myself have never frequented this part of California in the 18 years that I have resided here on the West Side, so for me, this was a great adventure into the unknown at Joshua Tree and, I must say, I was not disappointed at all. This tranquil part of the desert is pretty darn busy in the Summer season, with people crawling over more Rocks than than a 4×4 Expo, but this week was perfect to be able to visit this National park area and enjoy some well earned down time.
Tranquility at its very best is something that Doctors should prescribe when feeling tired and needing a little pick me up in those busy parts of your life, although taken in small doses, as Relaxation after a while, can become somewhat tedious if continued for a long length of time. But to be able to share these few days of vicarious distractions, I thought that I would try and encapsulate the time we spent in this Great part of California, many of you may have frequented this park at some time in your life, and many, like me, is somewhere I have always wanted to go and experience for myself and these few days gave me the opportunity to see for myself.
So, on the Thursday we loaded up the Van, we have a Big 250 Transit of which we fitted out with an RV outlet, allowing us to camp at any RV park, we simply remove the Triumphs, park them outside and then we fit the double bed which is filled with air, then the table is erected, the Kurig is on top of that and Jenn, My Girlfriend put the crock pot on and had the Chili cooking slowly as we set up campsite here at the Rv camp Grounds at Joshua Tree.
What a superb set up this place was, it is about 4.8 miles off the main road, set back by the mountains and Joshua Trees, with Blue Skies and the wild life applauding us for keeping them company for a few days, we set up camp and took in the view of the lake there and set the Fire pit up for some warm heat at night, as it does get cold this time of year in the evening.
Joshua Tree is only about a 2.5 Hour drive from Orange County and once you get passed the 91 freeway, the roads are smooth and all you see are mountainous areas and them bloody huge creepy wind machines, reminding me of H. G. Wells  famous Novel and Movie, The War of the Worlds.
Our Buddy Steve Fellon also from the O.C. drove up in his pick up with his T100 in tow, he had one of those Pick Up tents he wanted to try out and that took less than 10 minutes to erect and he too was ready for a few days of riding and, exploring this Rock Clustered area and boy were we looking forward to that. So, all was set and the first night we had a little ride around, and the weather was perfect but they did expect some rain in the evening and as we bought along some bike covers, we were OK about that, as the O.C. weather 2 hours down the road would have rain all weekend.
We rode into the park and purchased our passes, about $12 each, that gave us the freedom of the park for all the time we were here, Jennifer had mapped a few rides out and we were all set up and did about 35 miles of local National park riding, but the night was drawing in and we headed back to camp, where upon we lit the fire pit and Jenn opened up the crock pot that had been slowly cooking for a few hours, Perfect, with Jack Daniels and Coke, we sat around the fire and enjoying the amazing constellation of the nights stars.  Watching the Satellites cruise by silently to the crackle of the fire made this a superb start to the little get away vacation that was so lovingly warranted.
We then made our way to our own little covered rooms, Steve wrapped up as he was trying the tent out for the first time and I tell ya – the temperature dropped pretty quickly at night, so I was glad that Jenn and I had an electric heater going in the Van.  The night was quite a long one for me as the heater kept coming on and off as it has a Thermostat and I tossed and turned for quite some time, but Morning came and although chilly, it warmed up as the Sun emerged from behind the mountain.
We gassed up and headed out for a ride around, it was a fun day, taking in the Parks variety of Joshua Trees and Cacti etc, we rode the countryside and enjoyed the scenery, one stop was Skull Rock, amazing to see how different forms have been made over the Millions of years and this Rock looked like a Skull for sure, albeit I was more concerned of Bloody tarantulas sneaking up on me as I took photos or walked up and around the Rock formations, it sure made Jennifer and Steve laugh as I scoured the area for wild arachnids.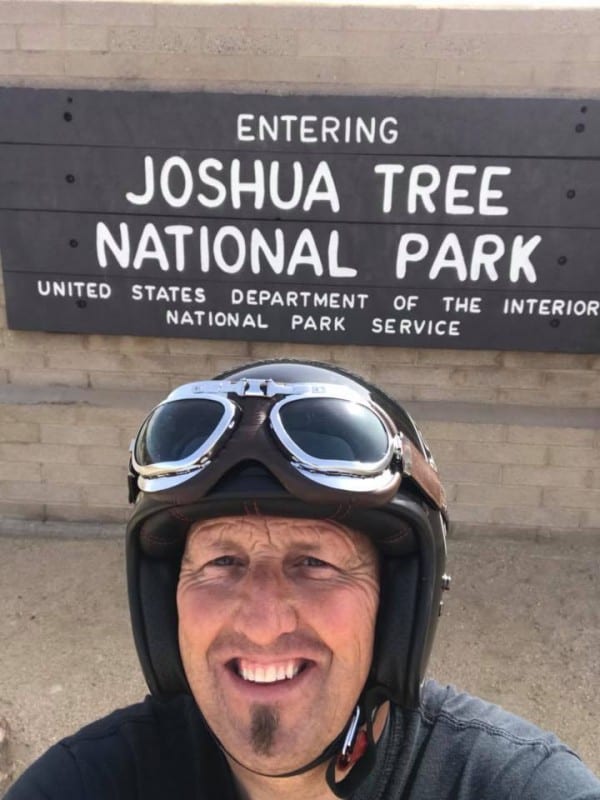 Whilst heading back to camp and the weather started to get colder, I noticed that all of a sudden my Triumph was not handling as it should, and as I crossed the center line IO could definatley feel I had a major issue, we got to the turning of the road for the campsite and as I stopped I looked at the front tire, and that was fine, looked at the back, Oh Feck!  A puncture.
I now had to ride Conservatively as the rear tire was now starting to be as flat as three week old Soda, I had another 4.8 miles of bumpy road to navigate, and, trying not to destroy the wide 170 Tire, proved top be somewhat demanding, as I struggled with the steering, I placed all my weight as far up front of the bike as I could, my poor old Walnuts thought they were being inserted into a cement mixer as we trundled up the road, in pitch dark too, that 4.8 Miles seemed to be an eternity.  Steve Fellon was sweep so made sure  we could be seen as he followed me at at 40 mph, I really need to save the tire and the rim, as these were $3000 wheels and being Aluminum, they could easily get out of shape if you receive a puncture and ride on an uneven road.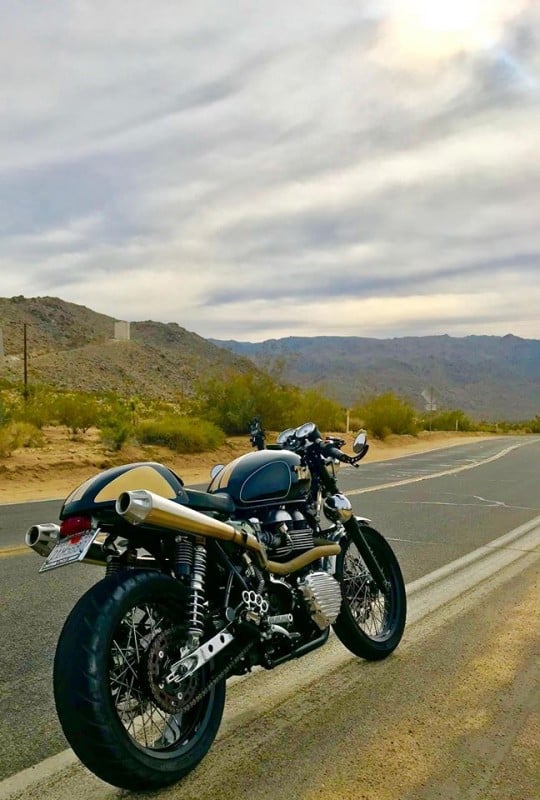 Turning into the camp was an adventure as the bike wanted to throw me off like a Novice Bull Rider, but I grabbed the Bull by the horns and Navigated the best I could up the track of the camp, that was no easy task, as the driveway was dirt and sand, so wobbling around like a camel with a bad foot, I somehow managed to maneuver this machine up to the Van and park up.
Where the hell was I going to get a tube for this rear rim, its not a stock rear wheel for the Thruxton, its a Friday night and I am in the desert, so as I prayed we had a phone signal, I looked around the internet and found 4 numbers of bike shops, 2 of them could not help at all, the third shop said he could do it but would charge $500, Feck that!  But the last number was just a voice mail, and being a Friday after hours, it looked like my days of riding this weekend and had buggered off with the Sun.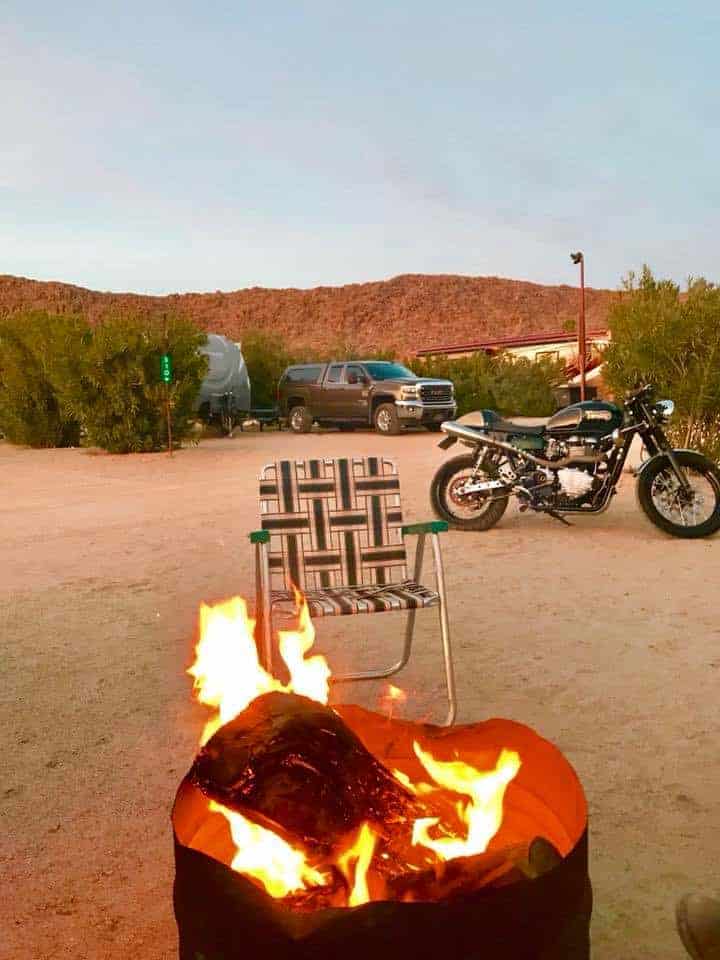 About 45 minutes later my phone rang and the guy I had rang last was happy to help, he said he had a tube and could help me if I could get the bike down to his place in the Morning, lucky for me, Steve Fellon had his U-Haul trailer, so in the morning we loaded my Thruxton up and drove about 16 miles to a dodgy housing area in the desert, where this guy had a little workshop, Steve had a hammer and a baseball bat in the truck just in case we needed to fight our way back out of this town, but lucky for us we had no issues and the guy was super cool and only $100 charge for the tube and fitting, so a relived rider I was and we headed back to the camp grounds and unloaded my Steed.
After that we were all good and set about to get a little bit of breakfast to give us the energy to have a good long ride and check out these great park areas that Jennifer and worked out a fun route to ride on our Triumphs.
We rode down the bumpy Road to the main drag and there the roads were great, we needed to fill up our gas tanks and our bellys for the days journey, of which Jennifer will be leading, all weekend, how cool is that? Love my Girl.
The roads in the park are well maintained and wide, we loved the straights as well as the big sweeping bends, making it such a fun and unique experience. And taking in all the different Rock formations was super cool.
It was like being in another world to be honest, then you would hear the odd person drive by or a tourist flip flopping behind us as they took photos of anything that was not moving.
We had plenty of time, nobody racing about like a mad man and it was such a great peaceful time away from the real world and loved every minute of it.
Some of the Boulders were Bloody enormous as you can see with Jennifer and Mr Fellon try and stop this Rock from sliding down the hill, to be honest, this photo does not do the size of this thing, any justice what so ever.
Well, here is a little better photo that I took with my phone, you can see that there is not much stopping this huge thing to roll off down to Joshua Town and squash it.
A weekend of Great riding and sight seeing and were really blessed with the weather for this time of year, and if we had chosen last week, it would of been really wet and miserably cold too.
I would not want to fall into this Love heart shaped Cactus, but is always great to see one in its natural environment and there were plenty of those out here for sure.
See what I mean, these we saw on the ride through the park and they seemed to be doing really well considering all the wild fires that have happened recently.
So many different Rock formations and great winding Roads, we really enjoyed this area, and- with a 35 MPH speed limit, no Road Rocket Riders came belting passed us, it was great just to pull over and admire the view and just take in some of California's great Desert areas.
We would ride until we saw something that was cool to look at for a little while and this we did many times, but, by 5pm, the temperature would kick you right in the saddlebags and it was time to turn around and head back to the camp site for a Brew.
What I enjoy about being on the old Mother road was that you get to see some cool things, and as you can see here, this fella used an old Bomb to use as a marker spot for his mail box, I love old stuff like this and had to stop and take a pic, then I had to ride pretty hard to catch up with the others, as I hadn't planned a stop, but it was fun catching them up I tell ya.
The Next morning when we all had a coffee, we set off on our machines into Joshua Tree for some Brekky, chose the Crossroads Cafe as many people give it the thumbs up for their food and warm feeling the place gives, and they were not wrong.
We went with Mikes Mess and it was bloody awesome, a good belly full of grub is much needed when you have a ride to take and this hit the spot and more.
Loved this photo up on the shelf of a bloke racing around on his HRD, what I would give to have that machine and wonder where it is now?
Jenn took the lead and we went on a 250 mile ride, heading through all the little farms, past a few date Palms and strawberry fields, there was some great straights roads, buit we did get a little rain for maybe 30 minutes and that was it, didn't deter us one bit, we headed forward, sometimes at 80 MPH and got to Slab City .
A place where they should of filmed Mad max, if you ever get the chance to take a look at this place, do so, people from all over the globe come to this old military base to see the oddities of life on this unique few acres of wasteland.
The bikes were getting some road grime, but all part of the trip, we rode around for about an hour here, taking in the sights, and turned around and headed back towards the national Park as the weather was changing and getting dark.
Behind the Thruxton is Salvation Mountain, made up of old straw bales and covered in Latex paint by a bunch of complete nutters if you ask me, but- as long as they are happy, more power to them, people donate paint and things all the time to keep the Mountain decorated, as I am sure the desert weather tears it up fairly quickly.
As the light was starting to fall, we headed back as we had over 100 miles left to go and knew that it would be pitch black in the park, so without haste, we made quick time and wanted to beat the weather as it had forecast some rain.
As we belted through the farms, I grit my teeth as we headed through the Border patrol, you never know what they think when they hear a British accent, but lucky for us it had gotten cold and they all buggered off. LOL!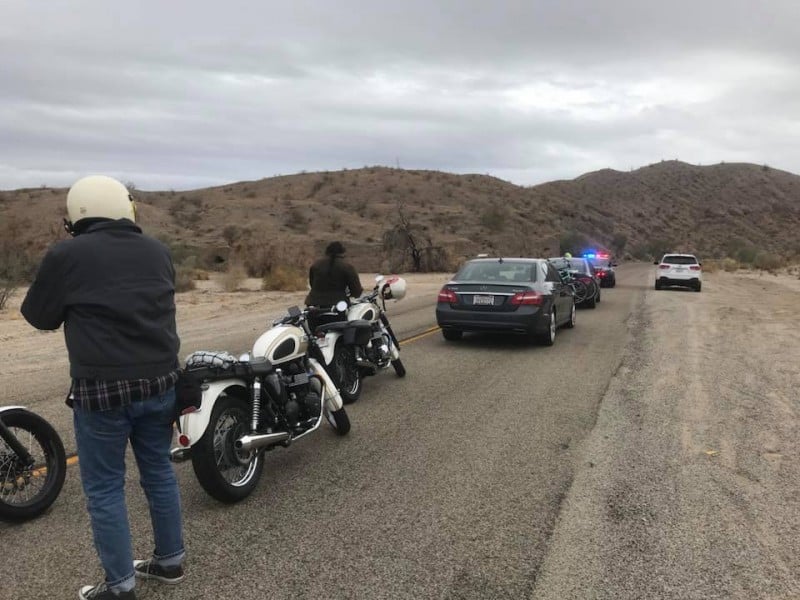 Some great Rock area's on this trip too, we got to this part in the park and the cops had blocked off the road, they were making a commercial about 1/4 mile ahead, so we had to wait, Jenn went for a little walk, and me and Steve laughed as this old Asian lady went behind a bush to drop a few things off.
This place is called Box Canyon and not only were the Rocks so cool to see and so different from the other park of this park, the roads were really smooth and the bends in the road were wide, it was the best part of the ride for me.
We all enjoyed this area but had to keep your eyes out for critters such as snakes and Road Runners as the light was starting to fall and things tend to head back home too.
Pulling over to take some of the sights in, it was pretty quiet here too and no traffic, this is a great ride to take in the park and recommend it to anyone if you are in the area.
Really good fun on this adventurous ride and kudos to jenn for mapping it out and, taking the lead too, she loved to ride her Bonneville and I was so stoked for her to have a go.
Shame this wasn't 10 minutes from home as I would make sure I took this route everyday, looks like someone was lighting up their rear end earlier on and, I think it was for the TV commercial as they had some muscle car under a cover a little further along the road.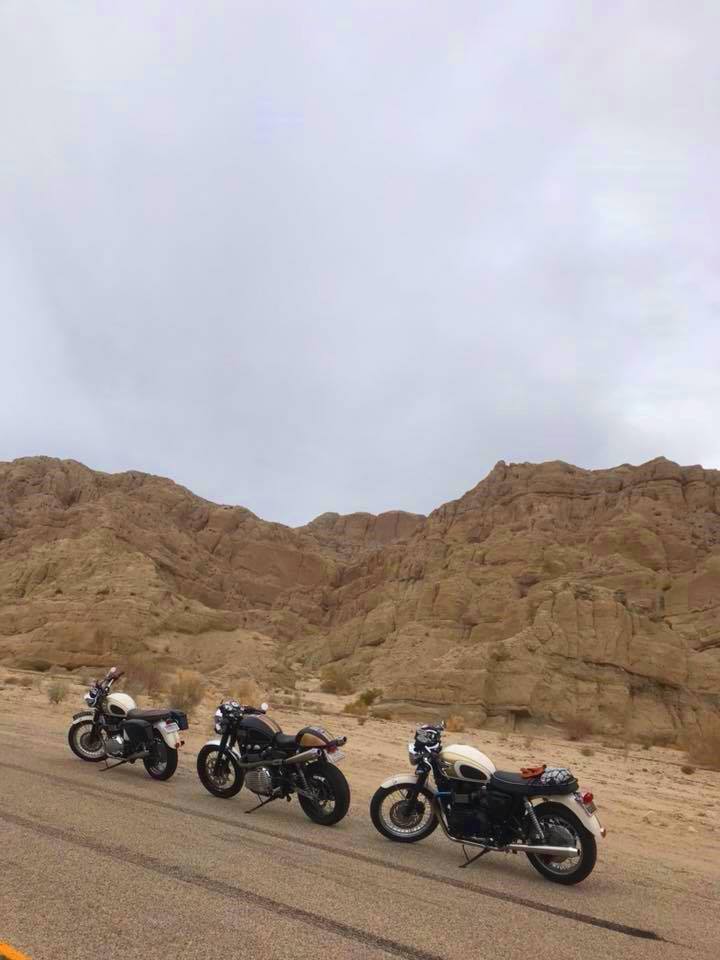 No stress, no need to speed on this road, there is also a 35 mph speed limit too, but the roads were just in great condition, and no trash blowing around, just a good place to take in the area at a fun speed.
We took a couple of photos and could feel the temperature dropping, and out in the desert at this time of year it gets cold and bloody quick too, we all had intercom radios in our helmets, thats why I have a full face on, so we could shout out to each other if we saw something cool, it worked out to be a great set up. We managed to get back in the dark, but a great trip that day.
Next morning we got up and headed out for another jaunt, the weather was overcast but we wanted to see a little more of this great National park before we headed back home to Orange County.
Popped in town to get Gas, this is Old Josh, Originally at an old Muffler shop, and now situated at this new restaurant that is being built and looks pretty cool, my buddy Dan Collins designed the Tee Shirt for this place and will be picking one of those up.
The ole Trumpy did well and I am so glad I had the heat wrap as it kept my legs toasty when the temperature started to drop off, and when my hands started to fade with Goatskin gloves, a quick grab of these pipes for a few seconds warmed my hands up fast.
As you can see, the clouds are coming in and there is rain headed towards us, but we are already riding, so no biggie and we continue to make tracks, these roads are great to ride on and look at them sweeping bends.
Loved these turns, and even when it rained, there was no traffic as such, so a steady ride was all that was required, and the rain only lasted half an hour and never saw any more after that.
Plenty of time to pull over at places and stretch your legs and no traffic, well that was awesome to experience, as the OC is always busy, so- No stress and we all had a blast.
We pulled over as there was a parking area, a few people were there already, observing the Cactus was starting to flower, unusual at this time of year but so many of them too, just had to stop and take this all in.
My Girl taking some of the sights and sounds in, we could not believe how the terrain changes in only a few miles and when we saw something cool to have a look at well we did.
No mistaken to where we are, I mean, when you see cactus then its in the desert and this was so cool for me to see, reminds me of many old films me and my brother used to watch and wish we were right there.
I loved looking at all this, forgot about the snakes and spiders for a few seconds as I am sure there were plenty in that area, just waiting to get someone who walked by.
Acres and Acres of these, I think we caught these at just the right time and glad that Jennifer decided to take this route in the park.
Last shot of the Cactus, but a fun morning ride and seeing something you do not often have a chance of seeing, is always a bonus.
We rode a long day and headed back for time by the fire pit , but the weather was getting cold, so into the RV with the heater on, next morning we loaded up and headed home, we had great weather compared to OC, as they had rain all weekend, so- A perfect getaway.
Jenn did a fantastic job and we are now planning our next riding adventure and shall be going to Sequoia and riding through the big Red tree's, thats another tick in the box, so stay tuned. 
There is so much to see here and this will not be the last time that we camp out here, thats what I love about the Joshua National park as there is simply so much to explore.
Comments
comments