MOONEYES XMAS PARTY TOMORROW
Mooneyes Xmas Party Show & Drag 2016
I shall be attending as this is the best end of year meet up in
So Cal, always great to see friends I have not seen for many years, make sure you make it as it will be a Doozy!
I will be riding my Trumpy to beat the traffic as you may be inline for a while to get in, if you have a flathead, make sure you have plenty of water for the radiator.
Save the date: Saturday December 10, 2016
at Irwindale Speedway
500 Speedway Dr. Irwindale, CA 91706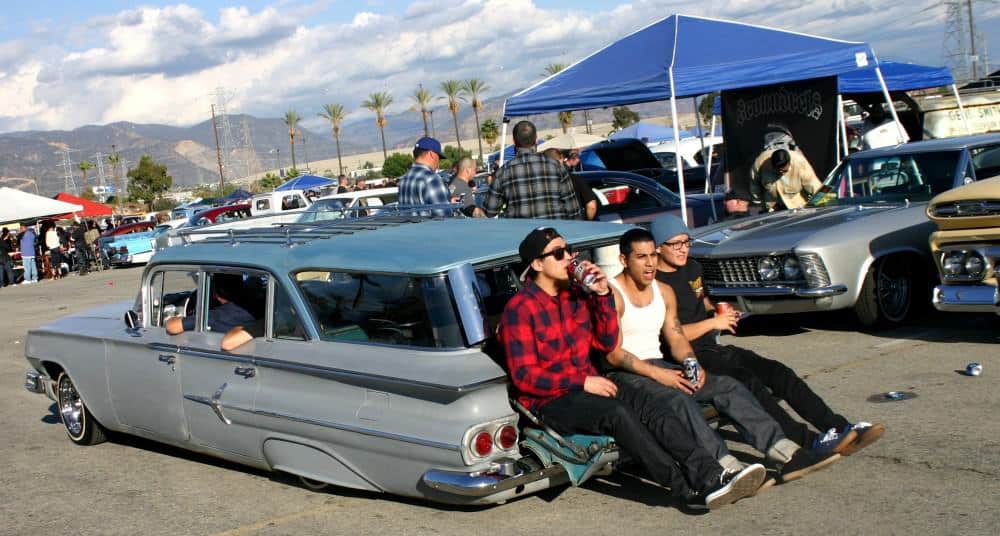 Rain or shine
Where the CQQLEST people and CQQLEST cars gather!
+ Car Show
+ Run what'cha Brung 1/8 mile drags
+ Pinup Contest
+ Live music
+ Vendors
+ Hot Rods, Customs, Choppers and more:
General Admission is $5.00 per person (adult)
Children, 12 years and under are free.
General Parking is $10.00 per vehicle.
CONFIRMED LIVE BANDS
Colony Boys
Go Getters
Gamblers Mark
Hot Rod Trio
Dynotones
For Pin-up Contest information, please contact:
Mitzi at mitziandco@gmail.com
Visit out Facebook Event Page:
https://www.facebook.com/events/963344197114524/
PLEASE COME EARLY TO GUARANTEE A PARKING SPACEPreregistration does not guarantee a parking space. Although we do have reserved sections for the car show entries, all parking is based on a first come, first served basis. Please arrive early to secure a parking space. Gate opens by 6AM. Parking is managed by Irwindale Speedway. Once the parking lot is declared full, the gate will be closed and no vehicles will be permitted into the parking area until an official confirms an open space. MOONEYES does not have any control over the parking situation. We apologize for the trouble and any inconvenience this may cause.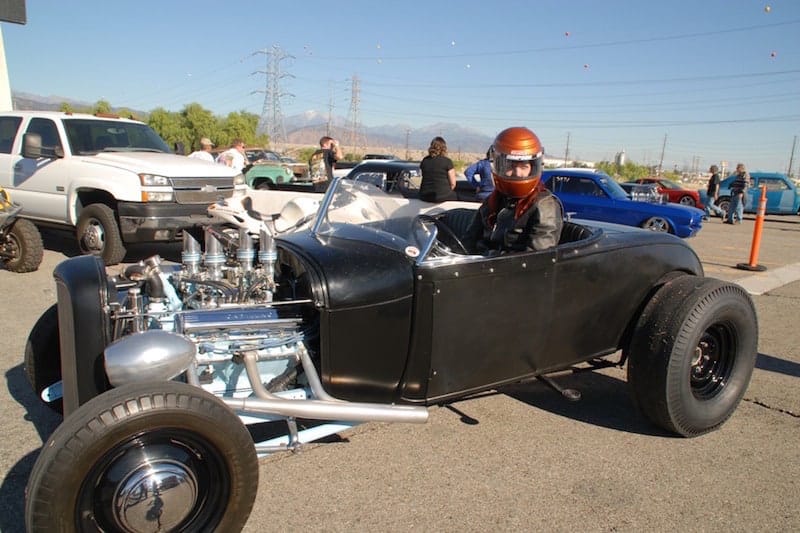 Please Note: THE PARKING LOT WILL FILL UP QUICK.
Please do not setup tents in open spaces or block empty spaces. Please cooperate with the parking lot attendants at all times. After all, they are just doing their job.
Make sure that you Come early, park early, take it easy and enjoy a fine day at the show!
Tomorrow, December 10th, I'll be at, Mooneyes X-Mas Party at Irwindale Speedway in my Santa Suit! If any photographers want to shoot with me, send me a message! See you tomorrow bright and early!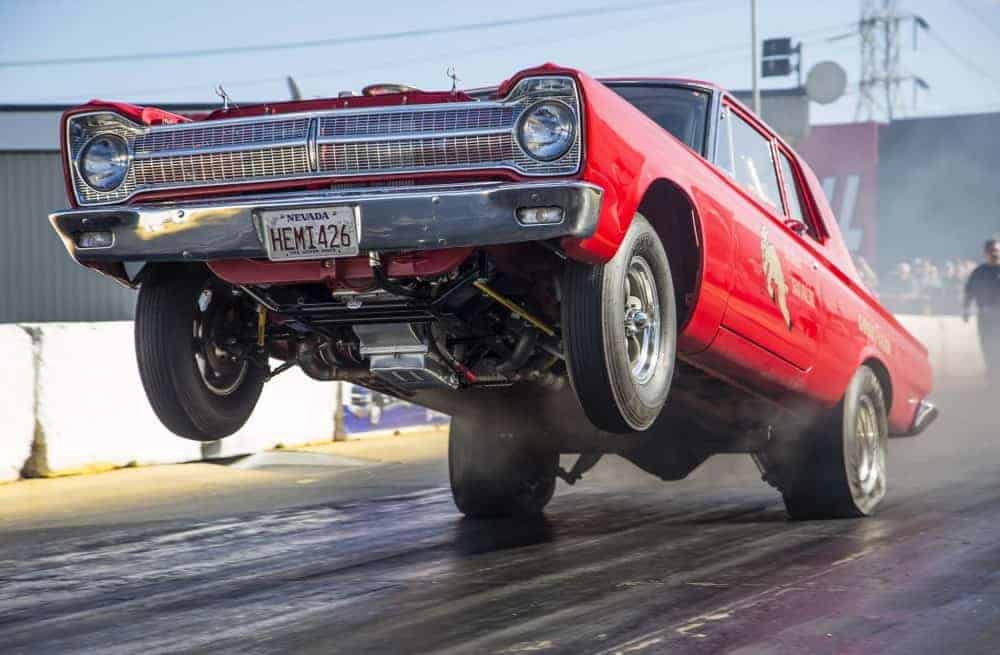 We appreciate your understanding and cooperation regarding the parking situation.
Thank you very much.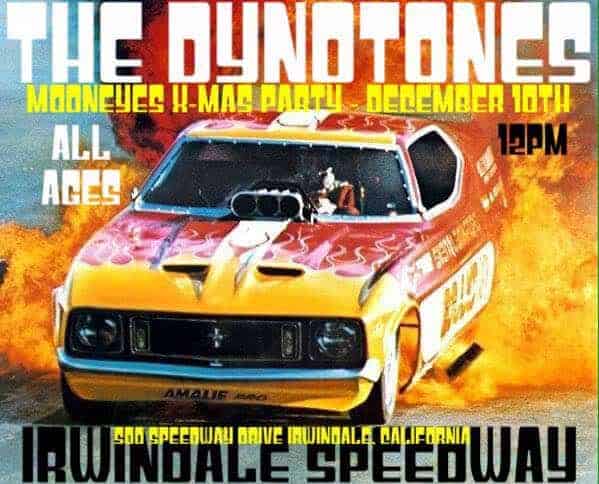 ENTRY DEADLINE: SATURDAY NOVEMBER 19, 2016
SHOW CAR Registration:
All show cars are limited to pre 1965 model years.
PREREGISTRATION ENTRY FEE: $20.00 includes 1 car and 2 persons.
Registration Entry Fee at the gate (at show) is $40.00 (1 car & 2 persons)
Motorcycles are $15.00 Preregistration or at the gate.
Entry form: – SHOW CAR Entry Form
Registration is CLOSED
---
ENTRY DEADLINE: SATURDAY NOVEMBER 19, 2016
DRAG RACE Registration:
RUN WHATCHA BRUNG! Test your car & your skills!
PREREGISTRATION ENTRY FEE: $40.00 (race car entry fee)
PREREGISTRATION ENTRY FEE: $40.00 (motorcycle/drag bike entry fee)
Preregistration includes 1 vehicle pass and 2 wristbands.
Drag cars are limited to pre 1969 model years.
NHRA SAFETY RULES APPLY. CARS MUST PASS ON-SITE INSPECTION PRIOR TO RACING.
Trailer parking: $20.00 (Trailer must fit within 36-foot space)
Entry form: – DRAG RACE Registration
Registration is CLOSED
---
ENTRY DEADLINE: SATURDAY NOVEMBER 19, 2016
VENDOR BOOTH APPLICATIONS & SHOW REGISTRATIONS:
Please print the document, fill out the form completely and send it in. See form for our address and related information. For any specific questions, please contact us at sales@mooneyes.com or by calling (562) 944-6311.
---
Registration period:
START: SUNDAY SEPTEMBER 1, 2016
DEADLINE: SATURDAY NOVEMBER 19, 2016
*Registrations may end early without any notice, depending on space available.
All vendors must have a City of Irwindale business license and they must apply for the business license online at
http://www.irwindaleca.gov/index.aspx?NID=186.
Please note that the cutoff date for applying for a business license is Monday, December 5, 2016.
Entry form: – Vendor Booth Application
Registration is CLOSED
---

For all inquiries please contact sales@mooneyes.com or call direct (562) 944-6311
Comments
comments