ROCKERS DAY IN HONG KONG by the S.R.B.C.
Well, on the 18th of this Month was Rockers day in Hong Kong, I have become friends with these great Rockers, and it just goes to show the commeraderie that has spread globally in the scene that I have been  a part of for more decades than I care to count.
Like me, they love Motorcycles and the culture too, once a year they have this event and seems to be getting more popular, glad to be able to show these to everyone that reads my Blogs as these are truly fun people enjoying their passion for the 2 wheeled machines and the clothing.
Above, Kenji hanging out with his steed and rides this a lot.                                         The S.R.B.C. stands for Street Retro Bikers Club.
Lining up and ready to hit some more tarmac in Hong Kong, one of these days I hope to Take Jennifer there to meet these great people and share their passion.
There are great roads to ride and you can see that there does not seem to be as much traffic as you would think in a country that has a population of  7.34 Million.
Just some photos from their pages to let you see what they get up to and boy is it Nostalgic.
Cool Lewis Leather jackets and pants with Period styled 50's belts, these are the real deal and enjoy what they do for fun, no attitudes, just fun.
I love this photo as there isnt many Rockers in the states that live the lifestyle, hopefully that will change but for me, to see these with their Lewis Boots and gasolina's with White Rocker seaboot socks, looks so Britain in the 1960's, love the shot taken here.
Michael-CW-Chiu takes some great photos and thank him for doing such a fantastic job in capturing the Spirit of what we all love in 2 wheeled Nostalgia.
I am so surprised that there is not tons of cars all over the place bumper to bumper.
Love the Black and white, you cant tell if its hot or cold and makes you make up your own feeling of the shot that has been taken.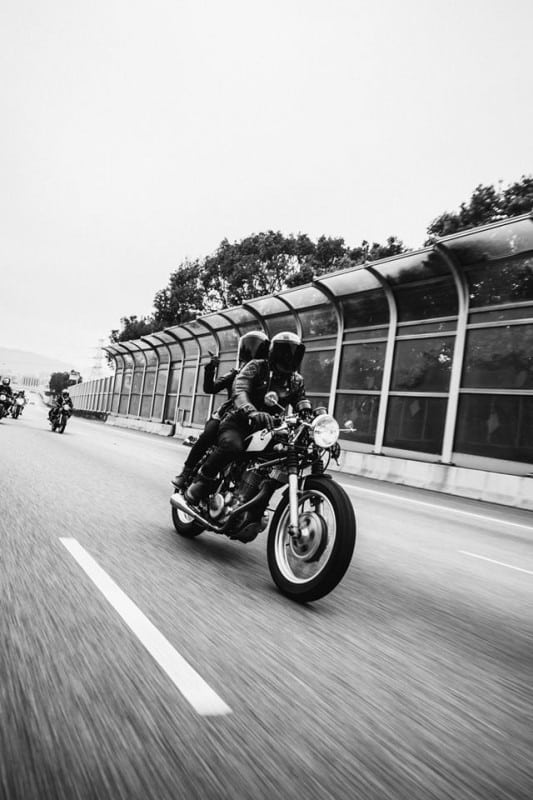 Having fun when doing the Ton! A nice photo taken at speed a really great picture.
Rocking the  Number 27, which when I lived in London and looked at the Menu it was Hong Kong Duck.
Love this shot as Kenji focuses on the job at hand as he rides through the streets of the City.
Looks like it was a fun day out, not sure where they were headed but if I do I shall post on this page.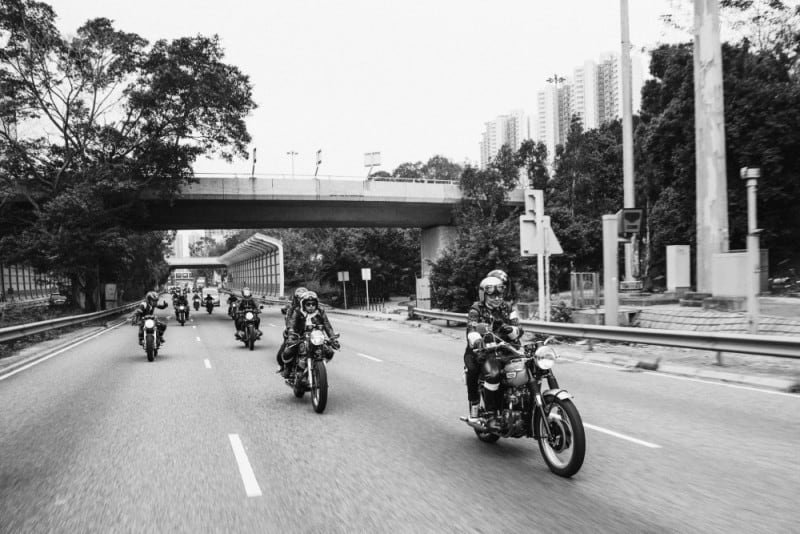 Seems to be plenty of others in the pack and would of loved to hear a sound byte if there was someone on the Bridge.
Thumbs up as they Blap by on their BSA.
It must of sounded great in that tunnel. What a great time to get out and enjoy your Motorcycle with like minded friends.
Another good shot as they exit the tunnel.
Hey wait for me.
This could be anywhere and any year, nice photo.
Entering the City with Jimmy Sin.
The Horses are now in the stable.
Kenji De and Coan Kee pose next to their cool Cafe Racer machines and look great together.
Looked to be a fun day out, if I see more photos I will share as I know many people are into the bikes and Lifestyle like I am. Great job on the event such a fun time I am sure.?
I have always loved full fairings. Kenji De on his Machine.
Comments
comments