My Triumph Thruxton Daily Ride
My 2013 Triumph Thruxton has served me well over the years, compared to my vintage triumph, this is chalk and cheese in the reliability league and the bike has given me many thousands of miles of fun and still does. it has now had 3 different guises since I acquired the bike from Socal Motorcycles and it certainly gets a lot of attention.
I bought the bike but it was the British Racing Green Color scheme, I'm not a fan of green but, stuck it out as long as I could but, saw so many this color, that I had to do a few things to make it into the bike I really want to ride. I first made a Diamond Upholstered seat for it, long before people were doing it and got a lot of compliments, then I set about designing reverse Cone megaphones in Stainless Steel, and that sure did get people looking.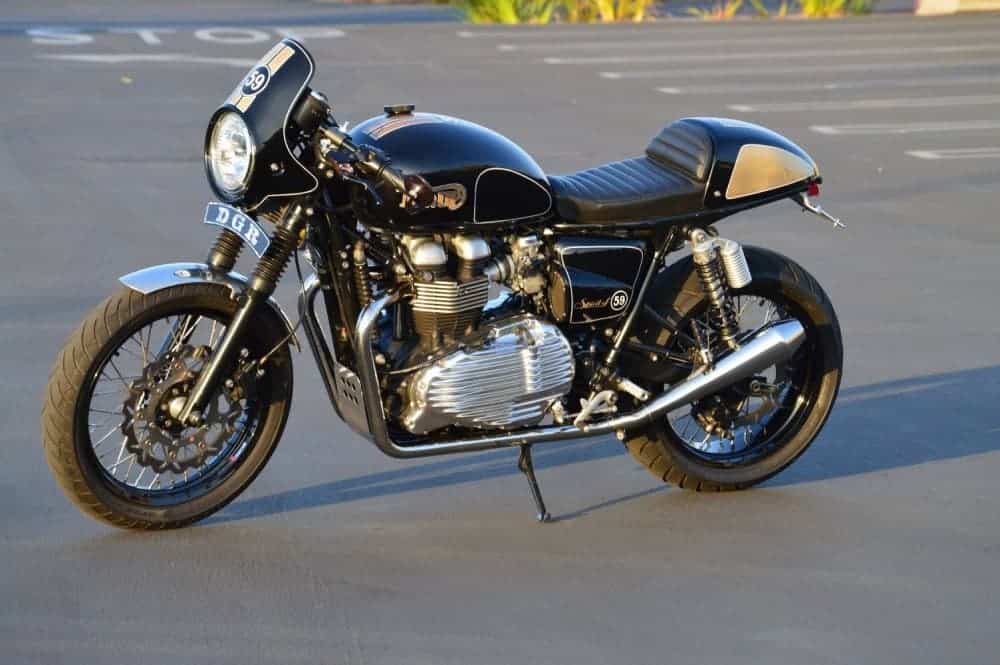 Next up was to remove the swing arm and weld tubes in to make it look like drilled holes, then re-chrome it, soon as I did that, I fitted New Alloy Rims, wide 5.5 rear from Canyon of the TT range and this really filled the swing arm out nicely.  I repainted the gas tank and made side covers as well as the front fairing and the rear cowl, making the seat fold down to allow access to the storage compartment.
The New rims were such a change in handling for this machine, the fatter tire grabbed the tarmac like glue and this was a fun machine to now take out and enjoy .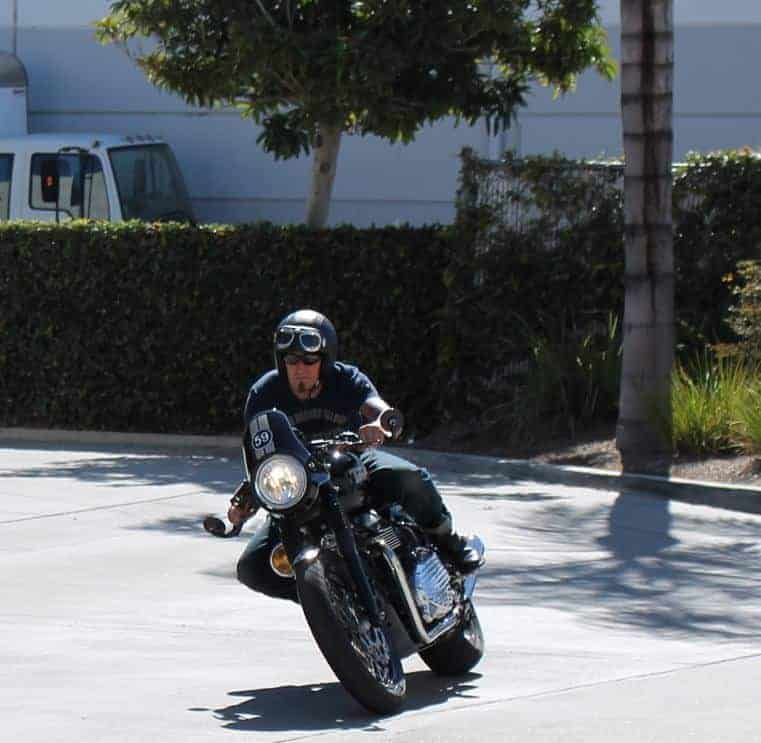 I loved slinging my leg over this 900 and tear away up the road with a smile on my face, it was now a machine that was starting to get dialed in to how I wanted it, but there was another look I wanted after a while, I mean I also build and design bikes and parts, this is my business card, so always like to change things up and now its on its way to its third livery.
I removed the fairing and was contemplating a different look, so it came to my mind to fit An Alloy Gas tank and side covers, but, I wanted to make an alloy rear cowl for the bike, so with Egg shape Hammer in Hand I set about and made a rear cowl, then frenched a pocket into the rear cowl to alloy for a Vintage light but have a LED insert in that light, old with new.
Loving the look of this and am glad that i went this route, this time I wanted to change the seat padding and went for a soft Tan leather with Diamond Stitching.
Now this sure is comfortable and feels way better than the old one as I simply wore it out with my fat arse sat upon it all the time and this is now comfortable once more.
I now have my Alloy Gas tanl on the bike and sometimes I fit different seats when I make them to check for fitment and this bolted right up with no issues at all.
Right now here she is sat at home and I really do like the way she looks, Classic styling and its a fun machine, this afternoon I shall change out the grips to go with the New leather seat and give the bike a better flow and color coordination. I shall take some pics later in the week to see how they look and feel first.
The front fender I made from an old BSA mudguard and then welded some brackets to the side and the contour is just how I want it too, came out well and love the look of it. if you look at the lower part of the chassis, you see I have my own hand made Bash plate that I made out of Aluminum and then added a Bottle opener, just in case ya stuck when you are out camping.
The Zard pipes sound great and may polish them to get a mirror finish to accentuate the rear cowl that I made as I love how this has turned out as a one off design.
You will also noticed that I wrapped my headers, this was something I wanted to try with an Aircraft application and rather than the old school wrap, I thought that this would look pretty cool as a slip on heat Sock, and sure glad I went this route as these Performance pipes get bloody hot when riding.
I also have a set of Works Performance  piggy back race shocks to soak up the bumps, not cheap but my old shocks I had that were TEC, Blew the Nitros out of them when I was in the Canyons on a few pot holes, so a more expensive and professional set were purchased and I am also a dealer for Works Performance and so glad that I have these now as it is night and day on suspension set up.
I also designed and made the Knuckle Duster Heel guard, and offer that on my website as well, I then blanked off the rear passenger foot peg hangers to tidy that area up a little.
Bike now sits well and I am happy with the look, I will be fitting the grips and will show the pics on here so you can see what they look like.
I went with some Cole Foster grips, looked at many but thought that these would be best to go with my leather seat, and am happy with the choice and are really comfortable too.
Really happy with my choice and my hands will thank me later too.
Sat next to My Hot Rod, the Triumph looks happy in its new set of clothes, looks a different bike too, still a little more I want to do as I go along but, thought that I would share some pics on a Blog and see if you like what I have done.
Here is a list of what is on here.
Motone Alloy Gas Tank
Motone Side Covers
Cole Foster Grips
Custom Clip 1″ on's
Wide wheel kit from Canyon
Custom Drilled and Chromed Rear Swing Arm
Upsweep Rear Polished Alloy Caliper Bracket
Zard Stainless Steel Exhaust Kit
Titanium Aircraft Heat Shield Sock
Speed merchant Finned Engine Covers
Wave Brake Rotors
Beringer 4 pot Brake Caliper
Hand Made Alloy Mudguard from a BSA
Hand made Seat with Leather Upholstery
LED internal turn signals and 6000 Lumens headlight
4 inch Chromed Fog light
Custom hand Made rear Cowl with LED Rear Light
Works Performance Piggy Back Racer Shock Absorners
Hand made Knuckle Duster Heel Guard
Joker bar End Mirrors
Lithium Ion battery by EarthX
K&N Pod Filters
Fender Elimination kit
Custom Horn
Hand made Alloy bash plate with Bottle Opener
Power Commander
Irridium Spark plugs
LED rear Turn Signals
TEC Front Steering Stabilizer
Custom Machines Foot Pegs
Rear Blank Off Plates On Hangers
Comments
comments