Shop Truck is a timeless Classic for me
I have always had pick ups, so handy and so useful for work and for the ranch house we have too, so this time I thought I would buy a F250, I have had a few F100's and a number of F350's but not a 3/4 Ton F250, so I managed to acquire this 1970 Camper Special Long bed locally and I really dig it. Many farms still use this today and you will see many still left in old fields etc as it served them well and the parts are interchangeable with other models.
I need a long bed as it is way easier to load and secure Motorcycles, I may lower her a wee bit later and change the rims and tires out, but need to do some maintenance on the drive train right now but I shall get there and a great work truck this will be.  I mean, you won't bog down a 390 Big Block with a Motorcycle in the back, in fact it will like it more with more weight over the rear axle.
This 3/4 Ton Parts hauler sits in well with our place and really does look like it feels at home with us, a Classic workhorse than has kept America moving, built like a Rhino, this XLT long bed will be perfect for local hauling, Yeah I know it drinks a ton a fuel with a 2 barrel but i'm not an Electric conversion guy to be honest, I really like the lines and this screams Old school Rural Americana.
I did have one of them High Top white Transit 250 vans, but it just does not have that cool look and everyone will think you are an Amazon driver, it was ok for camping but I need a Pick up here and this really does fit the bill for what I do here at the Barn.
The 1970 Ford F250 is part of Ford's fifth generation of F250 truck,All 1970 Ford F250's were assembled to the same exterior dimensions. From the ground to the top of the cab, the 1970 Ford F250 is 72.0 inches tall. This pickup truck was manufactured to a width of 79.6 inches.
Ford designed this F250 to a length of 211.0 inches, bumper to bumper. Wheelbase, or the distance between the middle of this Ford's rear axle to the middle of its front wheel, measures 132.9 inches. This particular model of pickup truck offers a 65.5-inch front track and a 64.8-inch rear track. This vehicle is capable of making a 50.6-foot turning circle.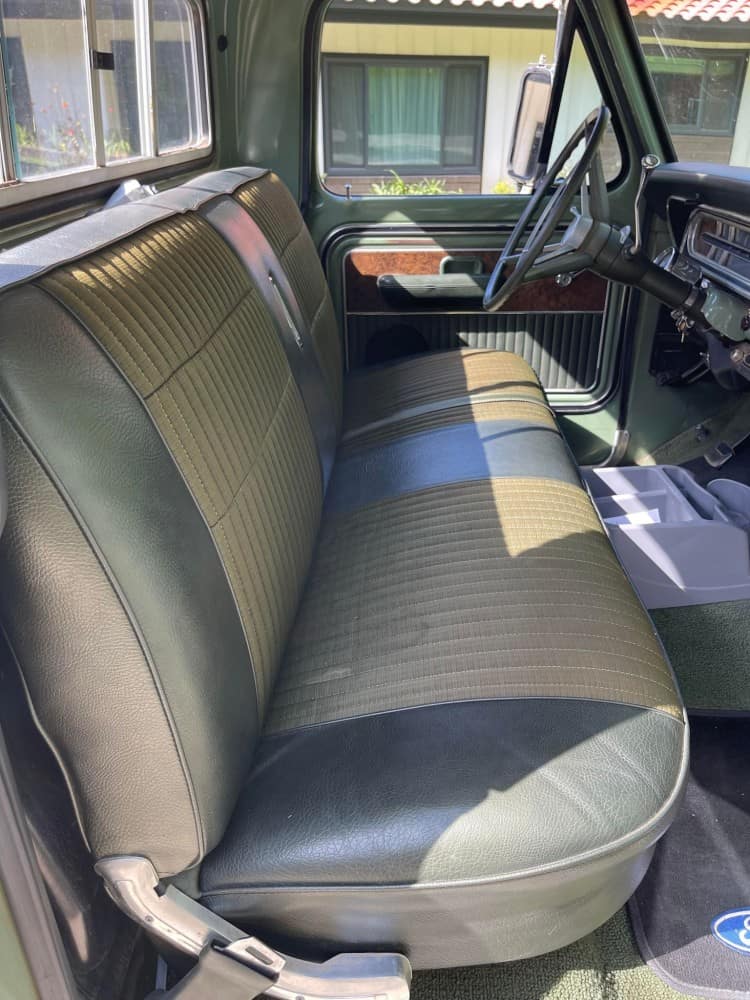 While Ford may not have invented the idea of offering a Camper Special package for their trucks, they were dedicated to offering them to potential buyers. Buoyed by the rising affluence of many Americans during the seventies and desiring to eat into some of its competitor's market share, the manufacturer decided to offer the upgrade options for their f-series trucks.
Americans were anxious to explore the open road, and the popularity of campers that could slide onto the beds of their trucks made it easy for them to do so. Now, traveling families could take their home with them without having to pay for a motel or tow a large RV.
This ole Girl has a 390 ci V8 mated to a C6 automatic transmission, the front seals were leaking, causing the 1st, 2nd and drive gear to not operate in the morning until the Motor warmed up, so replacement transmission time and should be buttoned back up by next week, luckily ford f250 parts are still available, remember, this truck is now 53 years old, Just replaced the valve cover gaskets and a kit through the 2 Barrel carb, although I now have a flat spot on the motorcraft carb, I may purchase an Edelbrock 2 barrel a little later to stop that issue.
The Patina is perfect for me,I will change the wheels out later for a set of steelies and baby moon caps and try and lower her a few inches, but other than that, she is just what I need and look happy at home in the driveway, Love the Original spot lights too, I may add vintage fog lights later, but this is a great 3/4 Parts Hauler for sure.
Just thought I would share a few pics of my latest acquisition, as I am sure many of you can relate to this Iconic American Pick up truck.
Thanks for looking, hope you dig my Avocado Hauling Pick up?
Comments
comments