Women's History Month !!!
July is National Women's Motorcycle Month and I want to kick it off with a few cool shots of these lovely ladies and what they have achieved to get any sort of recognition to be as equal on the road as guys. My girl rides and we have some great Girl riders in our 59 club that I am stoked to have, I hope we get to see many more women on the road as we are all equal.
One in 10 motorcyclists is female, but the range of motorcycles out there doesn't tend to cater for the average female rider that well. We're talking seat height. Most men don't worry about how tall a motorcycle's seat is, but our female readers say it's often the first thing they want to find out when they see a motorcycle they like.
Our top 10 encompasses new and used models but we haven't just gone on seat height alone; we've tried to add variety by catering for different types of motorcycles, budgets, engine capacities and manufacturers. All the time, we've kept an eye on the bike's weight too. Less weight is obviously more manageable, no matter what your size and stature.
So what is a typical seat height?
Let's take three common motorcycles to give us an idea of seat height. Honda's CBF125 has a seat height of 792mm, Suzuki's SV650S stands at 800mm and Kawasaki's ZX-6R has a seat height of 830mm. Generally speaking, cruisers have lower seat heights but their seats are often wide and these types of motorcycles can be heavy. Adventure-style motorcycles often have taller suspension to soak up bad surfaces but you don't have to rule them all out.
How is seat height measured?
A motorcycle's seat height is measured with the bike standing upright (not on its side stand) from the lowest point of the saddle to the ground. Manufacturers quote their seat heights in the specification panel of each model. We could only find one manufacturer (Buell, now bust) who quote their seat height based on the height of the seat with an 'average weight' rider onboard. So watch out for that.
Width matters
The outright height of a motorcycle's seat is important, but the seat's width matters too. Some motorcycles with a low seat height have a wide seat which spreads out your legs, making it harder to get your feet flat on the ground.
Is one-foot down enough?
When it comes to finding a motorcycle, you may try a few where you can't get both feet firmly on the ground but you can get one foot flat. Is that enough? Well that depends on your strength and confidence. Most riders would be fine if they were told they could only put one foot down but confidence is the key. It's okay to ride a motorcycle where you can only get one foot on the ground and doing so will open up a few more options for you to choose from, but it's important to feel comfortable with the motorcycle you're buying. So ask yourself: Is one foot enough?
Motorcycle lowering tips
You don't always have to fit a lowering kit, which has the adverse effect of altering the bike's handling characteristics and potentially making your bike worth less on the used market. You can fit a lower seat, which a lot of manufacturers sell as a factory option but companies like Corbin, Wunderlich and Touratech also sell lower aftermarket seats. You could alter the seat yourself, cutting the foam to reduce the seat's height and width. You could also look at footwear that gives you extra height. Boots like Daytona's Lady-Star are a good option as they feature a chunky sole. You could also talk to your local cobbler about adding a thicker sole to your existing boots. A lowering kit, while effective, should be seen as a last-ditch option.
AS a man, have you ever wondered why you don't see many women racers (or, if you're a woman, wondered why there are so many male racers)? Is it because women don't come equipped with the same number of arms and legs as a bloke? Is it because, in general, female brain chemistry predisposes the fairer sex towards skills not immediately associated with those required to win races? Either way, there are exceptions. And, as MotoGP commentators discover with depressing regularity, it's utterly impossible to talk about female racers without coming across as patronising. But we'll try. Here are ten of the most outstanding female competitors.
10. Beryl Swain, TT
The 1962 50cc TT is usually remembered for being Suzuki's first TT victory, on a bike ridden by ex-MZ rider and defector Ernst Degner. But it also marked the debut of the first female TT rider, Mrs Beryl Swain, riding a 50cc Itom. She completed the two-lap race half an hour behind Degner, coming home 22nd of 25 finishers with an average of 48mph against Degner's 75mph. Such was the concern for the safety of women riders, they were subsequently banned from riding the TT circuit until 1978, when Hilary Musson entered the TT Formula 3, coming 15th. Musson continued to race at the TT until 1985.
9. Patsy Quick, enduro and Dakar
The first Britain woman to compete in the Dakar in 2003 during which she suffered a serious crash, was left temporarily blinded before being rescued by a media helicopter and airlifted to a Cairo hospital for life-saving surgery. Undaunted, Patsy returned in 2004 only to be beaten by appalling weather, and then by mechanical breakdown in 2005. But in 2006 she finished the rally, the first British woman to do so. She currently runs a KTM-backed enduro riding school in Sussex.
8. Michelle Duff, 250 and 500 Grand Prix
Born in 1939 in Toronto, Canada, Mike Duff was a successful Grand Prix racer in the 60s, riding for MZ, Norton and Yamaha, winning three 250cc Grand Prix and finishing the 1965 season second in the 250cc championship behind Phil Read. At the end of 1965 Mike suffered a bad accident in Japan and spent six months in hospital. Returning to Grand Prix for two more years, Mike moved back to Canada at the end of 1967, continued national racing, and also began working as a motorcycle journalist. Married twice with three children, Mike wrote a book about his years in Grand Prix in 1982, called Make Haste, Slowly. Then, in 1984, Mike Duff became Michelle Duff. Invited out of retirement to ride in classic bike races in 2000 aged 60, Michelle crashed heavily at Spa in 2008 and gave up track riding. Now aged 74, Michelle still writes and lives in Ontario.
7) Katja Poensgen, 250 Grand Prix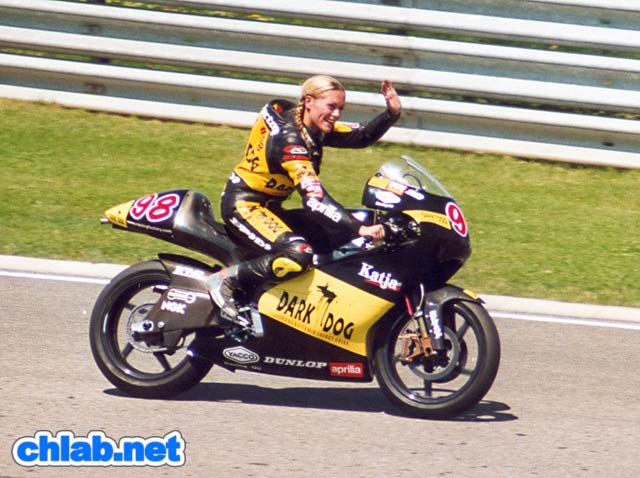 German-born Katja first rode a bike aged 5, entered her first race at 16, got her first podium a year later, and won the European Supermono Championship at 19. That success helped propel her into Grand Prix where, in 2001, she achieved a career-best 14th place in the 250cc Italian GP at Mugello riding an Aprilia RS250. She retired from competition in 2004 and gave birth to a daughter in 2005 (interestingly, the only woman in the list to have had children, excluding Michelle Duff), but the racing bug has bitten again and Poensgen has been dabbling in racing e-bikes and even mopeds, as well as working with motorcycle clothing brands.
6. Laia Sanz, Trials, World Enduro, Dakar
Laia Sanz, born in Spain, is the current Women's World Enduro Champion. She's also won the Women's Trial World Championship 13 times and the Women's Trial European Championship ten times. In 2011, at the age of 25, she competed in and completed the Dakar rally, finishing 39th overall, but it's hardly a surprise she knows how to handle an off-road bike; she started riding at three and was racing by the age of seven. Although her position as best female off-road rider in the world is, in 2014, coming under threat from our own Jane Daniels, Sanz continues to be the benchmark rider by which all women are judged.
5. Maria Costello MBE, TT and Irish road races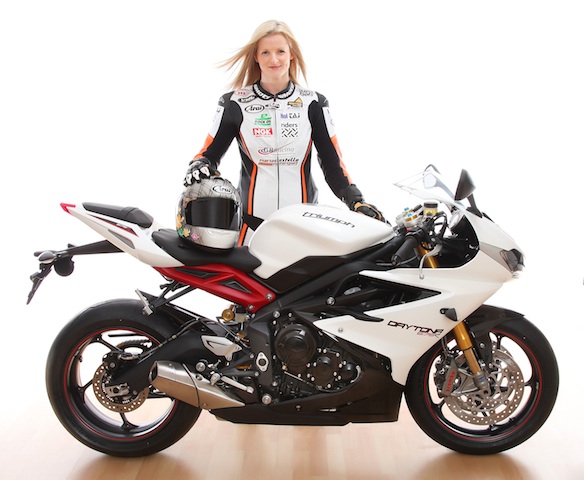 One of the most recognisable names and faces in racing, Maria has done more than anyone to promote women's participation in the sport since her 1997 debut in the Honda CB500 Cup. Since then she's raced in numerous short circuit series including World Endurance, European Superstock and many others – but she's always focussed primarily on road racing competing extensively in Ireland and especially the TT, where she held the female lap record for many years, and the Manx Grand Prix. Costello has also written and published an autobiography and is currently promoting her women-only track days.
4. María Herrera Muñoz, Spanish CEV Moto3
A name for the future, 17 year-old María from Toledo in Spain is currently leading the Spanish CEV Moto3 Championship – the wildly competitive feeder class into MotoGP Moto3 – with a win and second place. A wildcard ride in Moto3 at last year's Aragon MotoGP failed to show her potential when she crossed the line in last place. But the early season results with the well-run Junior Team Estrella Galicia riding a Honda Moto3 NSF250 shows she has plenty of pace, leading home a field of 19 other riders, all male, all teenagers, and all riding out of their skins. She got talent. A female Marc Marquez?
3. Jenny Tinmouth, BSB
As the 2014 season opener at Brands BSB showed a few weeks ago, the first and only woman racing in British Superbikes isn't just a token female filling out the grid. Qualifying in horrible, slippery, wet conditions, Tinmouth took her TWR Fireblade to 17th place on the grid and left a trail of seasoned BSB regulars in her wake. Dry race-day results of 27th and 23rd places say more about the bike and set-up than her ability. Jenny has worked up through the classes since her debut in 2000 on a 125GP bike, and on the way has become the fastest-ever woman at the TT setting an outright lap of 119.9mph in 2010. Which is most definitely not hanging about.
2. Jane Daniels, World Enduro
If you think the dirt is no place for a lady, think again. 20-year-old Husqvarna-supported rider Jane Daniels is the UK's number one female enduro rider, taking second place overall in the Women's Enduro World Cup in 2013 and winning the final race in France, beating the champ and Dakar competitor Laia Sanz. Daniels kicked off 2014 with a second in the opening Spanish round of the WEWC, and finished 12th overall in the Expert class at the recent Tough One hard enduro at Hawkstone Park. Highly-rated by fellow male riders, she's tipped as a talent to watch for in the future regardless of her gender.
1. Ana Carrasco Gabarrón, MotoGP Moto3
Ana Carrasco, 17, is the only current female competitor in MotoGP, riding a Kalex KTM in Moto3. Born in Spain, she started riding bikes aged three, competed in the Spanish MiniGP series and rode in the Spanish 125 Championship. She made her debut on the Team Calvo KTM at the start of 2013 aged 16 and took her first World Championship points in the Malaysian GP later that year. At the last race in Valencia she finished 8th while teammate Maverick Vinales won the title. So far this season, riding for a new Dutch team, she's yet to score. Unsurprisingly, her motto is "A woman in a man's world".
Comments
comments