Working on an old CB550 Honda
Well, this Labor day weekend has been Hotter than a bowl of Chilli peppers, right now, as I type this, its 108 Degree's. Now, I have a lot to do in the garage and I need to move some parts that have been sat in storage for a long time, I looked at what parts I had for this CB550 Honda, and figured I might be able to get it together as a roller over these few days.
I am sure like you, what you plan out, never really does go the the plan you have outlined in your head a hundred times and this weekend was one of them. The frame is pretty much all set, I had ground some Tabs off a while ago and then hopped the rear for a customer, but unfortunately he got into an accident and can no longer ride, so I had the frame in storage, an engine and a few other bits and bobs.
Anyway,I bought that home and cleaned it up a little, sat it on a dolly and thought I would add the triple trees and bearings etc, just to make a start etc. Well, I added the 37 Ball bearings and inserted the triple tree, only to fins that there is a 1/8th inch play gap in the top of the steering.
Upon further investigation, I have observed that these are CB750 Triples not 550, and although they look simular, they are not, obviously the 550 is shorter and the pinch bolts are also in a different location, but- I have searched high and low in my storage and I do not have any CB500 or CB550 triples at all, plenty of CB750 ones though but they wont work.
I am now scrolling through the Dreaded Ebay to buy a set of CB550 tree's but am now at the mercy of the seller to wait for the goods to turn up, so there you go, my weekend is now buggered to be able to complete the front end.
So, this is the story for all bike builders, you think you have all the parts but you only find out you dont, when you come to assemble the darn thing, you get that " Wait a minute, that aint right " Thought.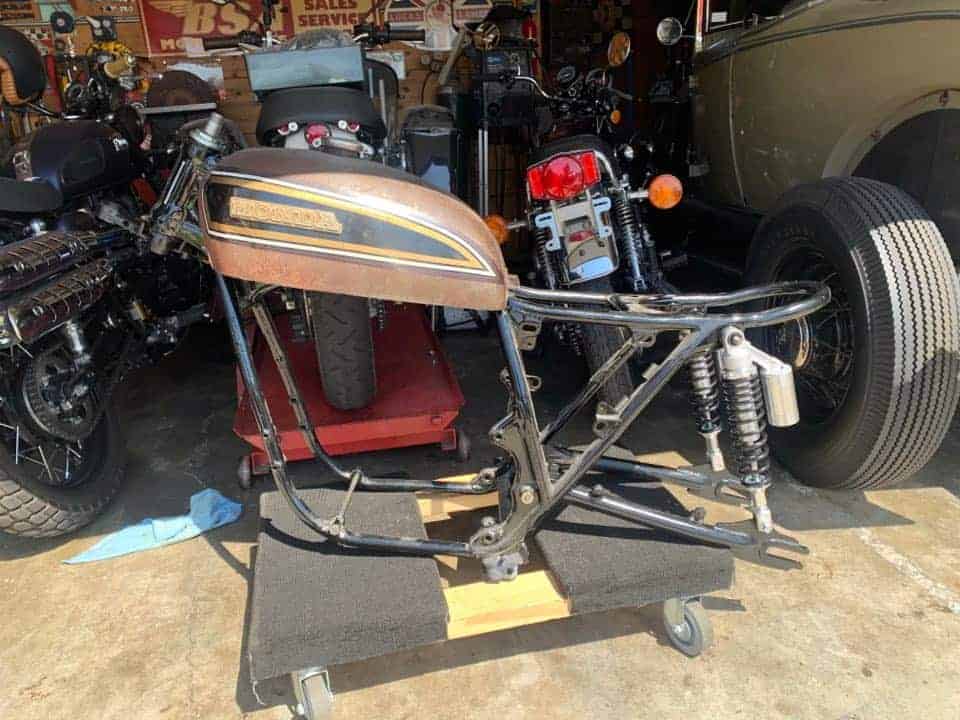 Even though right now is now 109 degree's, I managed to find an old swing arm and fitted that to the frame, as well as a set of TEC shocks that I had in a drawer and thought I may as well use these for something. As you can see, I have made a start, not sure if I am going to use an old CB750 gas tank as I am still in the mocking up, but we shall see how it goes. But, until I get the triple Tree set up off Ebay, I cant do much to the front end, but at least got something done on a scorching hot Sunday.
Comments
comments