The California Motorcycle show at Santa Anita
Well, Cinco De Mayo is upon us, where many people are still sleeping, we were up finishing packing the Van up with 2 Motorcycles and our Vendor Booth, we then headed out to Santa Anita Race track, where we set about unloading the van, Jennifer sorted the vendor booth out whilst I puffed and panted , walking the Motorcycles into the park, as you well know, Horses are not happy with Thundering loud megaphones and Million Dollar horses at that, so we had to walk everything into the Race Track area.
I Registered my Harlequin Honda and maneuvered that beast into the infield, where upon I parked it and spent the next hour, sweating my gonads off, trying to clean the dust off that had accumulated from our garage since the last show we were at. Not an easy task as the needle on the Thermometer was at 97 degree's, I was melting.
But, once all set up, I went and sat in our Vendor Booth with Jennifer and tried to stay out of the heat, and the Eazy Up helped big time on this Kentucky Derby day event and was happy that we had some sort of cover over us.
Many people arrived all dressed up to the Nines in their Horsey attire, a big deal here and everybody seemed to enjoy the Motorcycles that was on Display at the event.
I spoke to many Customers of mine as they made sure to come and at least say hello, we sold our Moto Caps and Vintage Grips, whilst Jenn was selling her Moto Scented Wax melts, that seem really popular.
Plenty of cool Motorcycles on Display at the event and it was nice to see so many different styles of machines turn up on this Hot Day in May. Loved the Tracker.
Jay La Rossa had his Triumph Tracker there, and it looked pretty tough I tell ya.I hung out with him for a while, always great to chew the fat with like minded bike builders.
I loved the Step side with the Two Trumpys in the back, these were top class built Custom Motorcycle, with the paint flowing from the trucks roof to one of the bikes was a neat touch.
Just have a look at some of the detail on these bikes, I loved them both and hope to see more of these on the road, I never see them ridden though these days.
BSA was well represented and would of taken any of these Classic steeds, from the Tracker at the front and the DB at the back, all bloody awesome to see.
The traditional 750 Commando is such a timeless taste of Real Ton up machines from back in the day. Always great to stop for a second and take it all in at these events.
I loved these Trench diggers, rode a few as a teenager and they scared the hell out of me, in a good way, love the twin shocker Dirt bikes, my era to be honest.
The good old CB750 SOHC unit has been put into everything you can imaging, this is a buddies of mine and a lot of work gone into creating the 750 Scrambler.
I dont think many people will appreciate the time and effort to get this old 530 Pound machine to look like it can handle the whoops and Burms of California's MX tracks.
The good old 400 4 Super Sport Honda, its been Cafed and Raced for so many years, that people really forget how fast and fun they are to ride.  A great Powerhouse !
I would sure love to sling my leg over this AHRMA machine, reminds me of the old JPS Bikes of the day when British tracks had these and (Forgive the pun) were the Dominator.
A great Racing bike that is built so well and I am certain would holds it own and more on the race track, love the stainless exhaust headers and short reverse cone megaphones.
New meets old, a colorful array of machines and background to be honest, other than the heat, this was a really great looking part of the Race Track as its part of the infield.
I would really love to own this Honda Flat tracker, I bet its fun getting in the corners on the track and would have a blast on it and its nice to see its still being used.
Like I said, there was plenty to see for everyone, many different era's of Motorcycles were on Display on the infield and around the race track, making it an eye candy store of the 2 wheeled variety and I was admiring them all.
This Honda Scrambler was cleaner than any cats arse, it was a super machine, nothing I didnt like about it, just gaze your peepers on this Classic machine from the Land of the Rising Sun.
Baking was not the word, it was so bloody hot I was hoping a bunch of Horses would belt by to cause a little air flow and cool us down, Summer came early here for sure.
Love seeing the old Honda's as these were more available back home in the UK in the 1970's when we were kids and for about 25 Quid you could pick one of these up, pull the mudguards off and headlight and go and blast along the Forrest fire roads, such fun back then and great to see them still around today.
The worldwide distributor of Hodakas was PABATCO, for Pacific Basin Trading Company. Its headquarters were in the rural town of Athena Oregon.  PABATCO designed and engineered a majority of the motorcycles, and Hodaka in Japan was responsible for the engine and manufacture and assembly. Pabatco was owned by Shell Oil Company from 1965 to 1978. The name Hodaka comes from a mountain near the factory and means "To grow taller".
I have owned 6 of these over the years, anybody could learn to ride on the 175, and it was a superb platform for many styles of bike, loved seeing this example and being used too.
Different combination, the sohc cb750 and a Panel wagon, both very cool. Not sure who owned either buy glad it was there to be seen.
This won best of show, it was nice but still missing parts but each to their own and a nice motorcycle none the less.
Shinya bought along his CB750 with much Custom Body work that was all hand formed, Loved the front end and I believe a grimeca front brake too.
Another great Custom build that took many hours of massaging of alloy to get it the way it is, the more you look, the more detail you will notice from front forks to exhaust.
So much work going into this, removing One cylinder isn't easy and this is one awesome Custom and love the whole concept.
Seems that Honda were really out in force on Saturday and I loved it all, one of the girls was riding this, great job.
Killer build, I dont usually like Green but this bike popped and a really nice BSA to be shown at Santa Anita, just looks so right.
A plethora of bikes and styles, and was glad to be a part of it on the weekend, it seemed to attract many people and raise a few eyebrows too, all great Motorcycles.
OMG thats all I can say with this Stable of Beeza's, just awesome Historic value, real Ton Up machines.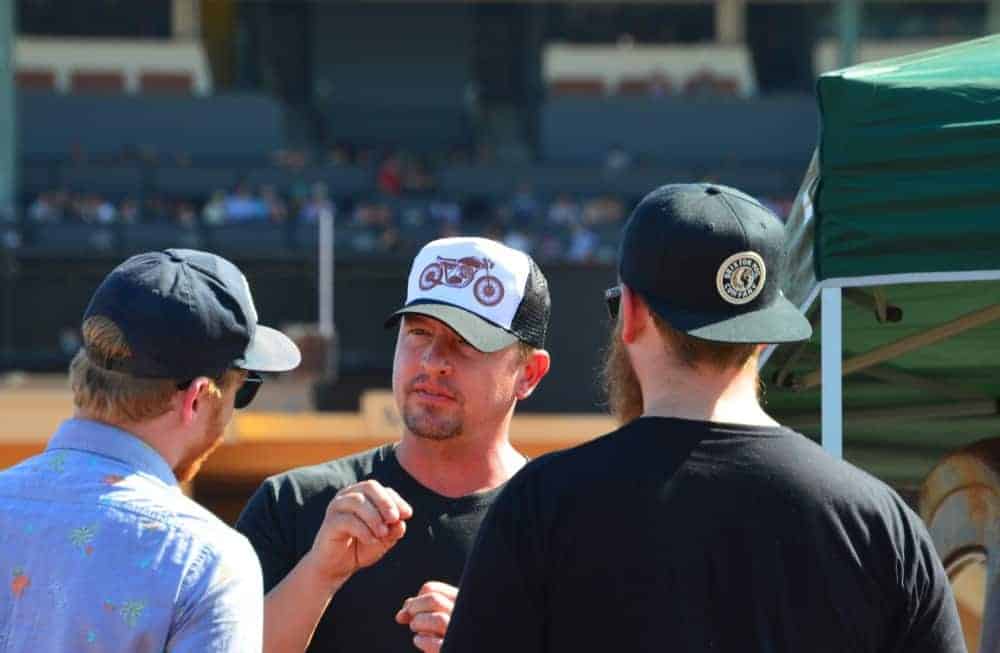 Dustin Kott builds some bad ass machines, it was nice of him to purchase one of our Moto caps we sell and Jennifer designed.
Biltwell were there and Bill had his Harley Desert racer on show, fresh from doing thousands of miles in some pretty rough parts of the desert and, it survived.
My mates from Moto Chop were there, we are all like a big family when it comes to Motorcycles and custom created things, cool people.
British Customs were there too, showing what they do and manufacture, it had many cool vendors and we were all glad we had Eazy Ups as the weather was so hot all day long.
Thanks for coming by and saying hello, we had a fun time and hope to see you again at another show, I strive to help you in your quest for parts, service or advice, this is my Passion and my life, thanks for supporting me, it means a lot.
Comments
comments