My favorite Biker Movie from 1974
OK this is a tough one but now that Fury Road has come out , people are talking about Mad max, well mad max the original will always be the best and the Biker Gang were also in another movie that i wanted to share with you the same time as Mad Max.
But think Back to 1974- if you were indeed around back then, what did you listen too?
Roxy Music with Brian Ferry was banging out hits, Godzilla was a huge theater puller, the IRA were Bombing poor souls back home.
Richard Nixon resigns from US Presidential Office after the findings of the Watergate Scandal.
Lord Lucan Disappears
How Much things cost in 1974


Yearly Inflation Rate USA 11.3%
Yearly Inflation Rate UK 17.2%
Year End Close Dow Jones Industrial Average 616
Average Cost of new house

$34,900.00
A few More Examples
Cost of a gallon of Gas 55 cents
Average cost new car$3,750.00
Samsonite Case $62.00
Average Income per year $13,900.00
Average Monthly Rent $185.00 
55 MPH Speed Limit imposed to preserve gas usage US wide.
The largest series of tornadoes in history, hits 13 U.S. states and one Canadian province.
By the time the last of 148 tornadoes
hit early the following morning, 315 died and over 5,000 were injured.
Work begins on the 800 mile long Alaska Oil pipeline
So, when this movie came out it was quite a stir for a Motorcycle movie and now 40 years later, the movie Below is still one of my favorites.
Stone is a 1974 Australian bikie film written and directed by Sandy Harbutt. It was a low budget movie, written by Sandy Harbutt and Michael Robinson.
Police officer Stone goes undercover with the Gravediggers outlaw motorcycle gang, to find out who is murdering their members, one by one.
The film stars Ken Shorter and features Rebecca Gilling, Bill Hunter and Helen Morse. The film's soundtrack was composed by Billy Green and featured some members of his group Sanctuary. Motorcycles featured include the legendary Kawasaki Z1(900). Stone initially rides a Norton.
The promotional trailer Video on YouTube features narration by radio and media personality John Laws. The film was featured in the documentary, Not Quite Hollywood, in which Quentin Tarantino enthuses about his admiration for the film.
PLOT:
When several members of the GraveDiggers outlaw motorcycle club are murdered, Sydney detective Stone (Ken Shorter) is sent to investigate. Led by the Undertaker (Sandy Harbutt), a Vietnam war veteran, the GraveDiggers allow Stone to pose as a gang member. Leaving behind society girlfriend Amanda (Helen Morse), Stone begins to identify with the Undertaker and his comrades Hooks (Roger Ward), Toad (Hugh Keays-Byrne), Dr Death (Vincent Gil), Captain Midnight (Bindi Williams), Septic (Dewey Hungerford) and Vanessa (Rebecca Gilling), the Undertaker's girlfriend. Amid violent confrontations with the Black Hawks, a rival gang the GraveDiggers hold responsible, Stone uncovers a political conspiracy behind the killings. When the truth is revealed, Stone must choose between his job and his loyalty to the GraveDiggers.
Now the start of the movie is one of the best that I have ever seen as the guy starts his bike in sequence and roars off down the road to his unknown demise, but a great movie for the bikes etc.
Below is the funeral and every year they now have a mad max and stone reunion, but this is such a classic bit of footage as you will never see so many cafe's like this again.

I have ridden this road many times on my Honda 900 to work in Chatswood so as they ride through here I used to chuckle to myself at the same point.
Great shots of Australia too, I used to ride this road when I lived there back in 1997.
An unusual movie but the Grave diggers were a rowdy bunch, but there are a few of the bikers in the movie Mad Max.
What a great sight to see all these Cafe's belting down the road at one time.
Now thats a funeral procession and what a send off.
Plenty of birds, booze and bikes with these Grave diggers.
More cool shots from the movie that i will always remember.
Now, back in the late 1970's thats how our bikes were in the UK.
Below is one of the lobby cards for the movie.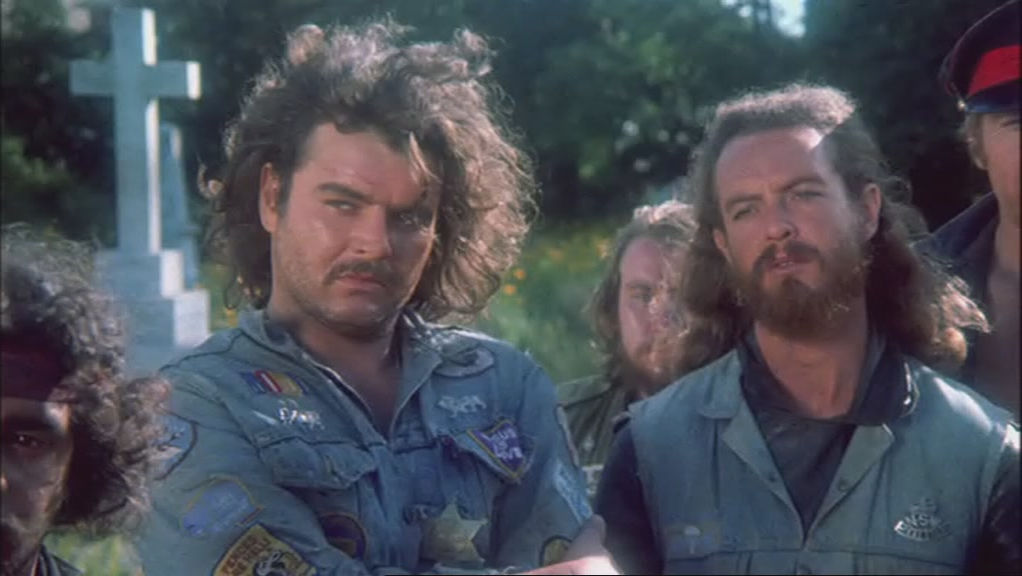 If you get a chance, try and watch it, the music is terrible and the acting aint much better but worth a watch.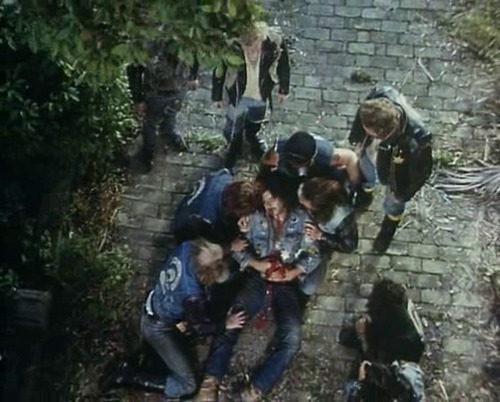 So I wanted to share this with you and see what you think, as this weekend you may want to try and watch it on you tube.
Here is the Trailer for the movie.
And the great Drag race around the houses, super fun for the era and nothing like this in 1974.
Here is the FULL movie
Have a Great weekend.
carpy
Comments
comments