Mooneyes Christmas event Irwindale
Well, Saturday Morning soon came around, a little apprehensive about the trip to Irwindale today as yesterday we had Rain on and off all day and the forecast was dry as a proverbial bone.
But it was a nice morning and no sign of rain, but, we came to the decision to jump in the wagon, and head out to the freeway and see what this years Mooneyes show had in stall for us, on many occasions the sky's have closed and it has poured down with H2O, so this time we were prepared.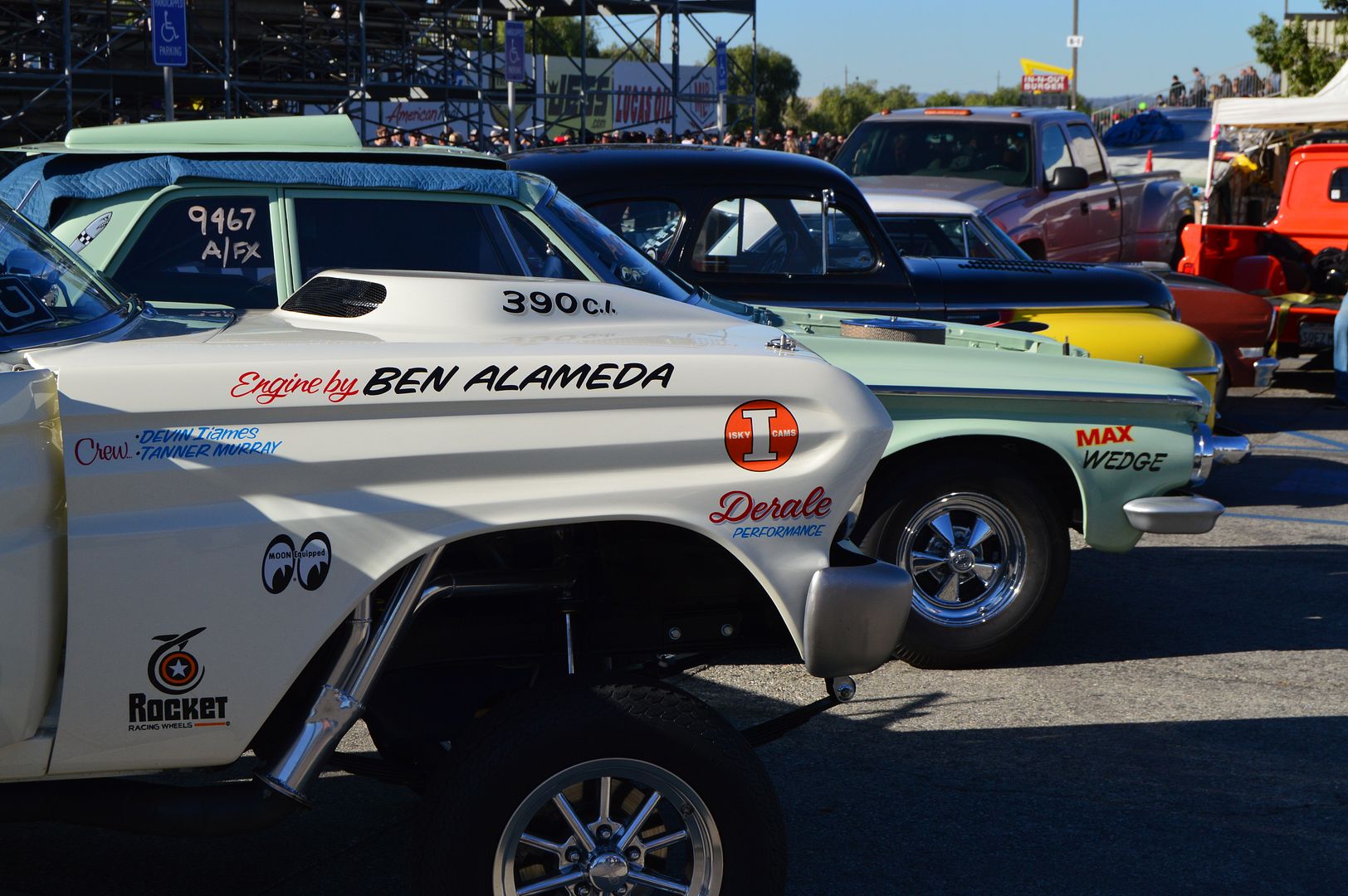 The traffic was pretty good on the 5 and the 605 was even more clearer, so it took us maybe 25 minutes to make the trip to the Drag strip, but there was the usual line to get in and, I could see there was many vehicles already at the show and knew that this event would indeed be a doozy!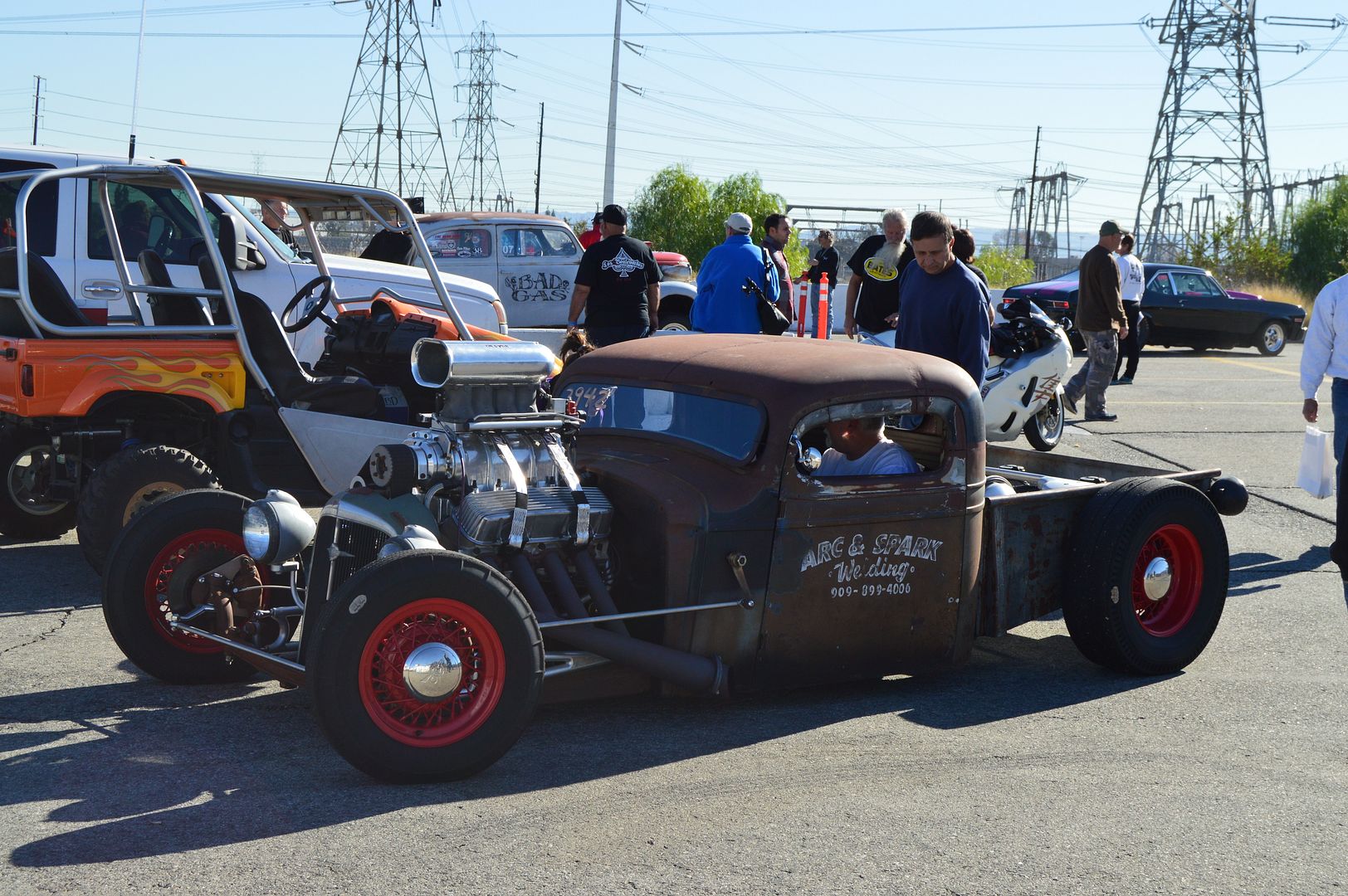 We parked on the Oval track where they race the Speedway, so kinda cool being lined up on the third turn and headed down the incline, trying not to walk like a professional shopping cart pusher.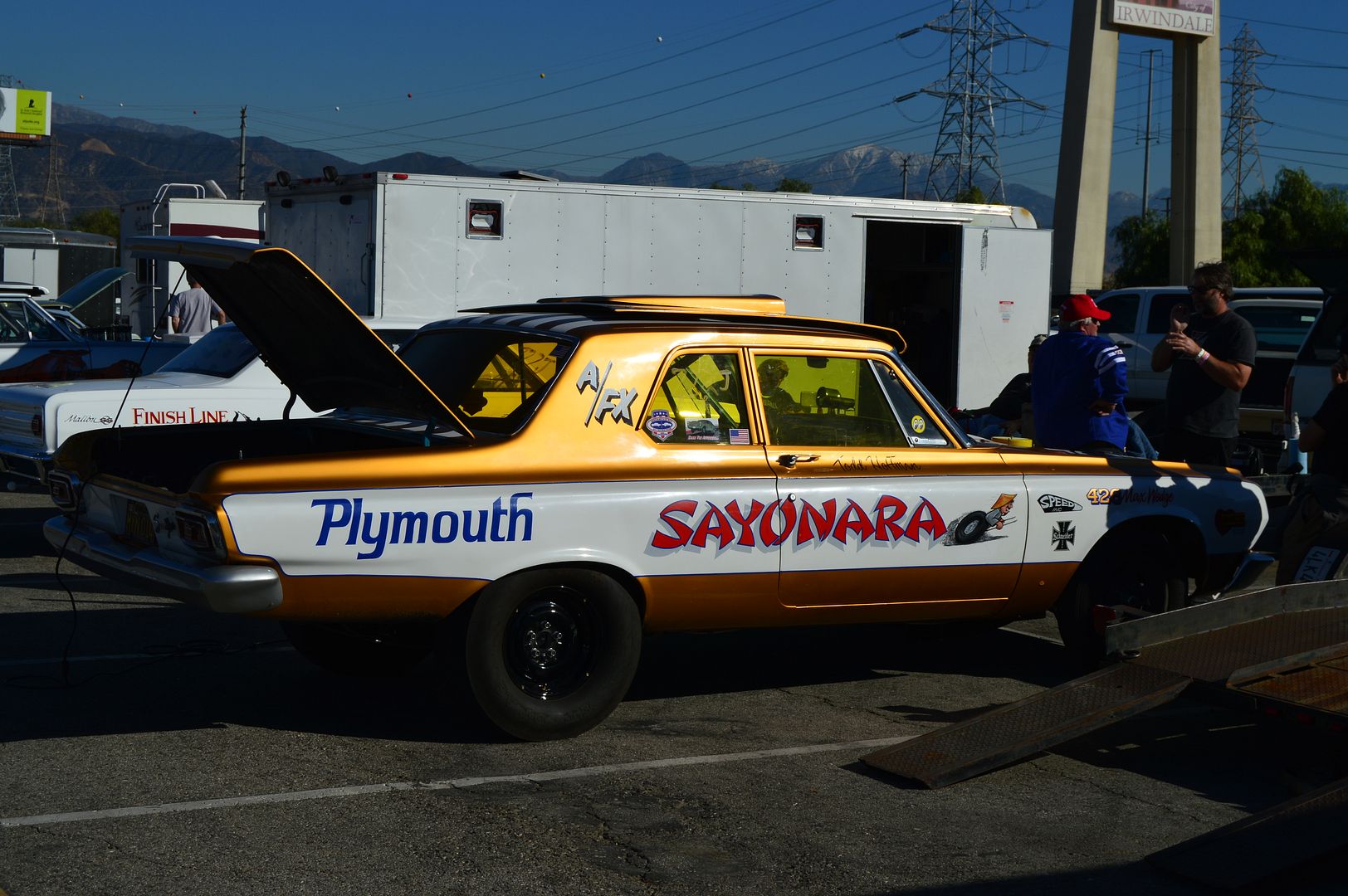 Once in the show, the air was filled with BBQ and Hot Dogs, as well with a good sprinkling of Rockabilly Music, and high revving cars as they staged and drag raced up the 1/8th mile strip.
So many cars had turned up and it was fun to walk the lines of machines, checking them out and seeing what the trend is this year in the Custom world and I noticed a few Lavender painted cars in a flat finish, so that seems to be the go this year.

Mooneyes is always a fantastic annual social event for me and was great to be able to approach some well known names in the Hot Rod industry, just to shoot the breeze etc.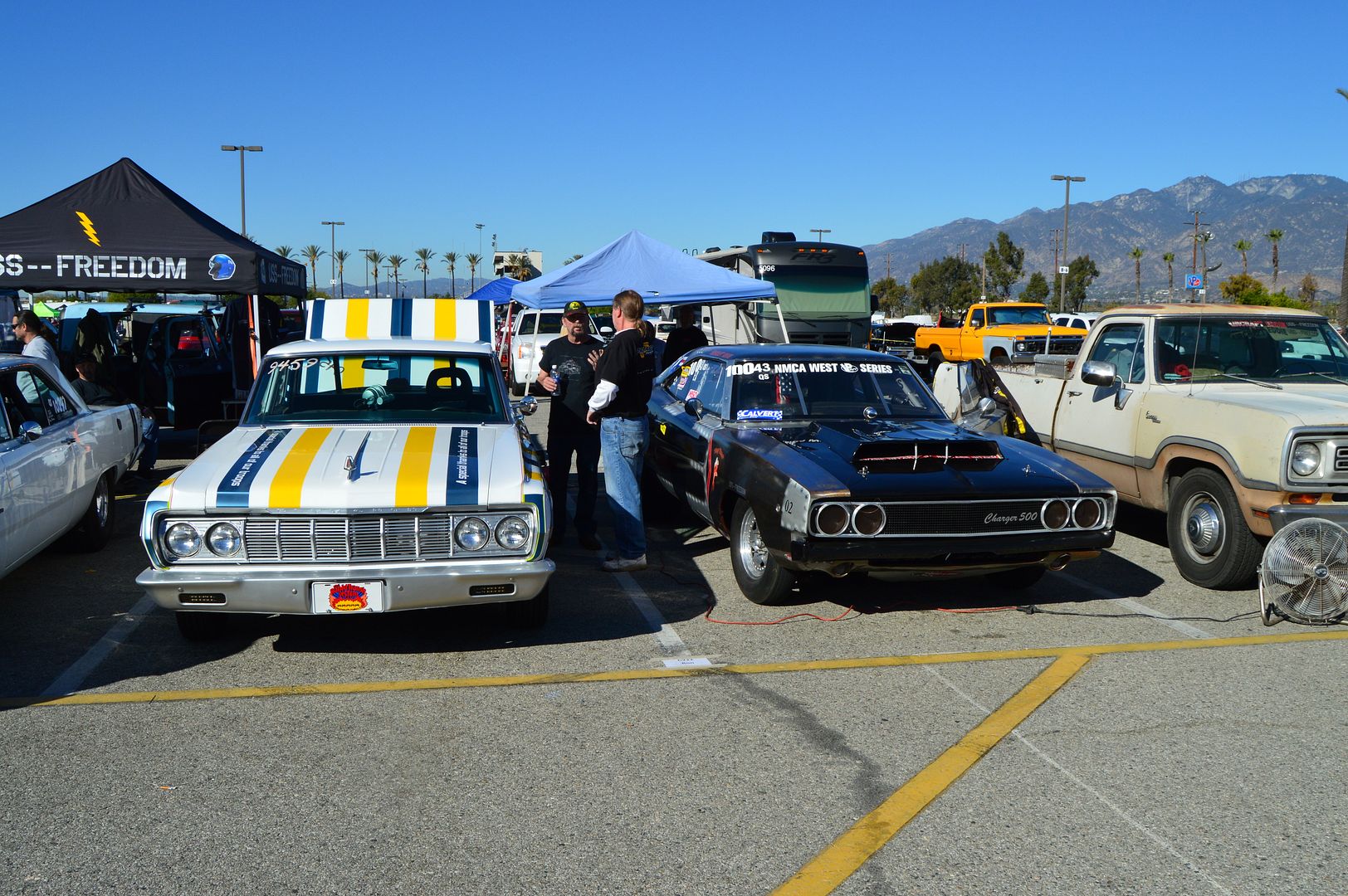 Shige from Mooneyes is always there and will stop everything he is doing to chat and genuinely ask how you are etc, so great to see him and Chico, along with Bob and Go manning the busy station, selling their infamous wares.
There were many vendors this year and ranging from cool plaid Pendletons, to custom pomade, there seemed to be a little of everything at the show and was a enjoyable checking different vendors booths to see what they had created for sale.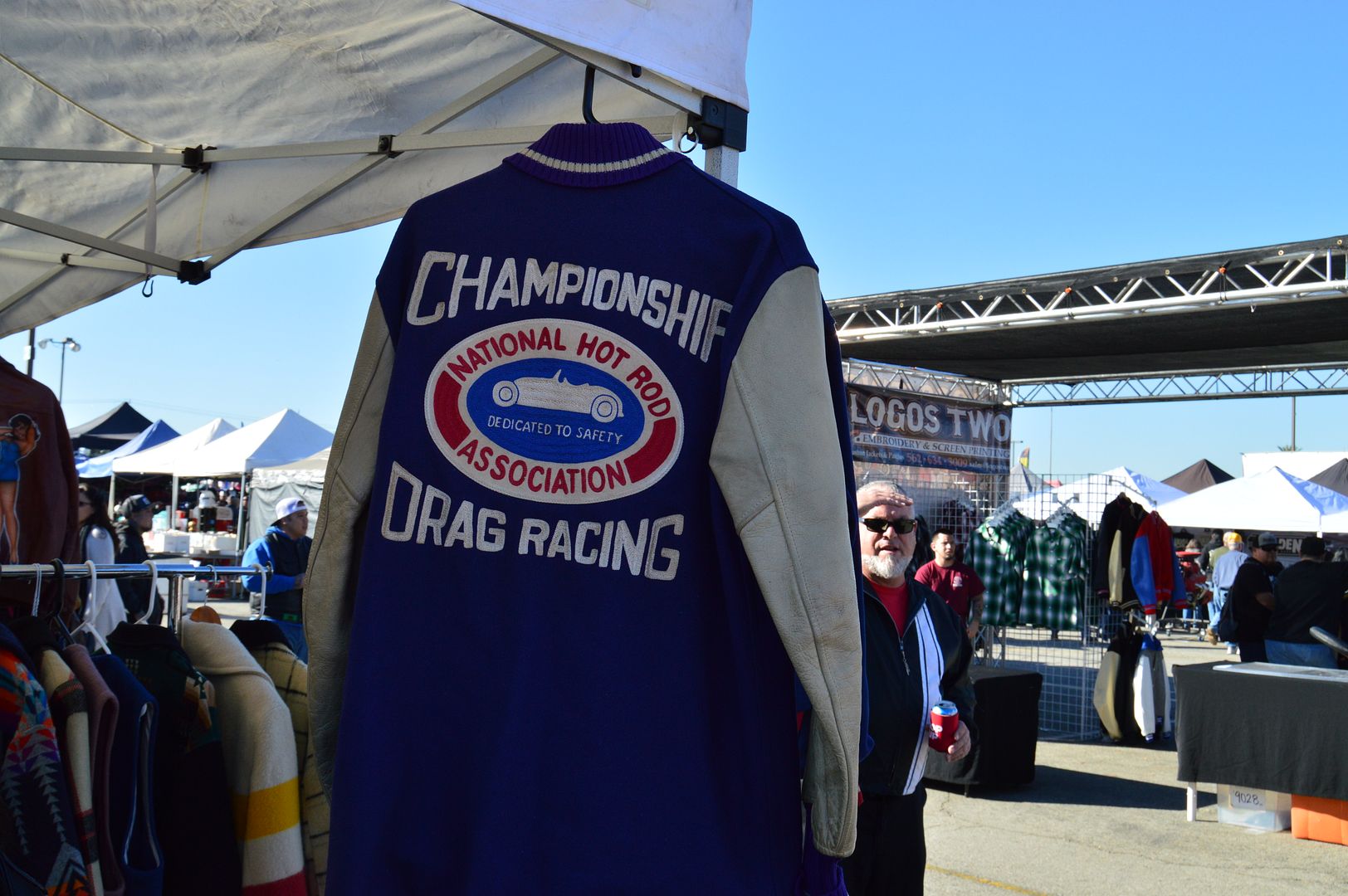 I saw Vintage Hot Rod Club Coats I would of given three arms and a leg for but wrong sizes made it a unsuccessful scavenge for me this time but, proves that there are still wicked clothing out there if you are at the right place at the right time.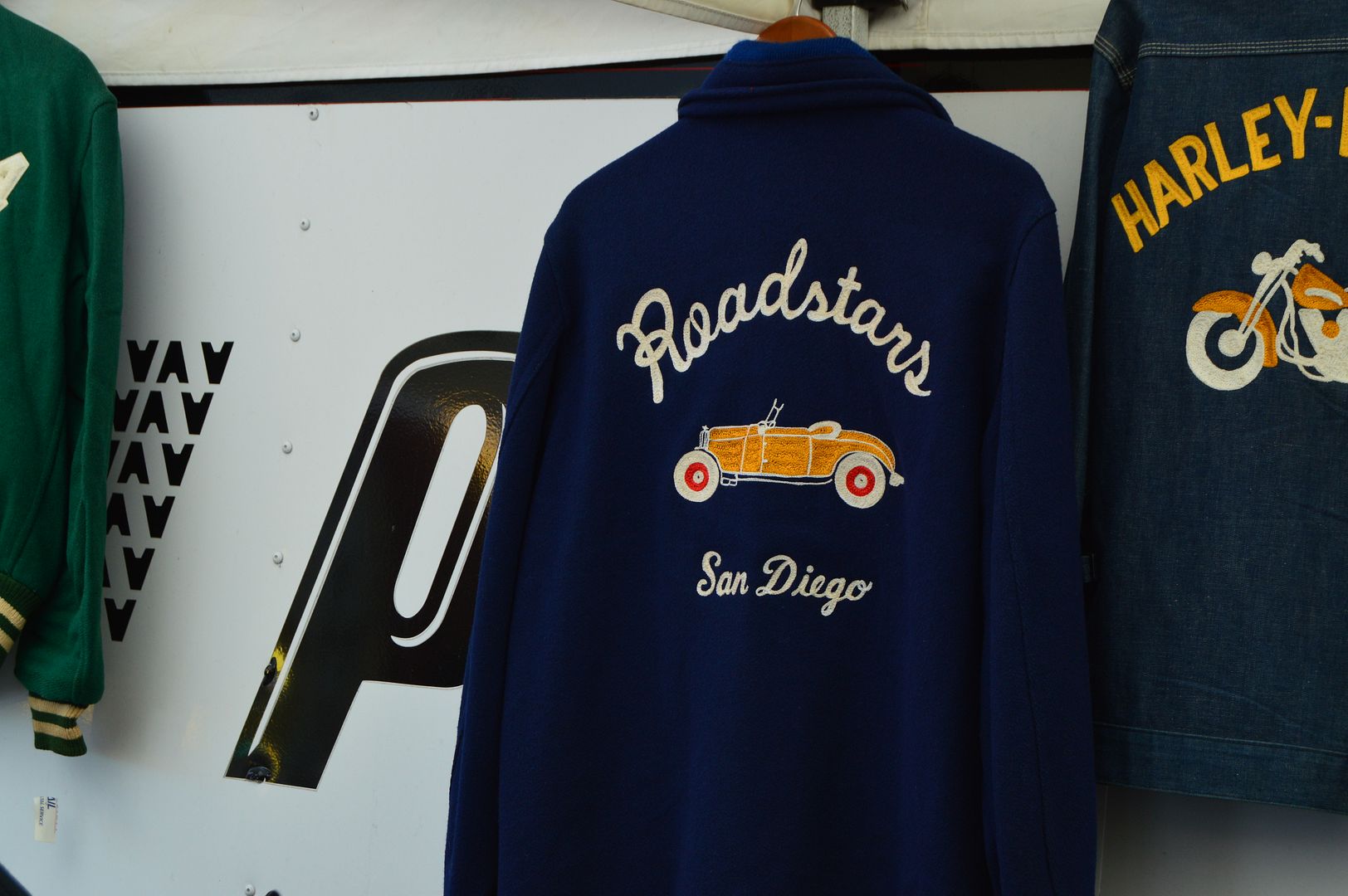 I saw Big Nick Barns, another Ex pat living in SoCal and has been dealing in the Vintage Clothing industry over 30 years and always seems to come up with unique apparel and love seeing it.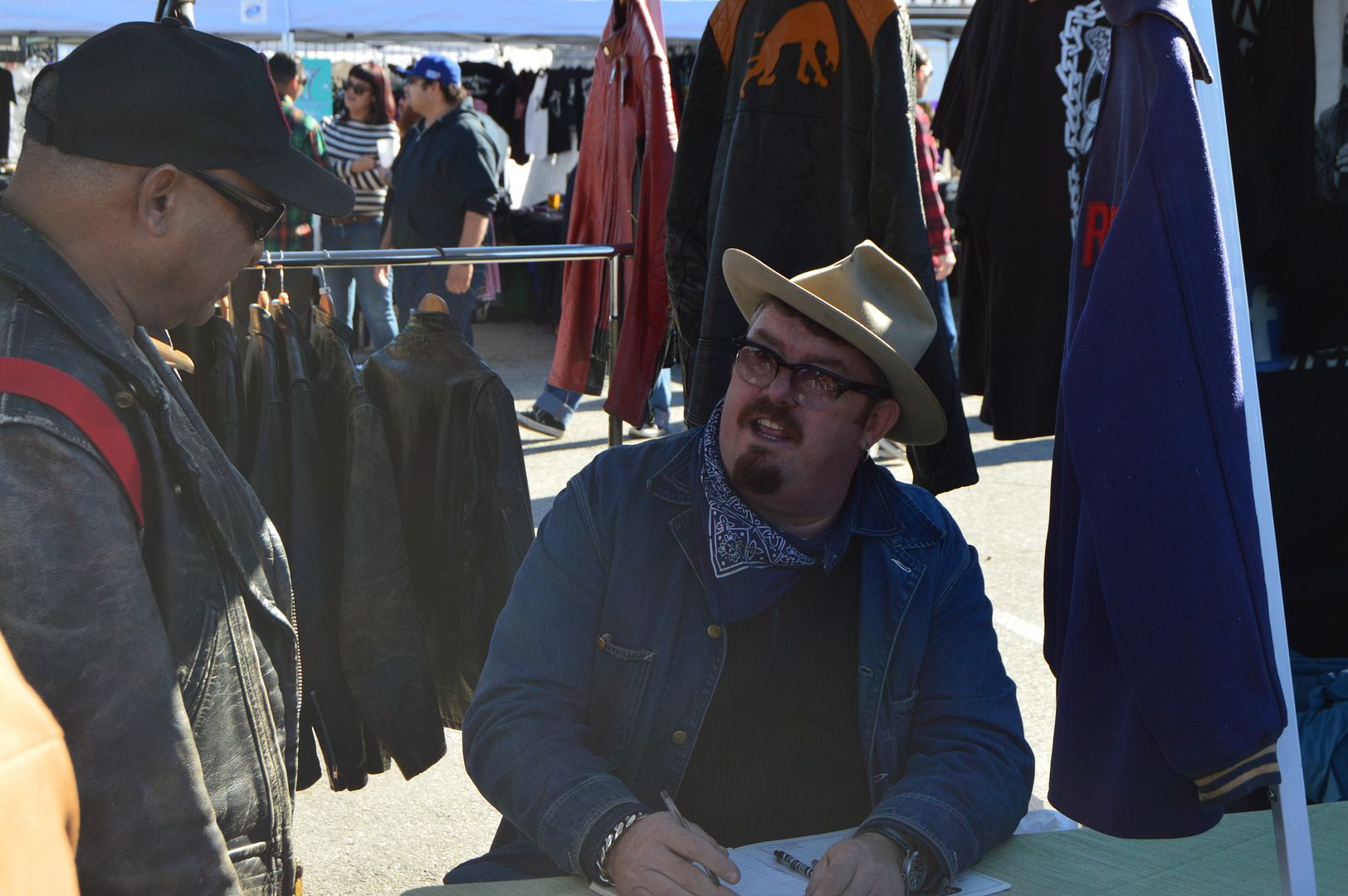 Jennifer and I watched Buddy Dhugi and his wonderful wife Suzi, play as they always do for the moon show and this year kitted out with Christmas sweaters, albeit it was bloody hot this year.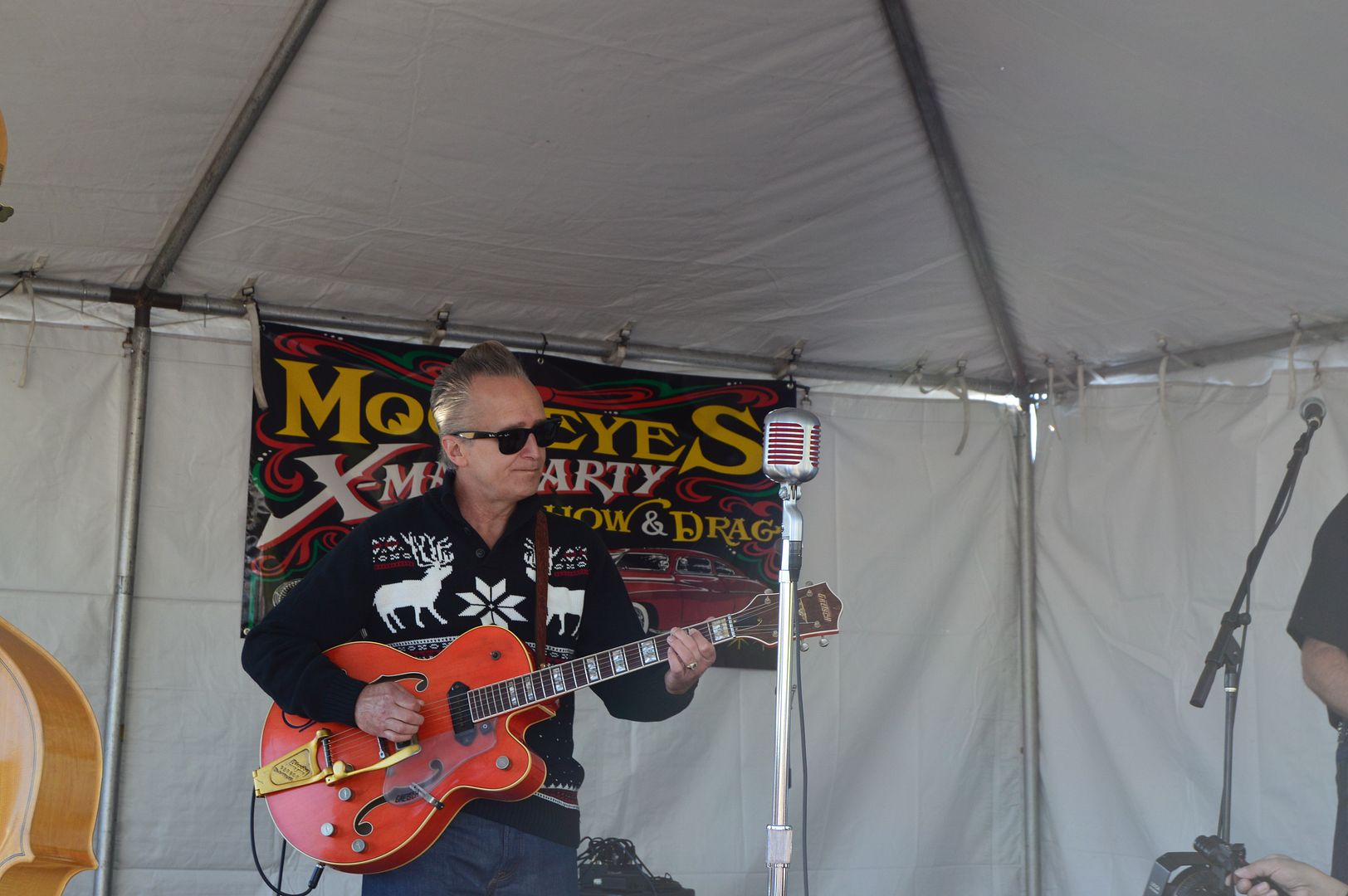 But their set was pretty cool and they rocked the event as they usually do, we made sure to stop and chin wag as these are the best events for an annual social gathering for us.
Next band was my mate Big Dan and he plays in the Dynotones, an awesome 60's Surf Guitar combo and boy do they rock, loved every song and hope to book them for my annual party in march 2016.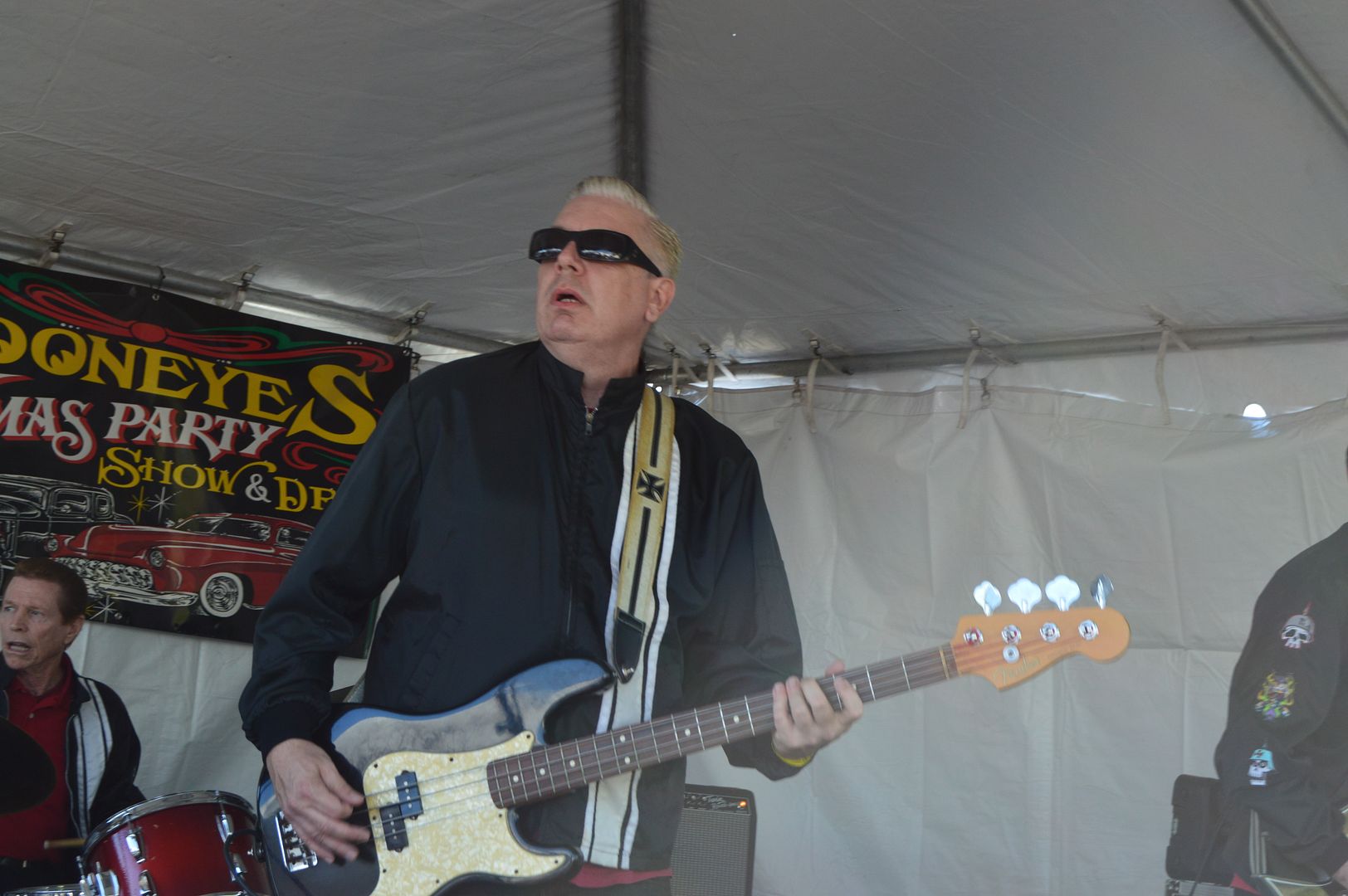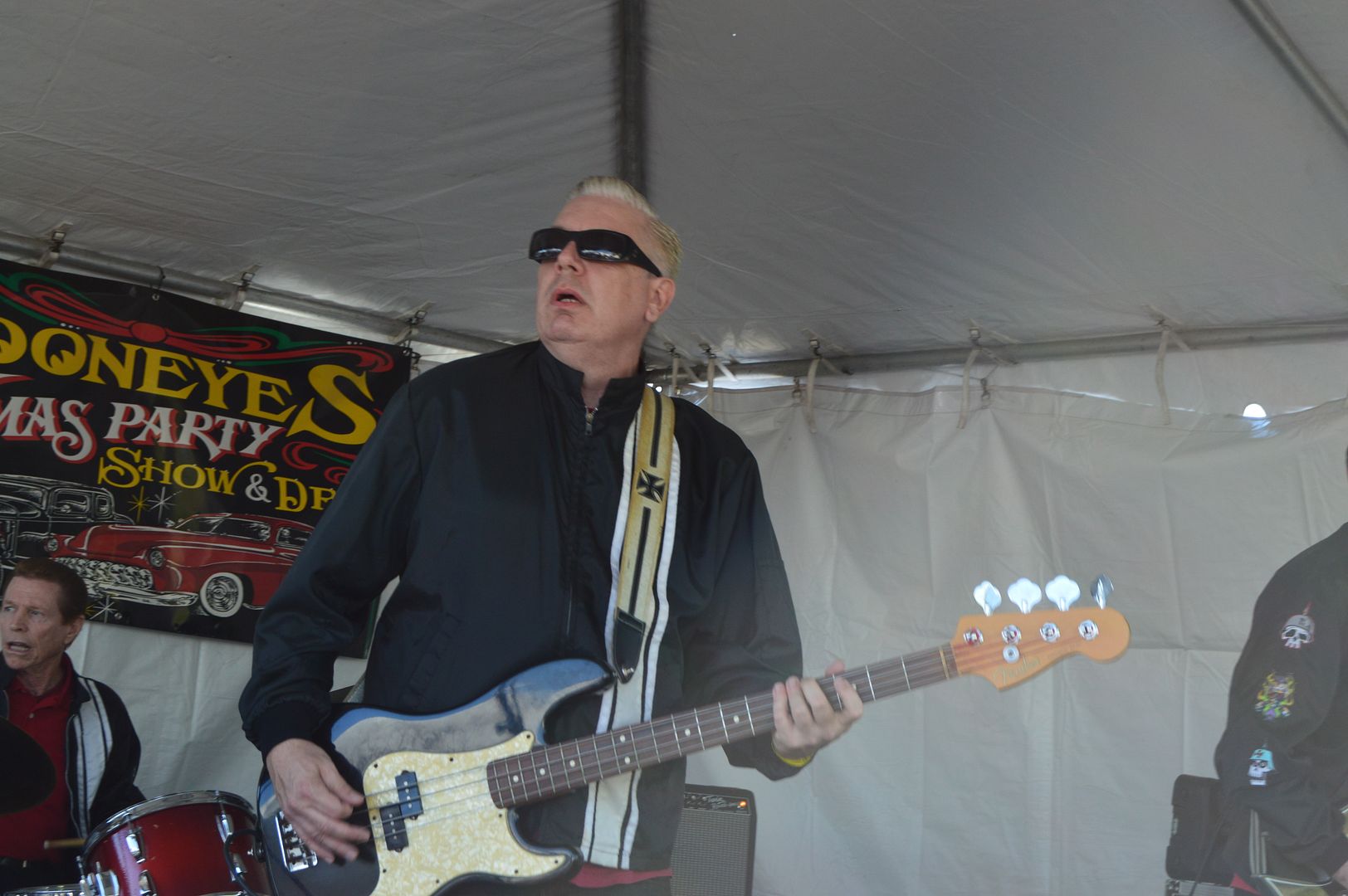 We grabbed some food and hung out with some good people, I spoke to some mates I hae not seen in years, like Dean from Dice Magazine etc and Dennis Roth was in his element having fun with people in his Crazy Custom Flaked machine.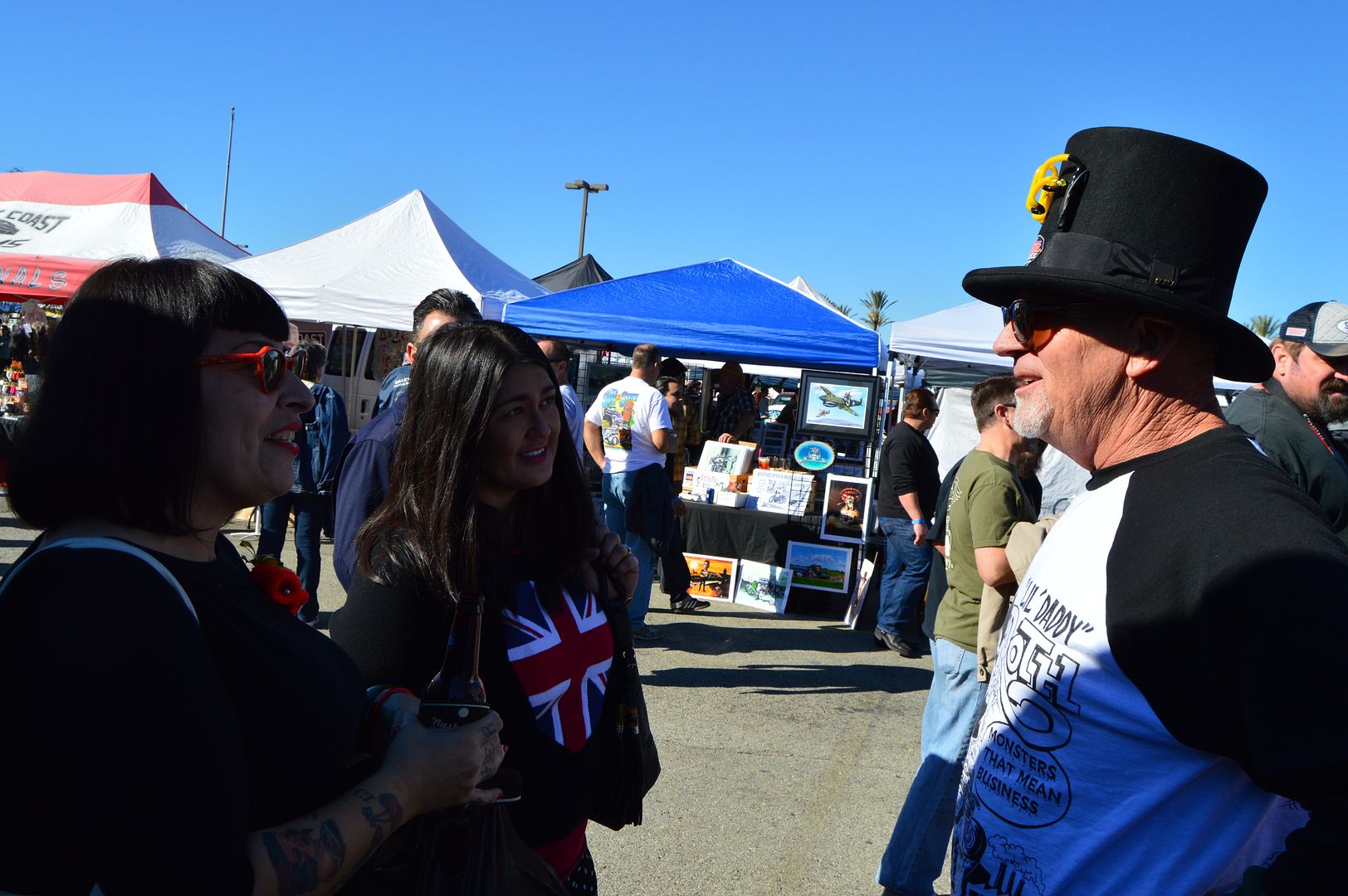 The sound of bands playing, and Gassers racing up the strip every few minutes is an awesome experience and one you should at least try Once, just to be able to truly understand what I am on about, it is a really cool show- busy but cool.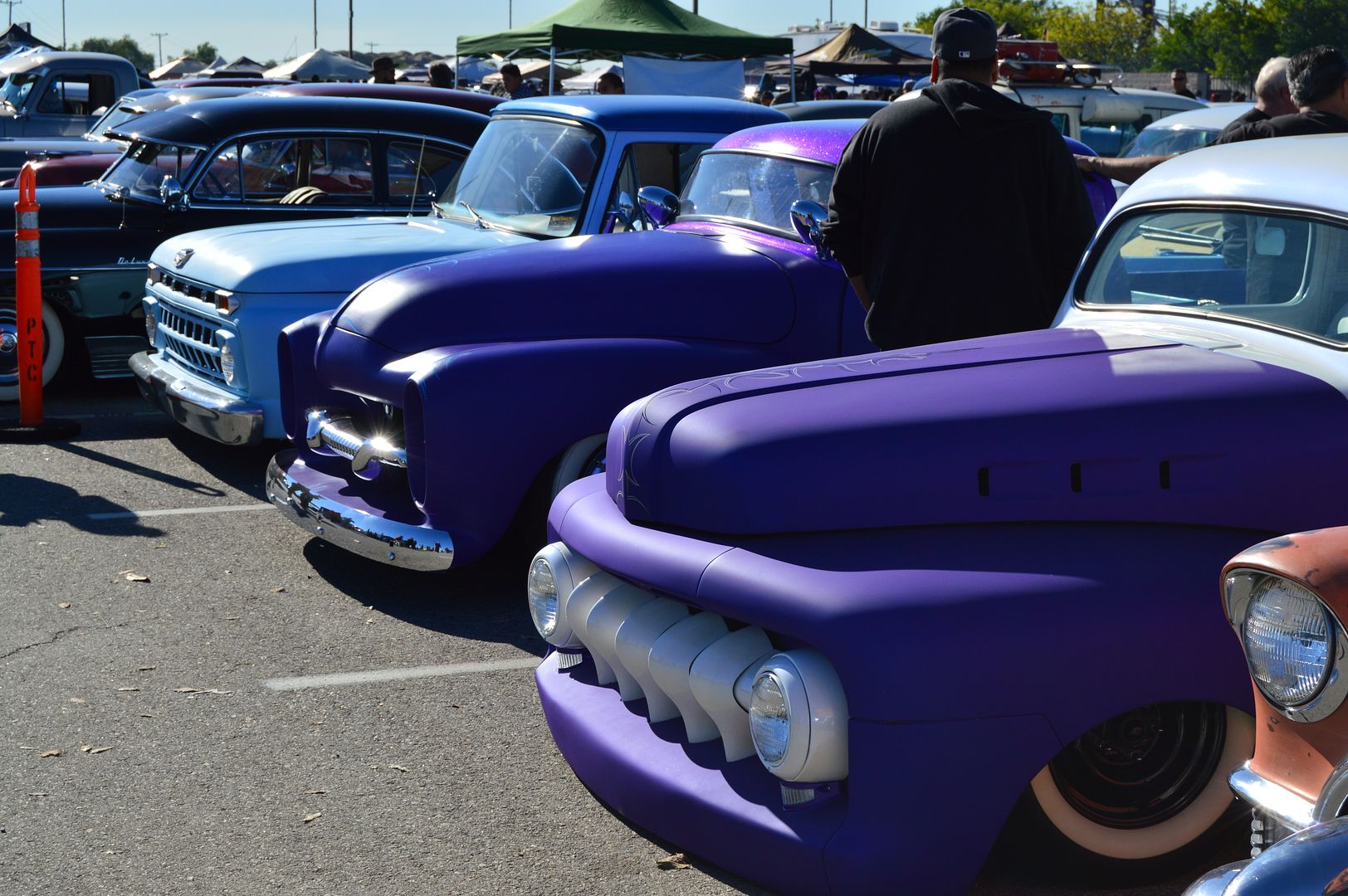 So many cars to see, make sure you allocate a few hours just to observe these fantastic machines as we walked isle upon aisle and people were more than happy to tell you about their car and how it came about etc.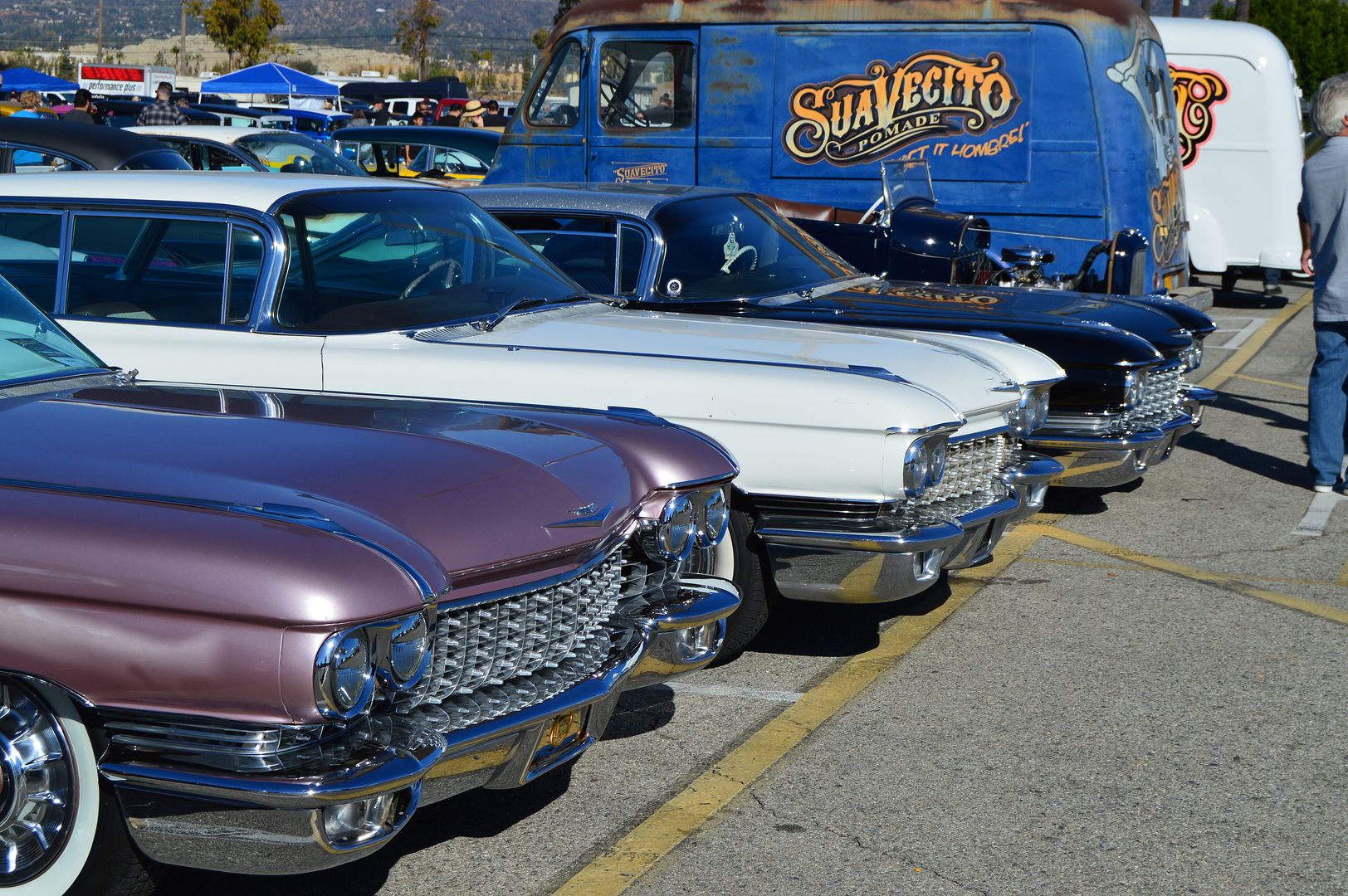 Now this Roadster you see is a show car, something many of you and I dream about, Jennifer asked the guy if it was his and with a smile on his face he said yes.

I asked him about the 40 ford dash and he said it was a 40 ford dash but- he did not build the car, he won it in a raffle.
I was gobsmaked as i remember the Roadster being as a raffle car at Ventura a few years ago, he said he had watched the Roadster being built via instagram etc and he bought ONE $20 ticket, he went to the show but came home as it was his 32nd Birthday, the phone rang and he thought it may be one of his buddies wishing him all the best, but infact it was ventura asking him if he had abought a raffle ticket for the car. He said yes and then she said, well you have won it!!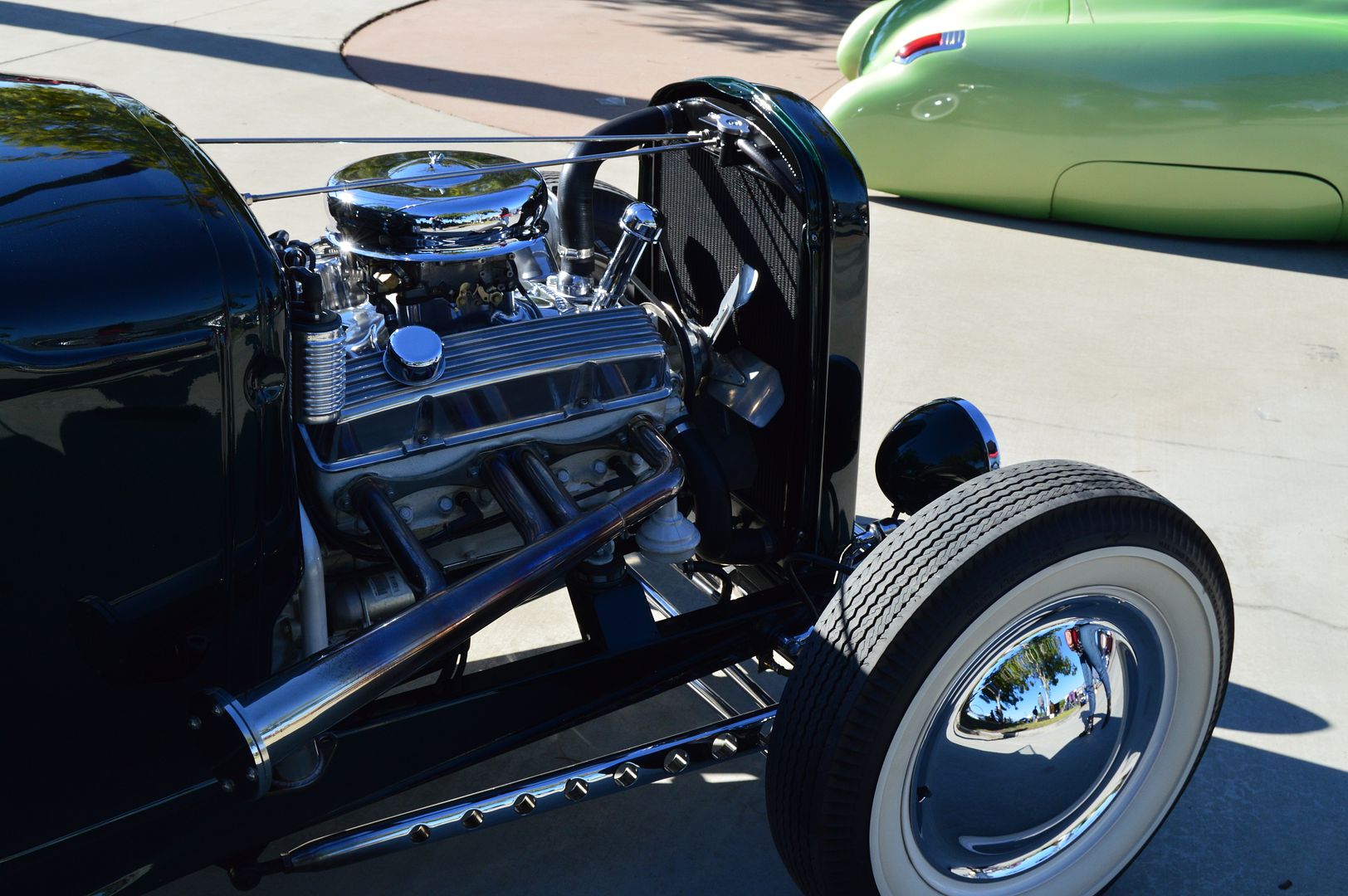 Jeez, for $20 a $40,000 Built Roadster, they even had the builder drive it to his house and he drives it every weekend, lucky man, I always hear about raffles and never believe they are legit and you never see the winner, but this was the real deal and for $20 he won that awesome machine.
Jenn informs me she is doing Raffles from now on and, I tend to agree with her it seems like it may just be worth the chance, but such a great story on that Roadster.

Mooneyes always brings over their super cool pinstripers from Japan and they turn out some super cool work quickly.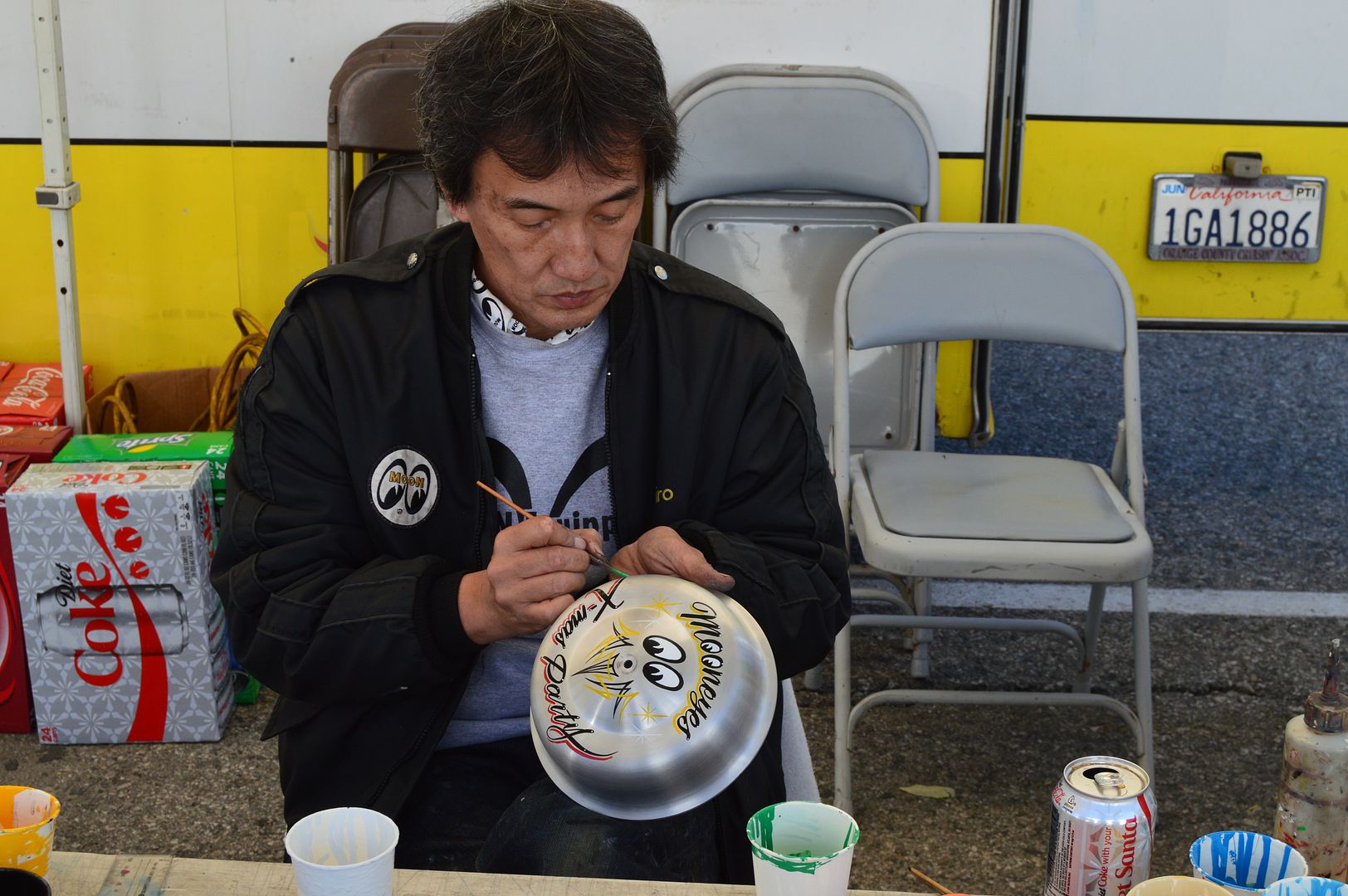 A great event and so much to see, make sure you get here early to be able to take it all in.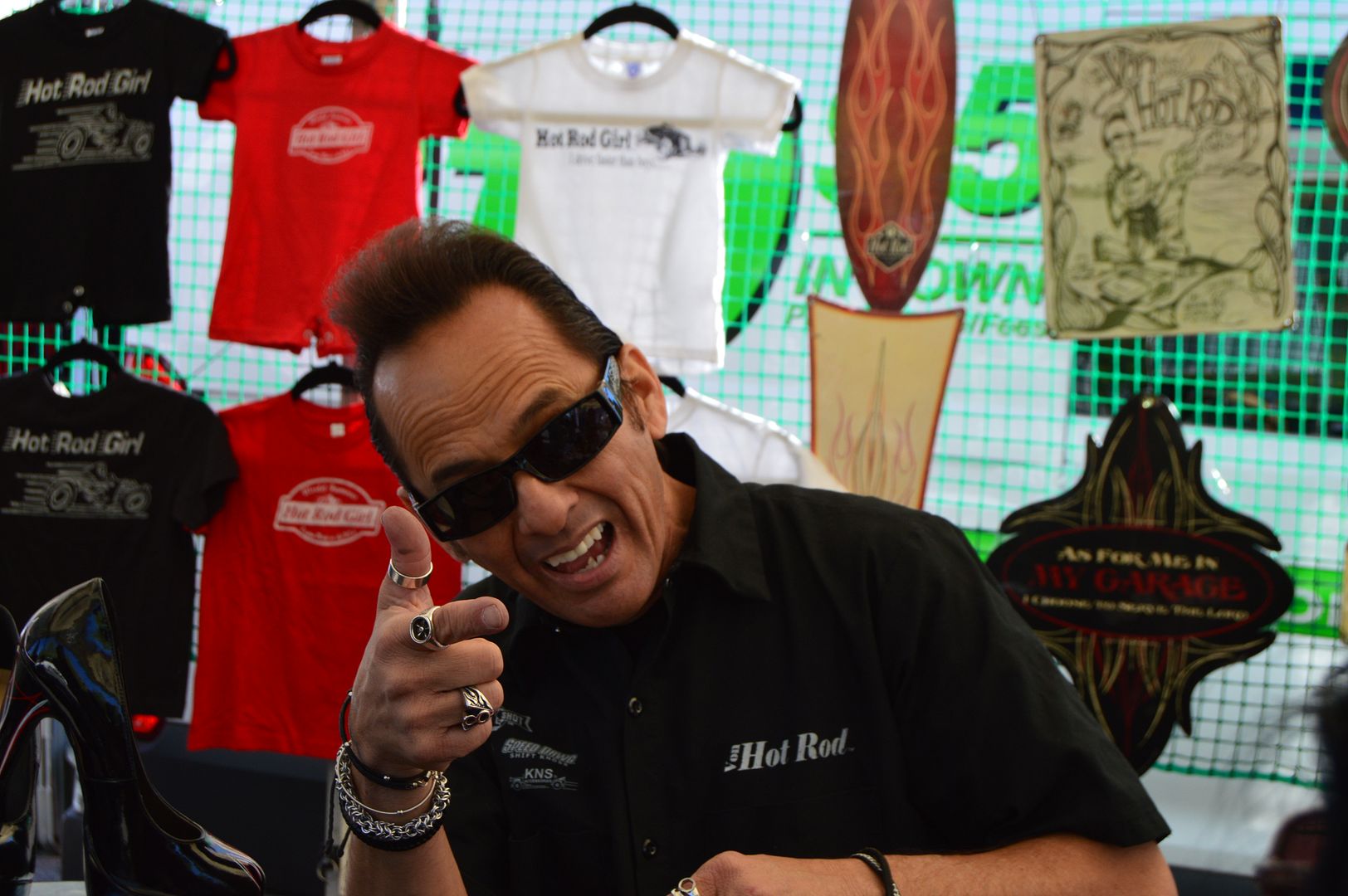 Another Pinstriper is Hot Rod, he has been doing this for many many years.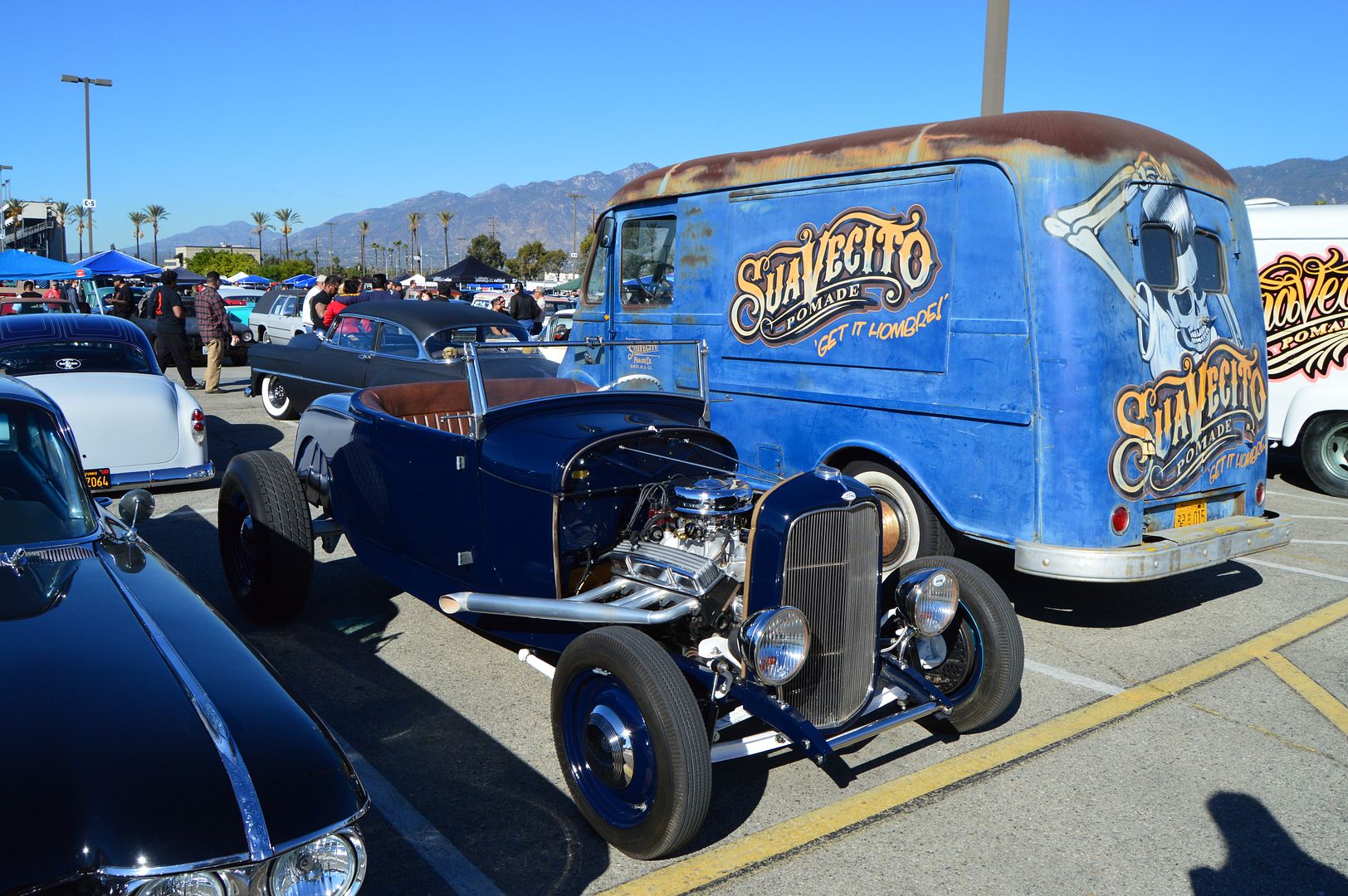 This Blue 29 Roadster was pretty cool parked up and sun bathing.
I loved this tough 55 Gasser in Candy Paint, sure sounded menacing too.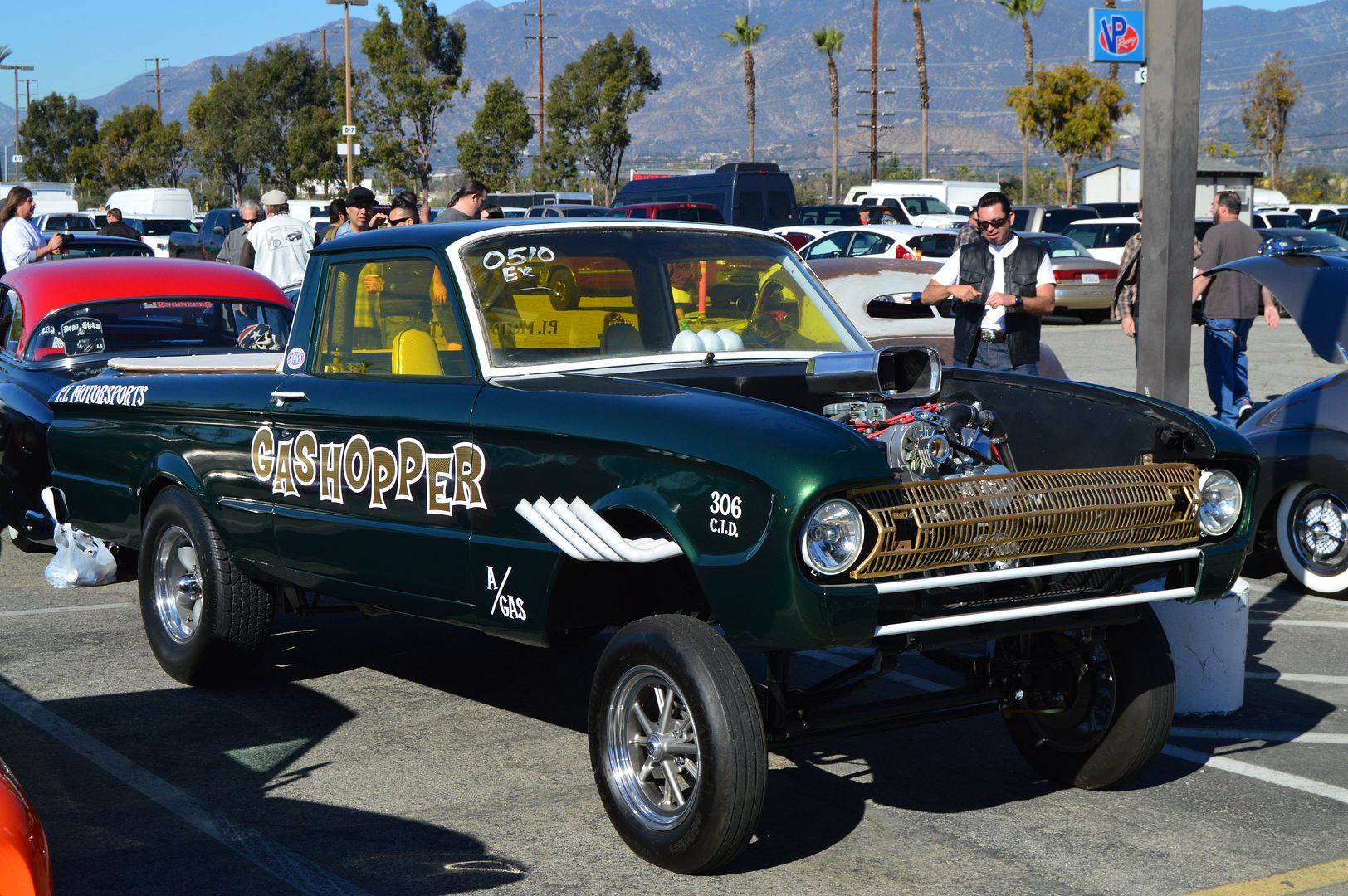 This mid 60's Ranchero was so bang on the money for styling .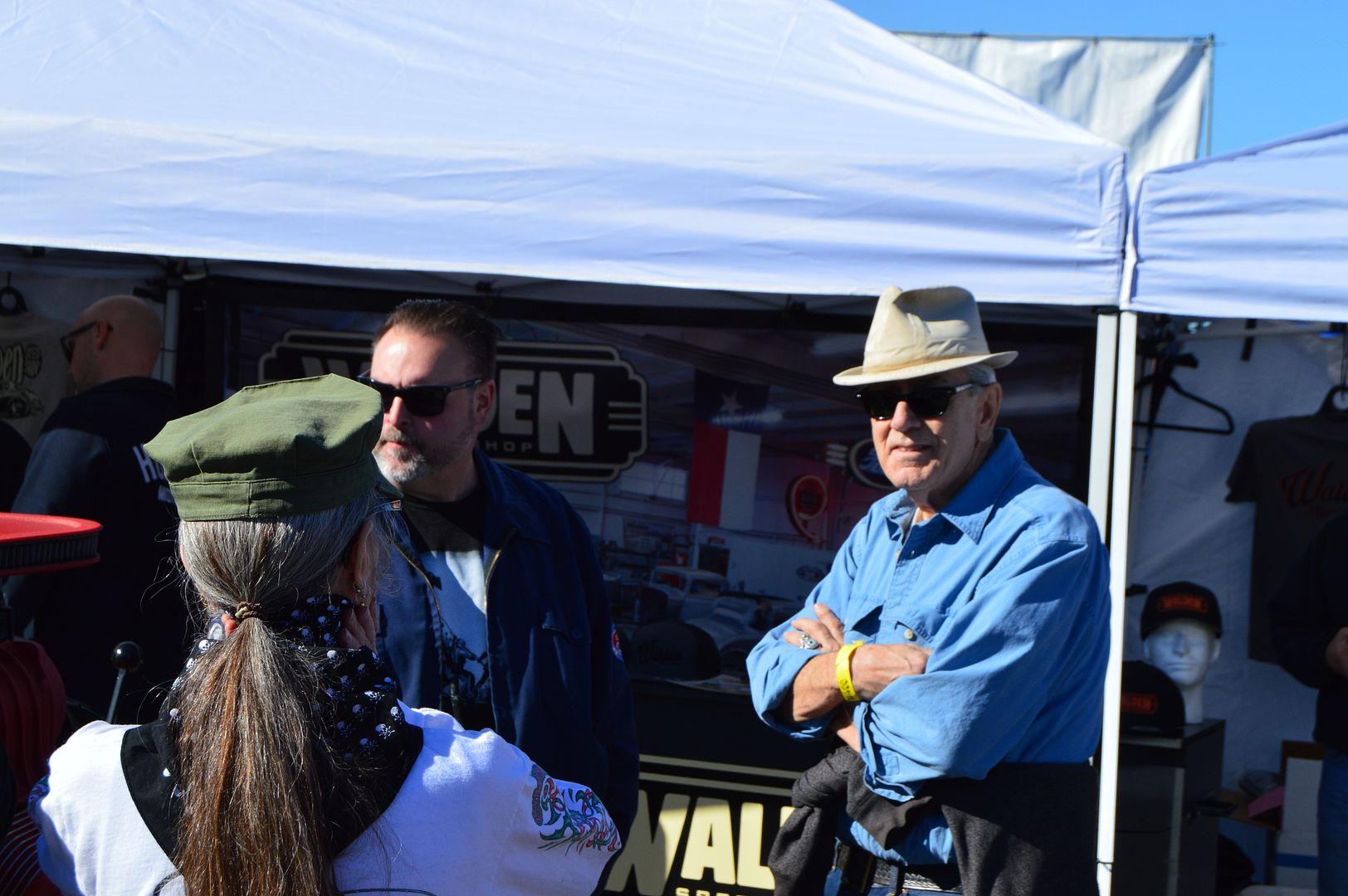 Legends in the Hot Rod Art world, Robert and Suzy Williams were in attendance too.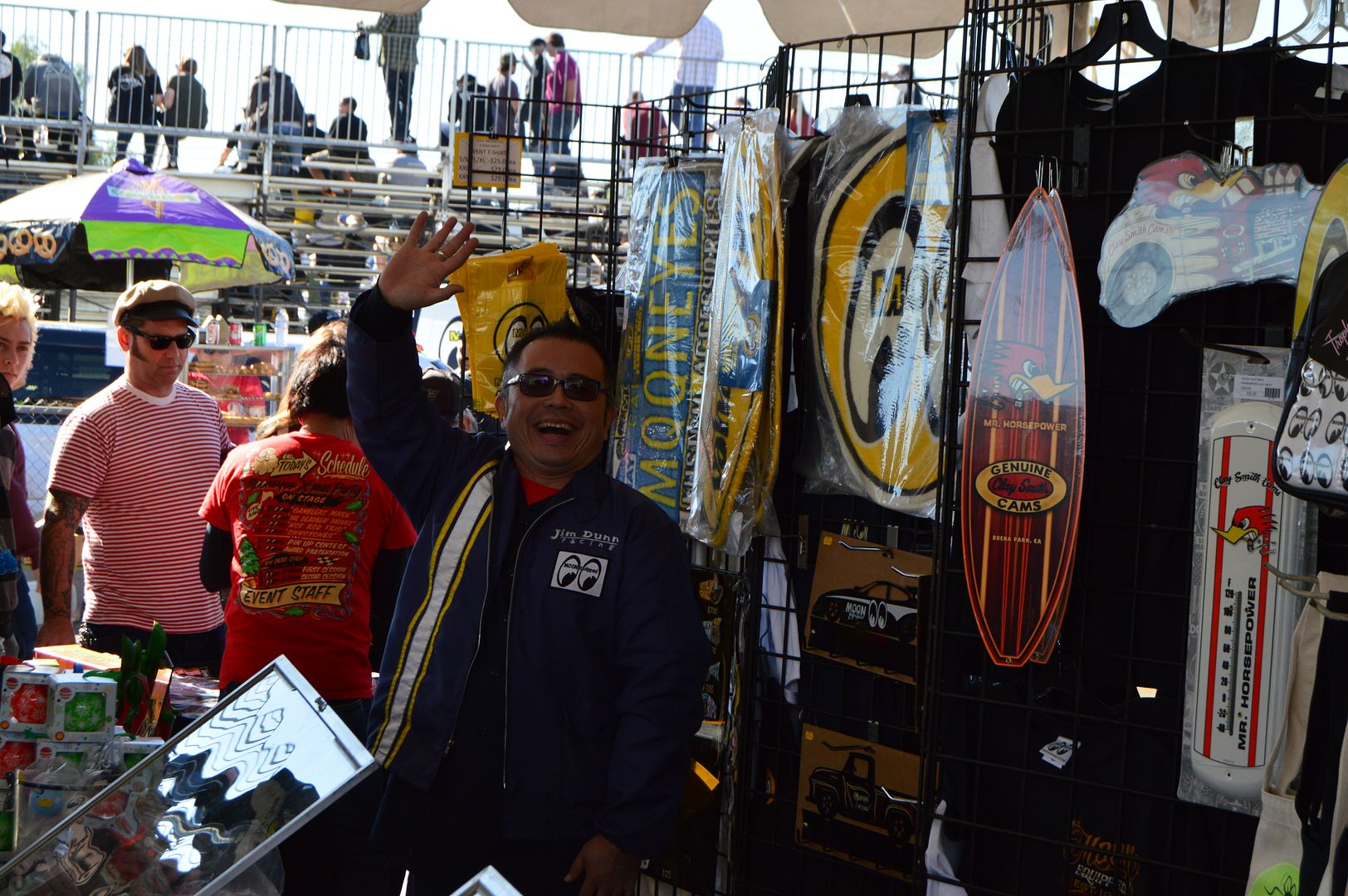 Here is my mate GO hat works at Mooneyes and is a super nice fella.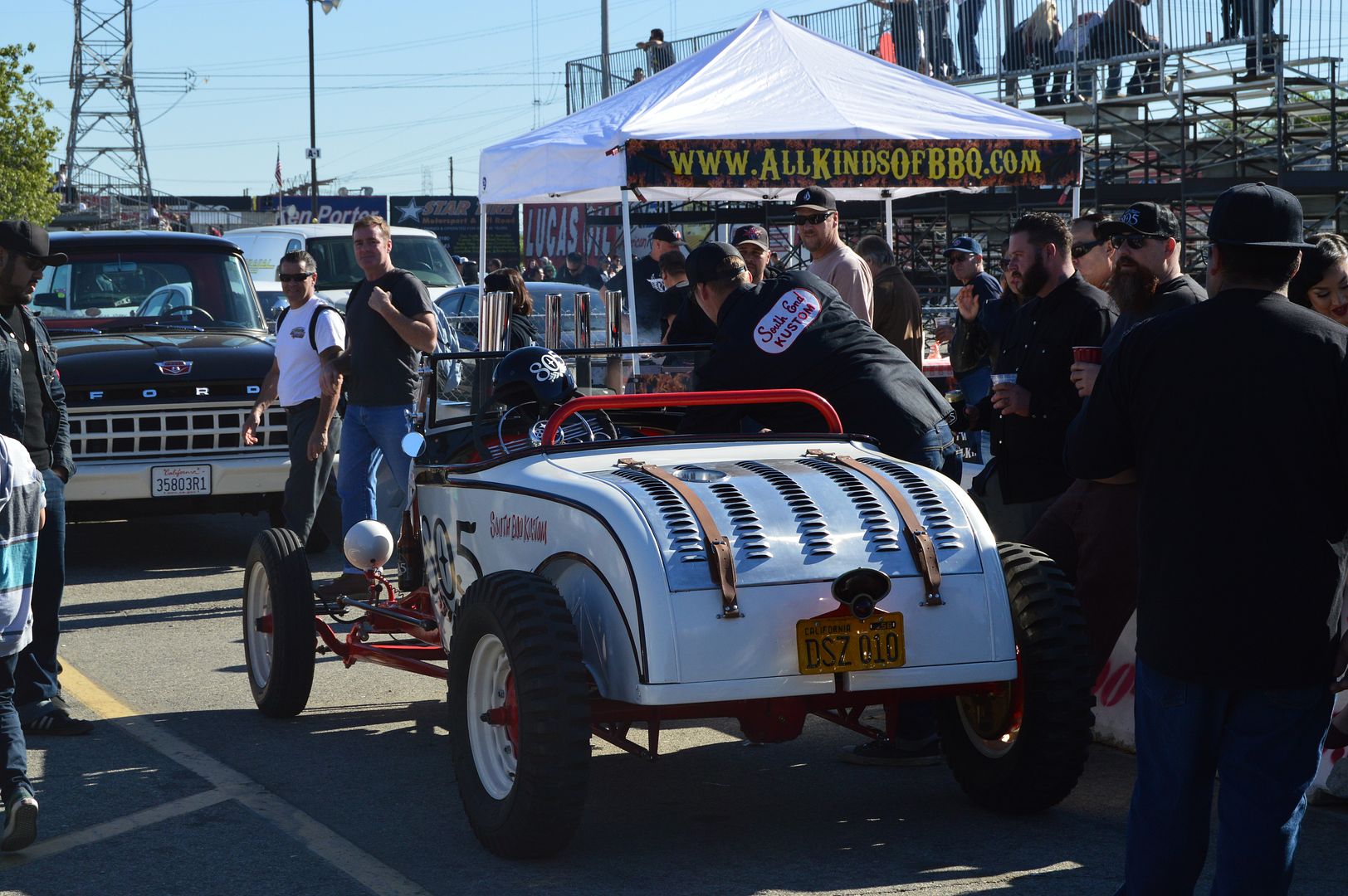 Organ pipes on this roadster sounded like a broken fan in a fridge.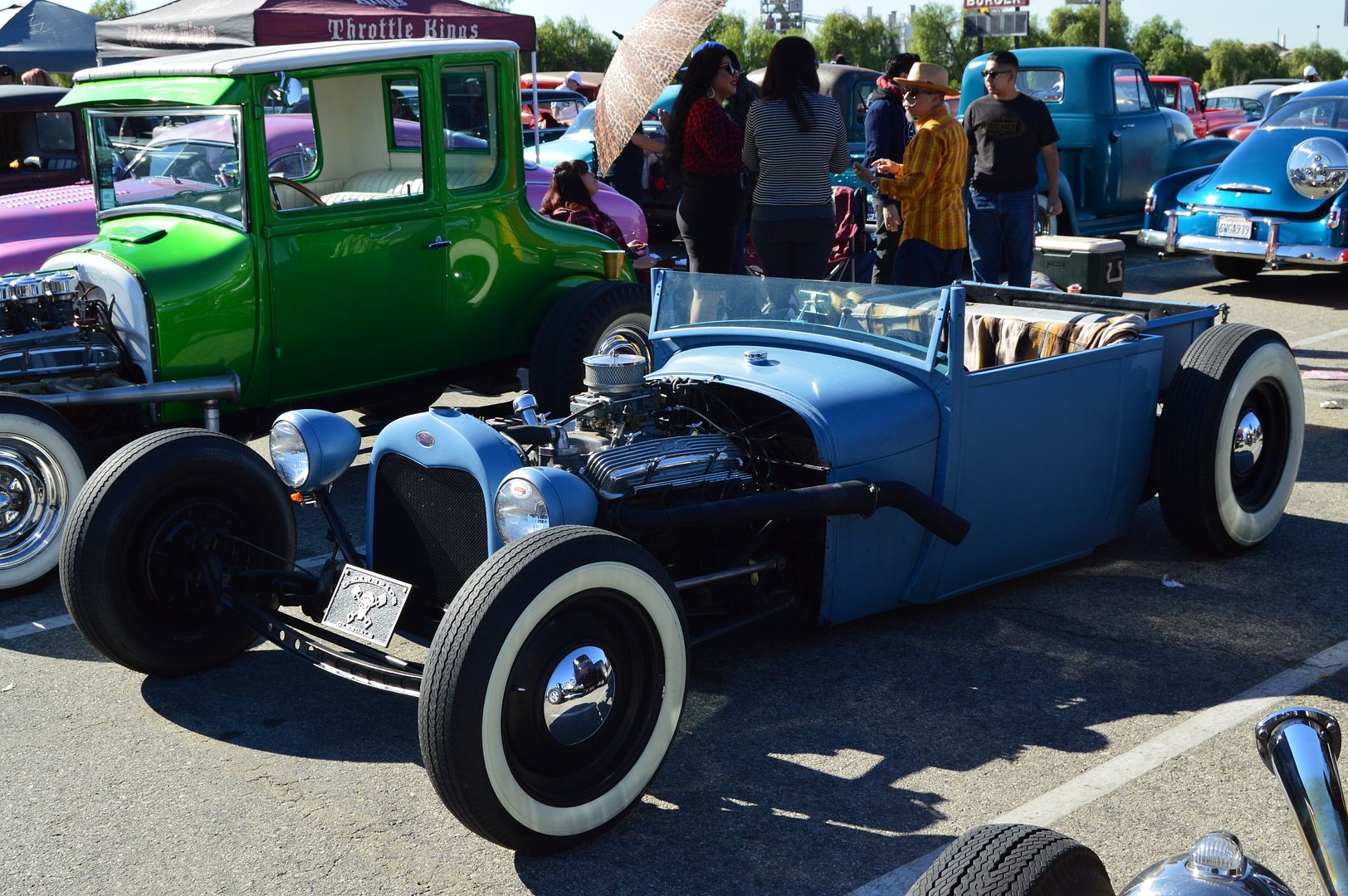 29 roadster pick up but too low to pick anything up.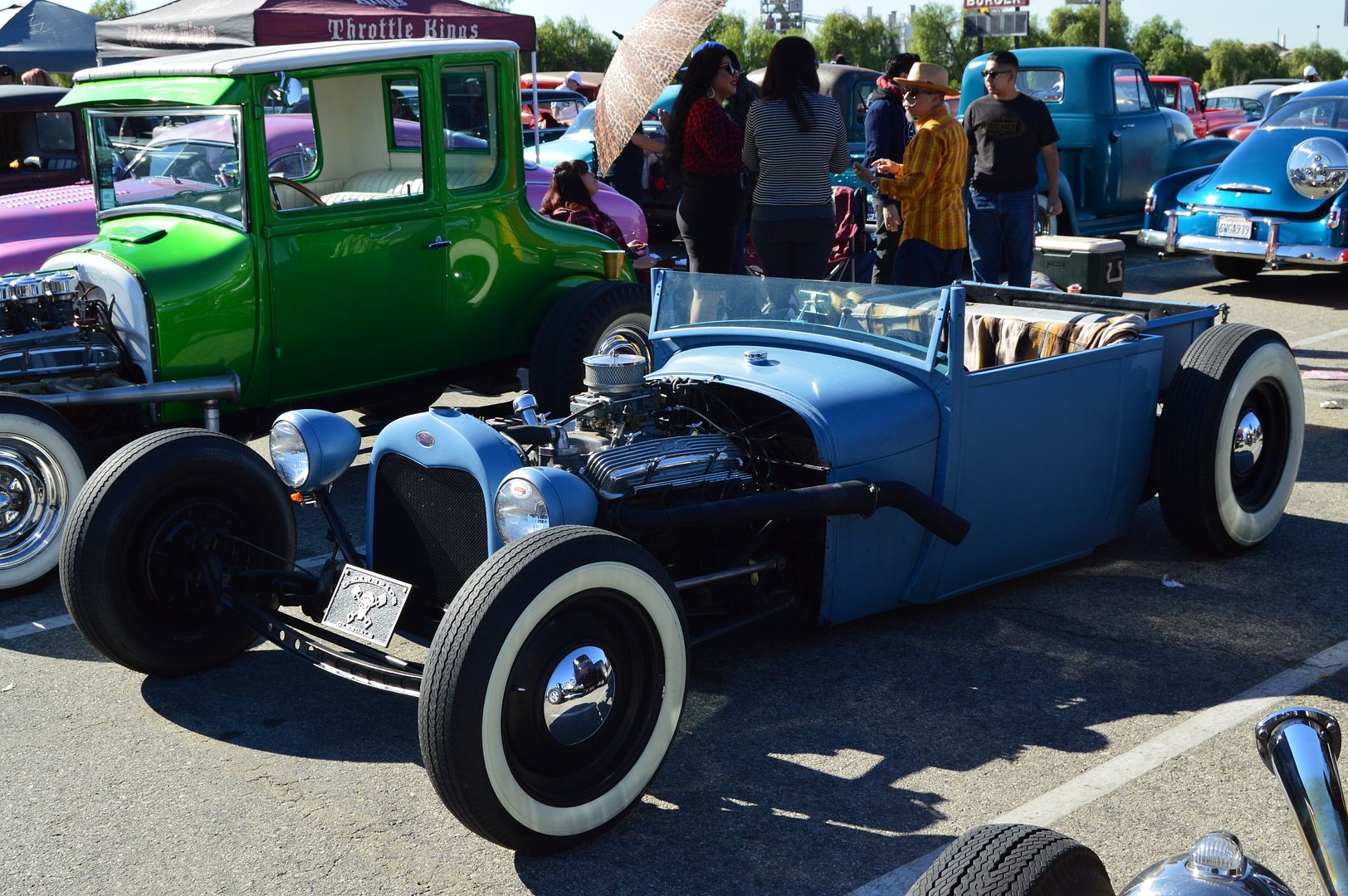 This green T was pretty cool.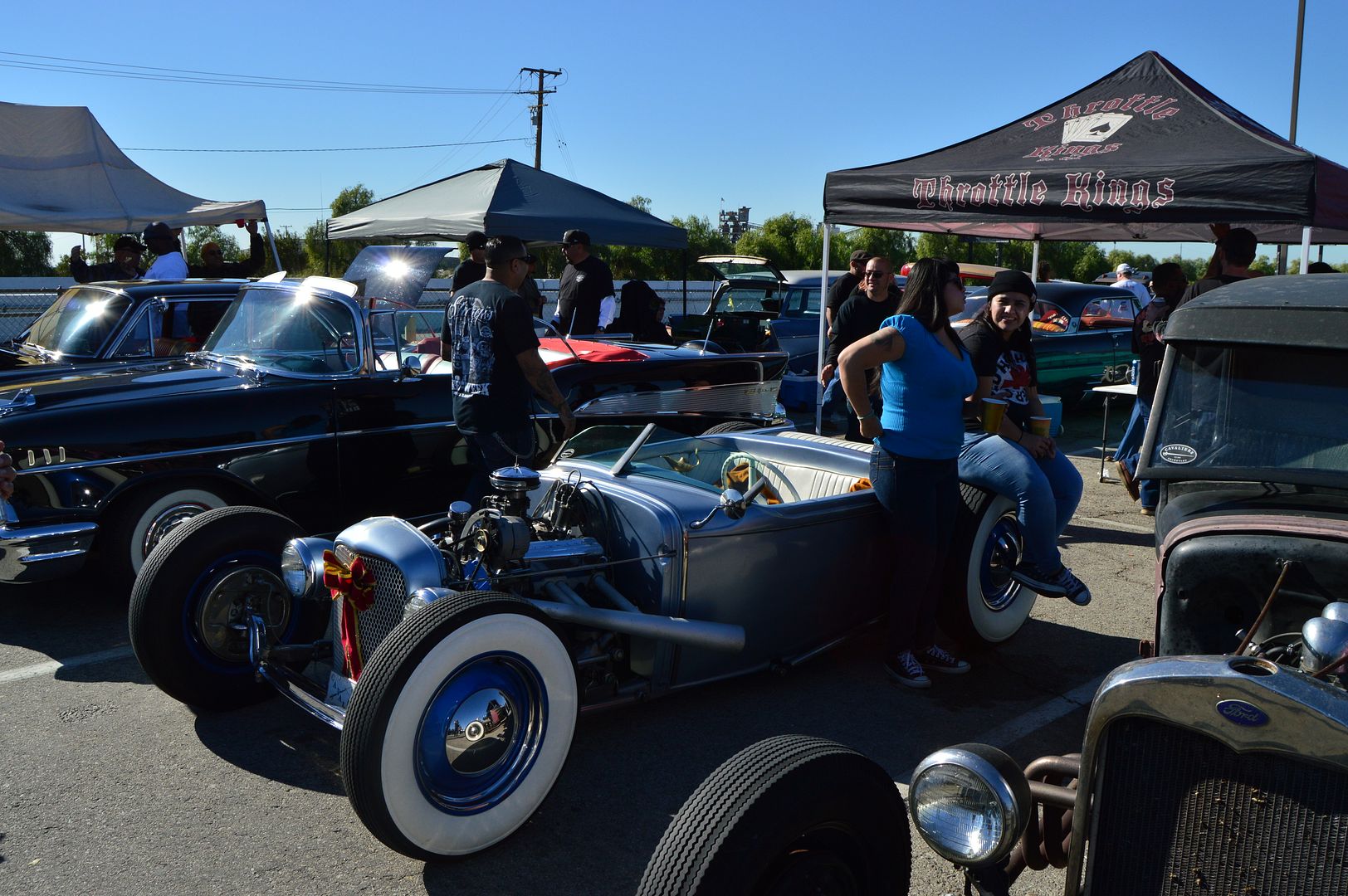 Another channeled Roadster sits on the deck.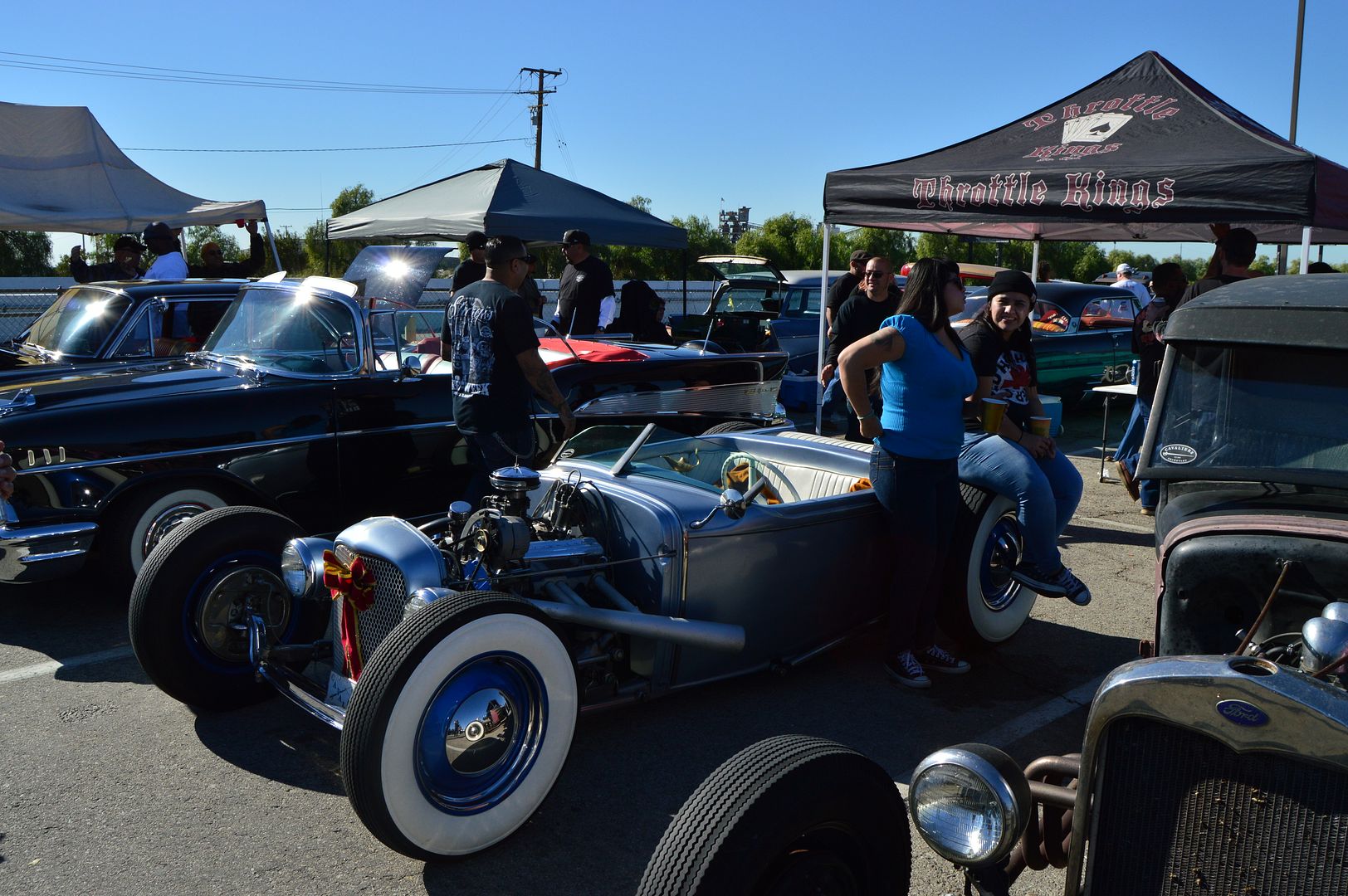 Now, I would drive this home no problem.
A nice sprinkling of Roadsters were here this year.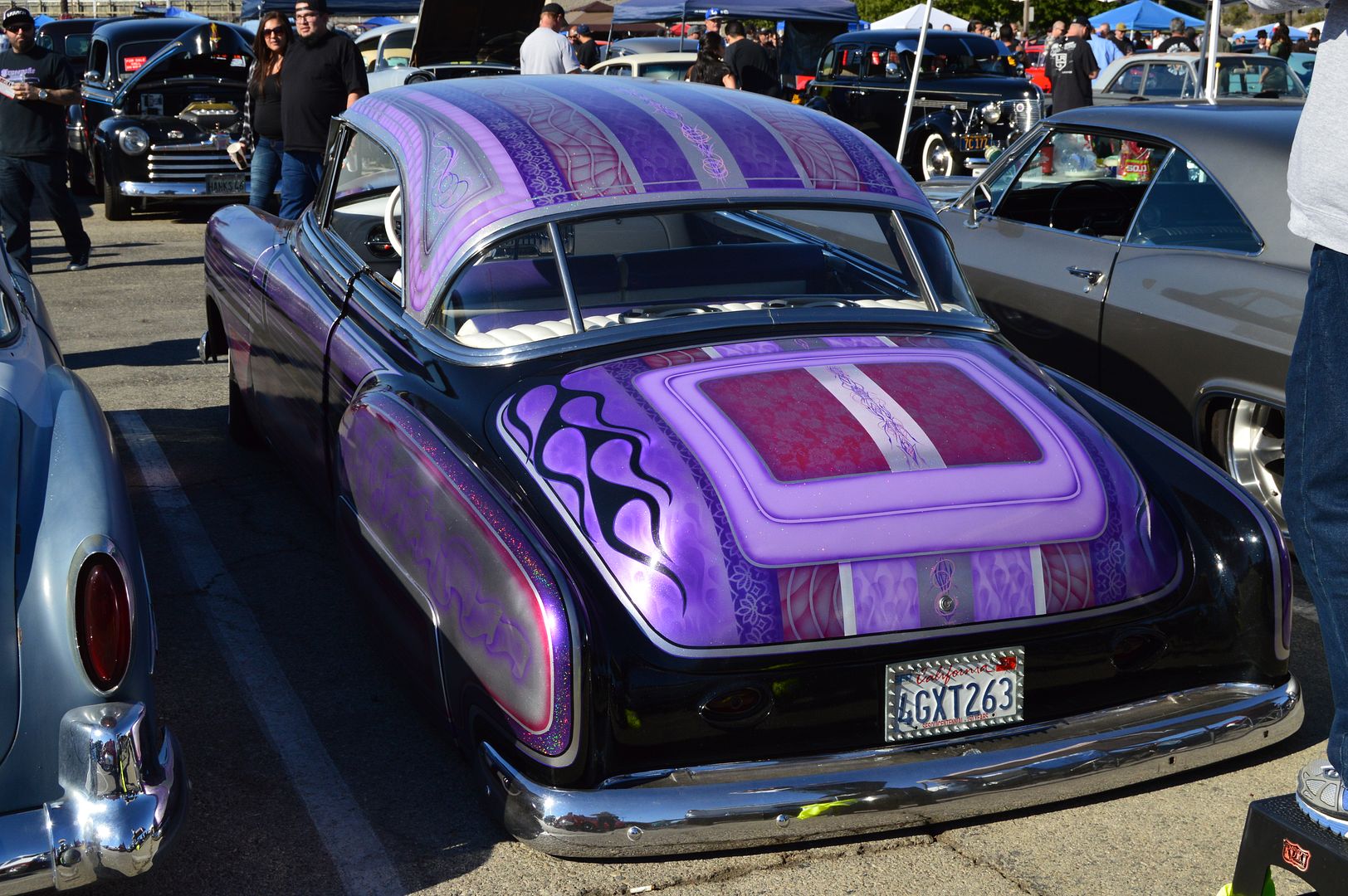 A few Custom Low riders too, a lot of masking to do this.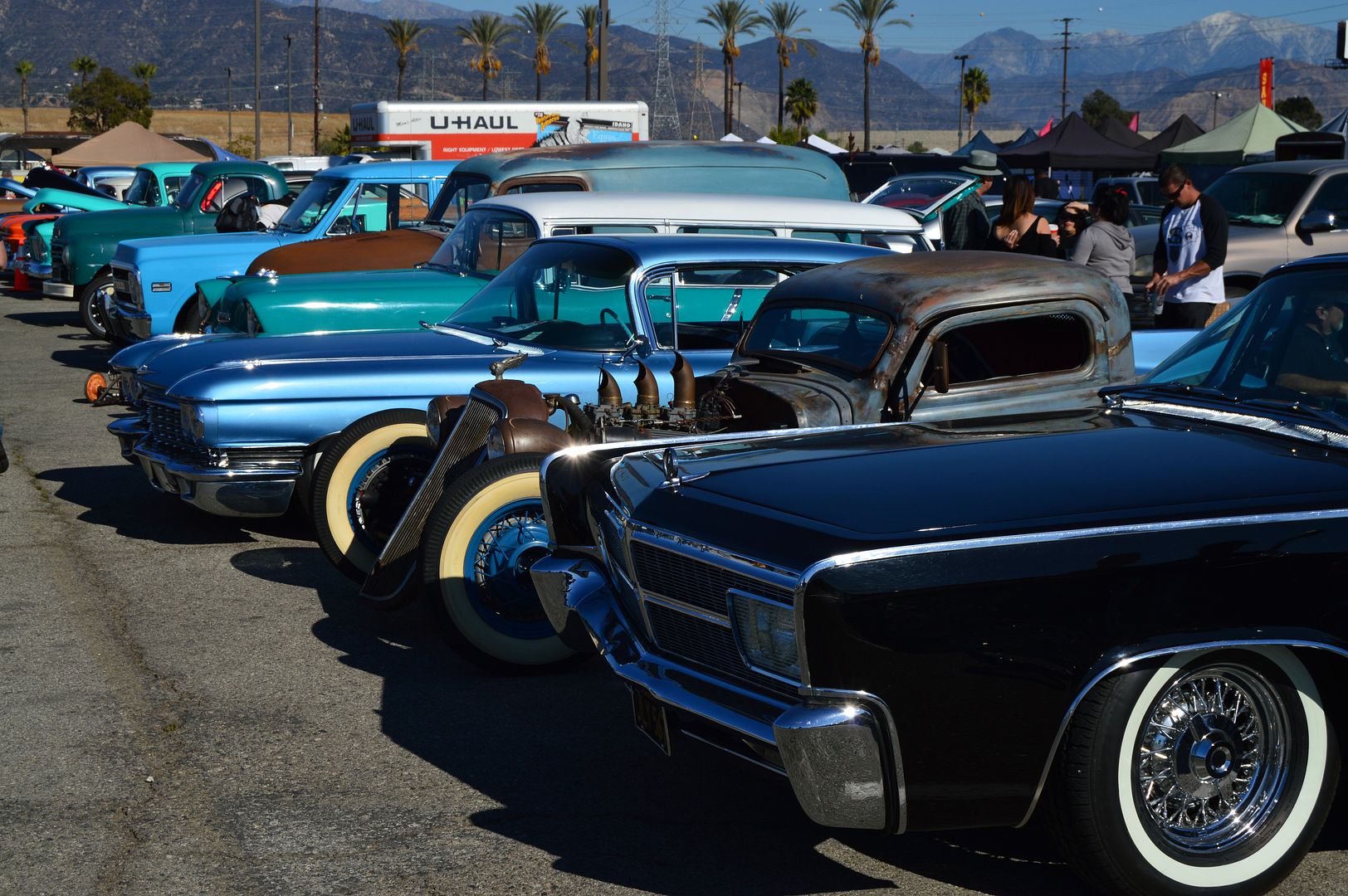 Like I said, there are all sorts f machines here, enough for everyone's taste.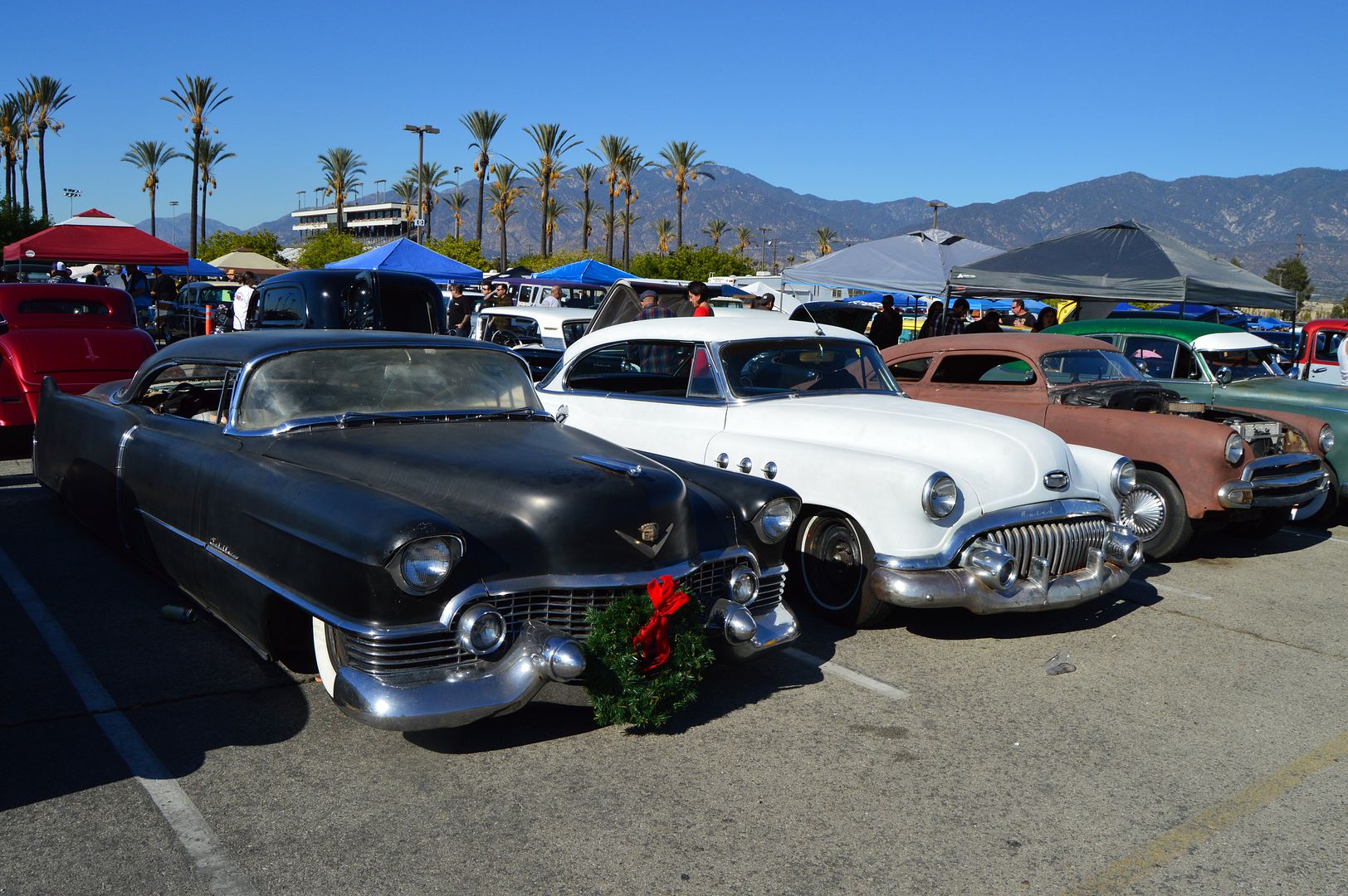 Well, it is the Christmas show.
Now this is what I am talking about, I love the straight Axle Gassers.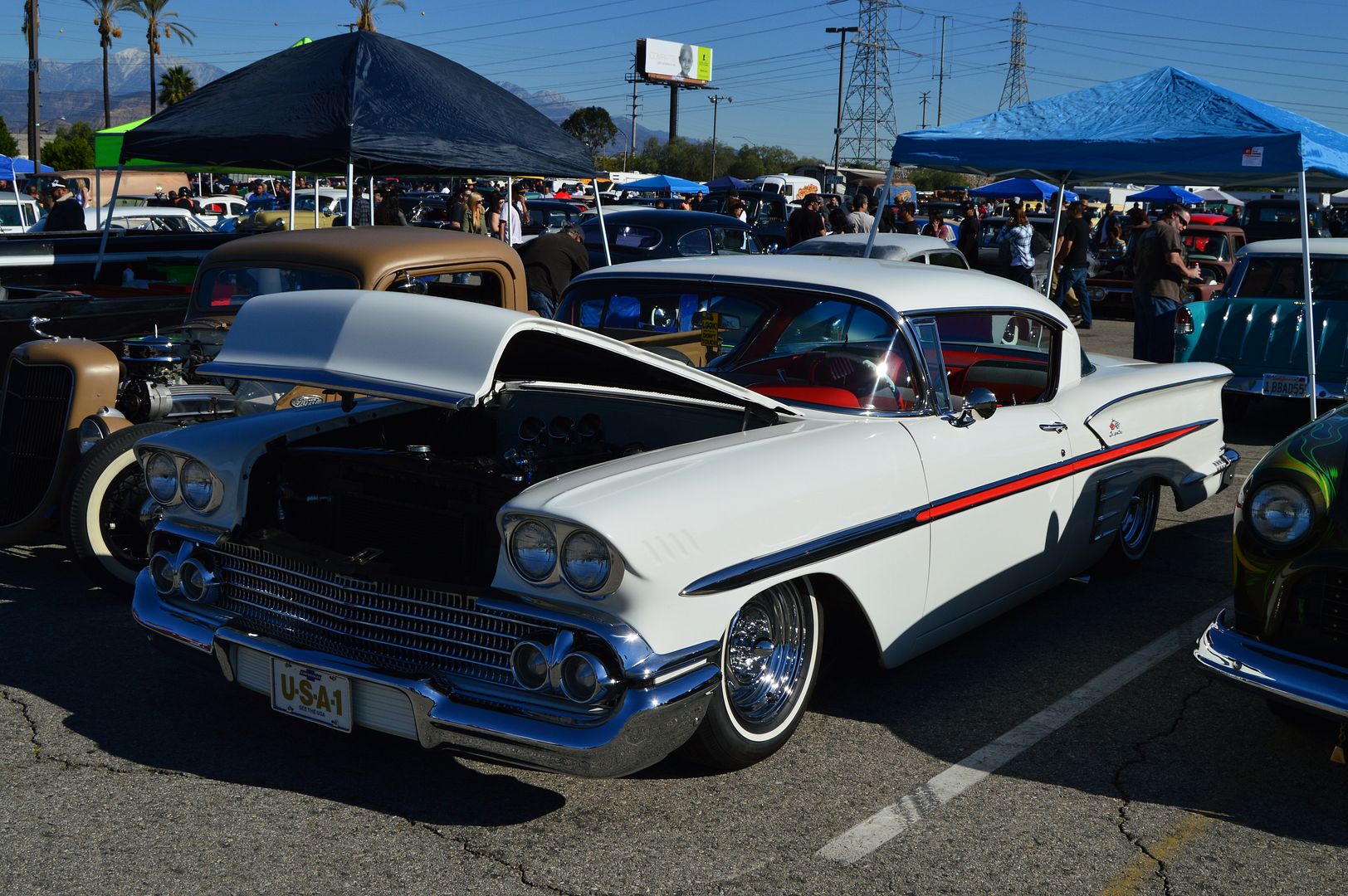 This was a sweet 58 I would love to own.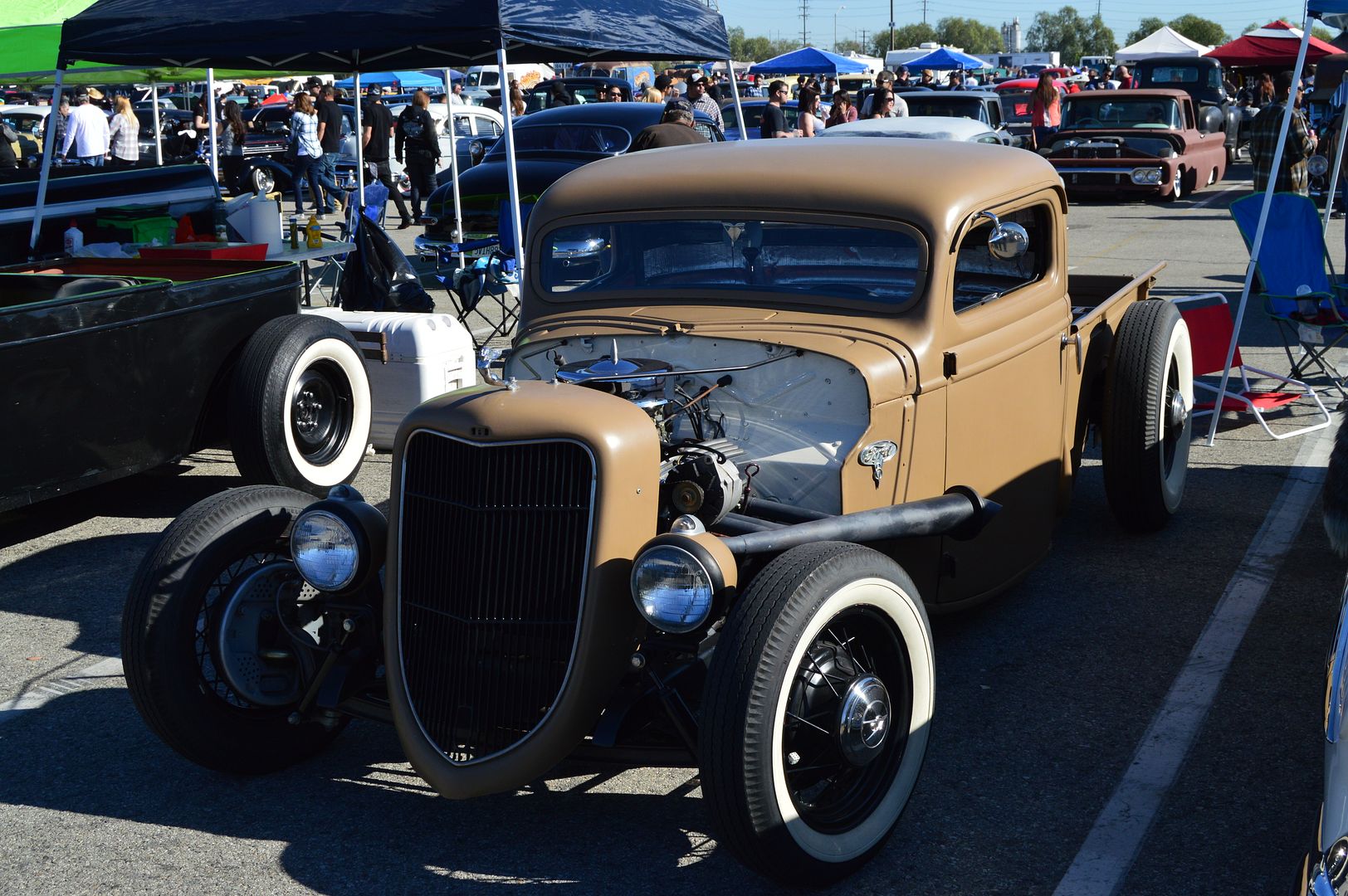 Amazing, as I live in SoCal, youd think you seen all the rides and then you come to Mooneyes show and loads of cool stuff not seen before.
Plenty of Chevys thats for sure.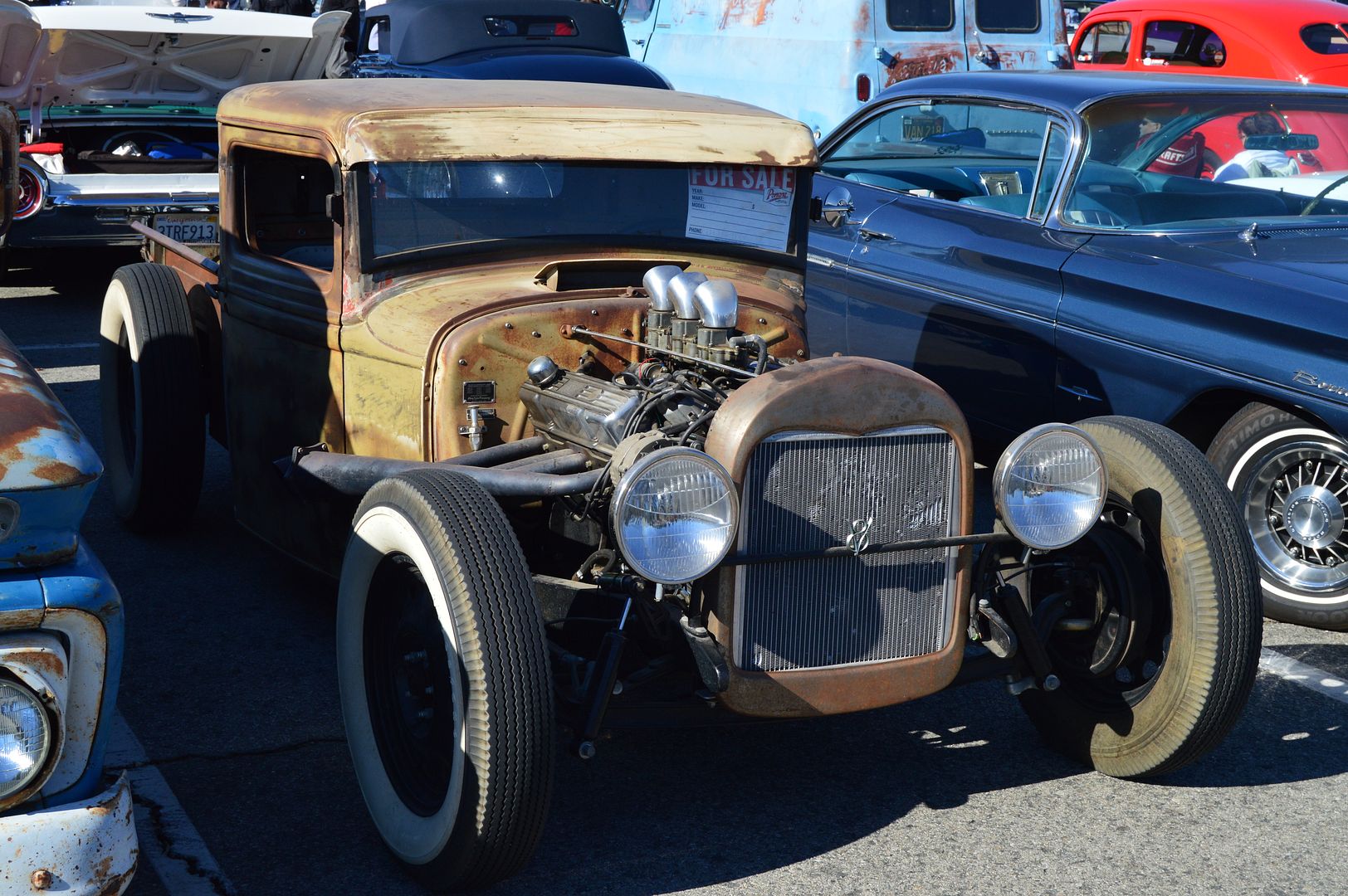 I dug this pick up, would be a fun parts ride.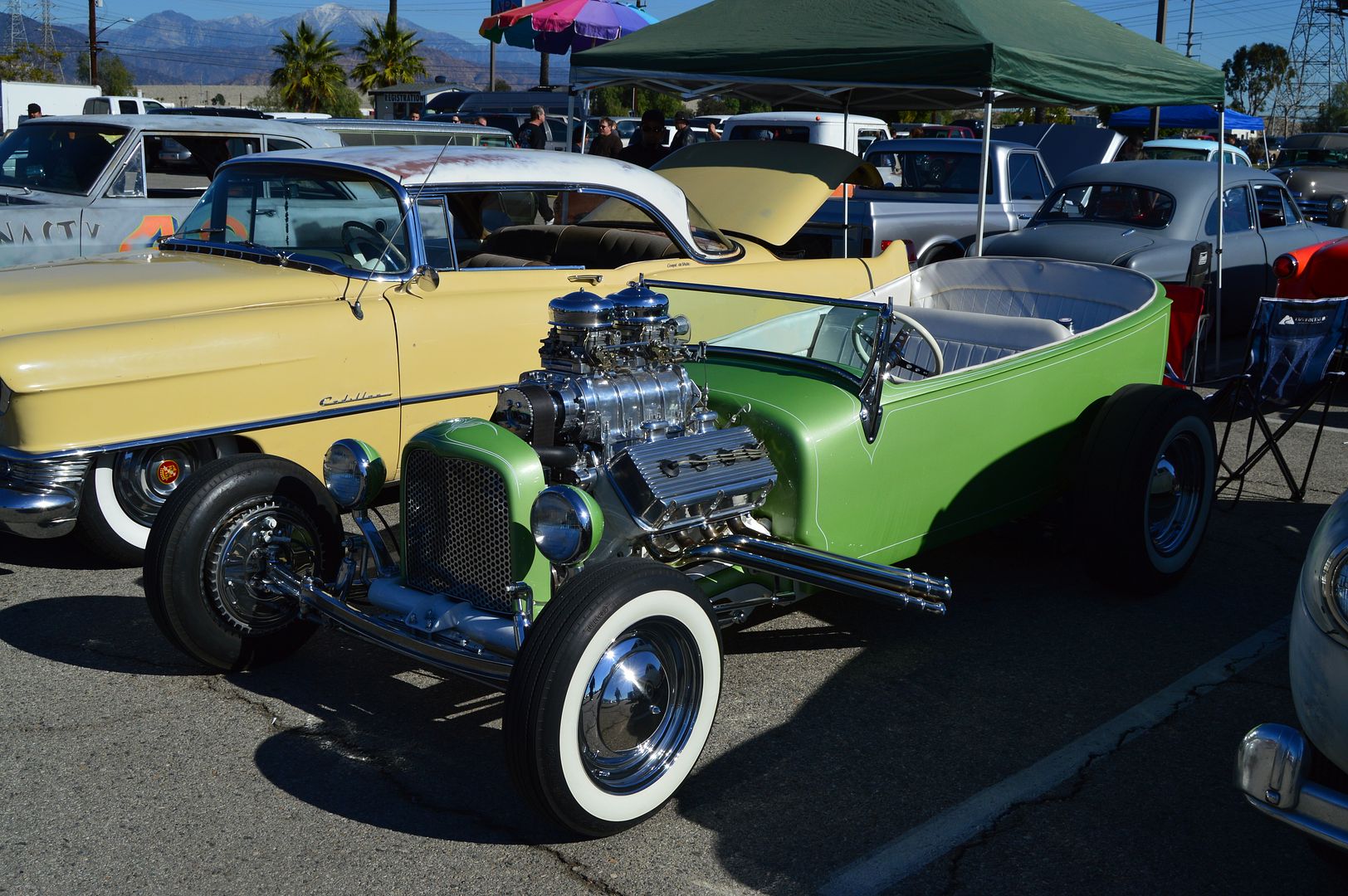 This was pretty cool to see and I am sure he has fun with it with that Motor.
Even the Old Bill were cool.
Loved this Kustom Pontiac.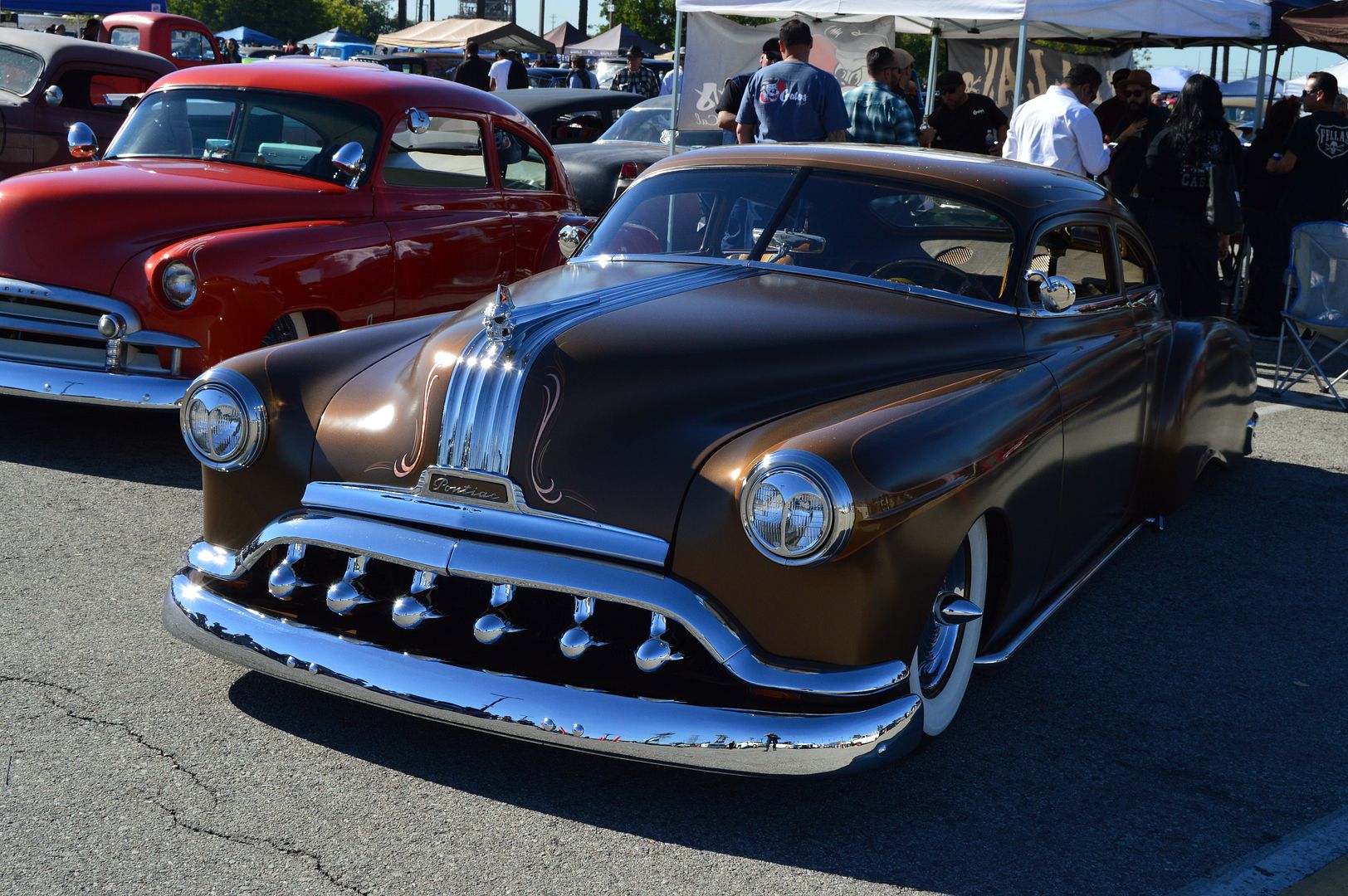 Nice color scheme I thought.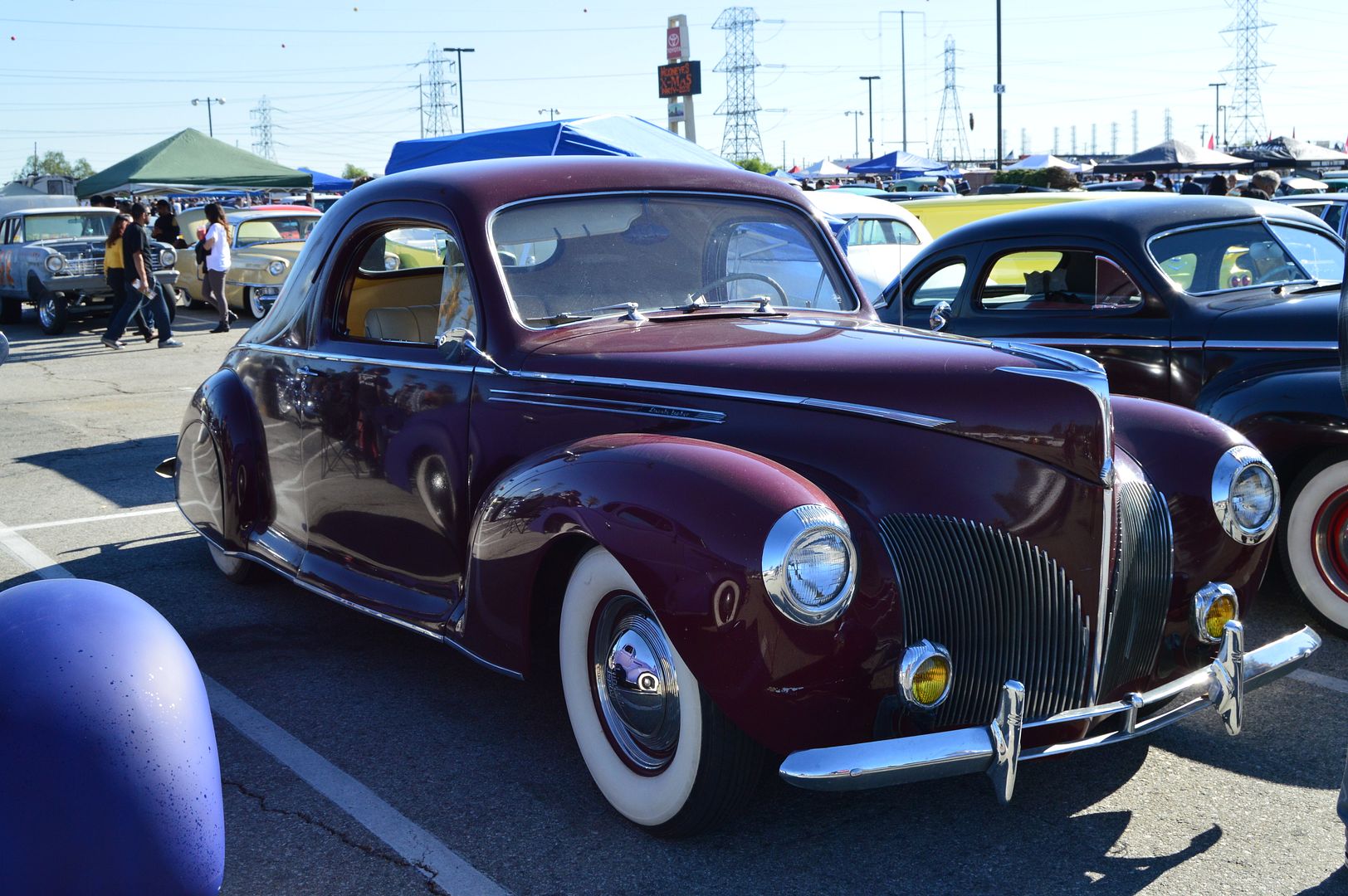 Always great to see some classic Tin here.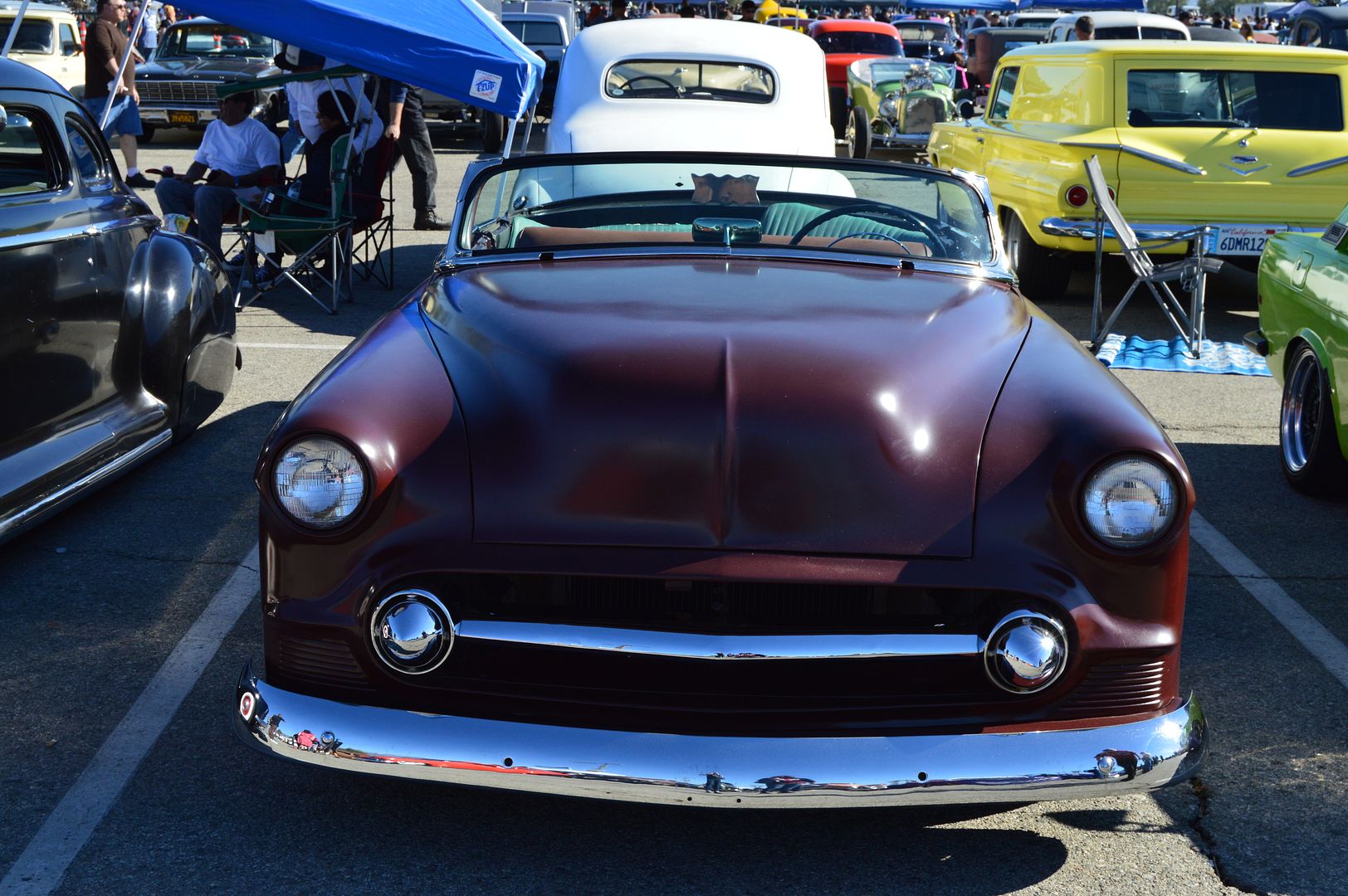 Frenched Lights and a floating grill was cool.
These are Custom from right out of the show room.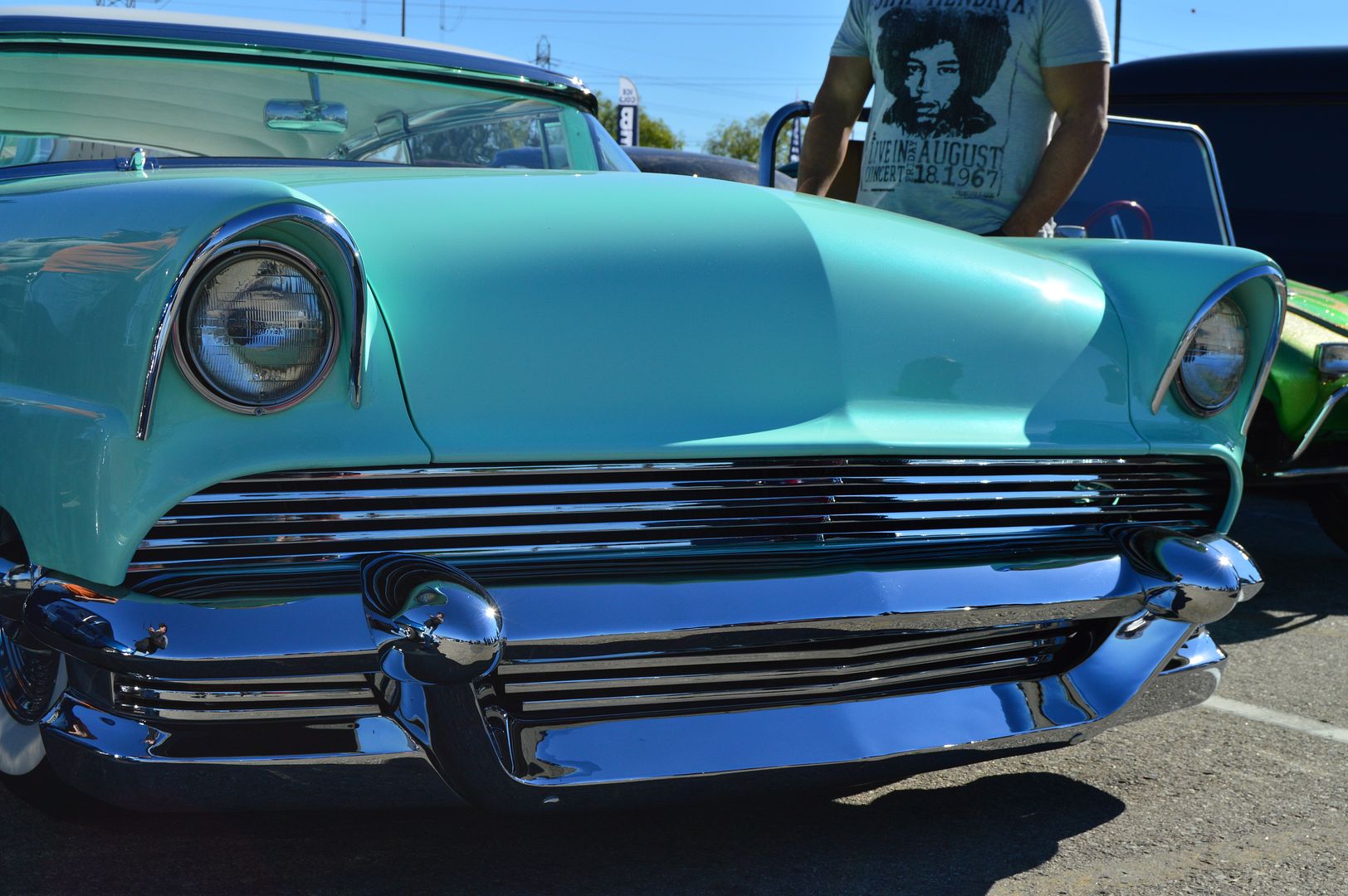 How can you not like this Lincoln front end.

Always loved these and the body goes on for miles.
Now this is right on the deck.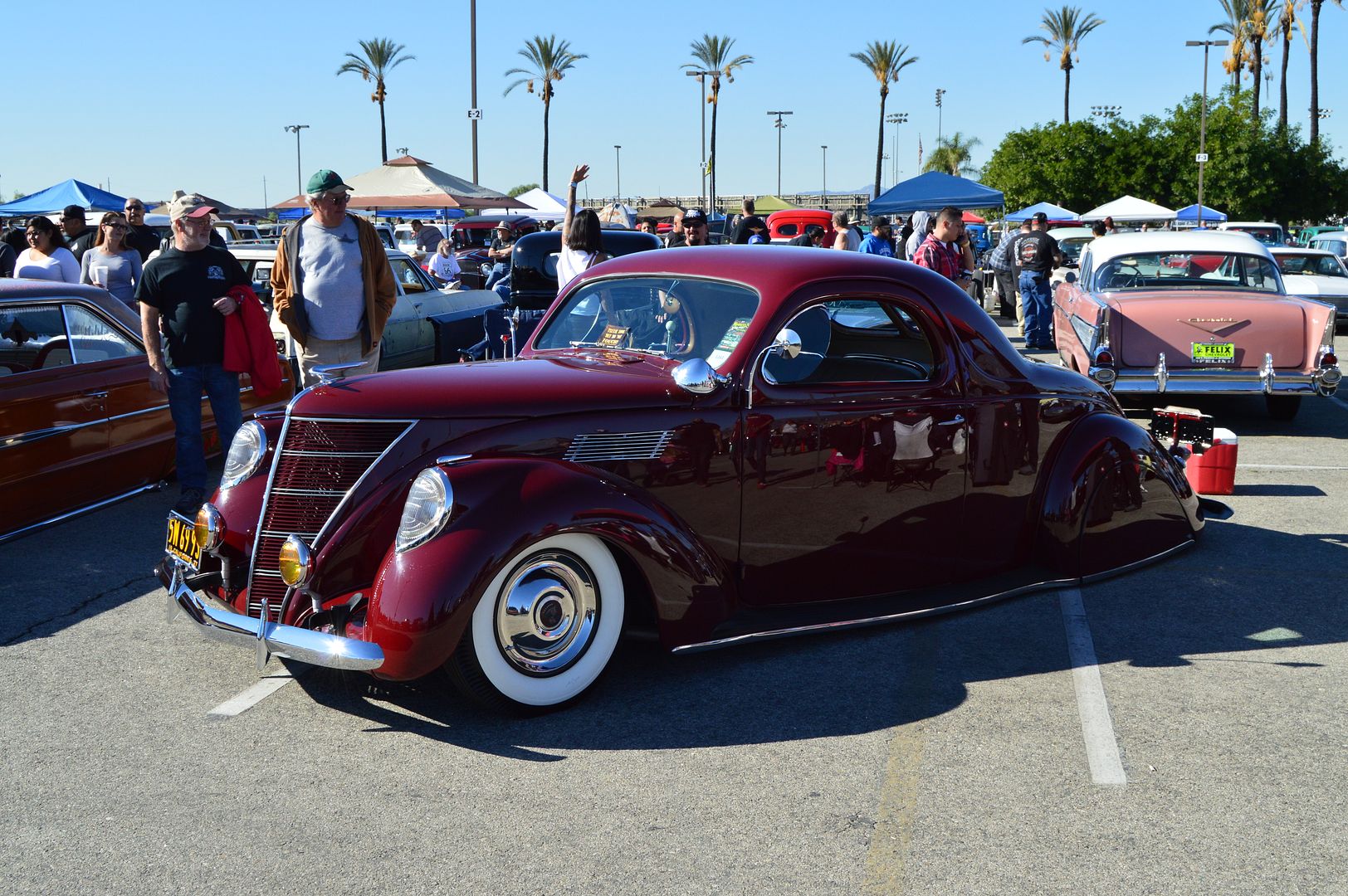 Rather odd choice of color but it works.
Loved this 57 Belair as a gasser, the best years for me for gassers are the big straight axled heavy Bricks.
Slammed Custom Roadster for the use of a better word.
Three hungry birds.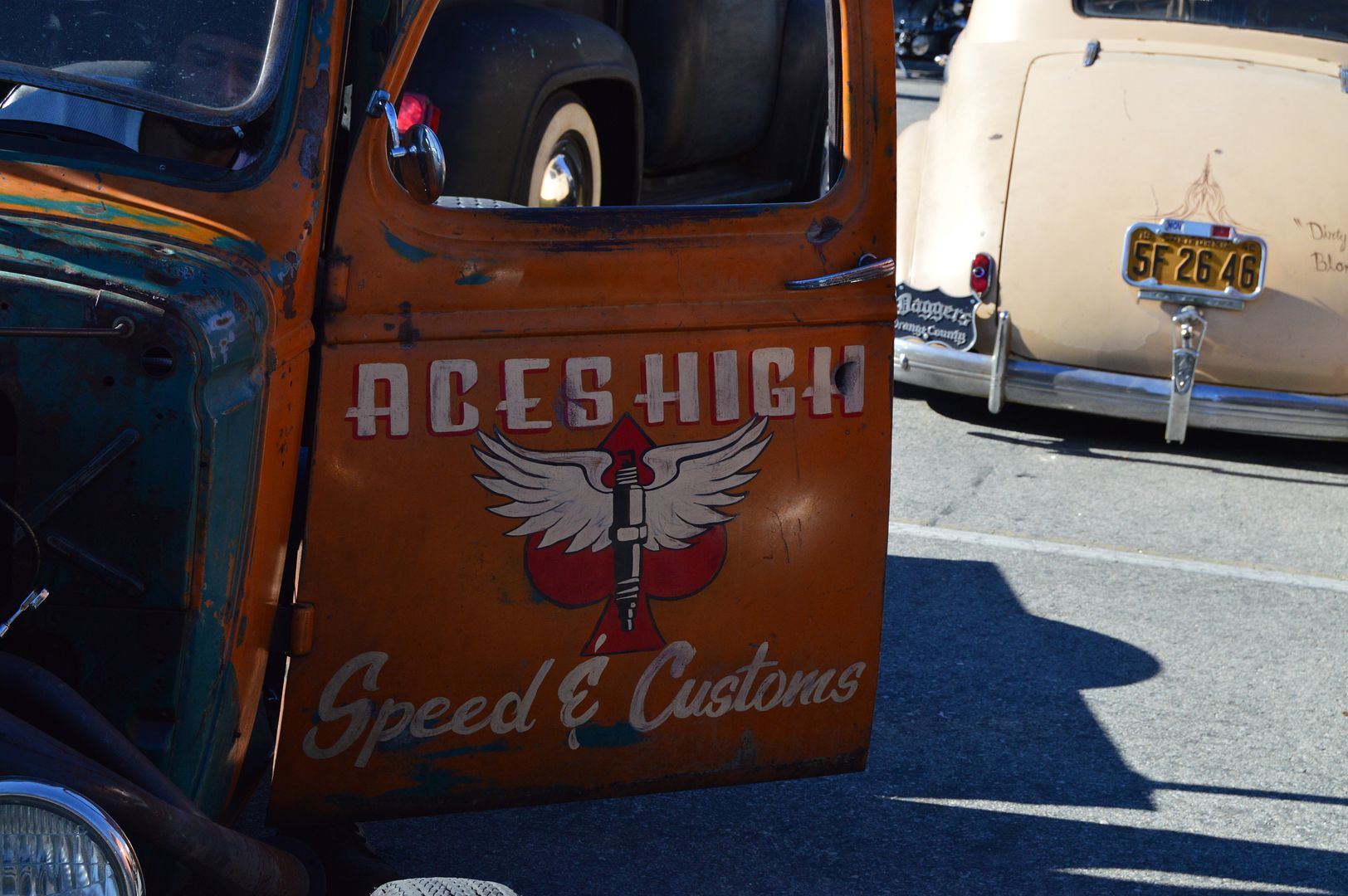 I loved the artwork on the trucks door.
How clean is this and I love the color.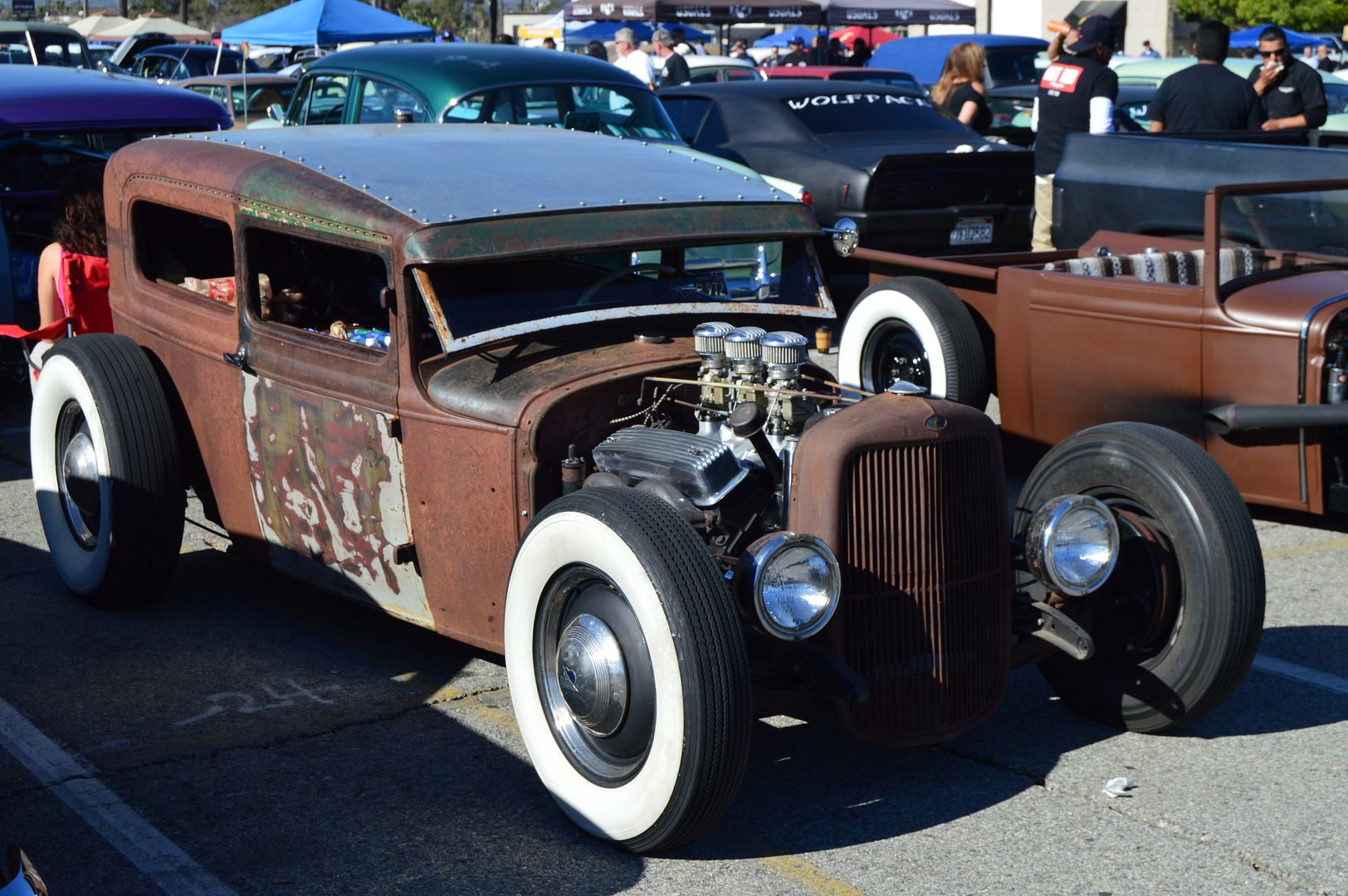 This sedan sat really well.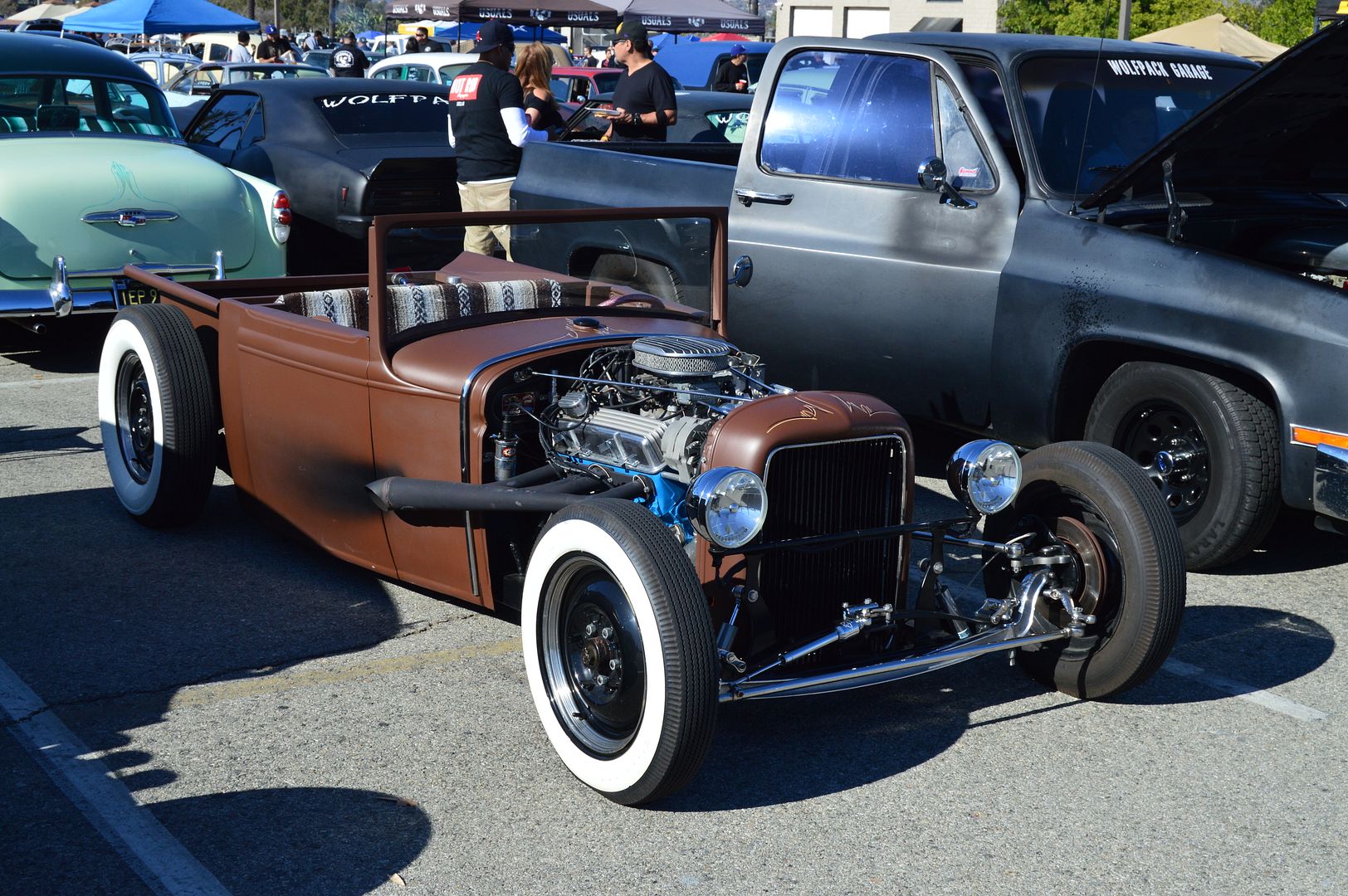 The sun was out and so were the Hot Rods this weekend.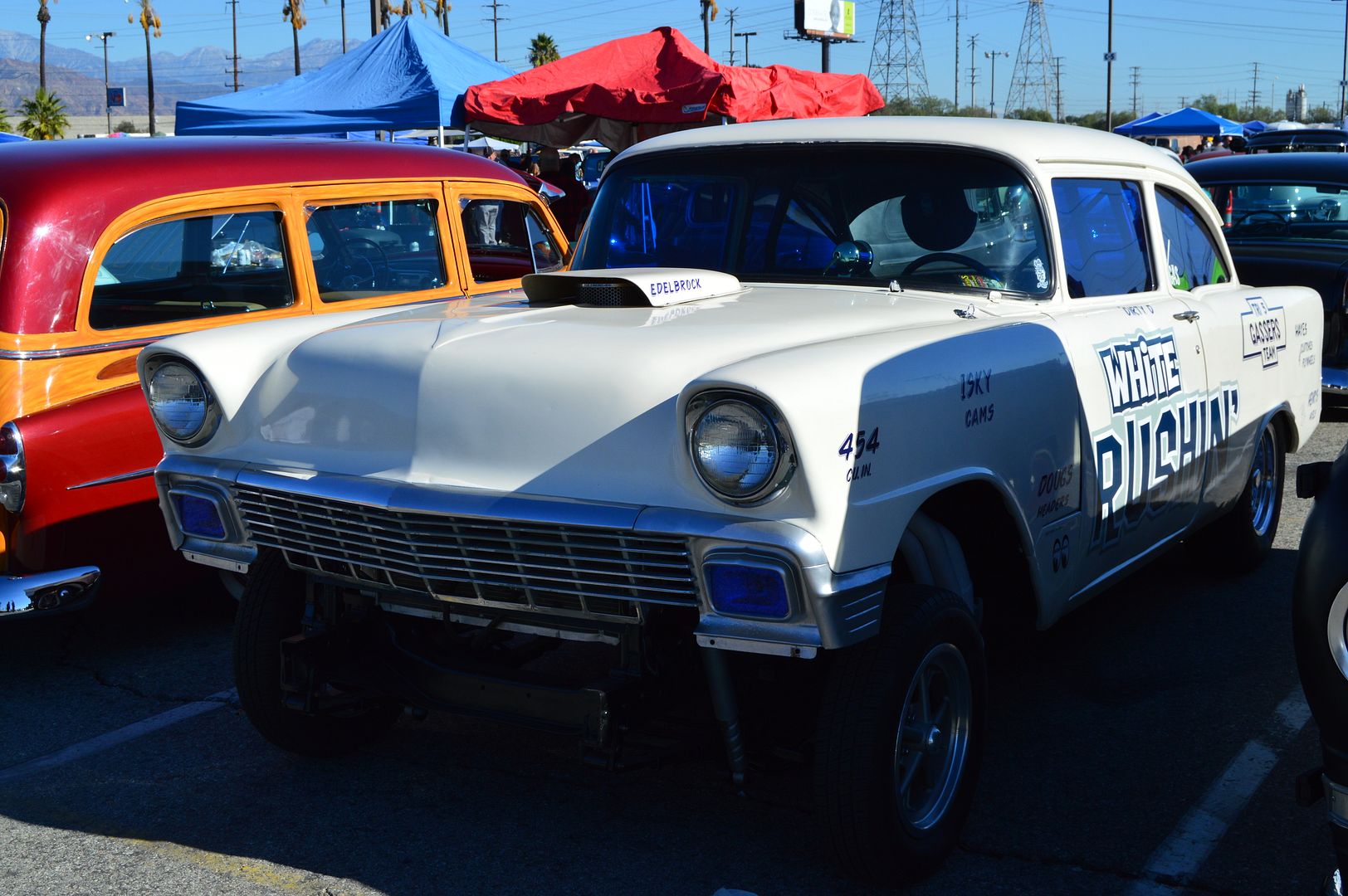 A cool 56 Gasser awaits its turn before going up on the 1/8th mile.
This 1948 Rag top was cool as hell and loved the color.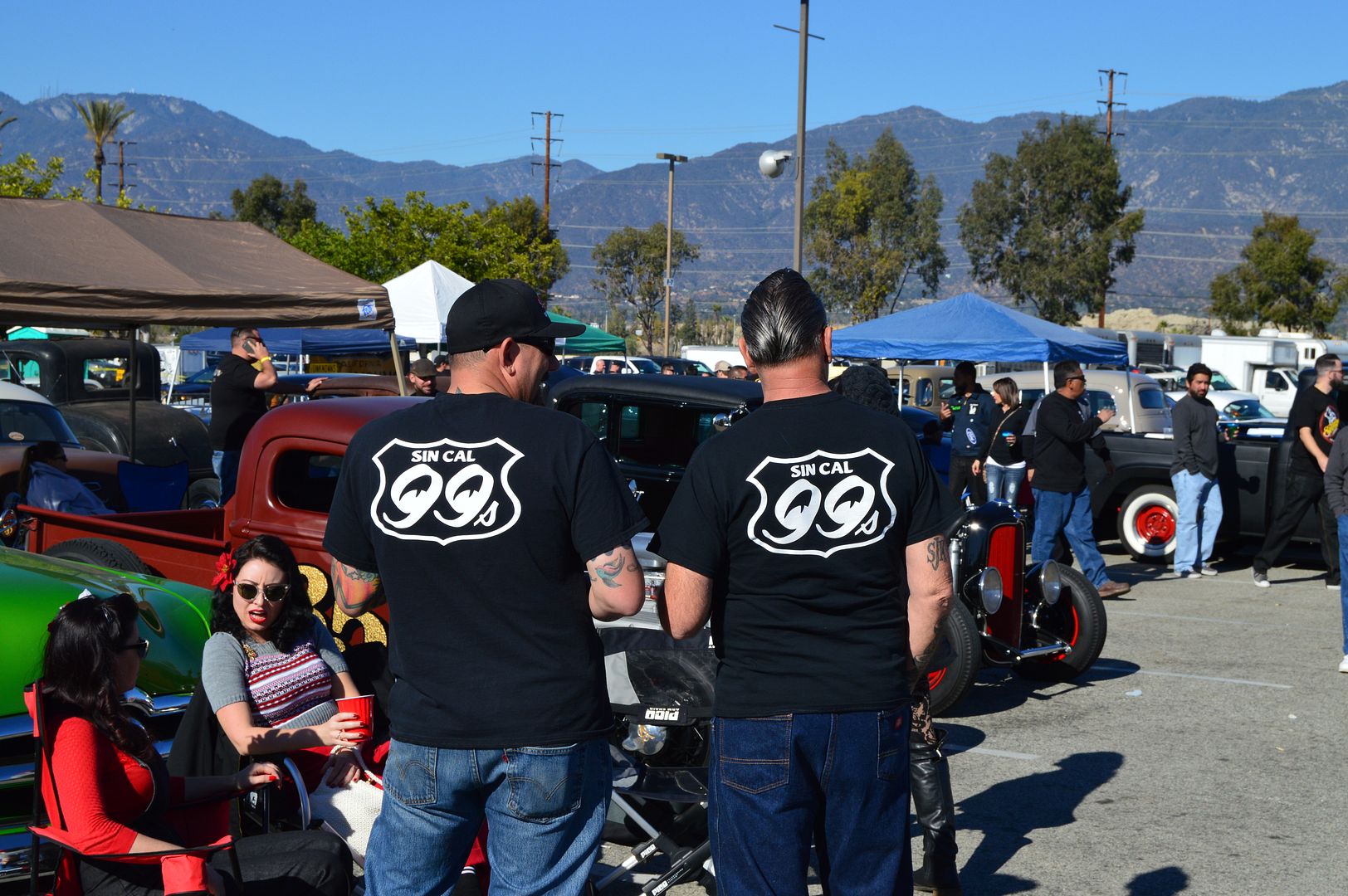 A couple of car club guys shooting the breeze.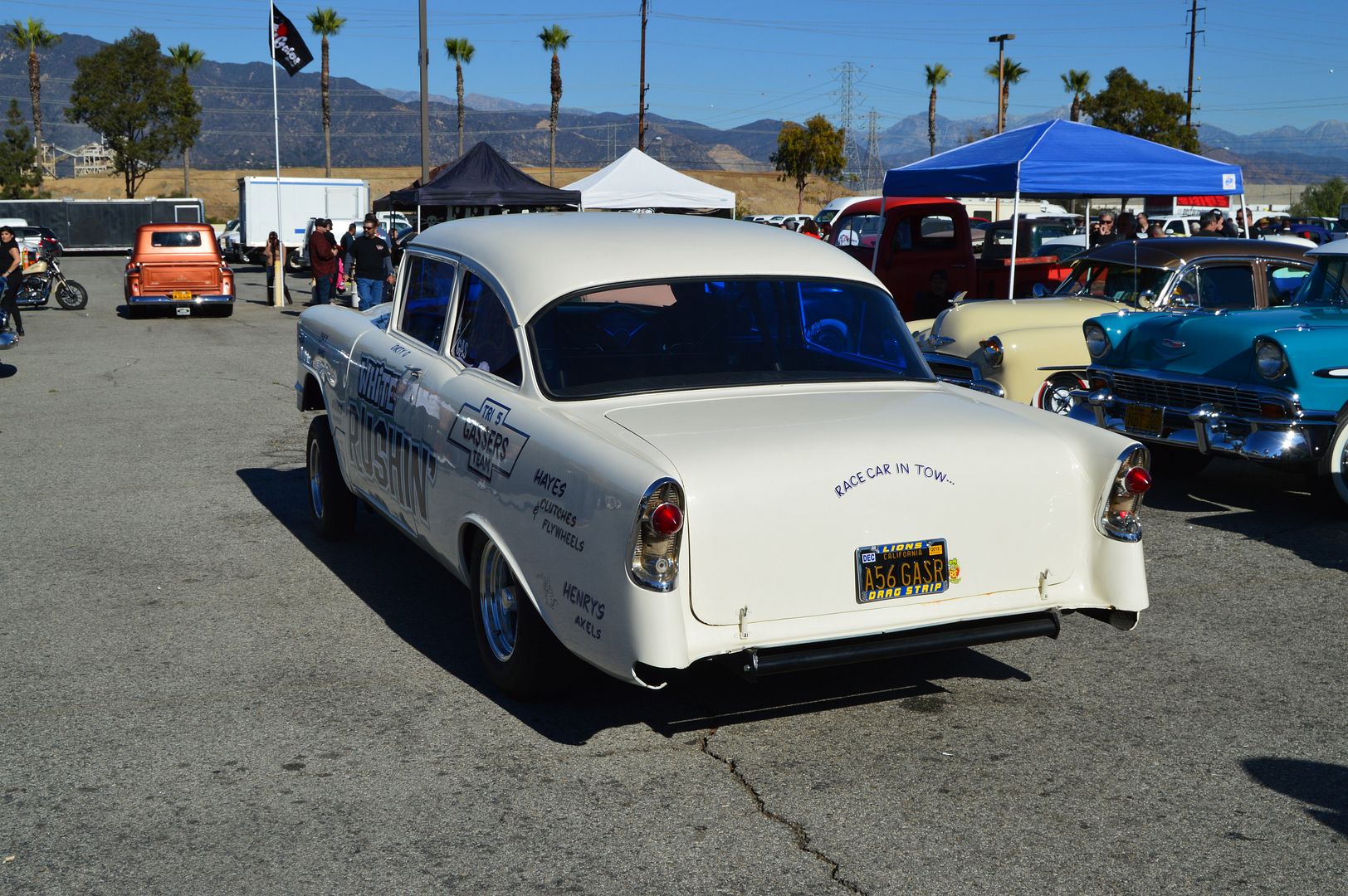 Off the the strip to tear it up.
This Caddy is pretty straight bodywork wise.
A Candy red 58 Pick up look good basking in the Sun.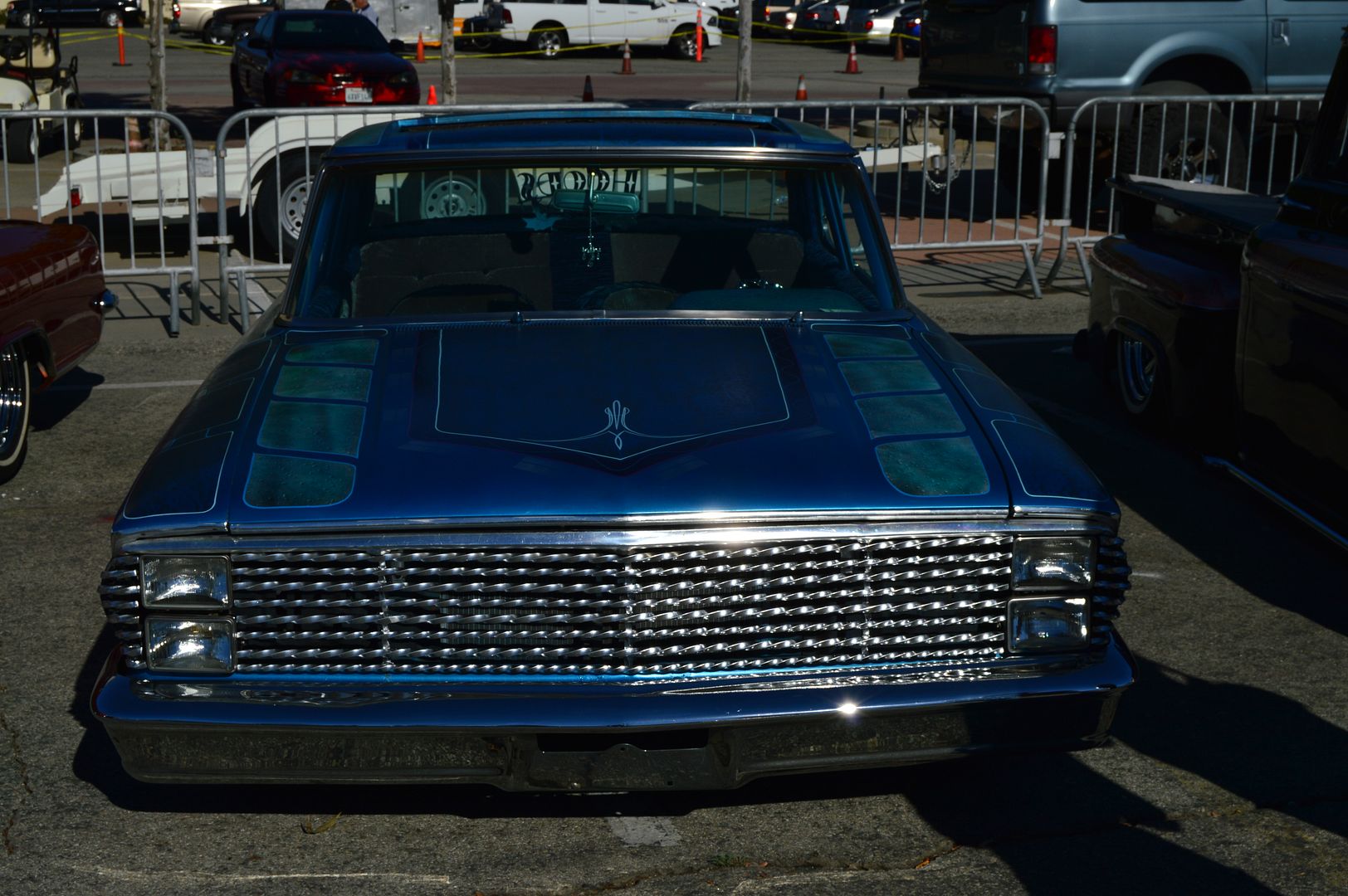 Now that's a lot of work.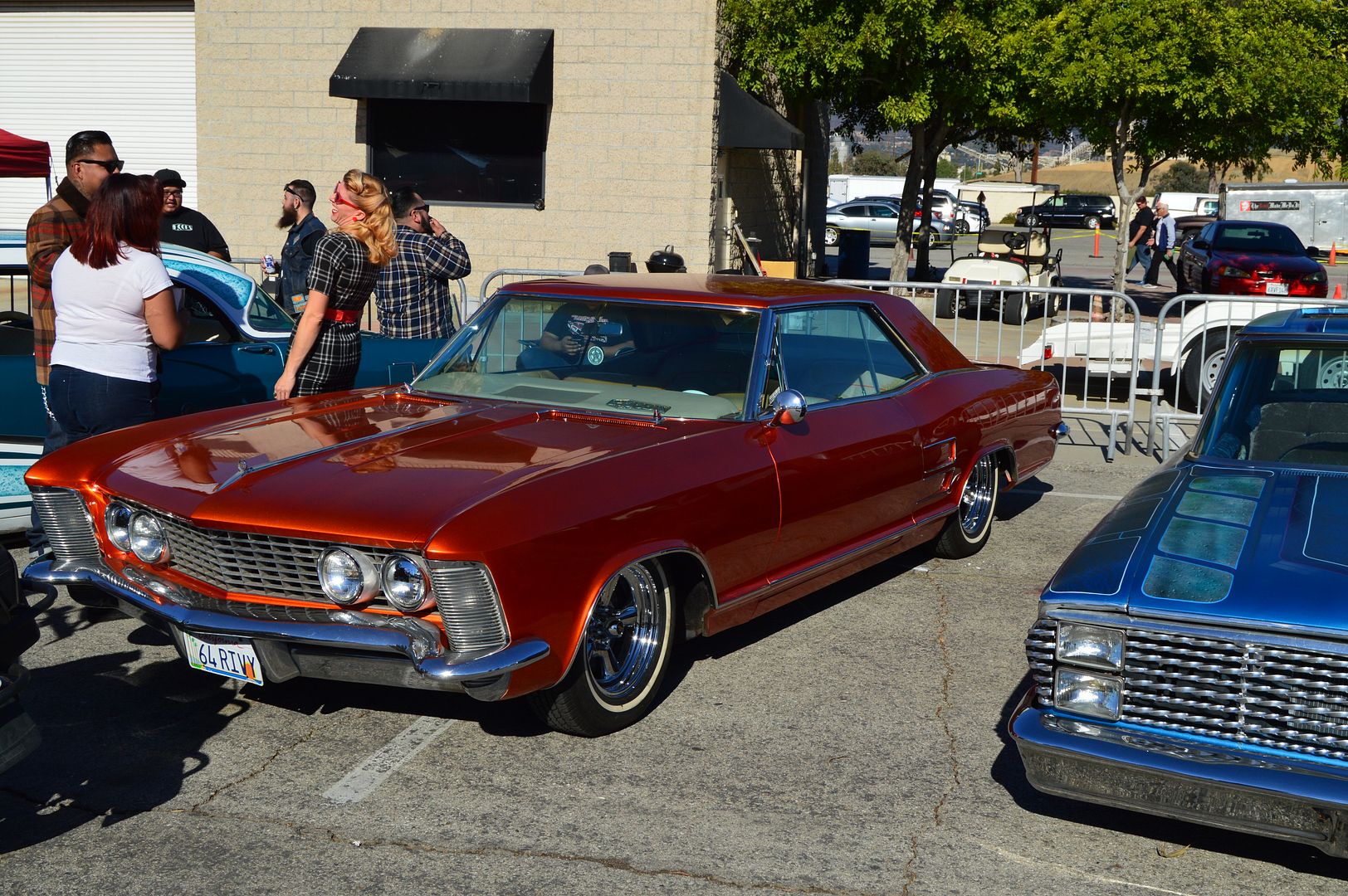 How straight is this and love that color.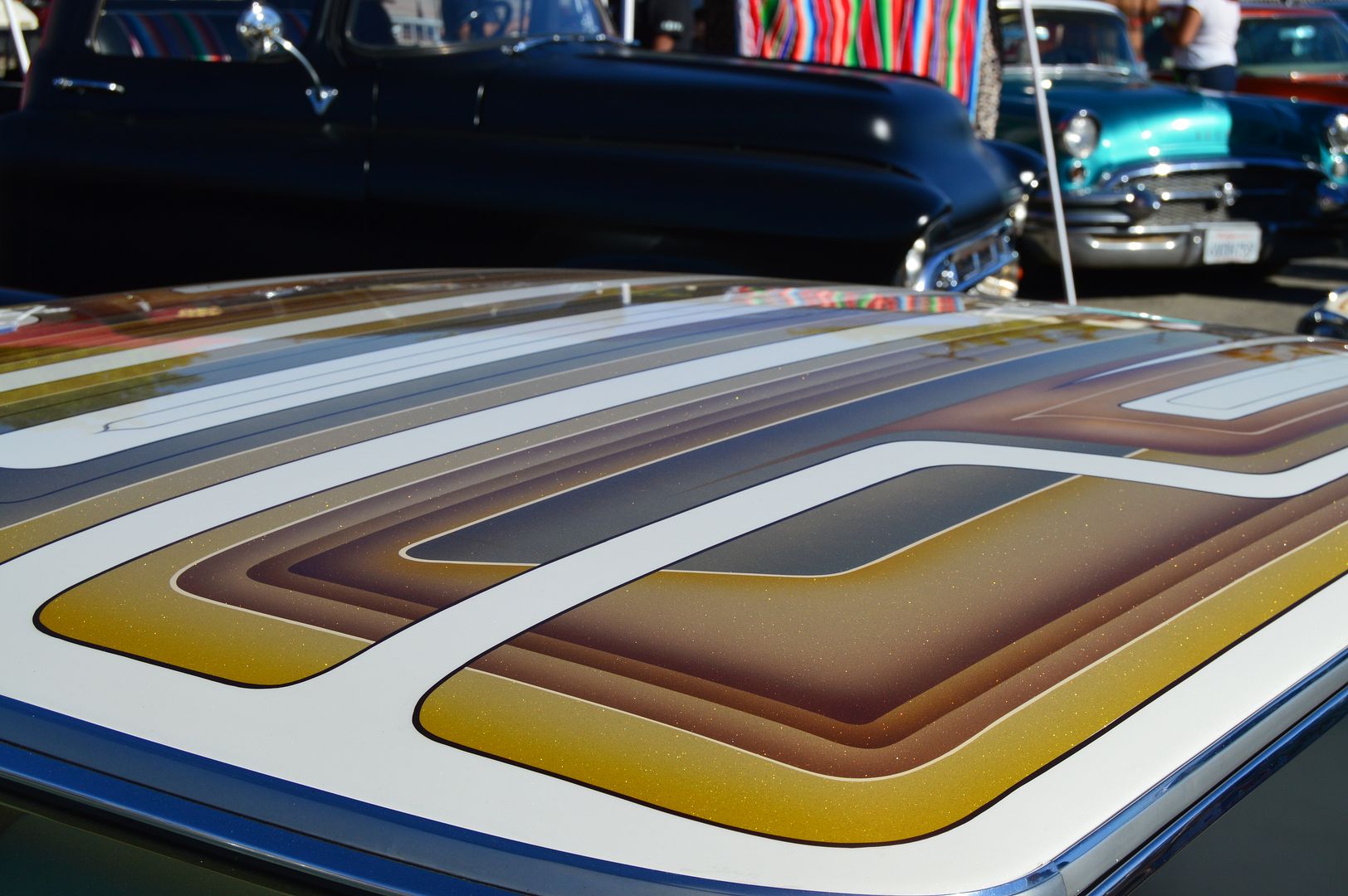 Some intricate masking here to get this effect.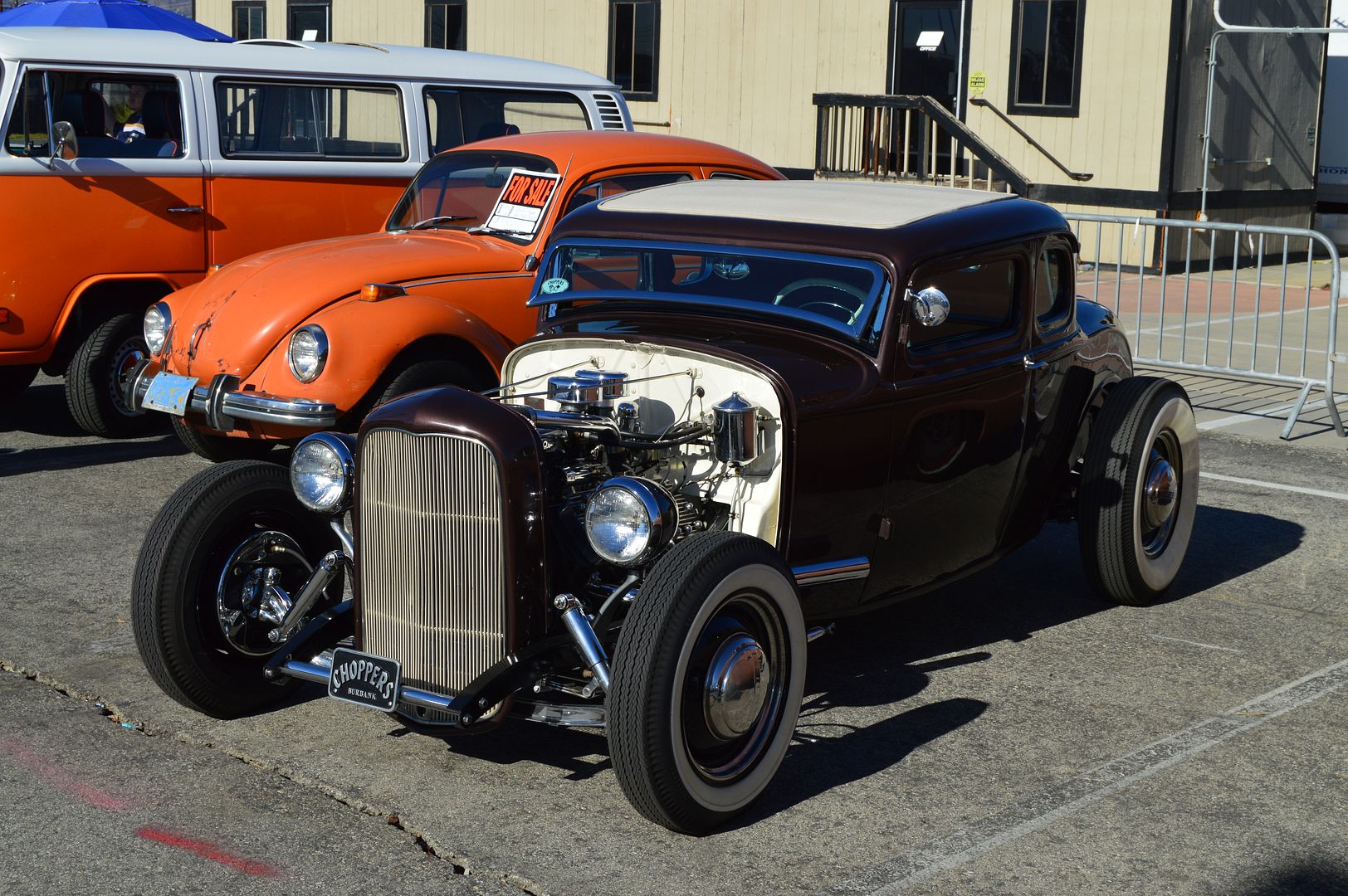 I think this is Keith Weesners 5 window and boy is it nice.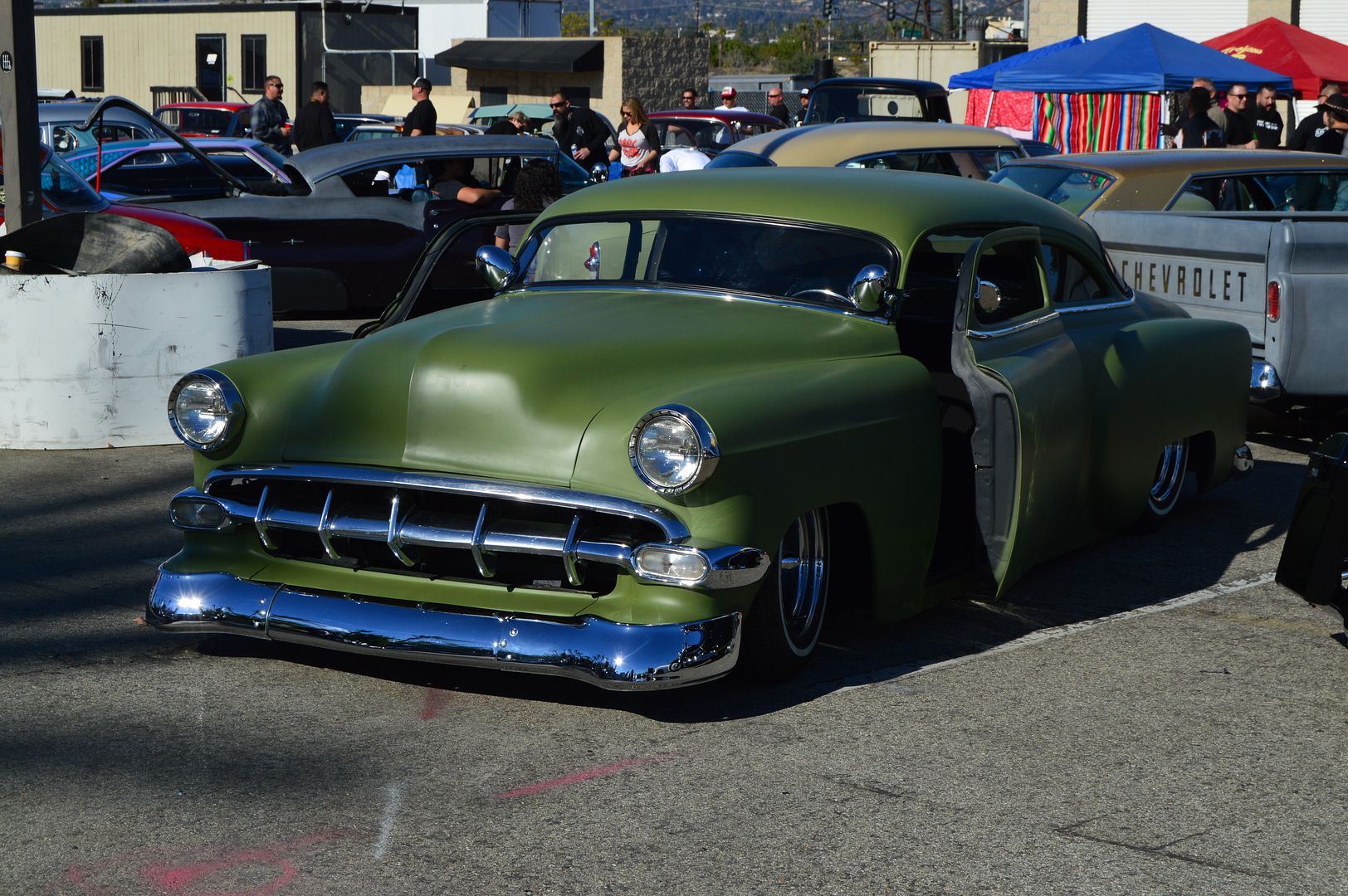 Suicide doors on this Bow Tie.
Whats going on here, his own Smoker?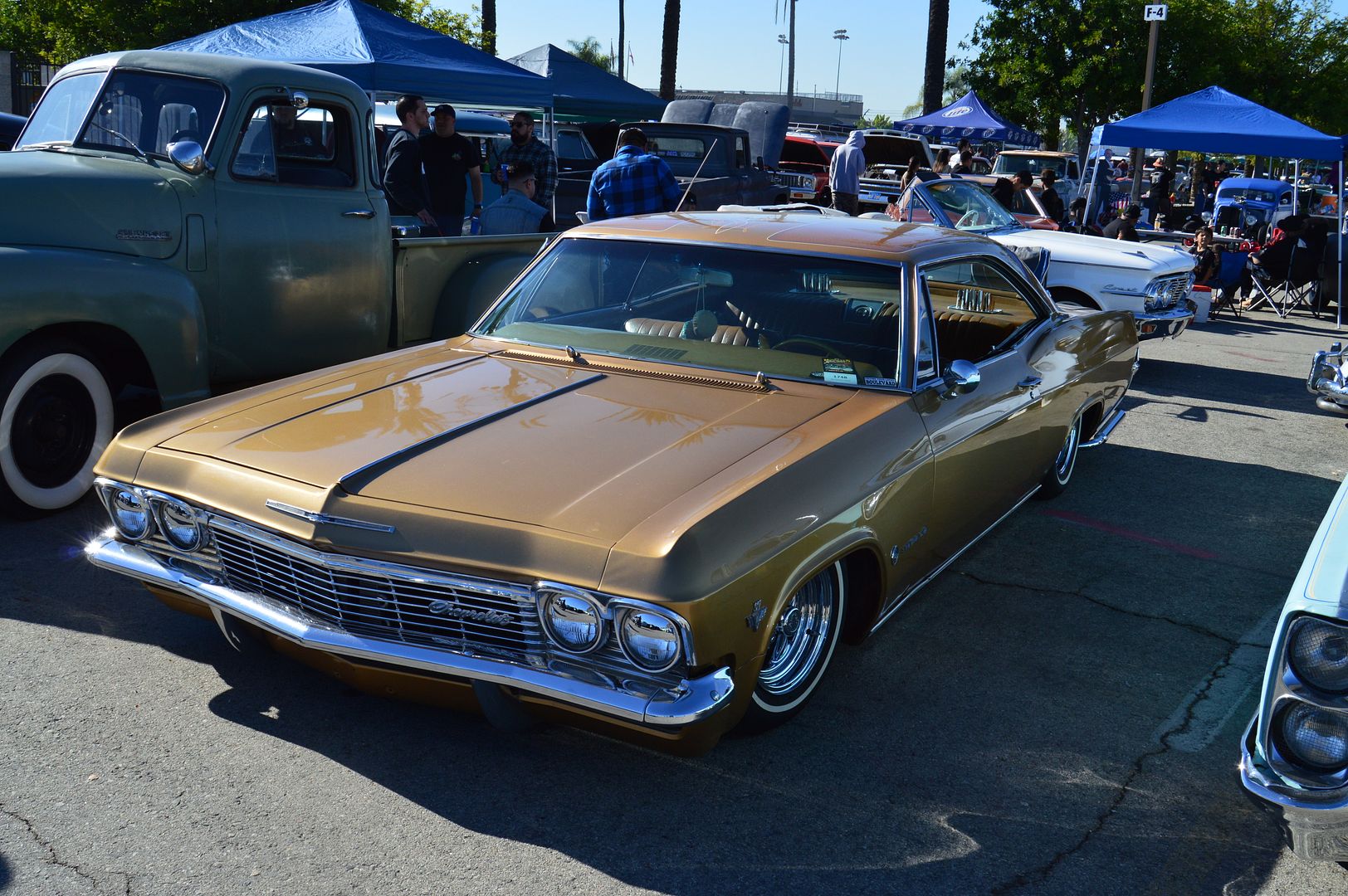 Clean, low and bell flowers too.
Nice 56 for belting around town in.
So clean.

Jeez, that push bike must weigh a ton?
Yep. that will give it some giddy up.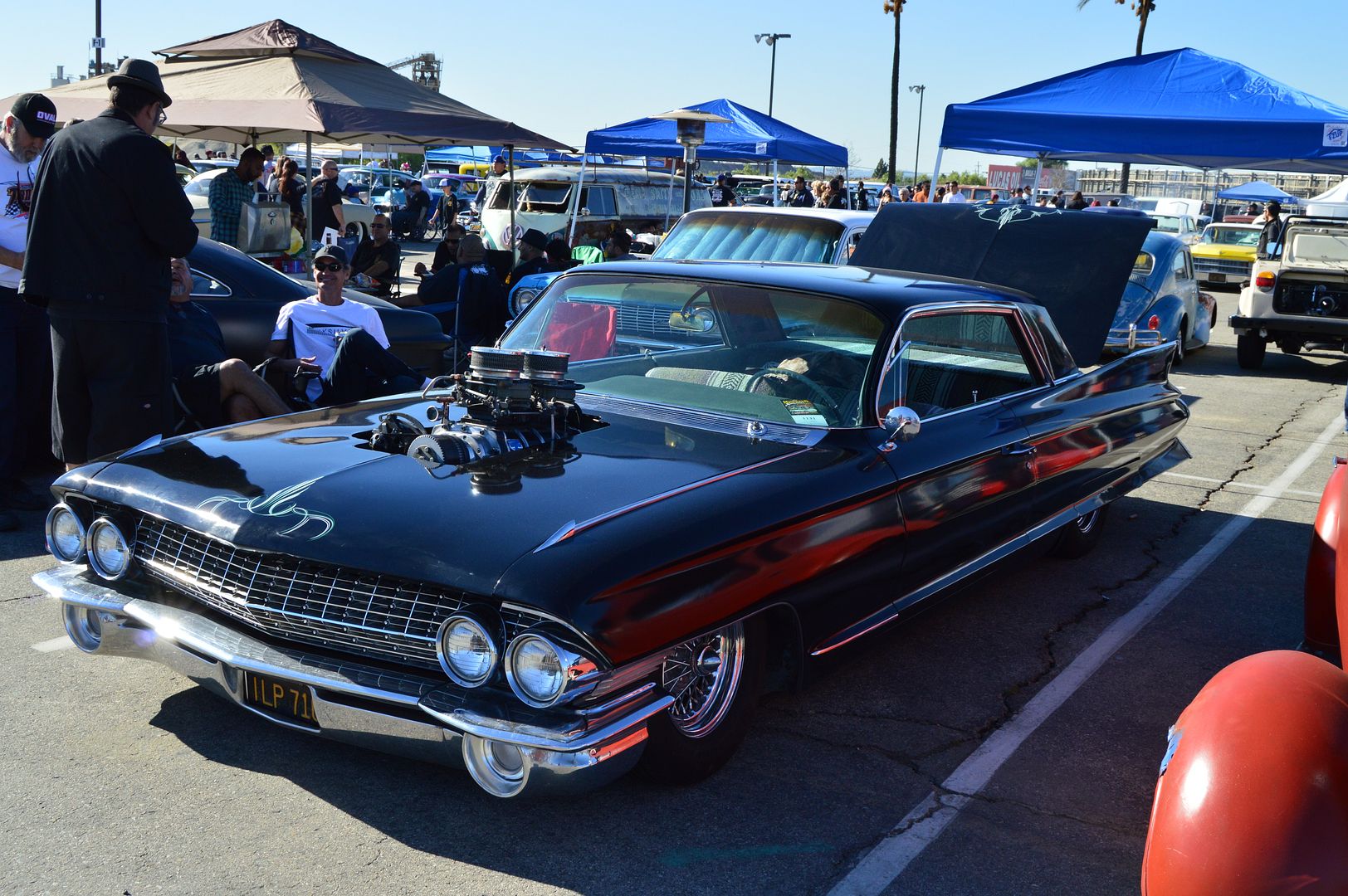 Thats one way of making sure the hood closes on that Caddy.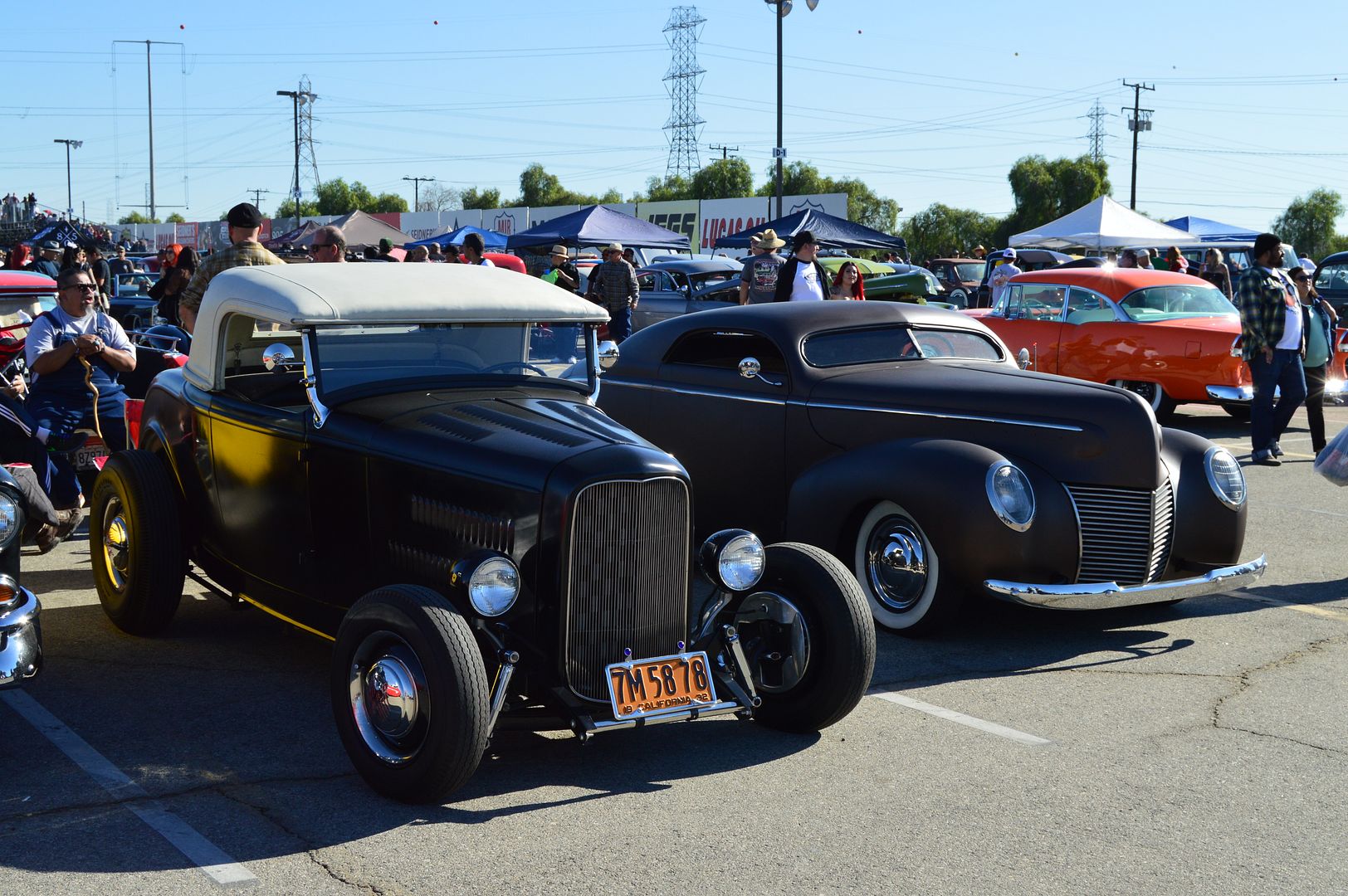 More random shots for you lot.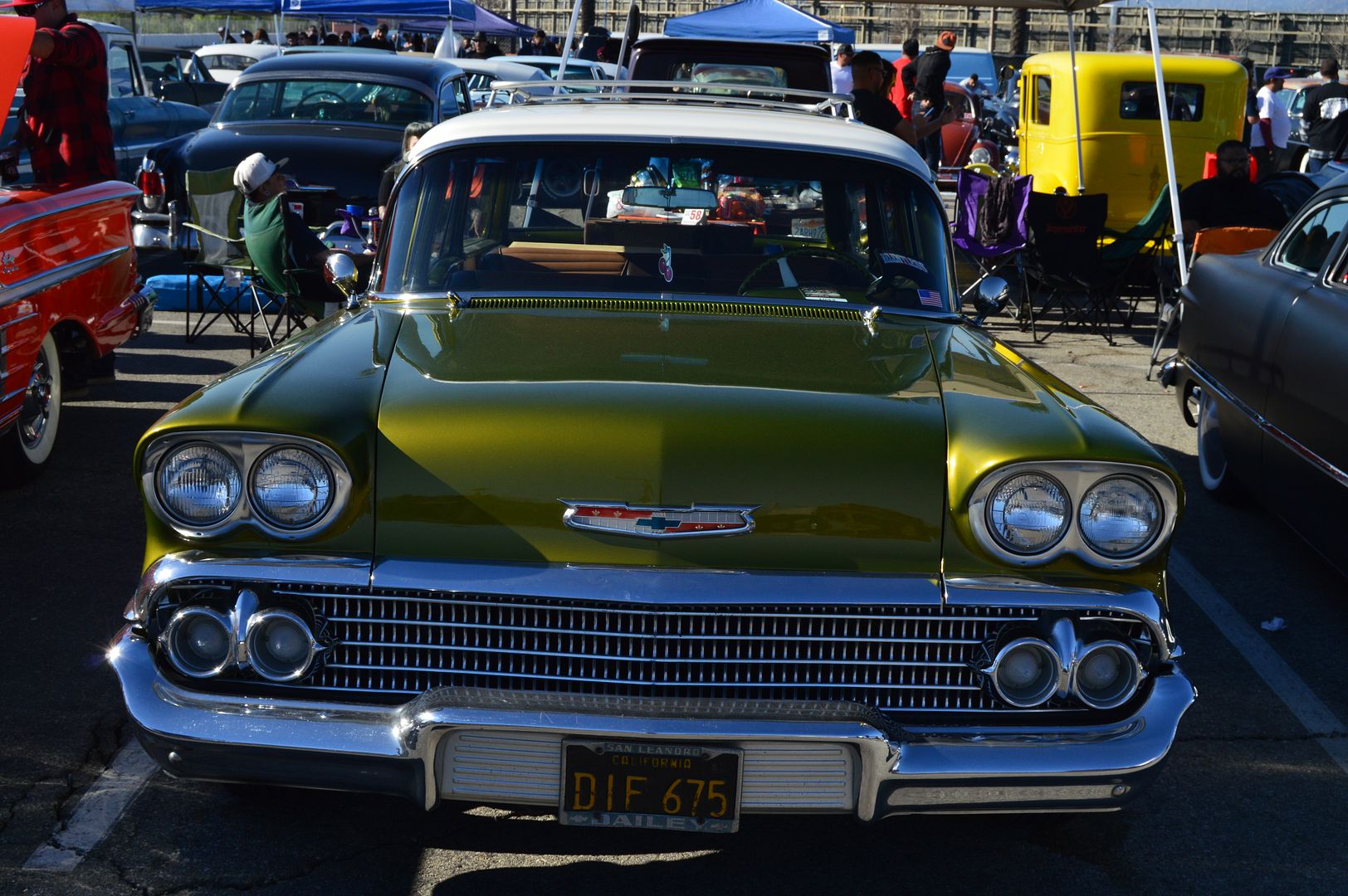 I am way digging that color.
Matt from Australia's ride that he painted himself.
Plenty of GM rides here.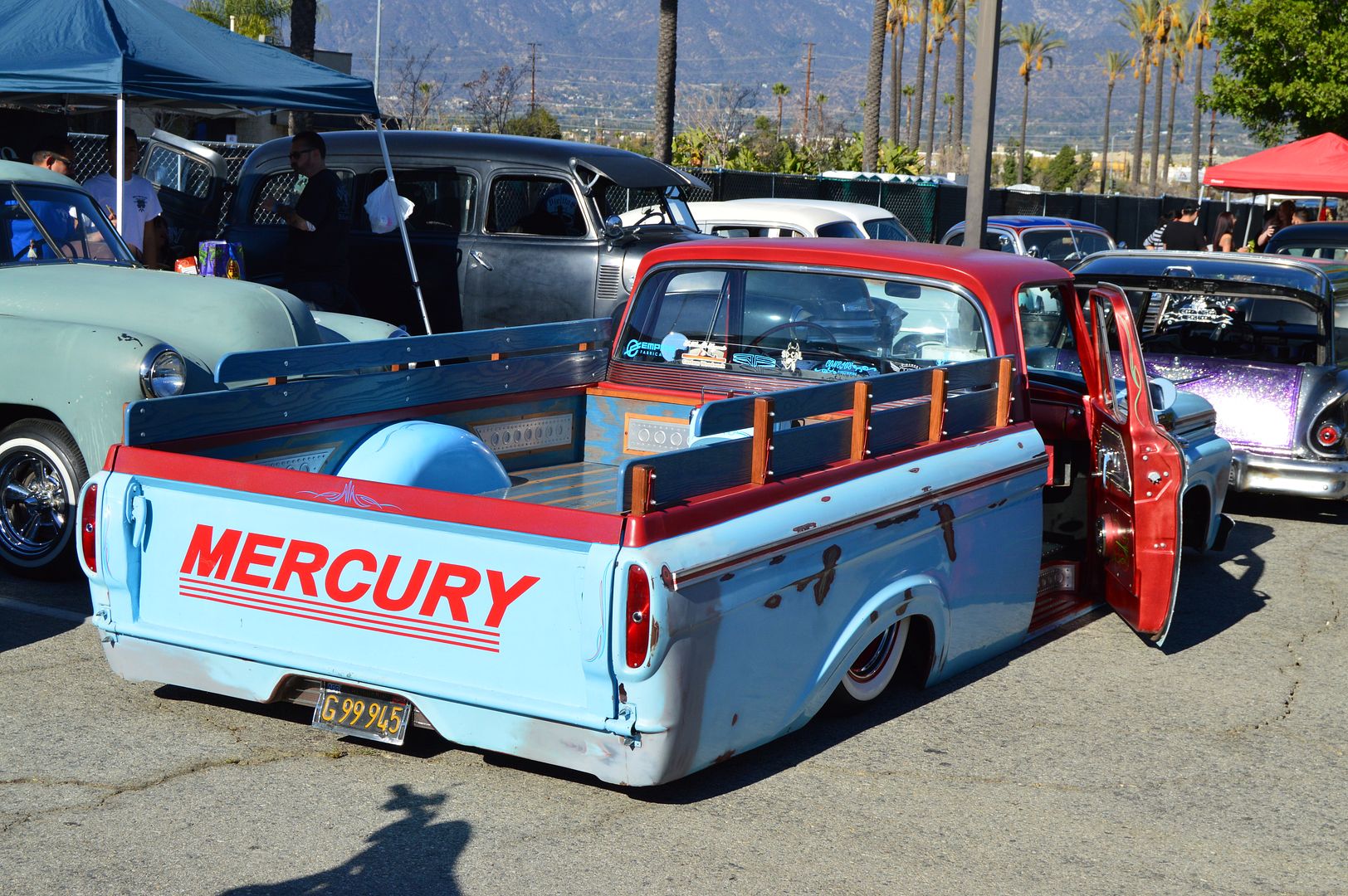 Different and nice to see from the Norm.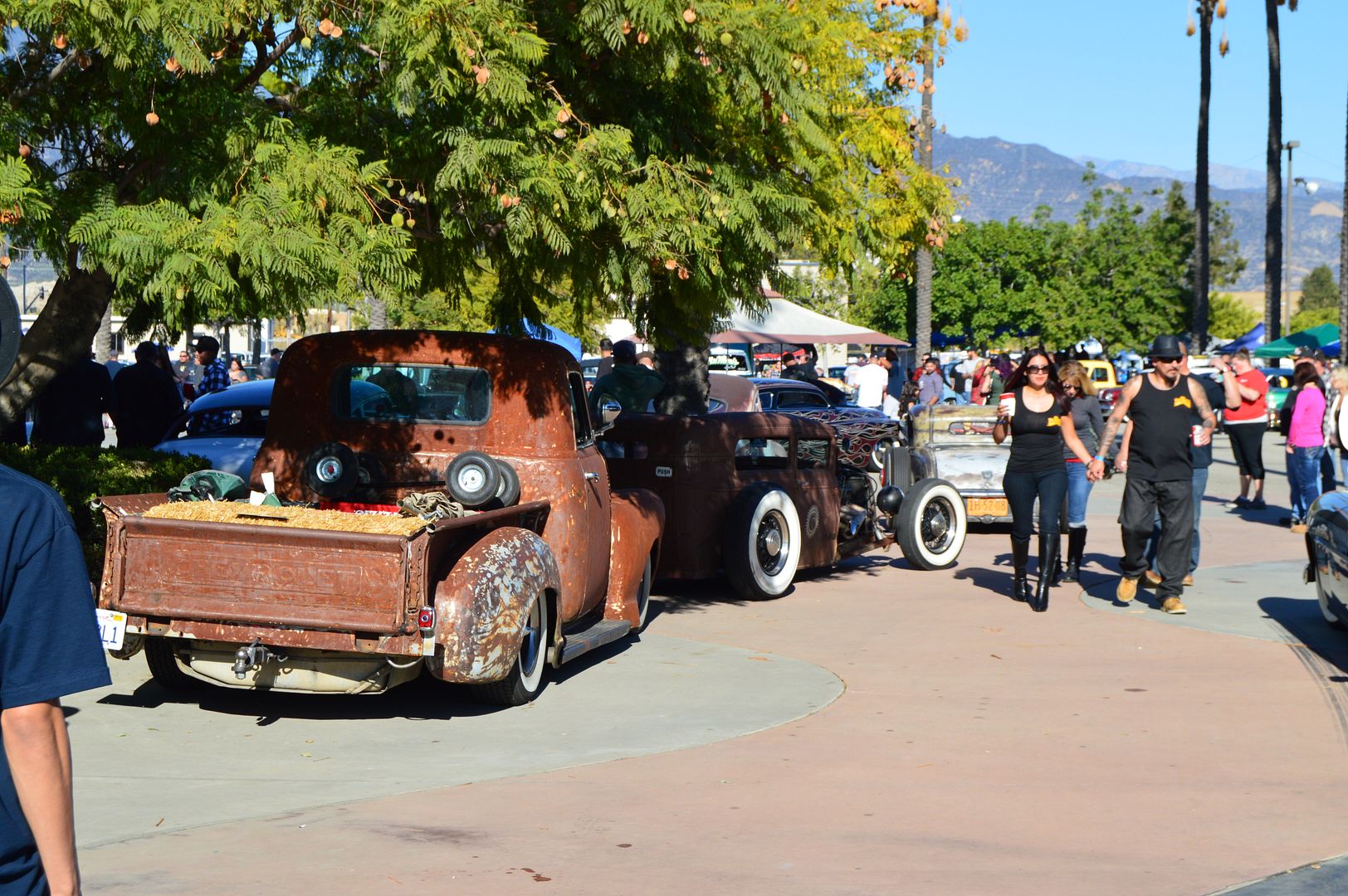 Hanging in some shade on this hot day in December.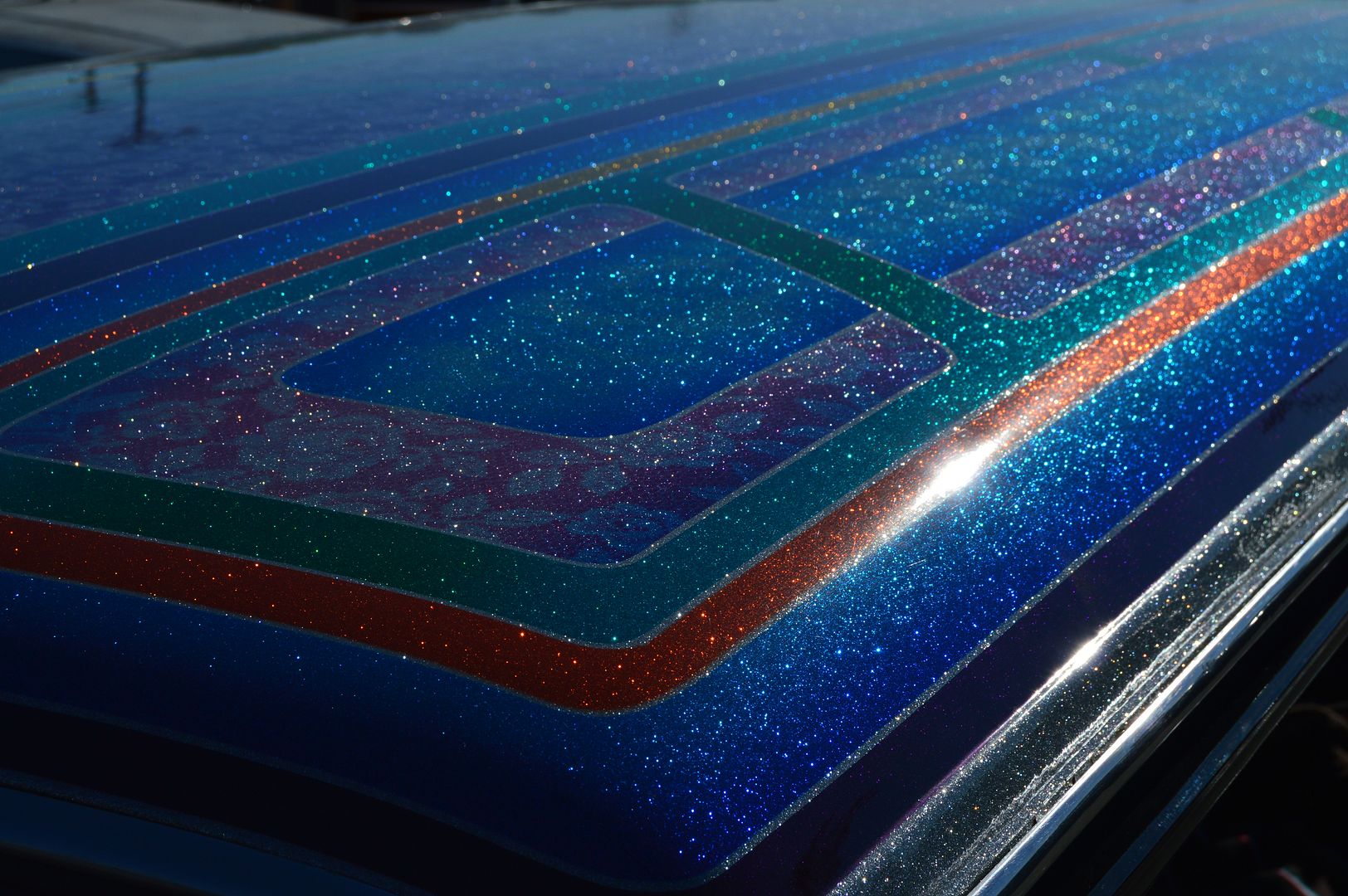 Plenty of flake in this design, so many hours.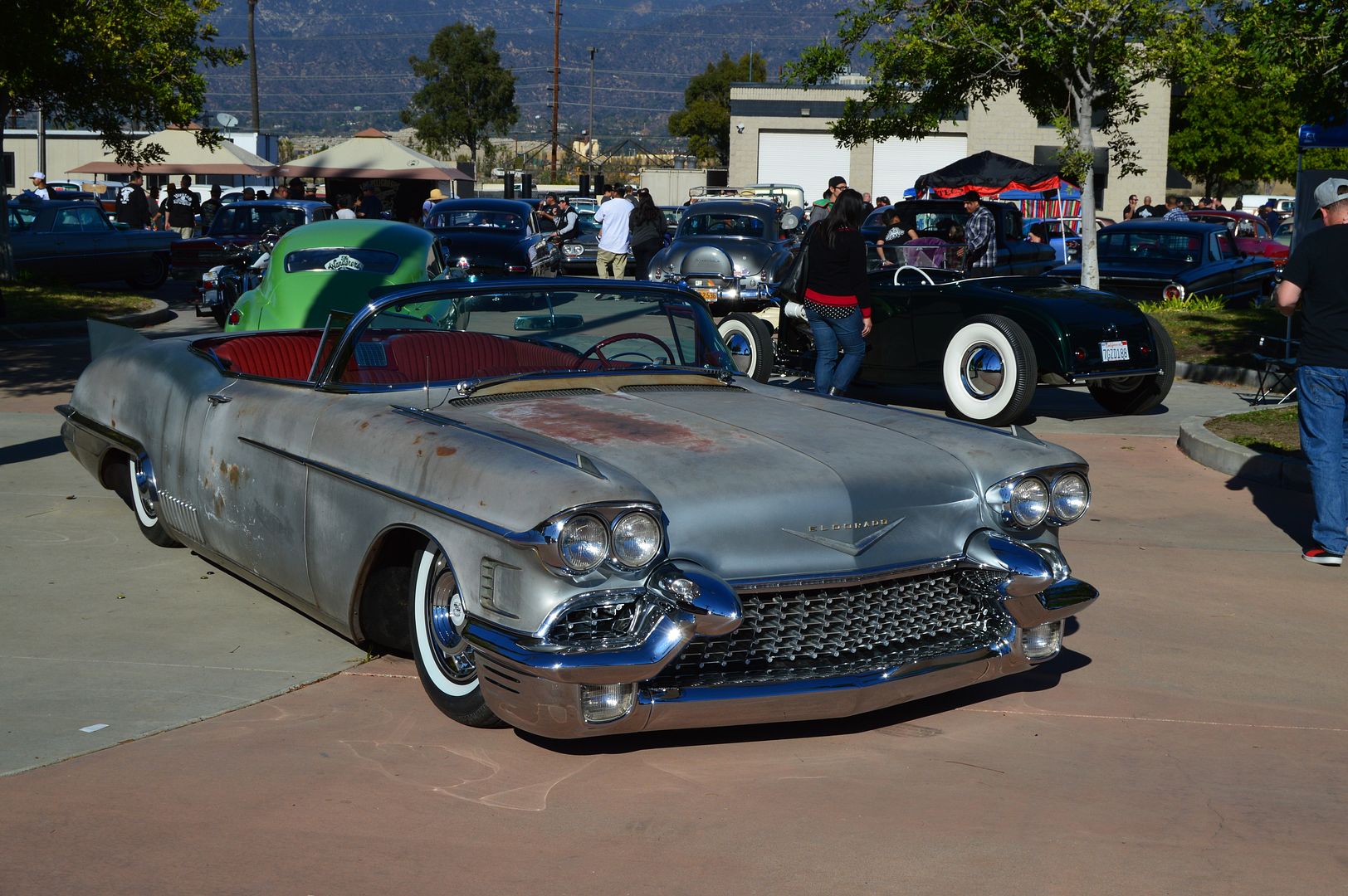 This is one tough looking 58.
Plenty to see today.
Comments
comments