1979 CB650 comes out of our stable
A little while ago I had a bloke in the shop on a bog stock 1979 CB650 Honda Four- it was a classic little bike that you really do not see on the road these days, I myself have never seen any around our area, so when he cruised in, I was all eager to have a look at the bike.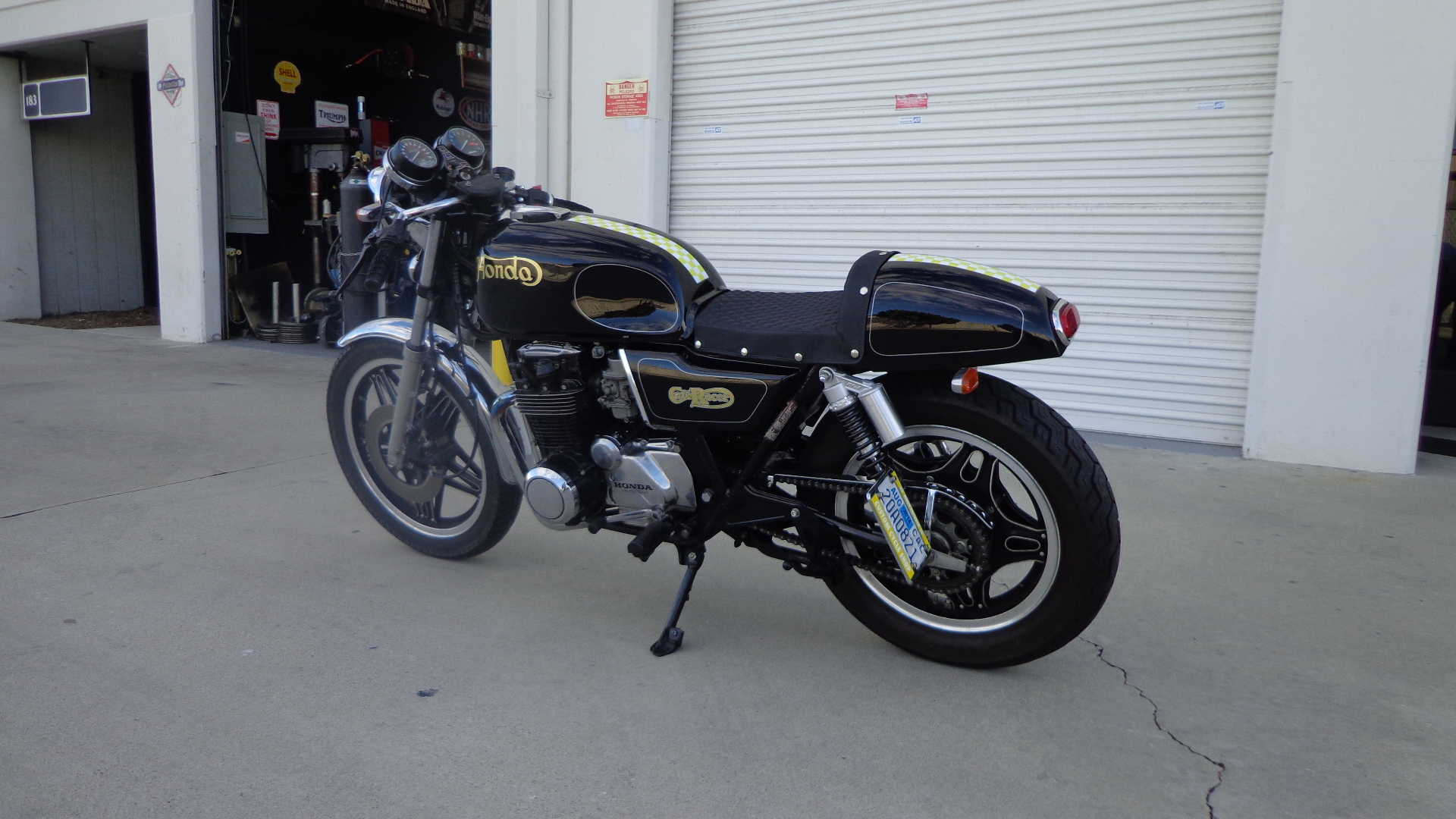 Well it was a cool motor but I wasn't a fan of the styling at all, and when he asked if we could Cafe it out a bit, I was more than happy to oblige.
He left us the bike and the keys and we got into this little machine and it turned out to be a pretty cool bike when we rode it today for the first time.
The 650 wasn't a huge seller as it was an odd displacement for Honda, seeing as they had a 550 and of course the bigger brother 750's were bountiful, so a mid range motor just didn't seem to catch on and as I said, you rarely see these machines anywhere these days.
But the Honda motor is a great little powerhouse and you can rev the bollocks out of these rice boilers and you will surprise yourself at the grunt this inline four has.
I took the tank off and then went about beating the crap out of the sides, until I liked the amount of indentation that was occurring with my hammer.
The stock seat I actually stripped and powder coated and then re-shaped and upholstered it, but really was not happy at the way it looked, so that was poo canned and i wanted to try one of our best selling seat bases, the good old Rocket 4.
This was so much better and complemented the gas tank and really was a done deal, I simply painted the tank and seat in these cool colors and then chose one of our Chromed L.E.D. rear tail light assemblies and now it was bang on at the Arse end of the bike.
This 1979 Honda was taking shape, I was still not into the stock exhaust but thought a cool thing would be to remove the original Can and then make up a swooping Stainless steel end pipe that really would make the bike have a little more aggressive look to it and I think that we accomplished that look.
We upholstered the seat base in one of our traditional Diamond stitched styles as that screams the era that we are looking for, also to have the racing snaps on the seat base not only gives it the look of yesteryear, it is a handy place to use to store documents as you only have to unsnap the covers and there you go.
Also, we got rid of the stock coil overs and fitted some piggy back shock absorbers, as well as lifting the rear a little too as we like that style of stance in this machine.
That stainless exhaust swoop it really cool and we fitted our Yoshimura style Baffle and finished off with a cool steel end cap, then to complete that look, we riveted one of our badges to the pipe.
This bike also had a New set of turn signals as the stockers were as big as fully grown Oranges and needed to be gone, the new ones are brighter than a math teacher and look the era too.
To make the Yellow and White Checkers flow, I added one of our shock mounted license plate holders with a Moon eyes Yellow license plate cover.
You will also notice the Chain Guard that Dakota hand made and we chromed, looks pretty tight eh?
The side covers were stripped of the old badges etc and we pinstriped the Silver to gibe this a nice contrast.
We removed the old master cylinder as it was weeping like an onion peeler and this also looked better in Black too.
I hope to add a video of the exhaust system as she is no raspy and sounds so cool compared to the stock set up.
We hope you like what we did to this bike? I prefer to strip down to the frame to be honest, but this was a fairly clean machine and it didn't really warrant it.
This is a fun bike, even with my podgy arse perched upon it and we hope you enjoyed us showing you this bike as we used our club man bars and grips, and many other parts to make this machine stand out from a stock bike you may see puffing around town.
This was a fun project and this really did change the look of the stock machine and I am sure the owner is going to have a blast on this 650 around the Southern Californian twisties.
Let us know if you need parts for your mean machine.
Comments
comments