Another Chopper frame I have is a Santee, built mid 1970's
I picked yo another frame and this time this one is a Santee Honda CB750 frame, created in their Arroyo ave shop in San Fernando California in the mid 1970's.
Custom Chrome bought them out many years later but this is an original frame and, a some point I will build this as a Custom Chopper and I am sure it will be a fun build and change guises along the way, as thats how Choppers get built. They can change forks and rims numerous times until the builder is happy, and this will be the case with the one I have right here.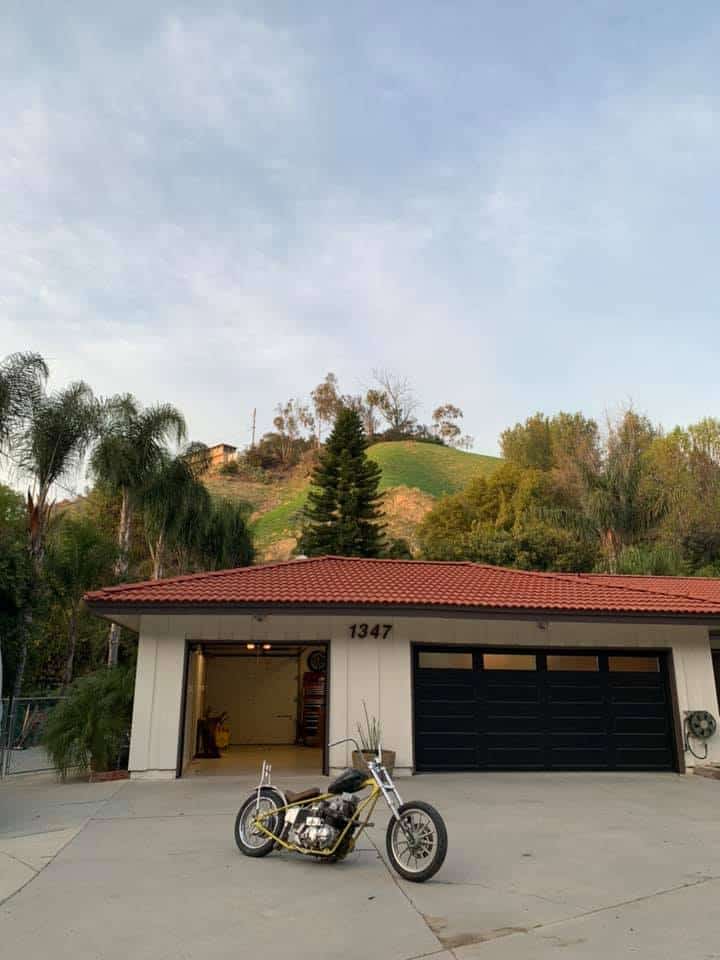 I need to be able to move these frames around, so for now I am bolting a few bits and bobs on that I have laying around, but of course, this will maybe look a little different as time goes on, but right now I thought that I would throw some Ram Horns bars on as it had no bars at all when I got it and you know how hard that is, trying to move a Hondas with no bars.
Right now the front end is just a stock Harley Sportster, but they don't have enough length for the look I am going for, so not sure whether to just get longer fork tubes, say 6″over – or go another route and get a Springer front end, I am leaning towards Springer, as that's a cool period look and something I have always dug anyway.
I am also going to probably go a 16″ rear wheel with spokes, just for the Nostalgia, as Lester Rims and Invaders have gone and priced themselves out of the market over here, and I do dig spokes anyway, maybe a 21 inch wheel up front too.
I have a bunch of old Chopper Gas tanks and grabbed this one, not sure yet but love the split beading in the middle, of course the old paint job will have to go but I do like the old Coffin tanks too, this tank does have that peanut feel to it and like the way it sits on the frame right now.
A long way to go but I need to be able to roll this old girl around and now I can, its bloody heavy to move with the rake of the front end but am sure later on I will get it sorted out.
A long long way to go but always something fun to do and have a go at, this and the other Chopper project I have will be therapeutic for me in these crazy times and give me more than I need to do to keep wrenching.
Feel free to email me any info on the Santee or if you have any cool parts I might be able to use, be fun to get this old 70's Custom back on the road once more. carpy@carpyscaferacers.com
Hope you all had a great weekend? Tomorrow its more exhausts to get sorted, so stay tuned for that too.
Comments
comments