Merry Christmas Everyone, here's a blog on the Millyard RC374 Honda six replica
Wishing everybody a very Merry Christmas and thank you so much for all your orders.
Wanted to have a long blog with a few videos at the bottom of here to show you how skilled this fella is, I am sure you will enjoy the video's over the Christmas period?
When rocket scientist and motorcycle madman Allen Millyard went to the motorcycle races at Castle Combe, he met none other than Guy Martin. Martin brought Millyard back to his pit area and showed him his replica Honda RC174. This was the bike that Mike Hailwood dominated the 350 cc class of the 1967 Grand Prix season on with its tiny inline-six engine. Millyard loved it, and Martin suggested that he should build his own RC174 replica, so he did.
In what seems like an act of sacrilege, Millyard started with a pair of Yamaha FZR250RR four-cylinder engines. The Yamaha engine was a better starting point than anything comparable from Honda because the Yamaha's heads and blocks are symmetrical, making them much easier to add extra cylinders to than some of his previous efforts. He started with the heads, cutting the two outer cylinders off of one and cutting the other in half at the center. Already he could see he would have to rework the oil and coolant routing inside the engine. He'd end up using three separate coolant galleries inside the final engine to keep everything adequately cool.
Millyard repeated the process with the cam covers, creating one to cover all six cylinders. The tricky bit was that these cam covers are magnesium, which is extremely flammable and difficult to extinguish, as he demonstrates (stopping for a cupcake on the way, of course). He cut strips of magnesium out of leftover parts to use as a filler wire, ensuring that the filler would be exactly the same material he was welding on the extended cam cover.

All of the pistons were good, so Millyard chose the six best to go into his engine. All 24 valves were in great shape. He only had five good cylinder liners, though, since one of the original engines had rusted inside. In true Millyard fashion, he simply fabricated his own. Speaking of fabrication, Millyard converted the Yamaha's original wet clutch to a dry clutch, as on the Honda RC174. He created or heavily modified all the parts to do this, along with a new oil filler. Millyard even made a stainless steel toe cover to prevent him from getting sucked into the completely exposed clutch.
One video in the series shows Millyard extending the crankshaft and crankcase to match the heads and putting the whole engine together. As before, he does an excellent job explaining every detail of his design and build process in terms that a layman can understand, keeping no secrets about how he did it. He calls this the RC374 both as an homage to Honda's original model name, as well as a more accurate description of its displacement.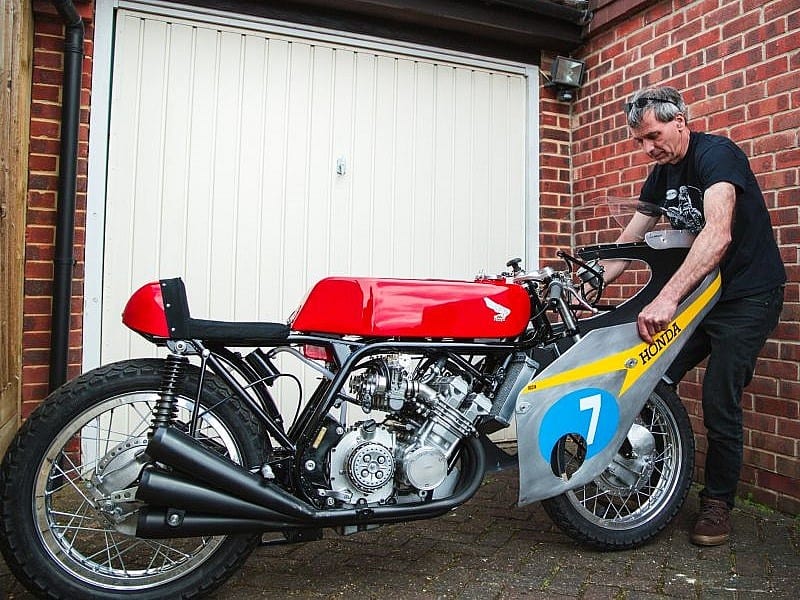 I am completely blown away with any of Allens creations and the ease of how he actually creates a unique part, such a laid back fella with so many skills that it would take a year just to get a sample of what Allen has accomplished in his shed/garage back home.
This is Christmas and I am sure you lot are off of work and I am also pretty certain its bloody cold where you are right now?
So, what better way than to watch this at home on the big screen if you can? Only 15 minute videos but if you are into engineering and want to see a Pure Genius at work, you will be mesmerized at the skill set and the ease at how Allen accomplishes any task at hand.  he would make a great Professor at a university to teach you engineering that's for sure.
The sound of this screaming 6 cylinder Race bike is the same as the Original as I have heard it, I love everything Allen does with all his machines but these Videos are all of building this RC347 Honda Six. so take a hour or so Break away from your Turkey, Ham or tri Tip and sit and watch how this Mechanical Wizard creates this unbelievable machine.
Merry Christmas from Carpys Cafe Racers.
Comments
comments