HONDA 1977 CB550F Super Sport for Sale $5999
Sometimes  in your life of buying and selling Motorcycles ,you come across a Diamond in the rough, and here is one that I wasn't going to purchase at first but something told me to go and see it , as I had no photos of it.  I am so glad I did, this was a one owner machine that was purchased in 1977, it did have a Rear Luggage Rack with sissy bar attached and a Chrome front crash bar, but took that off, although the owner bought it new in 1977 and had the dealership fit them to the bike upon purchase.
(I can supply you with them if you require as they are still hung up in my Barn.)
This is a very nice machine and has 11,000 miles on the girl which is super low for a 45 year old Motorcycle, the old fella used it to go to work and that was it, I purchased the bike and have had it in storage for a couple of years, but seems a shame to keep it locked in and thought that it was time to let somebody else have some fun with it.
The bike is all Original other than the battery, even the tires are original, a rare find these days, I did remove the carbs and go through them a couple of years back, but it has been stored in my Barn with my other machines and I have quite a bit of work and thought it was time for the old girl to have some fun with another owner.
Now, this is not a showroom condition bike, its a bike that was used for a few years for local commuting, but its a rare find for sure, I need to give her a clean up as she is dusty from sitting inside, this was never outside.
To be honest, it would not take much to make this machine Mint, and go in shows with some tlc, its a much loved machine and I know that you will love just looking at this unmolested 1977 Machine.

The 1977 CB550 F2 is a fun and nimble machine and will sneak up on many machines, its responsive and great center of Gravity, makes for some really enjoyable riding on this inline four marvel.
A great Machine that reflects that awesome era when I was a teenager, I remember having a sales Brochure on my bedroom wall as a kid, amongst other notable motorcycles of that era and this brings back so many memories just looking at the bike.
I do have the Title for this too and numbers match the title, so you are all good there, its not been on the road since I have owned it as I have kept it in my Barn with the other bikes and I think its time to offer this to the public as I am sure there are many like me that love these 70's Iconic Machines.
This Four Stroke Transverse Four Cylinder, SOHC Motor with 2 Valves per Cylinder, and a Bore and Stroke of 50.85 x 50.6mm with a 9.0:1 Compression is a little powerhouse to be honest. It has produces 50 HP/36.5kW @8500 RPM, with a Max Toque of 43.1 Nm/31.8 LB-Ft@ 7400RPM.
I did work on the carburetors and fit a New battery but, that's it, a lovely condition for its age and nothing cut off or broken on this amazing Honda 550F inline four cylinder.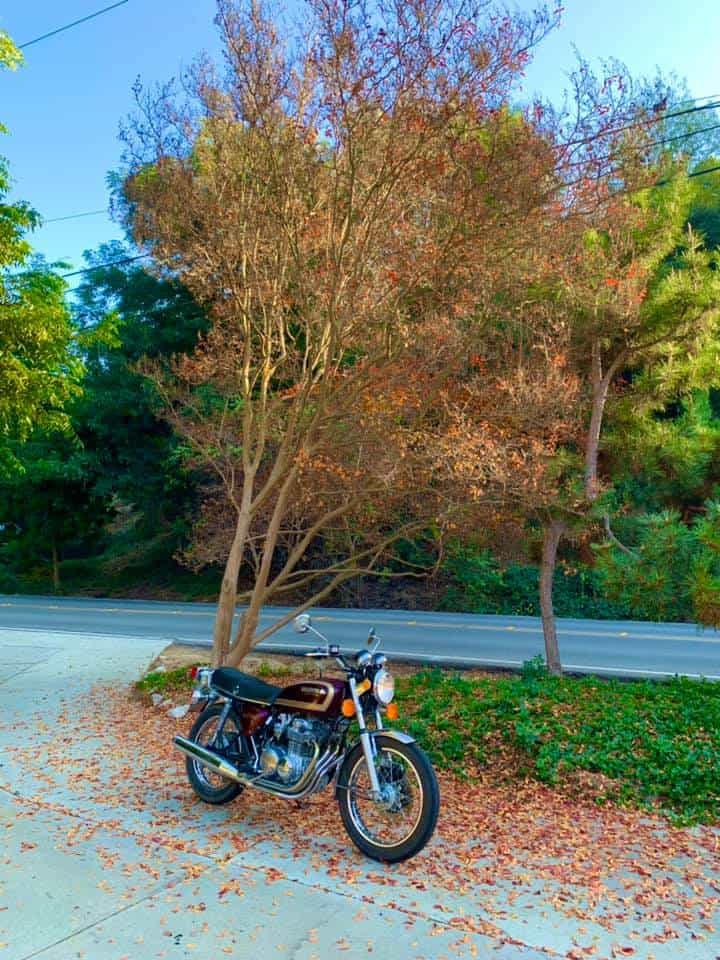 If you want to capture the late 1970's in mid size Motorcycling, then this really is it, sitting on this reminded me of when I saw one in the dealership when I was 15 years old, after finishing my bag of chips, me and my mate used to just hang out in the shop looking at the new bikes that had come out, dreaming of the day we could own one.
Be a shame in a way to see it go, but as long as someone gets as much enjoyment out of is as I have, that is all I ask, a rare find these days and I am certain it will turn heads and have many questions asked about it where ever you take this Honda.
If you need more photos or information about this 1977 CB750F Honda, you can email me at carpy@carpyscaferacers.com or you can call or Text me on 714-598-8392 and have a chat.
Thank you for looking and hope you like the photos that I have taken of the bike, its a great color too, this weighs about 421 in dry weight and has 18″ wheels, so a nice height for most riders.
Comments
comments