Picked up a 1966 Honda CL77 305 today
Today was a GOOD day, you know, when you find a penny and pick it up?  I had an email from a Client and he said he had an old Honda that had been in the family from new, its been torn apart a few times but was I interested in it?  I said of course, I love trying to keep old Motorcycles from going to the junk yard and drove up to the guys parents to pick it.
I asked who originally owned it with any back story, here is what he replied to me:
It was my Uncle. He returned from Vietnam. Bought the motorcycle rode it for 6 months. Put it in his parents garage for storage. His parents died 10 years ago sold their house and offered it to me. It had not been ridden since then until I restored it. Mainly rust removal. Mechanical clean up. I rode it around my block and put it away in my garage for many years. Sold my house transported it to my parents house where I restored it for the second time to the current color. One family owner. After I restored it the first time I offered to give it back to him for his granddaughter when she was old enough. He didn't want it back.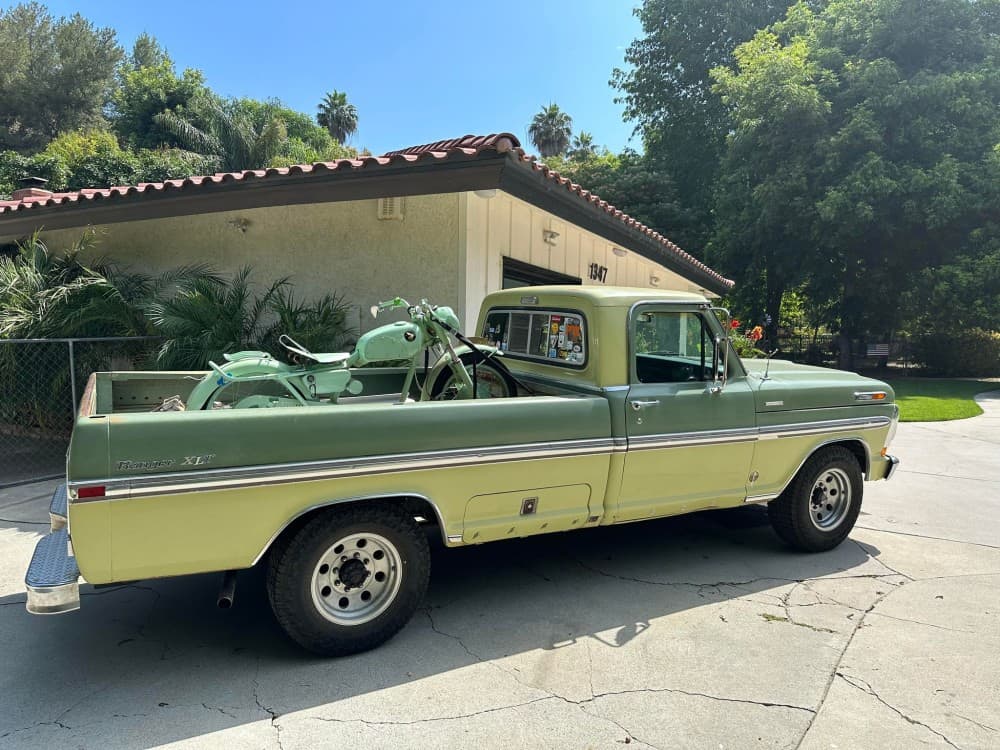 So, with that I jumped into my F250 and made the trip up to Rancho Cucamonga before it got too hot as it would be well over 100f there after 10am, I arrived in good time and loaded the bike up, there was a tote box of parts and the engine was sat in the corner of the garage.  I loaded the bike up first, it has no shock absorbers so had to get the guys parents to help me push it up onto the bed of the truck, where I have a motorcycle chock and then strapped it down.  I picked the Motor up and loaded that and the box up and wished them all the best and headed home.
I have never owned one of these models, the scramblers were so popular and quite fast for the era and even though the color is not my cup of Tea, it's great to get the bike and not sure what to do with it at this moment but it will go up in the Barn and wait until I have finished getting the workshop finished as Its hard to move for bikes in there lol.
But, it will be fun later as even though too much of this has been powder coated One color, I think it will look pretty cool once together and a few changes with a bit of Chrome here and there to break up  the Sea-Foam Green embodyment.
These are classic bikes and some how there is a Single seat frame attached as well as the original double seat in the parts pile, but, it reminds me of me and my brothers NSU quickly we had as kids or an old D1 BSA Bantam, so I think I will stick with the single seat set up as it does have a Brit Iron look to it.
The good thing about it being stored in a Garage and of course being Powder coated everywhere, is that it isnt rusty at all, just dust from sitting in one place, a rare thing indeed, and the original License plate with Original Tags from 1966, still has pink and registration in the tube that is affixed to the plate and numbers match frame and motor, so all good, another thing you do not often come across when you pick a machine up.
I had no plans on building another bike as I have about 12 other bikes in the Barn but eventually I will get to this machine and every now and again when I get stuck on another build, I can turn to this one, it will be fun, unless somebody out there is interested of course?
I shall be having fun creating something cool with it when I start to wrench on the Green Machine, as I can get parts still for these machines, they were a great motor back in the day.
Honda CL77.
Years produced: 1965-1967.
Claimed power: 27.4hp @ 9,000rpm.
Top speed: 85mph (est.)
Engine type: 305cc air-cooled SOHC parallel twin.
Weight (dry): 319lb (145kg)
Price then: $707 (1967)
28.5 bhp (21.3 kW) @ 9000 rpm
17.6 lbf·ft (2.44 kg·m) (23.9 N·m) @ 6500 rpm
4 speed
Tube steel
Front: telescoping fork
Rear: swing arm
Front: 3.0″ × 19″
Rear: 3.5″ × 19″
52.4 in (1,330 mm)
Length: 79.1 in (2,010 mm)
Width: 32.3 in (820 mm)
The bike features air-cooled, four-stroke 305cc overhead parallel-twin cams. The gas tank holds three gallons. The CL77 redlines at 9,000 RPM, reaching a top speed of 85 miles per hour.
There is quite a following for these bikes.  The first CL77s were imported into the United States in 1965. They were a dual-sport version (then known as scramblers) of the CB77 Super Hawk, a 305cc overhead cam parallel twin. The Super Hawk had been on the American market since 1961, two years after Honda had established its import arm in Los Angeles.
In 1965, Honda finally decided there was an American market for a 305cc scrambler. Cycle World immediately tested the bike and liked it, even through it was not the production racer they had hoped for. Cycle World referred to the CL77 as a "gentleman's scrambler," stating, "It is, in fact, the appeal of scrambler-type styling that sells the CL77." Period testers found the CL to be too heavy for competition and not as fast as the CB, but perfectly adequate for both offroad fun and reliably getting to work.
The four-stroke engine was almost identical to that used in the CB77 Super Hawk, with the same aluminum cases and chain-driven overhead cam. A lower compression ratio to aid low rpm power was allied to long, upswept pipes to assist ground clearance, and reliability was ensured by full-flow oil filtration.
Unlike the Super Hawk, which used the engine as a stressed member of the frame, the CL had a heavy duty single downtube cradle frame, topped by a small silver gas tank and protected underneath by a steel skid plate. The front brake was smaller in diameter than the one on the Super Hawk and the steel wheels were 19 inchers, with deep ribs to resist dents.  Large air filters and a battery were tucked up under the seat. The CB's electric starter was omitted in the interest of saving weight.
So, a long way to go when I get into this machine but a fun one though and even though it does have the original dual seat, I do like the single sprung saddle to give it a more European look.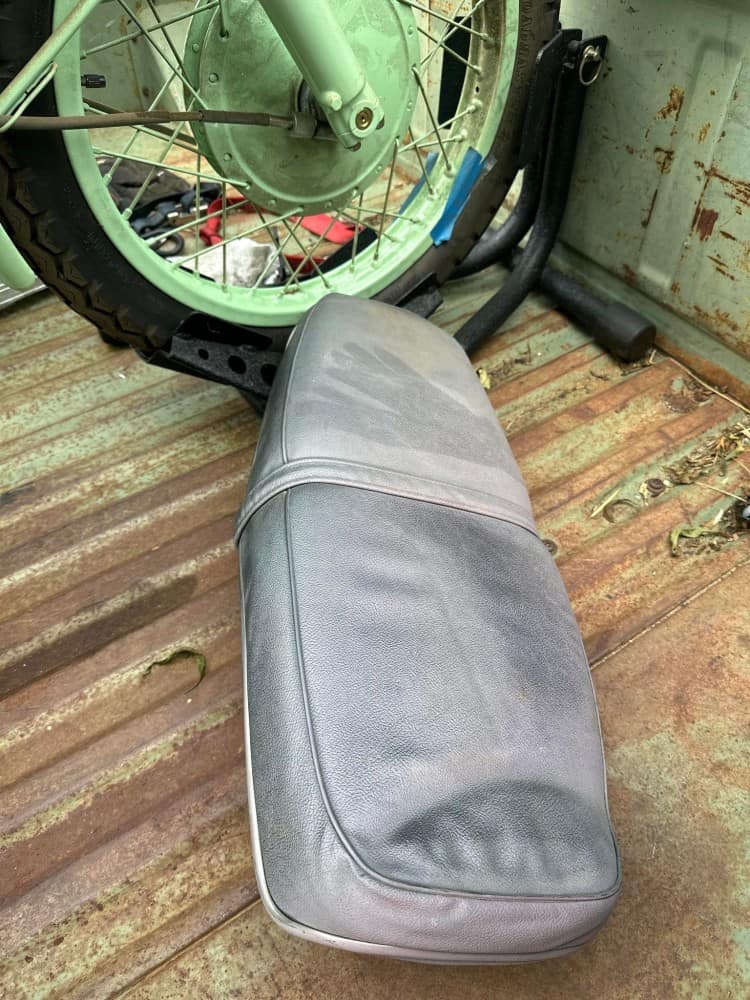 "In those days, a Honda Scrambler was a very desirable motorcycle, and it is still adequate for the job. You just have to keep in mind that it is only 305cc, and the suspension only has three or four inches of travel, and the brake gives you that Nostalgic feel of, " the harder you press, the quicker you will stop" feeling.
Well, thanks for looking at this 1966 Honda CL77 that I have taken on, you can always email me questions at: carpy@carpyscaferacers.com or text at 714-598-8392.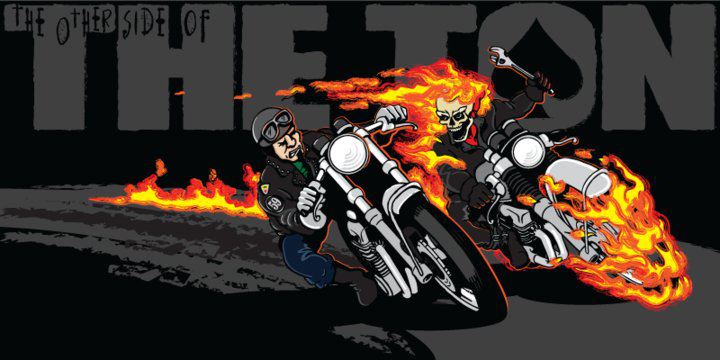 Comments
comments