The Vesco Honda at El Mirage
On Saturday, Jennifer and I went out to watch the races at El Mirage dry lake in Southern California, this place has been having speed trials since before ww2 and continues today through the SCTA. (Southern California Timing Association.) So we took the van and the Honda and drove up to the lake bed and set up our ezy up and radio etc and food for the day.
Such a fun day watching cars and motorcycles race the clock, some reaching speeds well over 250 miles an hour, its awesome to spectate as you are so close to the action.
Took some snaps of the Vesco Honda and thought that I would share them today, above you can see the Shorty Turn out that I did for this particular build, the bike is all running now and am happy at the outcome of this machine that had not run since the 1980's.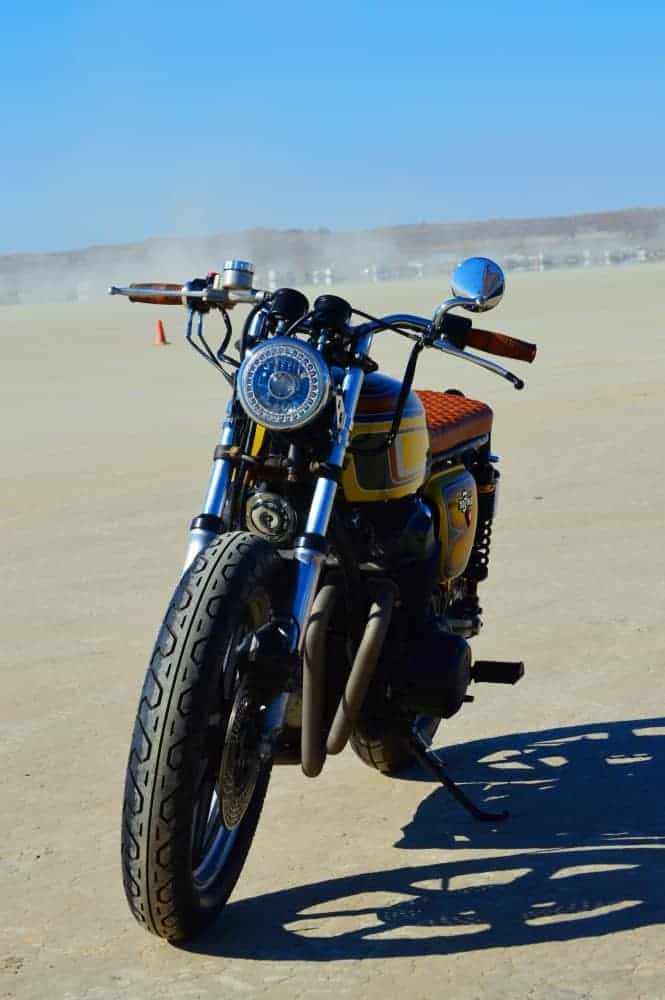 This is not a show bike but, it could easily be, as I was thinking of running for 100 miles, then stripping the bike down to the frame and painted the chassis silver and start a cool custom project, but also this is up for sale as she is right now as I do have other builds to continue with for my Customers.
The Bike runs well now and fires right up with either a Kick start or hitting the starter, it has nice low end torque all through the range of gears and is a fun machine to ride.
Sitting Pretty on this famous Dry lake where even Don Vesco himself has raced, the Honda does look at home sat here in the So-Cal Sunshine.
My Custom, Hand made and chromed handle bars – Make this bike so comfortable to ride, no back breaking leaning over the gas tank, a sit up and cruise feel that I enjoyed.
The exhaust system of mine flows so well to help exit the gases from the engine and it has a velvet tone to it as she pulls through the curve.
Old style lights but really are modern LED, that way it looks old school but people will see you with these bright lights, plenty of travel in the suspension on the rear too.
See if you can visit the dry lakes when they have sanctioned races on, its an awesome event to go to and everyone is approachable.
These Lester rims are 19 inch front and 18 rear, I took these off a CR750 Road racer some years ago and have had them in storage for quite a few years and I am so glad that I got to use them, fitted my New side stand as original one had broken off, the bike sits well.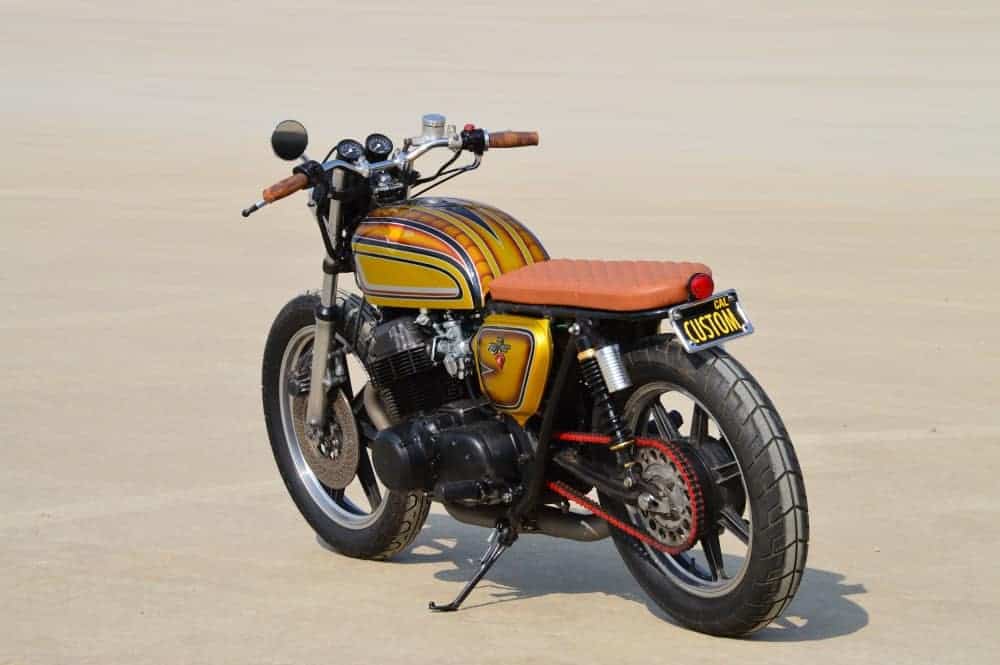 This is a comfortable bike to ride and has loads of potential to be a really cool Custom machine, it has some rare parts on and are only getting harder to locate these days.
It has New Handlebars, Bar Switches, Harness, Battery, Pipe, Shocks, Grips, Cables, Chain- as well as many other new parts, like totally Rebuilt Carbs and New intakes and Throttle Cables etc.
A fun weekend on the lake bed and Jennifer and I had a blast, chatting to Racers and meeting up with folk we haven't seen in a while, the commeraderie is second to none.
Jennifer taking in some of the racing as she helps move the bike onto the Lake bed.
Time to get some miles on this puppy, but wanted to at least share some photos that I took whilst out at El Mirage, this bike will be up for sale soon, if interested call or text me on- 714-598-8392
Thanks for reading today.
Comments
comments