I went out for a Pint of milk, Came back with 10 CB750 Engines
It's a funny old world, I mean, I initially went out to get a pint of milk and on the way there I came across a stash of SOHC Motors that a buddy of mine needed to off load as he was clearing his place out for renovations etc, what better way of getting rid of them then to let me have them.  And, as I have a Long bed Pick up truck, I thought to myself I should be able to get all 10 engines in the back of the F250.
Lucky for me, it's only 4 miles from my place, and as my old beast only does 6 Miles to the Gallon, it was well worth taking the turck to go and get these SOHC in line Four Motors, they had been sat outside in the Californian sun for many many years but I can use some of the parts even if some of the motors are locked up etc.
It was no easy task carrying 10 CB750 Motors from a back yard and loading them onto my truck, at 230 pounds each, every one became heavier and heavier, by the time I had dragged the 10th Engine out and up and onto my bed of the F250, i was feeling as weak as watered down beer. But I got them all on and then thought about it, man- That's just over One Ton of Engines, and the F250 is a 3/4 Ton.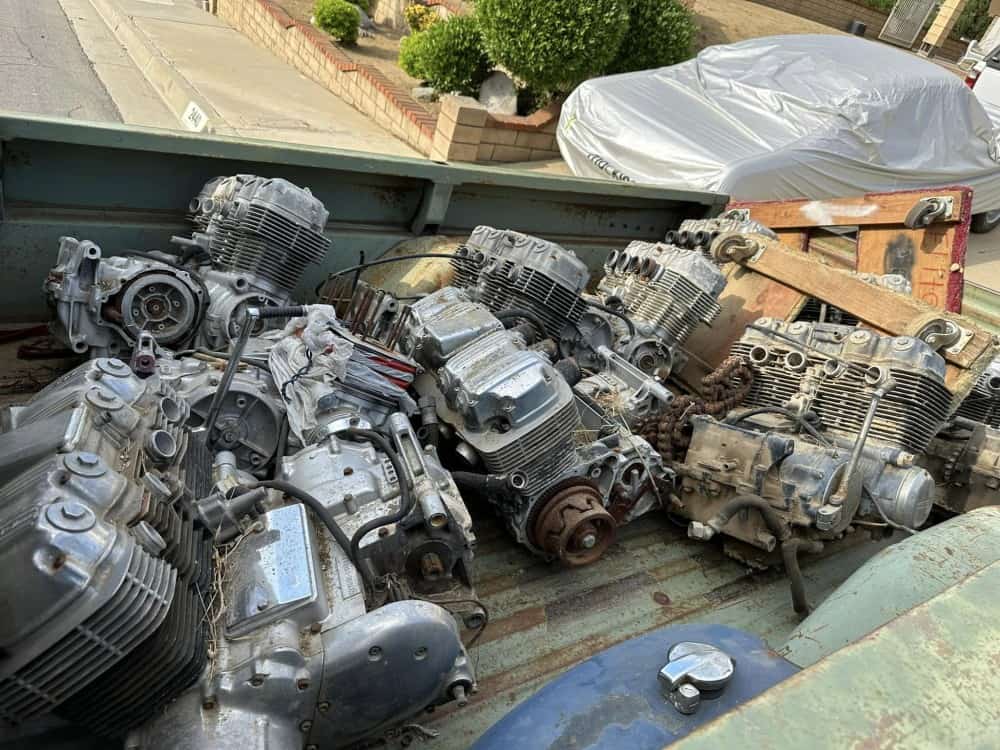 I know I will have use for these, even for parts alone, I have a small collection now that for now I shall place in my barn and wait until later on when I have some free time to see what is what.
These towed home no problem in my pick up and that hardest part was unloading a Ton of engines, as it was only 3 miles from my place and I was already tired from throwing tem up onto the pick up bed, but, not as far to move to the barn.  I sure felt it afterwards as thats 2 ton moved in less than 2 hours.
I have stored them away now in the Barn, but I am still working on New doors for the outside, so will just have to tip toe around for a bit until I am ready to hang the doors up.
Glad to have got them and I know I will be turning to a few when I create some more machines for the tarmac, nice to have spares at your finger tips though.
I have another Motor in a frame you can see and one more on a dolly in the shop that I need to move over, always something to do at my New location, it will take a little time to get it how I want but then it will be icing on the cake as working from Home is always the easiest and more enjoyable way of working i think.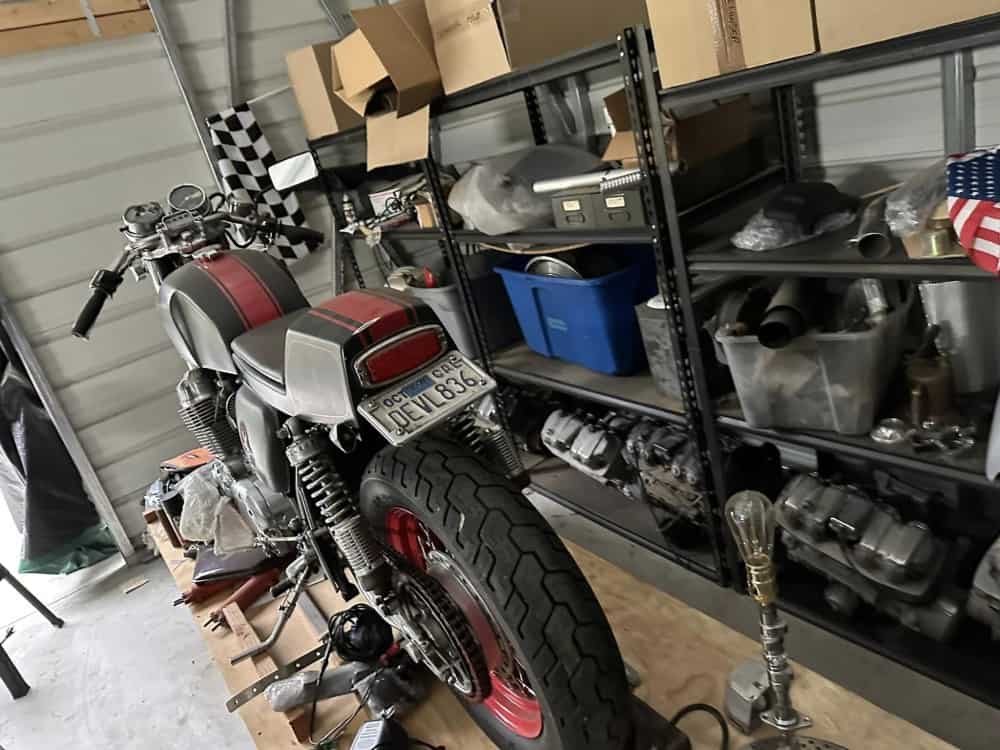 I have a lot of work to try and catch up on since our European visit but refreshed and ready to take on another chapter in the life of Custom Motorcycle creation, I have a few ideas for more exhausts, Handle bars and other parts, so stay tuned to the site if you can.
Oil leaks whilst i was away need to be cleaned and gaskets fitted, Doors painted and hung, and then organise the bikes and where the parts will go is something that is not to be rushed but everyday there is something to mess about with and I enjoy so much.
Thanks for reading my posts, I like to share what I have been up to and its great hearing from you too and seeing what you are building at home, if I can help I always will be it via email carpy@carpyscaferacers.com or call / text at 714-598-8392 as its a pleasure having a chin wag where ever you are in the globe.
Comments
comments