CB550 I am putting together from parts laying about.
Well, here we are and will shortly be beginning a New journey, moving to a bigger place with an acre of land and shall be having a Barn built for my workshop, so I thought I would try and use some of the old parts I have in my storage, to at least get a rolling chassis, so will be easier to move around when the time comes for me to move all my stuff.
This 550 frame was a friend of mines, but he got into a bad accident a few months back and will no longer be riding again, so, rather him getting rid of the frame, he gave it to me with some bits and bobs, and Ii thought now was a good time to at least assemble a few bits that I do have and see where we end up down the road a bit.
I had de-tabbed it and welded a hoop a few years back and then he had the chassis Powder coated and thats how it stayed, so I now have this at home and am now starting to see what I have to get this in some sorting of movable project, and I have a long way to go, as well as dealing with the smoke ash and bad air quality, due to the fires, I shall not be rushing this.
I am going to be putting it together in my spare time and see where we end up, but have an idea roughly of a Brat style bike that might be fun to ride on El Mirage dry lake etc later  on when the SCTA meets start up again.
When you start off with just bare bones, and no Game Plan, who knows where you will go, but, as we may be on the move very soon, I need to clear some of my storage out of parts laying about and at least make this 77-78 Frame Rollable, so I can move it about a little later on.
I managed to locate an old swing arm and fitted that to the chassis, and then I pulled out some TEC shocks that I had in a box and thought that this would be the best project for these as they are Brand new and will set the bike off nicely.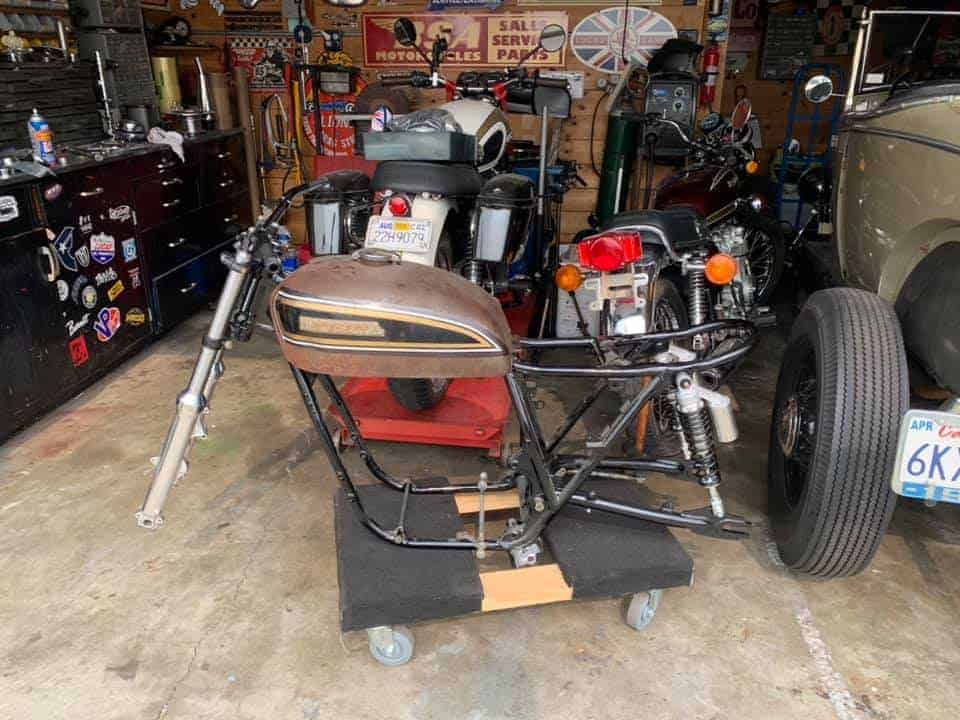 I had some Polished lowers in a Draw and some Hard Chromed upper stanchions all wrapped up in a box in my storage facility, so a good time to put together a good set of front forks, complete with New O-Rings and Upper Nuts etc, finished the look off with some chromed Dust Covers and there you go, a neat front end. I actually use A.T.F. for the oil and then set the pre-Load by adding 4 Stainless Washers in the top above the spring, just like they did at the Race tracks, as I hate the plastic tube spacers, dont trust them at all.
This bike needs everything, so it may take some time to get all together but, for now I am piecing the bike in the garage and its taking shape right now, a 18 Inch rear rim laced to a front polished hub and stainless stee spokes was the order of the day and of course, it would not look as Custom, without a set of Diamond Pattern Tires.
You may also Notice that I have fitted a Pro Moto set of Black 7/8 Handle Bars, with a center brace, just to give it a more Tracker look and to be honest, they feel really good on these tree's.
Now she has a rear wheel and, even though she sits higher, I really am digging the ride height and stance of this machine, admittedly, she may drop down a tad when the Motor gets plopped in but, I like this concept so far and am having fun piecing this old girl together to begin a new life after many years of laying dormant.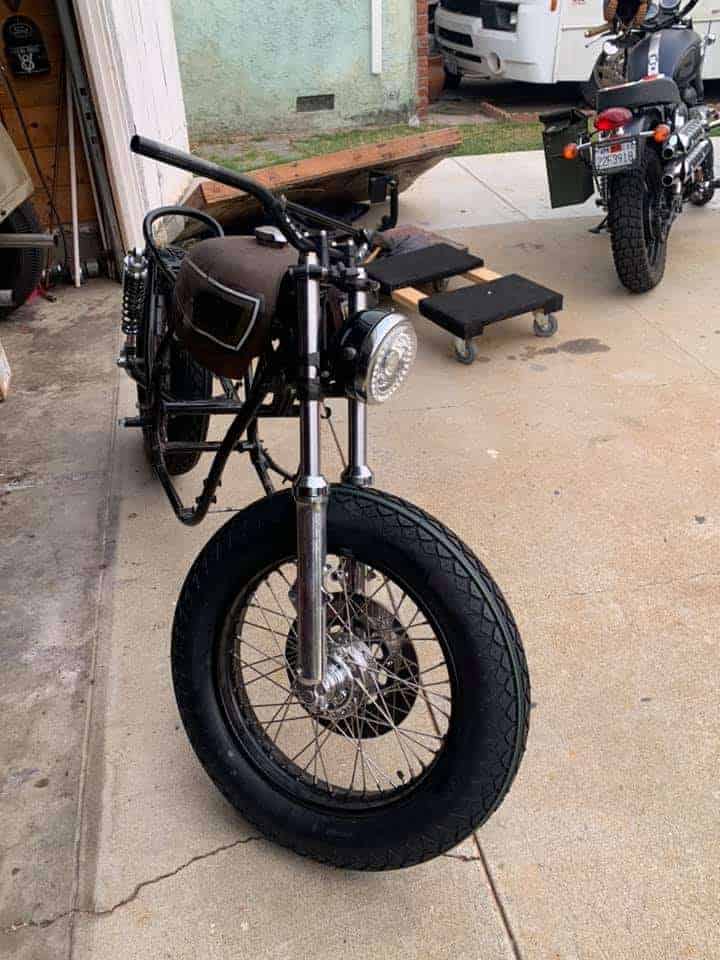 Not sure on the Headlight or the Gas tank right now but, as I have a few parts laying about, I am just using them up for now and can check them later if I find something else.
This does have a nice look and feel to it, it roils so nice with new bearings and the bars give it a Classic pose and something I have high hopes for later on, long way to go and noticed the right foot peg is incorrect, so will need to find a 77 version so the brackets fit the frame right.
You may get bored at looking at these photos but right now I am trying to get a feel of how I want this bike to look and am sure I will be trying a bunch of gas tanks until I get the right one to work.
I polished up the old Rotor and will grab a set of old caliper and brackets from my storage and see what I can mount up on here,then strip and polish to a chrome look.
I tried another gas tank off a 500, still not sure and will keep trying, I will make a seat pan but make sure plenty of padding and i think tuck n Roll but not sure what color just yet, will wait until I know what fuel tank I shall use on this build.
Working on a super cool front bobbed fender, getting there and will be stoked to get that all dialed in, looks pretty dope already but just a few tweaks more.
That where we stand right now, and talking of stands, there is no main stand for this, so I have to come up with a longer kick stand for this bike, as she wont be able to stand upright with out one.
Comments
comments