The Race of Gentlemen Wildwood New Jersey 2018 A fun weekend
Well, this may take a few days to add photos and describe some of the cool rides that we saw over there on the East Coast of the USA, I had never been to Wildwood and I was not disappointed at all, its so different from Southern California, the weather changed every 5 minutes, the houses were huge, the food was great and the Boardwalk was 2 Miles long.
The Race of Gentlemen is held on the Beach front in Wildwood and with the weather being so Humid, it took a while for my camera to stop fogging up, and when it did, the fog came in anyway. LOL!
Here is a video someone else did and I have shared it for you to see of what goes on here once a year in this Coastal town.
Jennifer and I walked up the 2 mile Boardwalk in Wilwood, it had a feeling of Coney Island to me, with the fair ground and Roller coaster full of screaming kids on vacation, halfway up the Boardwalk you could see that there were checkered Posts and markers on the beach, to show the Race lanes for the Race Of Gentlemen.
As we approached the TROG entrance, you could smell the Marvel Mystery oil and sometimes a hint of Race Fuel, as it wafted towards us with the warm humid air that filled the air around the vicinity of the Race Course.
The was a fun atmosphere that you could feel as you walked into the where there were some bleachers located, the unfortunate thing was that now that everybody knows about the Race of gentlemen, Everybody turned out for it, and it was almost impossible to see anything from the side lines of the beach and no chance of getting up into the sand dunes as that was already packed.
But-after standing on Tippy Toes, we decided to acquire some Pit passes and hang out in the area that I always dig anyway.
It may be titled, the Race Of Gentlemen, but quite a few Ladies were in the Mix of racing, something I am super stoked about, My Girl loves Motorcycles and Hot Rods and would be more than eager to race me and probably beat me every time, which will be fine by me, I love watching Women Race.
What a Great little Roadster, this shorty Altered ran fast and hard all weekend and skinny tires was a plus in soft sand tracks and was great fun watching her beat the guys.
Two Orange County friends of mine made the trip, over 2500 Miles to attend this event, and are riding Early Harley's at the Track, now there's a couple of people that have a True passion for our industry and lifestyle, it was Hot, and very Humid, so 10 out of 10 being able to sport vintage style race Sweaters.
We chatted for a little while and as the heat started to take an impact, we left for a walk of the rest of the pit area of which was a hive of activity as racers rush to dial their machines in.
Really loved this 28 Roadster, it is my kind of style, has so much cool patina too and ran really well on the sand.
How cool is this, I have splash Aprons left on my Model A and hope to have something cool painted to the side, but the added coolness was the exhaust's exited out of them.
I liked pretty much everything on this Roadster except the fan, but each to their own and loved the oil filter case and the Aircraft braided Plug wires too.
Lining up on the beach, Hot Rods and Motorcycles all gather to get ready for racing at the Tower and a Flag start gets them off to a flying start, just like back in the day.
Commercialism always catches up, that boat out in the distance had an LED display advertising board and kept cruising by, modern technology meets old I guess.
Little Flatheads and inline four Motorcycles squared off with each other, these were fun to watch and even though some of these machines are 70 years old, they sure started to get fast .
Everybody was really into the racing, be it Motorcycles or Hot Rods and, what an experience as this is how it was invented here in the States and boy was it exciting.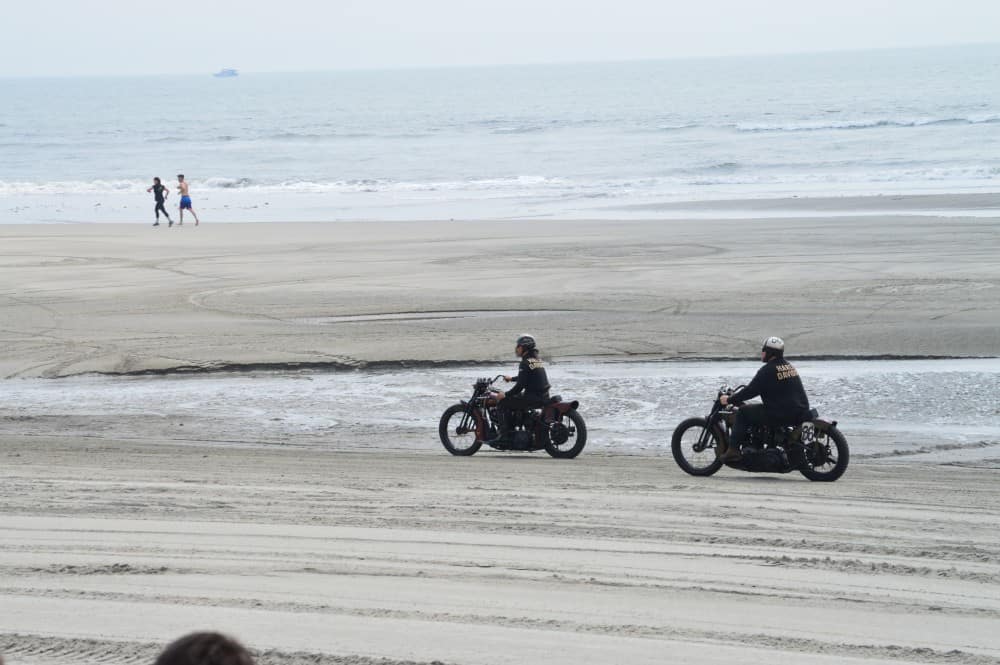 Sushi heads back from another race, unfortunately he took quite a tumble and was sent to the hospital but is on the road to recovery now and God Speed to you Sir!
Motorcycle clubs race each other and great commeraderie was seen.
Lisa English heads back from taking the 29 Roadster for a Hot Race on the beach, so great to see Girls getting into this and beating the guys too.
East Coast style, unchopped but channeled, I never see too many East Coast Hot Rods as I live on the West coast, so this was great to see for me and it ran string all day long.
I had no Idea this was Eli English, couldn't get to see him in the Pits as he was busy but loved this coupe, Great Hot Rod Family too.
Tidy Three Window sat happily on the fine Sand at Wilwood, really nice looking rig, Chromed 32 grill shell, Dropped headlight Bar, BLC lights, 40 steelies on Firestones
It sure was humid on Saturday, before I went to the race, I looked at a few rides that  were scattered about the Beach, loved it all and many different styles and models to see.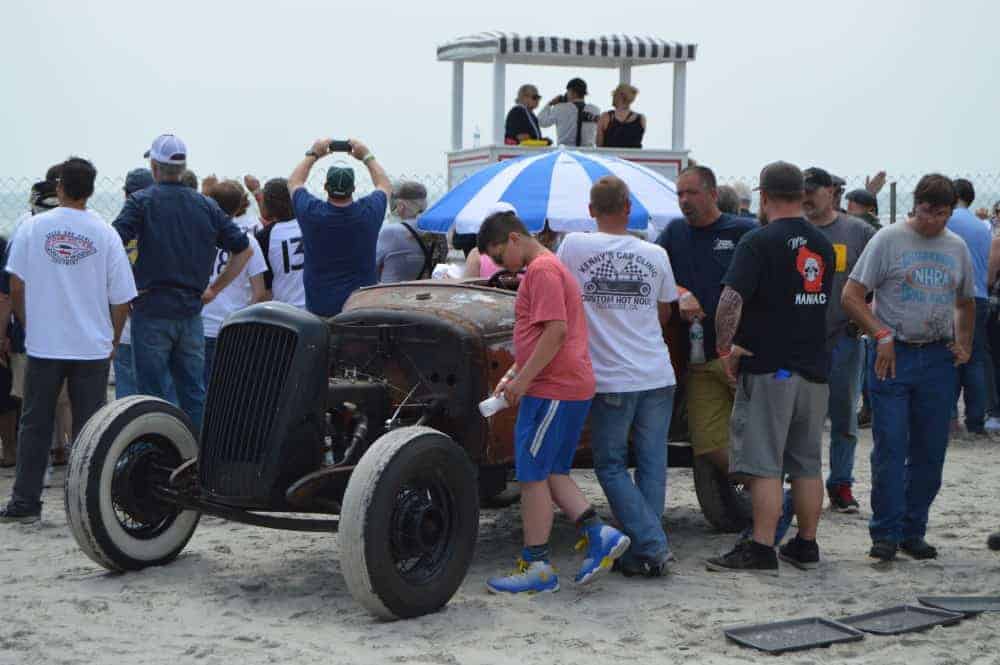 This 30 Model A with what looks like a Dodge Truck grill shell set up seemed to have fun and received plenty of attention in the Pit area as I arrived here.
Really well built Roadster, Loved the Kelseys, the 48 Chevy tail lights and the push bar at the rear, as well as the marvel Mystery Oil catch can like I have on my Roadster.
Plenty of different styles of Hot Rods to look at and get really close too, that was a bonus for me, the day was going to be great.
Very tasty and sits so well on the sand, nothing I don't like on this Roadster, its bang on the money in my eyes and was glad to be able to look over it as we walked around the Pits.
Great Minds think a like, I have Edelbrock heads where he has Offy but we have same intake and carbs and the same Catch tank too.
Nice to see people chlling and cacthing up, chatting about their machines and what they hope to do with it, this Triple 6  Model T Roadster looked like fun and it sure was.
This A Bone say really high but, was an advantage on the deep sand and he ran all weekend long too.
Love the Barney Navarro 21 stud heads, running triple carbs, not a fan of the Alternator but a great ride none the less.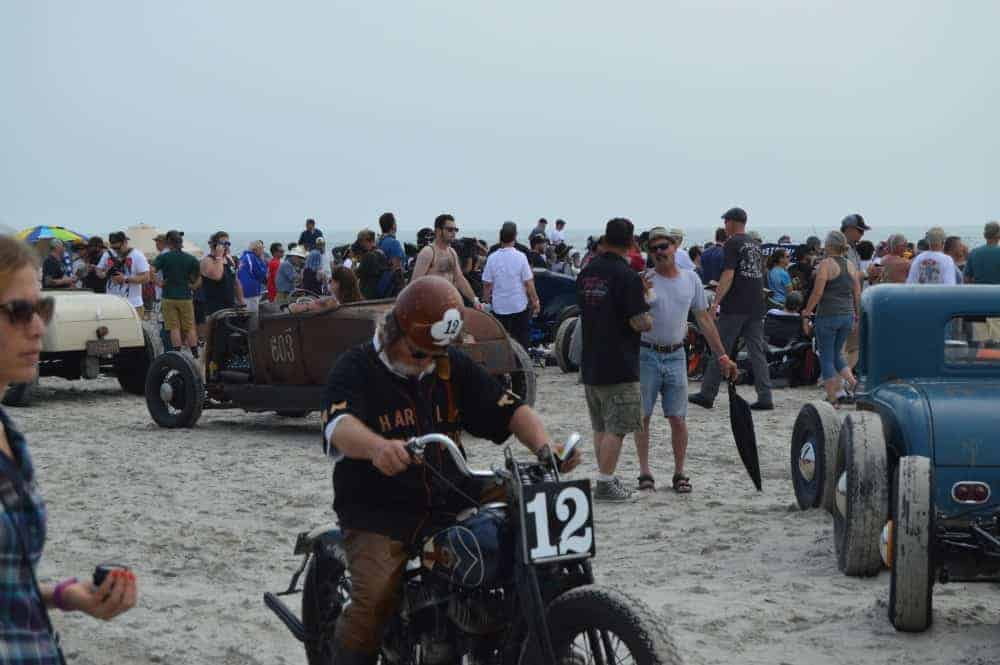 The Pits were a buzz with activity and the smell of Castrol Oil or Marvel Mystery was definitely in the air when we arrived.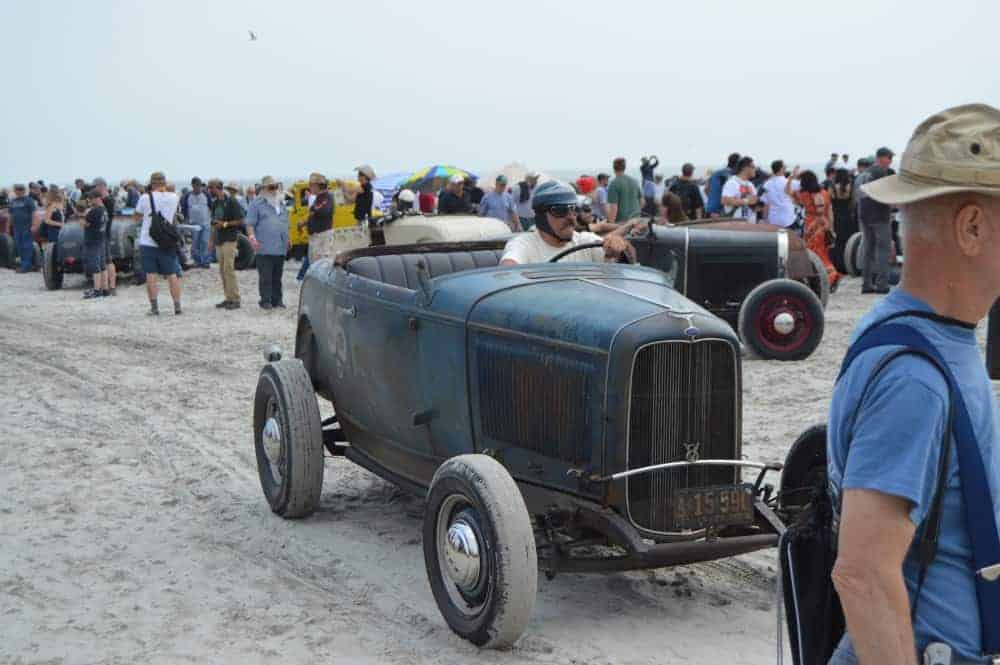 What a wicked Roadster, Love it all and the Flathead sounded so sharp and crisp too, I even loved the Color of the body too.
This old Fella in his Altered Model T rang hard and Long all weekend, showing the younger guys what Racing is all about, wearing a Buco style Crash Helmet this guy was serious about Racing.
Lining up in thePits to get ready to lanes  you Raced at the Wooden Surf Towers and then Flag started right there on the beach.
A couple of Five Window Coupes Pass like ships in the night one with steelies, one with wires, getting ready to do battle as the Races start to get a little closer here at Wilwood.
Awesome Roadster, NJ plates, Quick change and Flatty powered a real cool Period style Hot Rod.
See, what a fun sight, people hanging out and getting ready to take their own contraption for a blast along the sandy beach and go for all its worth at the Race Of Gentlemen.
This got my attention real quick, take a peel at this rail, Killer set up with the rear tank acting as a pressurized Radiator , some neat touches to this Jalopy for sure.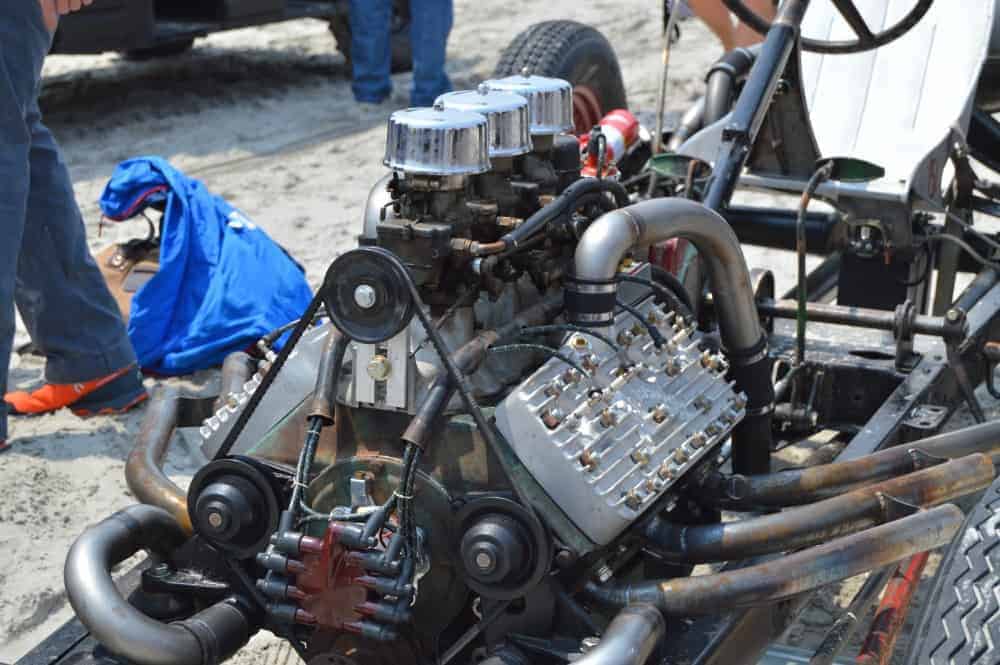 Tri- Carb powered, Alloy 24 stud heads, Crab Distributor and look how cool the tubing was that exited the water pumps and headed back to the tank at the rear of the chassis.
Take a look at the Banger, loved the Headers on this Model A, it was simplistic , functional and reliable too.
This is the fella from Gas Monkey Garage and he drove the rail in a few races and looked like he was having a lot of fun sitting on a bodyless Hot Rod.
Coupes are not just for Chickens and we saw many here at Wilwood, what I liked is that I had never seen these cars as they were mostly East Coast machines.
This Channeled 5 window is so East coast style and for me, great to see, they do say the reason so many were Channeled on the East Coast was many of the floors were rotted from the harsh weather conditions, so it made sense to channel the cars and also cut the rust out, sounds pretty feasible to me. This is Eli English who owns and runs Traditional Speed & Custom.
Early Plate on this Model A, I noticed many liked to use the single stop light in the middle, looks great and makes use of the three holes that are there from factory.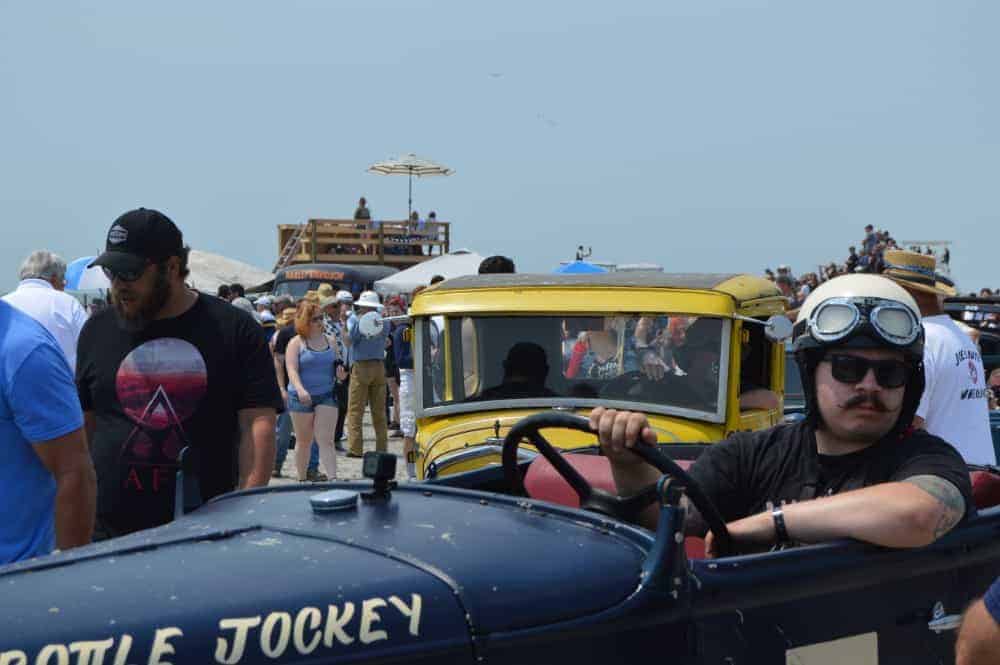 Sat in the Pits before entering the beach staging lanes, a hive of activity was going on but the Humidity was Killer on Saturday, I have never experienced that before but was so glad that we made the 2500 mile trip here to see this event take place in New Jersey.
Lisa in her Roadster, she was having a blast and not afraid of giving this 29 Roadsters Right pedal a hammering as she raced the guys all weekend.
Last puff of hos Cancer Stick before he hits the beach, Smoking is dangerous, racing Vintage Hot Rods is too but thats half the fun, racing Jalopy's I mean as I dont smoke.
Hot Rods and Motorcycles out on the Beach at Wildwood, the Breeze helped thats for sure and I was surprised how fast the tide came in and, it came right up to where they were racing.
A different set of T&A's on the Beach to what you lot normally see right?
People came from not only all over the States, but Globally, especially from Japan, so cool to see the Nostalgic culture is World Wide still and seems to be increasing, but any racing is dangerous and poor Sushi crashed his Harley, he rattled his head and went to hospital but I hear he is ok, just a little battered and bruised.
Believe it of not- This is Gene Winfield himself, I spoke to him and said what did he think of this meet, he said he loved it, I asked him if he had raced and he said hell yeah and was excited, he also informs me that This coming Saturday will be his 91st Birthday.
Gene wearing an old Patco style Race helmet drives back from a Run up the Beach, just look at that Blown Ardun Flathead motor, must be $100,000 in that Motor alone easily.
This 5 window looks to be an original Race car of the Jalopy Races era and un chopped too and great to see this racing once more.
Another unchopped 5 window, headlights covered up and hood sides fitted, this was a great traditional car thats daily driven.
Scott Sheehan ran strong all weekend, this Roadster is really dialed in, its not happy in the soft sand, but where it is a little more compacted, the A-Bone comes into its own and he was hard to beat.
Scott's Ride is bang on the Money, a tough ride and tuned really well, it sounded awesome too.
Traditional Modified look Great in Suede Black and Red Kelsey Hayes, sat on the ground well and was a tough machine, loved the Flathead too.
Killer Roadster, I thought it was a California car as I saw Chino on the Hood, but East coast, and a great job done for sure on this 32 Special, ran hard and straight as well.
How cool is this 29 Roadster? I mean , it is right on the money here, Drilled I-Beam, Juice Brakes,Steelies with Firestones, Flathead mill 32 grill shell and Ox Blood interior, I loved this.
Loved the Patina on this Roadster as it came back from its run up the beach, the old boy was having a blast and probably said to his wife  first thing in the morning
. " Just shooting up to the Pharmacy to pick up my prescription" LOL!
Making the turn into the pits to get ready for another run at TROG.
Bikes came back from there run, riding on the Beach is not as easy as you may think.
Easy Lad, Easy- the sand sure gives you a work out if you are using handlebars.
Everyone was having fun though at this event and thats the main thing, there was plenty to see thats for sure.
Loved the front springer and the bars on this Harley, sounded great as he went by me.
Wo Boy! This HD was starting to fight the rider all the way through the pits, must of been quite a work out and am sure was aching for a few days after the Races.
I really liked this Harley, it sat so well and was proportioned right on for me, great job number 143 thats a Killer machine right there.
Plenty of Riders and Drivers got stuck or had a few little mechanical issues but- it was all resolved pretty fast to my surprise.
I loved that Belly tank that was on the Beach and it ran all weekend, must of been bumpy as hell.
A fun atmosphere at Wildwood, the people were all friendly and had a blast taking on all the other Hot Rods as they made their start up by the Wooden Tower, to a Flag start.
Keeping the Motorcycle up in Soft sand in the Pit area was a tad difficult at times but, some how they kept it pointing in the right direction and got to their service area.
My mate Jimmy White of Circle City Hot Rods in Orange, California came all the way up with his Machine.
Jimmy White makes the save as the soft sands kills power and steering, but he kept his cool as always and ploughed through this part of the pits as it gets pretty tore up in the area from all the traffic that was moving to and from the staging lanes all weekend.
Back on the Power and no worries as Jimmy heads into the Pit area for some refreshment and a little service work on this Humid day in New Jersey.
The Flat Bastard was running well all weekend too, these are not cheap machines let me tell you, some of these are worth in excess of $20K to get them right.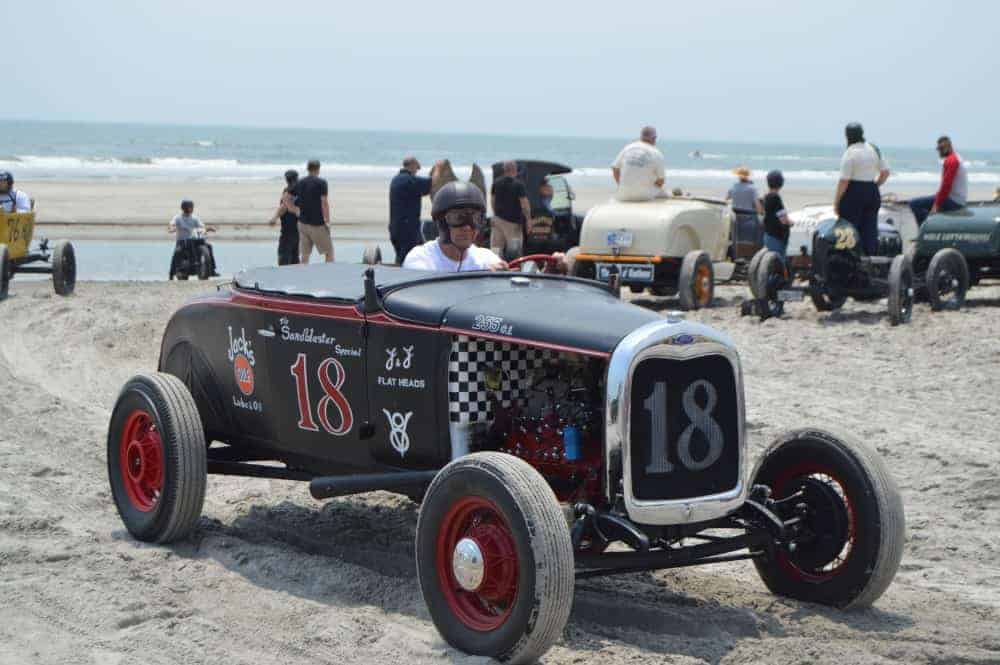 This old fella in his 30 Roadster ran a tight ship, the 255 ci flatty sounded strong, it sat well and handled the sandy beach pretty well.
Seeing this Model T was great, it was light as hell and rab pretty strong with the 4 Banger and I think surprised a lot of people on the track this weekend.
What is not to like about this Roadster, Canadian Heads, Thickston High rise alone made it great, sits well and sounded amazing as it drove by us in Wilwood.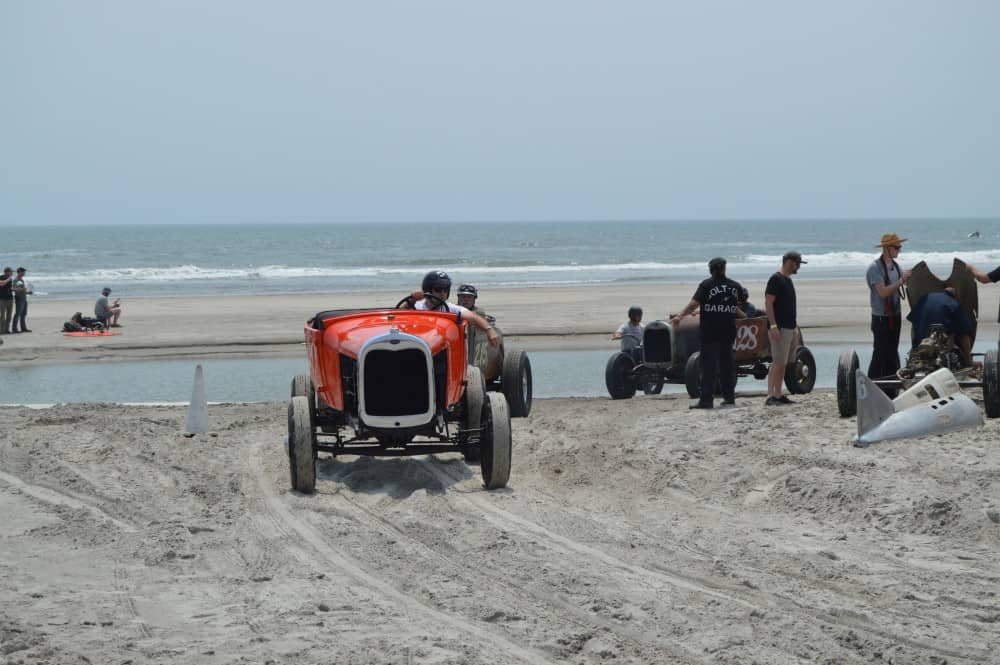 Pulling in from racing on the beach, the pits were getting a little chopped up but that made it good for me to be able to take a few photos as they drove into the area.
I watched this 1928 Model A Run all weekend and loved the whole look of this Period machine, what a great Hot Rod, loved the lines and style, the guy was having a ball with that Jalopy.
28 Roadster sat high but looked great and seemed to handle the sand pretty good, maybe due to the height, still see the Running Board struts showing.
I tried a few different vantage points at the Pits but to be honest, it was so busy, if you moved, someone would jump in your place, so I stood fast for a while and took snaps when I thought it would make a good picture.
Everybody got a run but the wait time was too long to be honest and the humidity was up the Ying Yang.
Cleaner than any cats Arse, this Roadster was bang on, even the doors fitted well, my ones are about as close as I dare and could still stack pennies in the gap below, this machine was just put together meticulously and it showed and good on him for bringing it out for all of us to have a look at.
50's style 5 window sat really well and had the Roundy Roundy Chicken wire windshield.
Some of the photos I have taken look similar to others but I assure you that these were on different races and times of the day, but hope these do not bore you as they do not me, I love looking at Hot Rods and even though each photo is almost 10 megabytes and takes ages to load onto my website, I believe its worth all the time and energy I have put into it to share with everyone.
Hurry Up and Wait was the order of the day but- I am sure all the races had something to chin wag about as they waited for the OK from the man in the Tuxedo and the Bird with the flag.
The T-Wrecker was pretty cool, bring Broken down Motorcycles back or towing Hot Rods down the beach and ran fine all weekend.
The good thing was there was plenty of people around to help if you got stuck in the boggy sand, but there really were too many people in the pits to be honest.
A cooler Breeze later helped big time and that tide started to move in real fast, then later the fog came in too but was still in the 80's.
If you look hard enough, you can see Two Motorcycles that are 3/4 of the way up the track, guy on the right is getting down over the tank the best he can for the Win.
Mechanics and drivers all hung out between races to stratagise and come up with some sort of game plan to edge the other racer out, I think just Nail it and go would be my Philosophy.
A Hole Lot of Regerts?
Orange Turtle Deck T- Roadster makes its way up the beach, you can see someones drone trying to chase it.
Come in Number 416 your time is up, this was part of the Beach I could not walk on, but some people came to his rescue once they noticed he was struggling, ever tried to push a Motorcycle in the Sand? It's bloody hard work.
Heading out, decent tire tread helps a lot and this geezer seems to be alright for the moment, as he makes his way to the staging lane.
Getting to the pits was a bit of a task in the afternoon but, most people got it sorted out. But this young Bloke seems to be well in control to be honest.
How thew hell was this bloke clean? I mean he lined up, raced, and then made the return and not a spec of sand on him.
Another super clean machine makes it back virtually unscathed, quite amazing!
Old Fella's still having fun and getting a work out too, love seeing this and great job mate.
Getting a little bumpy now but a good area for me to take a few snaps as the bikes came back from their Races and return back to the pits once more.
Now I have no idea what a Scrubby Puffer is and not sure I want to either, as the dude in the super cool Yellow Sedan looks on.
This Blokes Indian wanted to stop for a breather as it was pretty Hot in the afternoon but he got it fired up after a bit of kicking and swearing and on his way.
How cool is this 29 Model A? Period car here and he has a blast in that all day.
Digging the Bars on this, looks like he is 2 up but thats another geezer on a bike right behind him.
Motorcycles and Hot Rods, a Super Combination if you ask me and everybody got along.
I think that is Mr Chin in his Roadster, this is an original built Hot Rod from back in the day, I saw this Race up at the RPM Nationals in Santa Margarita Ranch last year, a consistent machine for sure.
Theres a different angle shot I took of this super Nice 28 Roadster, what a really cool ride, great job mate I loved it.
I wanted the McCullogh Blower and intake oiff of this machine, it sounded wicked and you could tell the power difference right away.
A work out but something that you wont forget when you finally get home and the next day you have more aches than a set of infected teeth.
This Board Track Racer was consistent in running hard and did really well on the Sandy Conditions.
Model A Coupe bouncing its way back, making more noise than the waves crashing in behind him.
This 34 Roadster was really well built, sat well, drove hard and handle awesome, a nice Hot Rod there.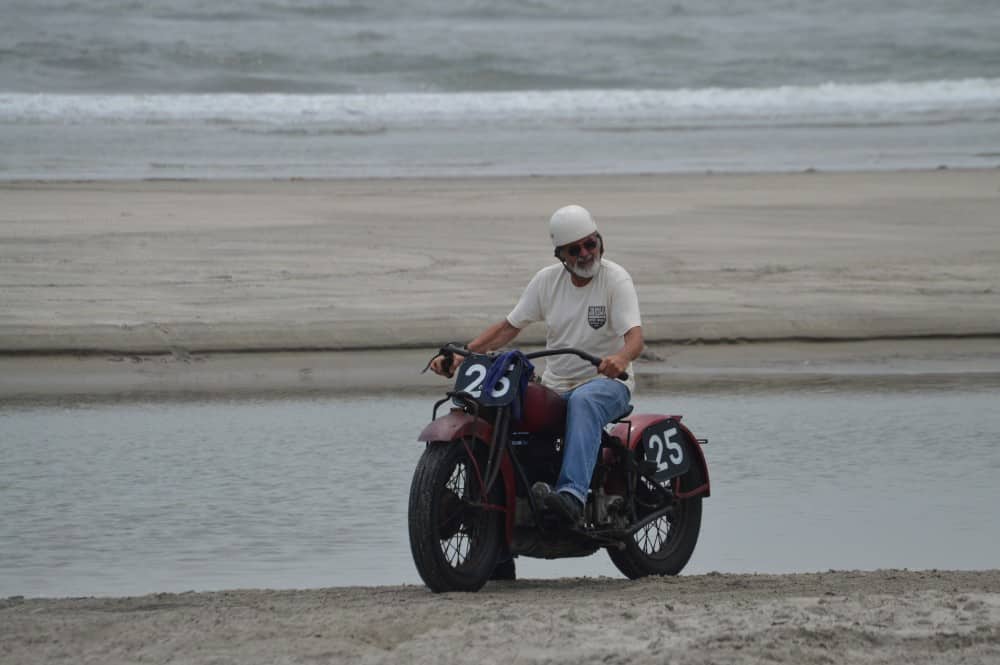 This inline Four Indian did well and he even rode it home, Loved seeing all these old bikes having a go on the Sand.
A Mixture of everything here, Mid engine Roadster Ran pretty Hard all weekend too.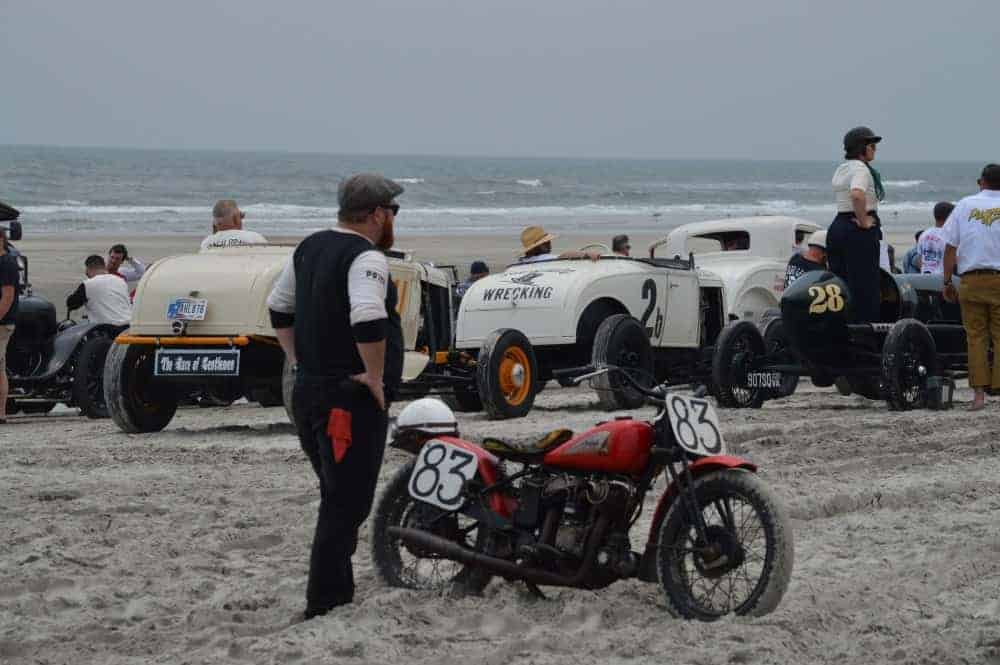 If at first you dont exceed, feck it, leave it there.
Fog was coming in and it was Humid at the same time and, the tide was coming in too.
Gene Winfields Blown Ardun Powered Roadster, with the 90 year Old behind the wheel was just Epic.
Getting ready to line up and GO!!!!!
Gene will be 91 years Young This coming Saturday, how cool is that?
New Jersey Roadster sits patiently and waits for the go ahead to race.
See how sometimes it gets foggy from the humidity? it will then rain, then get even hotter, so weird to me.
Another Rail with a Flathead and clean as can be, this was really well built, so much time and detail in this creation too.
Lisa awaits her start as she sits in the 29 Roadster with everybody else.
Hey, Come on you lot, lets get this race underway, times a wasting and I got stuff to do.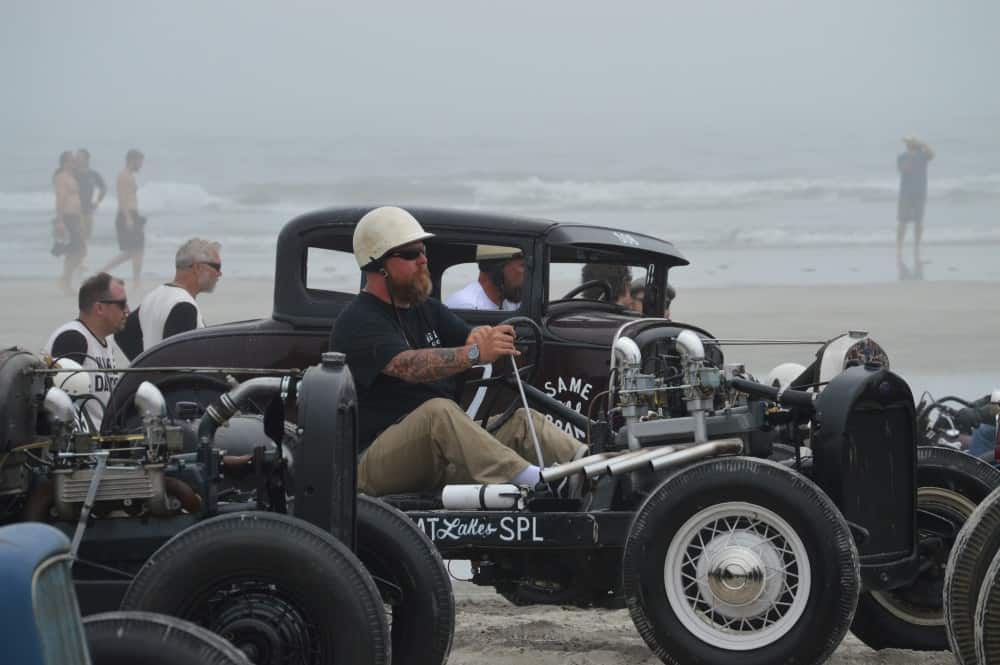 Getting ready for the Big Off, almost ready to go as they all sit on the Beach getting Hot.
Come on lads, give us a push.
I took so many shots, I am trying to keep them as cool as I can, dont want you lot getting bored of the same car but these are pretty cool to look at.
Looks like at some point in time, this 28 Roadster had Schroder steering or a bell set up, as you can see the hole in the side for the pitman arm to exit the steering box.
This Bloke was having fun with his A-Bone all weekend.
This Roadster was just so right, loved everything I saw and it sounded really crisp too.
Evans Heads equipped with a Quad Intake Manifold, check the exhaust out too.
Plenty of activity later on in the day.
Jenn thought the Security Guard looked like The Big Lebowski, I must admit he does look like Jeff Bridges.
Some awesome Motorcycles here, not so sure on the cut front fender but the rest is on the money.
This Young Lady Ran all weekend and the Modified was super clean too.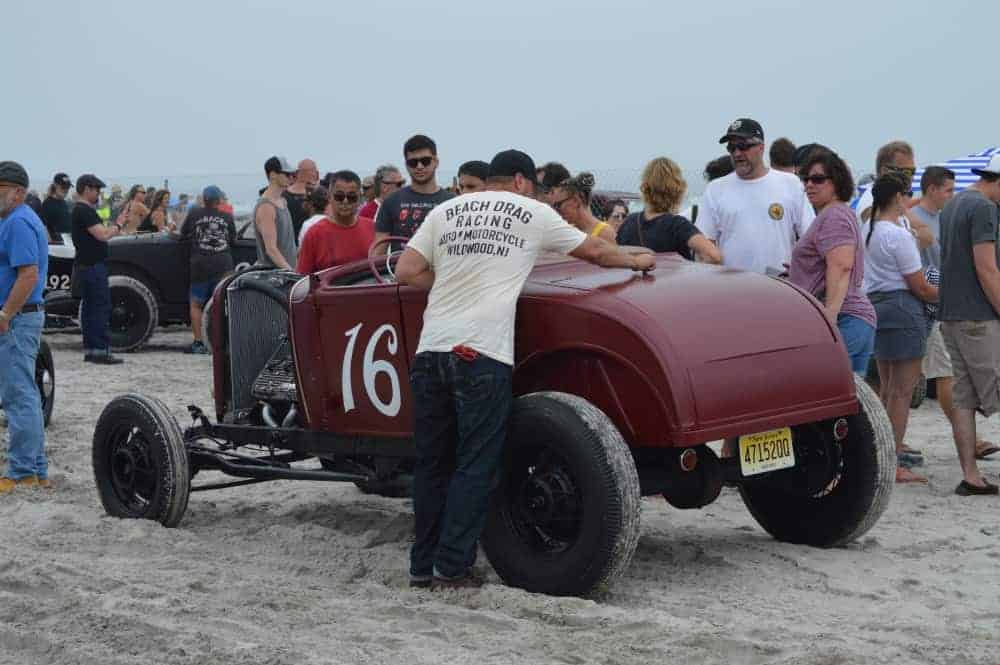 In the Pits and Boy was it getting crowded in there.
I would love this for my Roadster, this had a unique sound of its own as he hit the Gas pedal.
Even Billy Lane turned up and Raced here.
People braved the Sea to get a free view of the Racing here at Wilwood.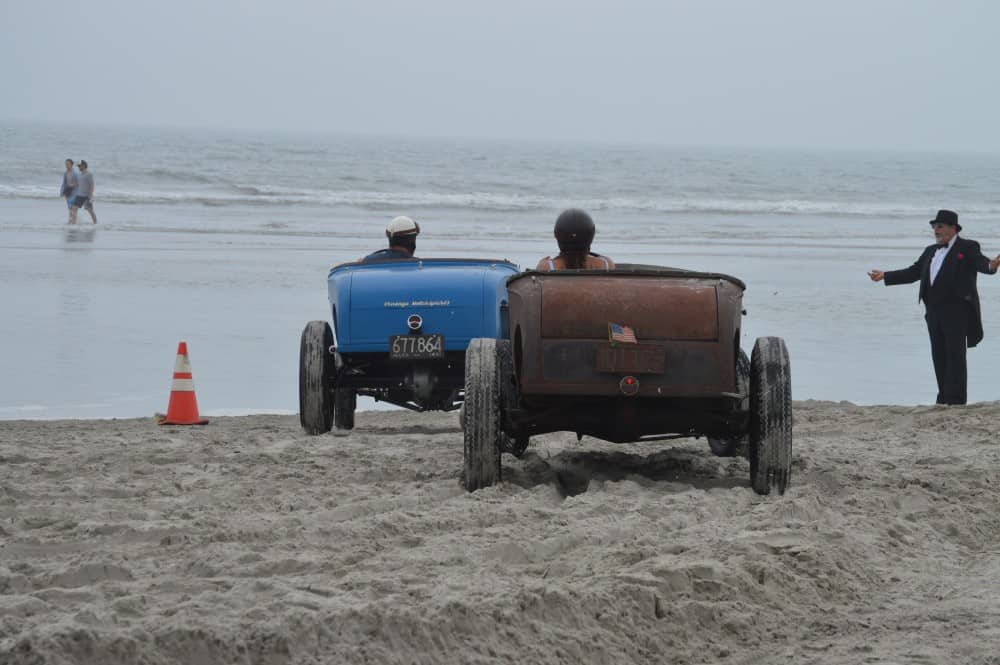 Getting ready to line up against each other and head on up the beach , the geezer with the Penguin Suit on lines em up.
Trying to get as many races in before the Mist gets in, the tide gets in and the storm gets in.
Things seem to be rolling to a start a little faster now and thank god as I was sweating buckets and hoping my camera would not fog up with all this Humidity on the Beach.
The Tuxedo bloke reminded me a little of ED ROTH.
Our guy from the O.C. Grant Peterson jumps of his Checkered Harley and goes for it and wins.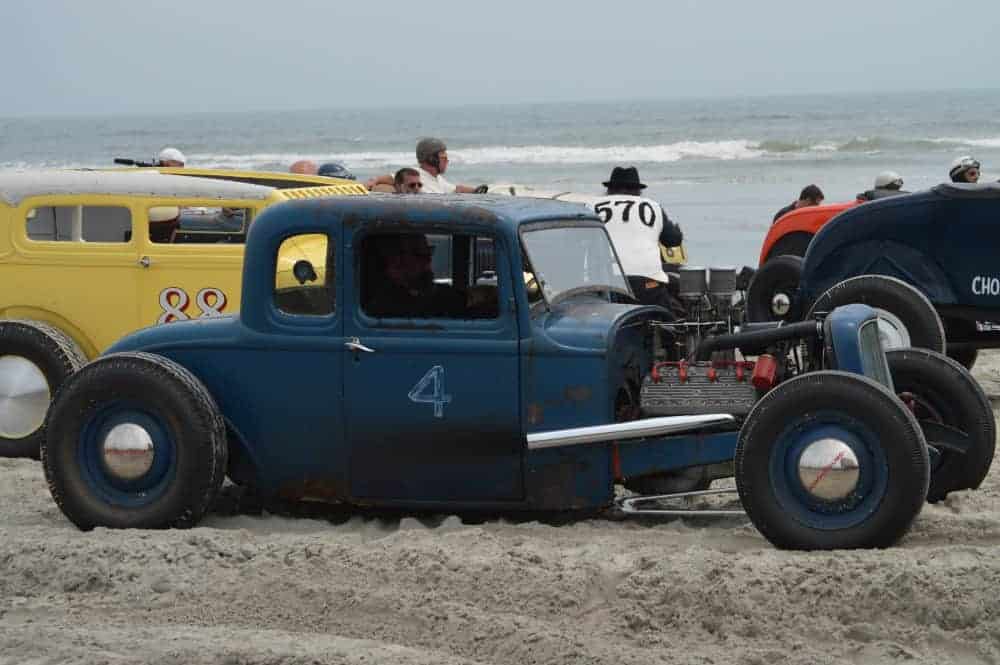 East Coast special, Un-Chopped and Channeled and ready to Rock.
This school teacher had his Pupils build this, for shop class, how cool is that? Ran great too.
Heading on the Return from Racing, I liked this Model A and the lines were clean.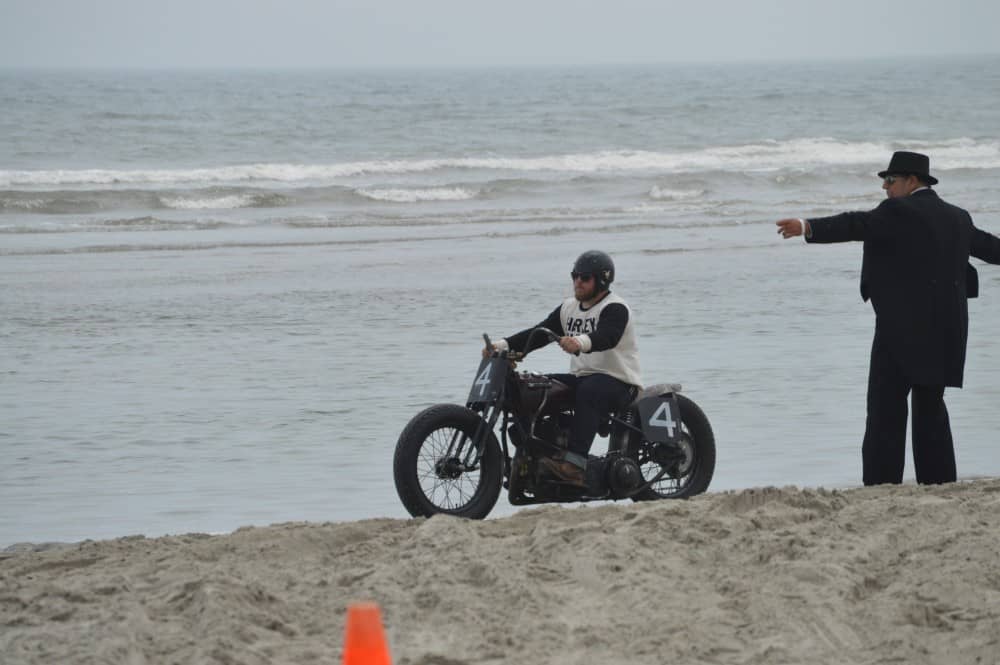 You can see that the tide is now getting closer to the shore.
What a Killer 3 Window Coupe.
I think the guy in the Leathers rode to the event.
Pit crews heading to the cars as the time gets closer to race.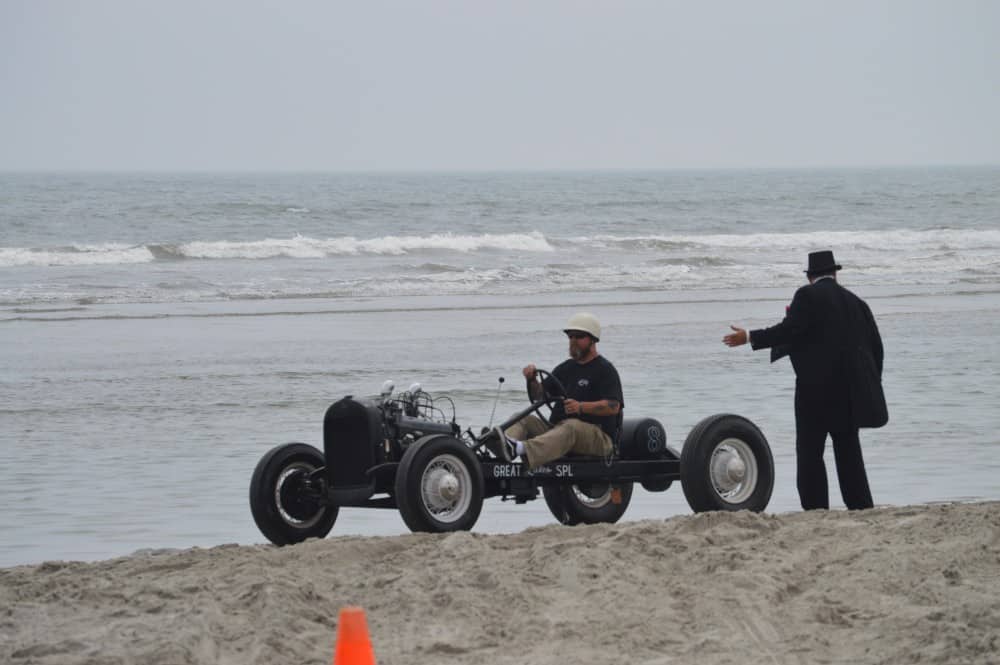 There is that rail again, I wonder if he will be running with a body on it for next years event?
More drivers heading back for their final run.
How fun would this be eh? he must of been grinning all the way up the Beach.
The smell of Burnt Gas and oil, a great Combination.
Running a little Rich there Sir?
I loved this shot, I shoulf of done it in Black n White for a period feel to it.
Gene Winfield getting ready for another run in the Blown Ardun Roadster.
Outta My Way Buddy, I'm in this next Race.
What are these Two Guys up to? Laying bets?
Getting set up to Race each other as the Tide comes in and the Waves start to crash towards them.
Loved this 4 Banger, the headers were Bloody awesome.
Oilers Mid Engine Roadster was way cool to see and watch it run and it ran hard all the way.
Camera men all over the place from all over the world.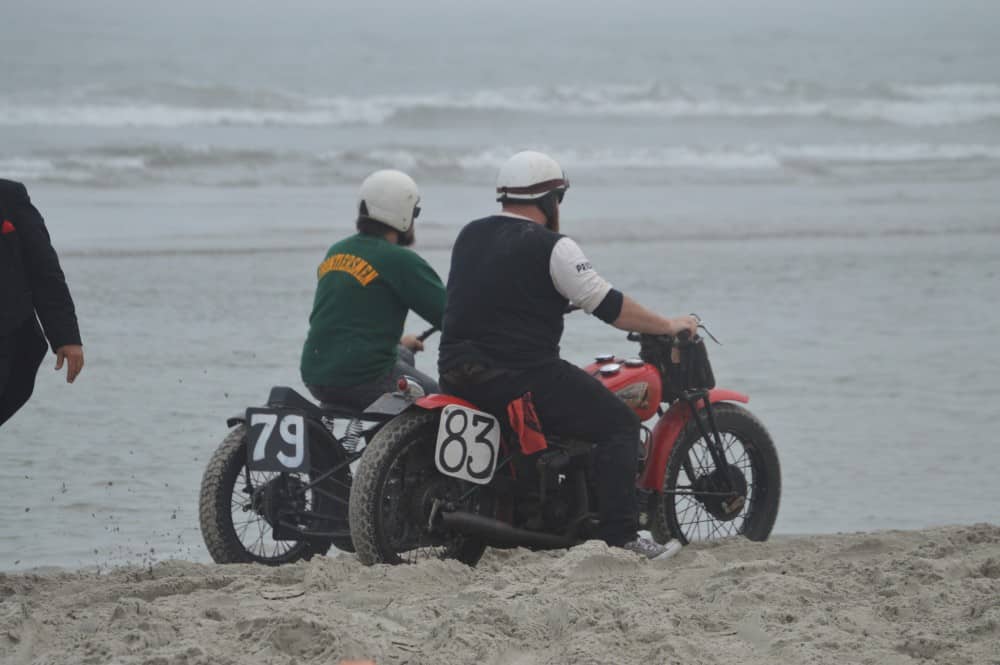 Grant gets set up to race an Indian on the beach.
Grant Petersen almost touch the Sea.
The Mist is coming in and rain comes down but, only for a short while, I have never experienced weather like this before, even when I lived in Australia.
Coming in Hot, 13B aptly named Four Bits comes into the pits, keeping his speed on so he does not bog down in this silty, soft silver sand.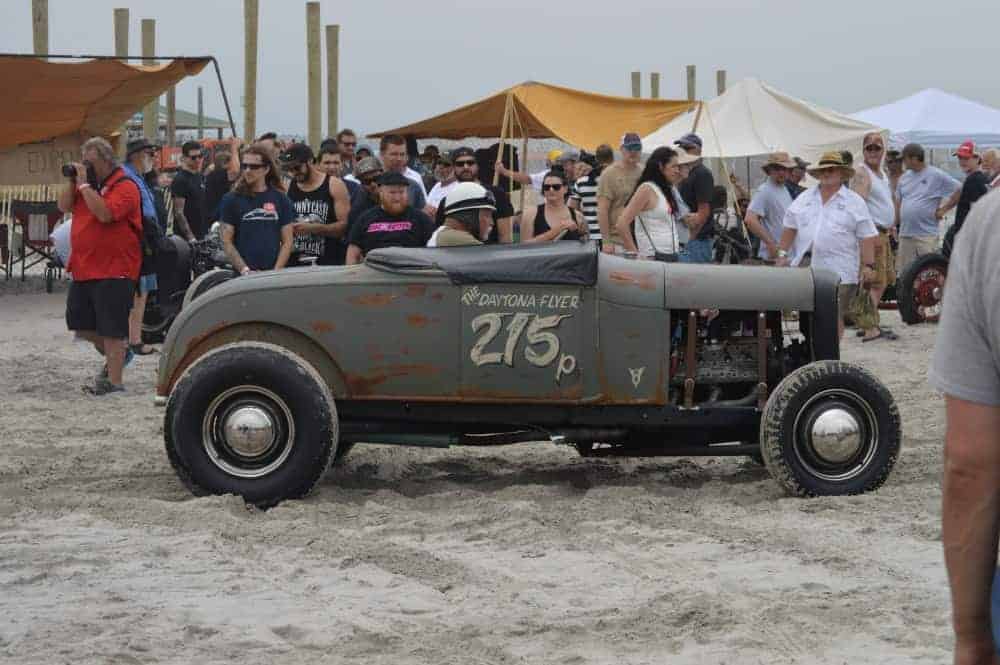 The Daytona Flyer heading back out to race again.
Hanging in there on his Henderson.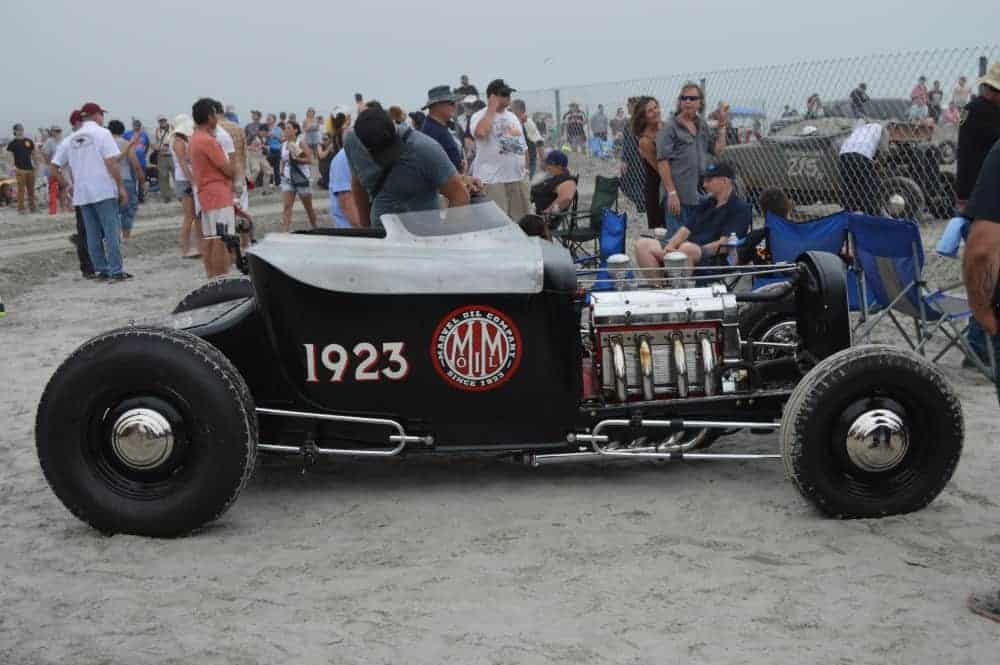 Marvel Mystery Oil T- Roadster had some Motor issues, the timing jumped a tooth on the gear sprocket, so they rebuilt the motor over night and ran, very cool.
How frigging Tough is this Coupe?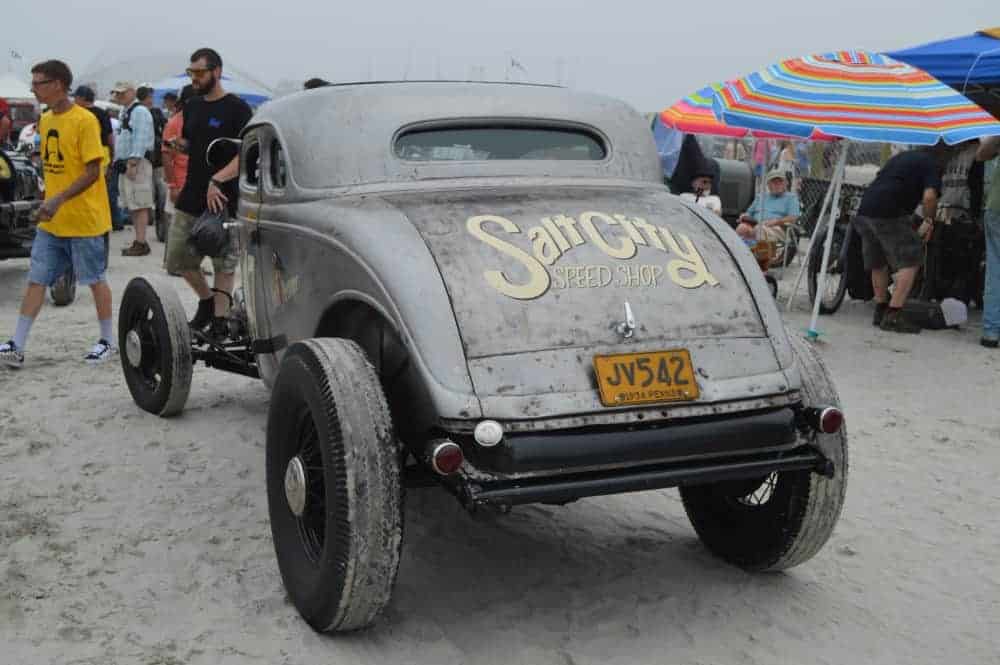 I loved this 5 Window, really mean looking ride with a great stance set up.
It sure turned heads I tell ya.
Pretty cool 5 Window Model A Coupe with Frenched Model A Tail Lights was a great looking set up.
How much fun would this be at El Mirage? Or anywhere for that matter.
Getting into it with as least wind resistance as possible.
That Throttle is turned as far as it can go on this blokes Sickle.
Having fun and pushing the boundries of your two wheeled machine,and experiencing something that was done many many years ago.
Both Rails going Hell for Leather and it was a fun race too.
The 34 Roadster takes the Win on this Race and by quite a margin too.
The Young lady was hauling ass and winning by a big gap, but the guy on the Indian did not give up and pushed as hard as he possibly good, never back off on a race at all at anytime.
This Girl was leading all the way and as she approached the Checkers, for some reason she backed off, to allow the guy on the Indian to take the win.
Cam snappers 28 Roadster was cool, but as a couple of Motorcycle guys crashed racing, the cops made everyone wear Modern DOT helmets, thats kinda ruined the event to be honest.
What a wicked 29 eh? I watched this all weekend and it sounded great out of them Lakester style headers.
BRAAAAAP!
Now thats some Close Racing right there and so enjoyable.
Good to watch these two battle it out and it was who wanted it the most, we all saw Lisa win but the tower gave it to the old fella, you should of heard the Crowd fire up.
Number 24 trying to position himself to get some good traction by laying his body weight over the rear tire.
Some neat racing that I will never forget.
Caught him up but Just missed out by a nose.
This fella looks as relaxed as hell but he was sure having a blast on that Indian Motorcycle.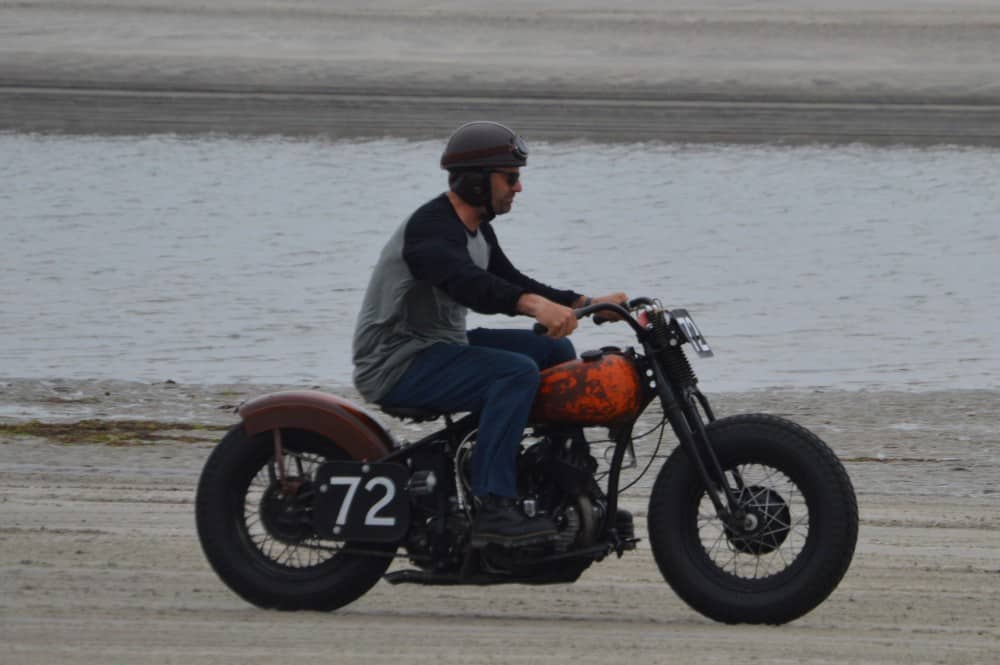 Enjoying time in the saddle and I loved this machine.
Doesnt look fast but he was hauling balls to be honest, very cool Model A Roadster.
Next up is Scott Sheehan who hails from Bay City in Michigan its a city that in Bay County that is located near the base of the Saginaw Bay on Lake Huron. His Roadster is dialled in and on harder packed sand this would haul ass, winning 2 of the 3 races, he lost this race that I took photos of, because the rear end broke out, the sand was soft but, Scott kept the pedal hard to the steel and straightened it out but the other guy had managed to keep his straight to take the win. here are a few shots I took that I thought were pretty cool.
Digging in like a Tick on a Dog, but Scott keeps the Gas ploughed down.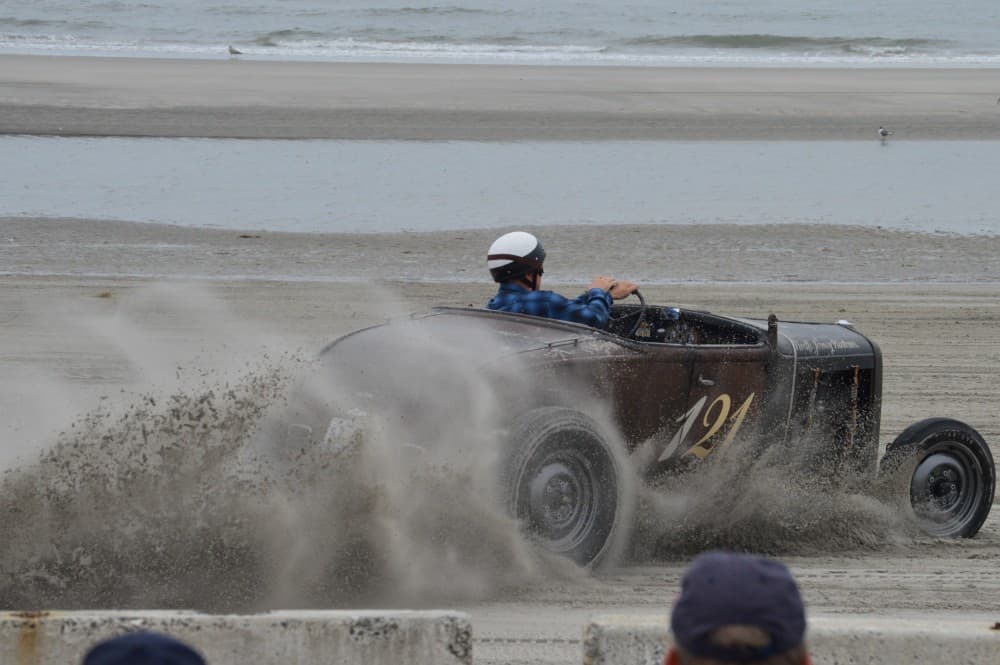 Scotts hands are literally crossed over, fighting the girl all the way but not giving up, and thats the way to go on sand, as if you back off you will lose momentum.
People got a show this day and I was cheering him through my camera lens as I kept snapping pics of this epic race.
Flat out is the only way to go and persistence does pay dividends in the end but great to see to be honest, it just goes to show how unpredictable Sand can be.
You can see the Roadster has straightened out and is now in a perfect squat, getting power to the rear wheels and torqueing the rest of the way.
That was a Great Race and good entertainment for the Audience as well as onlookers in their Jalopy's. Nice job there Scotty!
This Roadster has the Perfect stance, everything is great and I enjoyed watching it speed up and down the beach all weekend in Wilwood N.J.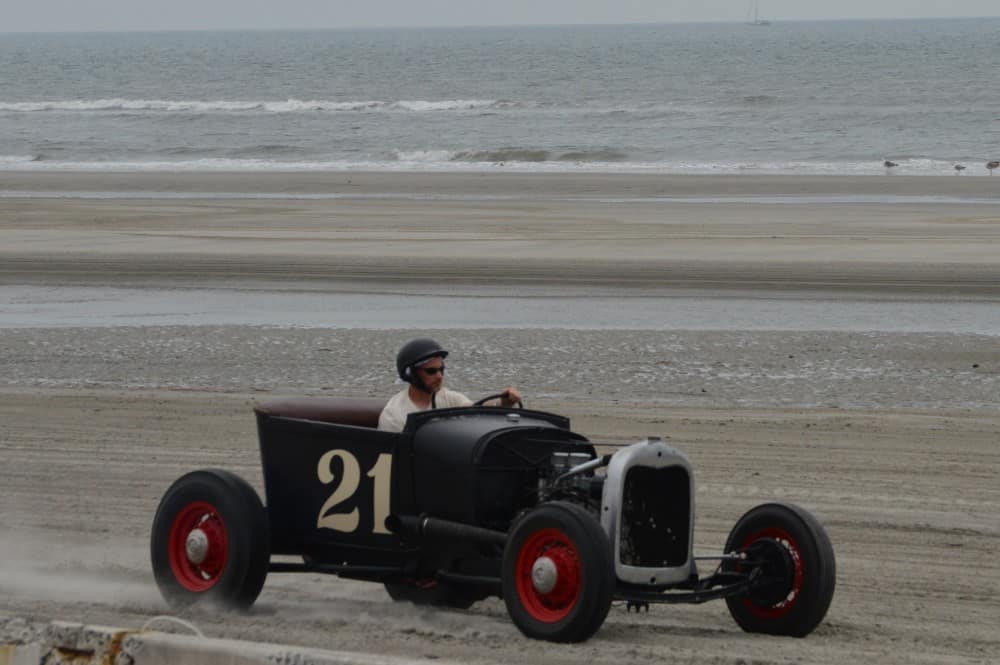 How can you not have fun in partaking in an event such as this? I sure hope we get to do some more in Southern California.
Great times these two had, belting along the beach on their bikes and giving it all that it is worth.
Another Fine Model A and kept it on all four wheels the entire weekend too.
The Great lakes Special returns back down the beach, he had fun all the weekend.
Yet another Model A I liked, this 1929 Model was fun to watch and it sat really well.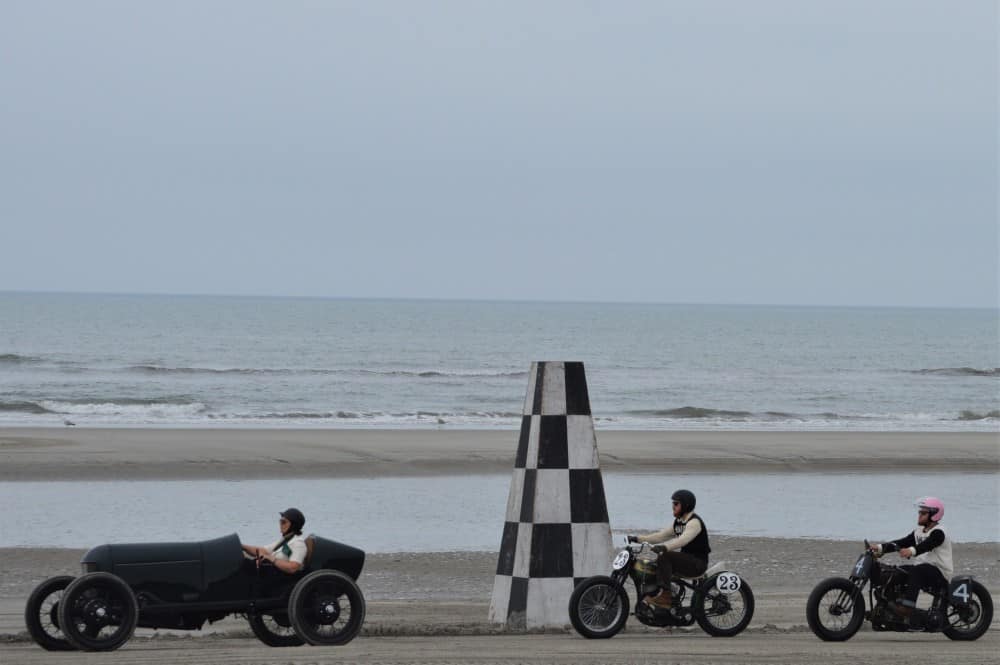 Riding back to the start again, I could stop looking at the fella in the Pink lid, Cops made Competitors wear DOT lids on Sunday.
Killer 5 window, these #14 old Jalopy was tough as nails and warrants a couple of photos for sure on here.
There ya go, two different angles, what a cool piece of Hot Rod History right there.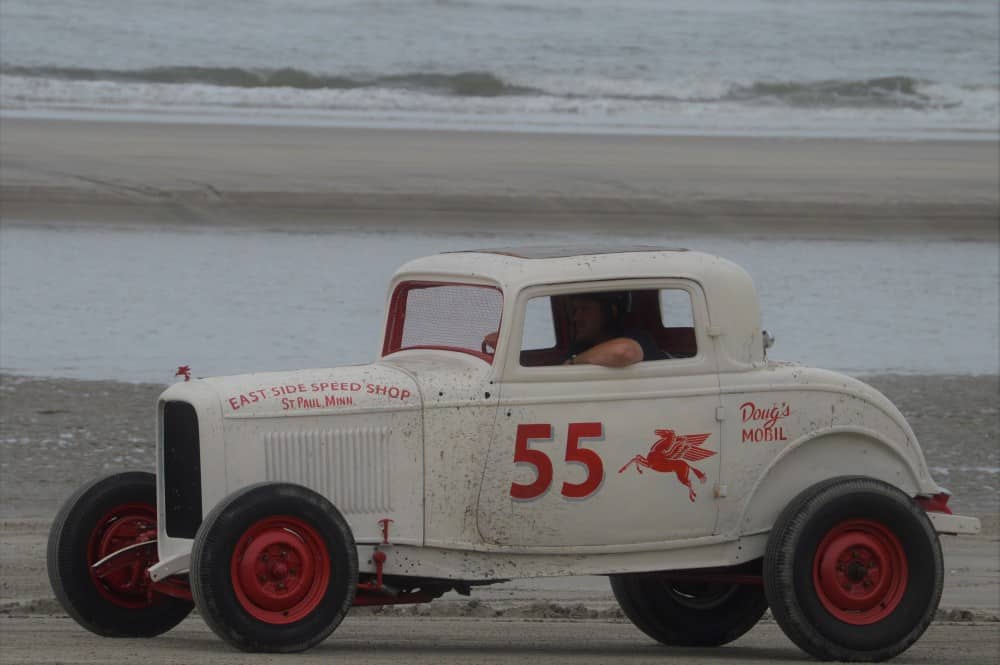 I am glad I managed to grab some photos, I'm not a photographer as such but like to click away and see what I get when I go to shows and events as this is my passion and lifestyle, in that I mean Hot Rods and Motorcycles.
Hands up as he just loses out, but thats racing and he gave it his best shot. The Girly whooped his Arse!
Hot Rods, Sand, Sea and Surf, how cool.
That Model A is so right, could not stop watching it run up the track, just a well put together machine.
Great to see so many Roadsters and not one the same at all, that makes us all unique in this hobby and love what we do.
I wonder how much clean up this took when he got the chassis home? As I am sure it was ready for its new body.
This Young lady should of been named, Mrs Consistent, this ran well and enjoyed watching her take on the guys.
We also enjoyed watching this Tub race, yet another well put together Hot Rod and he had such a Blast racing .
I took this as he had finished the race and was heading back down the track to return to the pits.
Quad Carbed Roadster ran hard and sounded well dialled in, yet another cool machine that got a lot of attention .
How can you not like this Roadster, Epic build mate, well done.
29 Roadster with Kelseys and knock off Caps looked great with the T Wrecker next to him.
Hubba Hubba, just take a look at this 5 window, such a great example of a Hot Rod.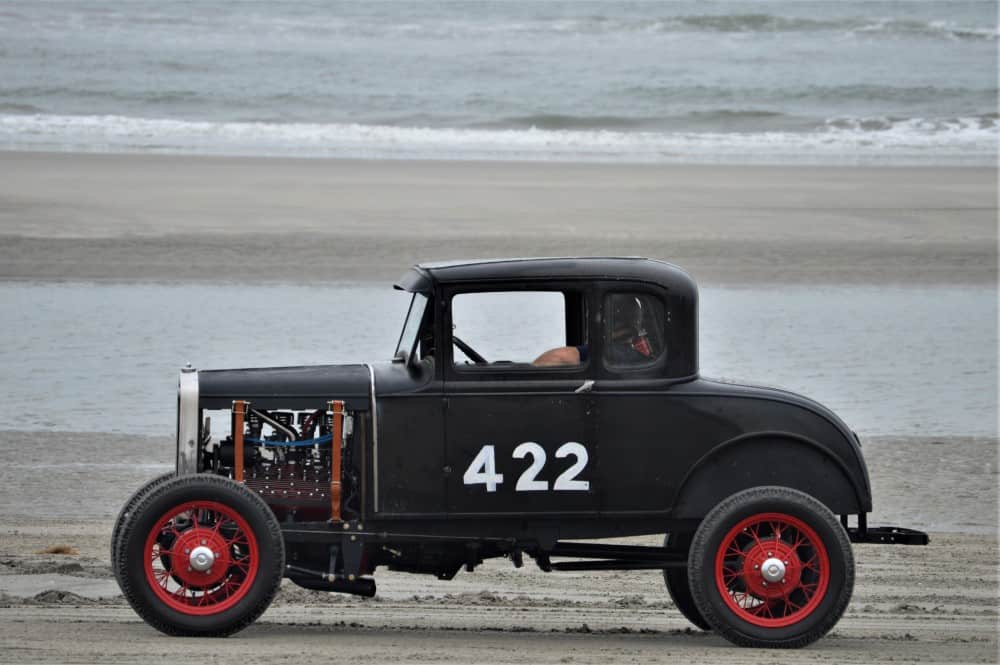 Model A on stock rims sits high but probably good in the soft sand.
Yes mate, sweet as a nut this ride, really is.
Boy did this sit high.
He was having fun and I guess if he broke down, at least you could easily crawl under it.
Was drawn to this Model A Roadster quite a bit, I have 36 Torque Tubes in storage that I want to use as exhausts and needed to see how loud these were by the doors.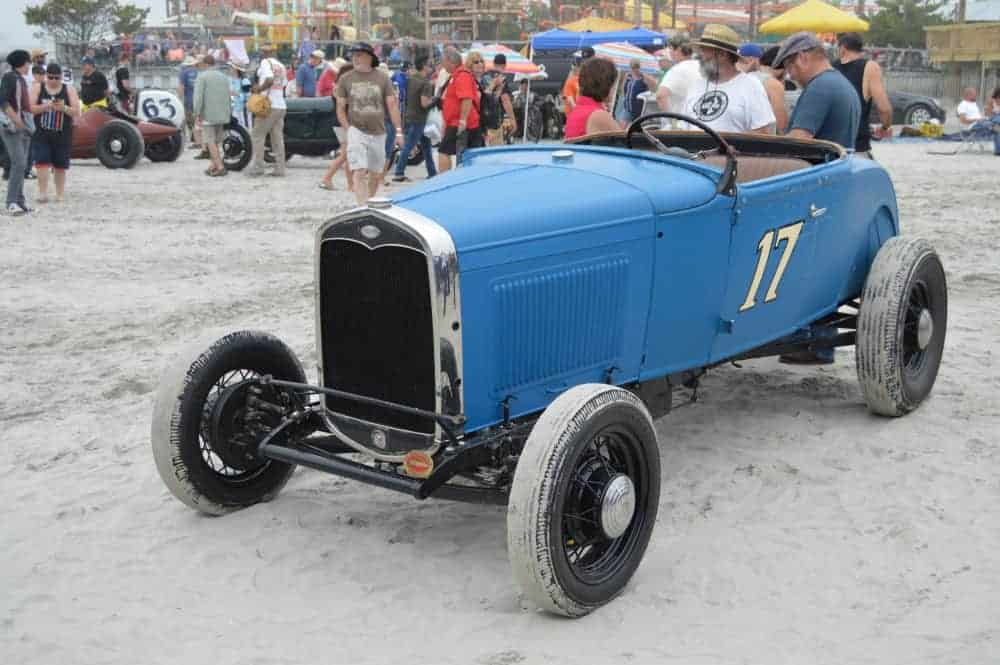 But this has a 4 Banger in it so I could not gauge the noise level as a V8 will be way louder thats for sure, but really liked this Roadster.
The Oilers Turtle Deck slammed Roadster sounded great as it belted along the beach and was pretty fast too, but you would feel every bump being that low to the ground.
Tide was starting to come in but they still raced until it was almost at their tires and this was great to see these 2 rides on the Beach together.
These Boat Tail was just plain weird looking to me, not a fan at all to be honest but- Each to their own Right?
The Boat tail ran up to the end of the track after every heat of Races were complete and the drivers and riders would follow them back to the start line once more.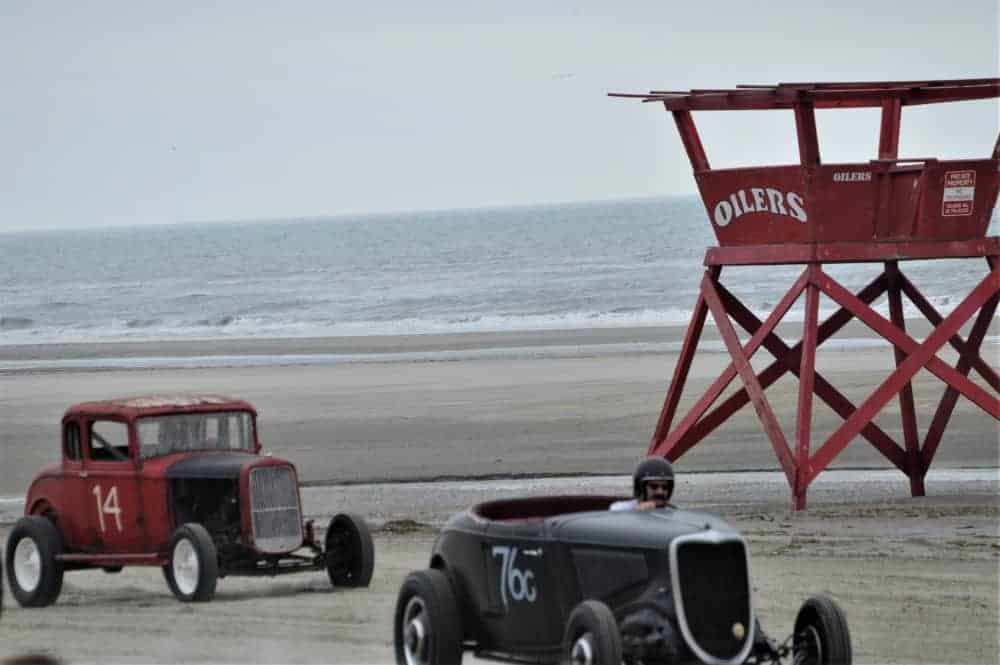 Giving it some Beans, the 34 Roadster Races the 5 window and the Roadster takes the Win.
This little Belly Tank was nuts, but loved it, how the fella hung on in there I do not know as the Torque of this motor would pull you out of the seat.
How wild is this? That's the smallest drop tank I have seen, I had a P-38 version but way longer than that, albeit mine had a V8-60 motor, but this 4 Banger was Hopped Up!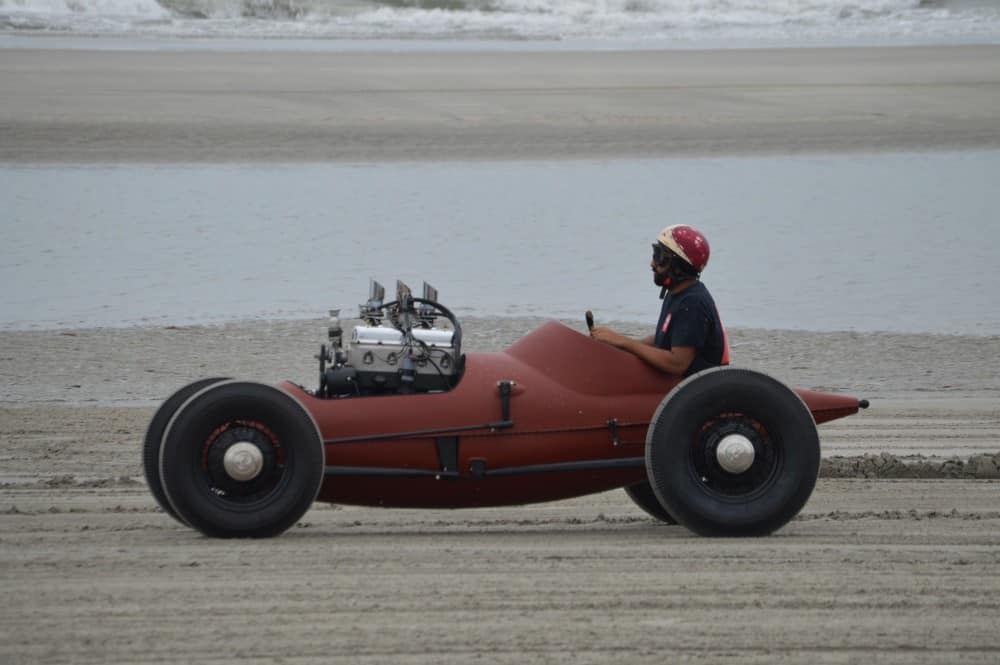 Looks more like a Straight 6 Motor than a 4 Banger, the Tiny Drop tank must of been a small feat of Engineering genius to be able to get this to all piece together and a good job too.
I would drive it for sure but I am sure its a Bone Shaker, but, just like they would of built it back in the 40's for sure.
Quick way of stopping the H2O from getting in as we got a few Sporadic rain flurries and the Humid Air didnt help all day for sure, look how clean this is and Loved the finned Intake.
How cool is this, 1936 5 Window Coupe was the Tow vehicle for the Belly tank, thats Priceless.
Check out the bigger Brother Drop Tank, this is one serious Piece of Kit too and ran well all weekend.
This was a greast piece of Nostalgia and loved watching it throughout the weekend, by the time I noticed it, I kept missing a photo opportunity, but not this time.
Check the 5 window and another Belly tank, complete with Cool Cockpit cowl, what a killer Duo.
The Tornados Club had some great machines Racing at TROG and glad I was able to see them.
Three More great Tornados club Hot Rods Park in the Pit Area.
The Pits was busy all day, it got too busy and the next day the Pit area was closed off to the public as people were getting in the way of the lane that goes out to the track.
People came up in their Hot Rods to watch the races and parked on the beach as there was a little Classic car show on.
Another Clean 28/29 Roadster cruises about and looked pretty sweet.
This Roadster was show quality and the Young Lady had a great heavy Right foot and was into it all weekend and beat many people, awesome job 533.
What a Blast this must be to Throttle this Mid Engine dry lake racer down the Beach for all its worth, a Real cool Lakester for sure.
This Roadster sits well, ran hard and is worth a pretty penny for sure, loved it.
Narrowed with Suicide front end, Schroder Steering and on Kelseys with Dirt tracker tires, this Japanese Special was so cool.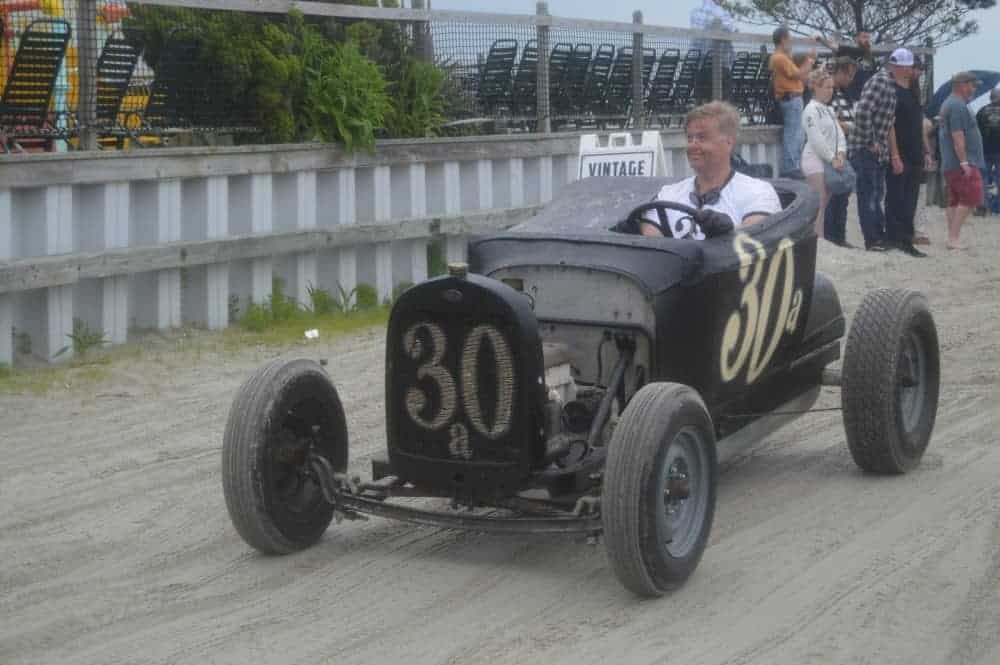 This geezer must of won something as he looks as happy as Larry! Maybe it is LARRY?
There is that Daytona Flyer once More, he sure enjoyed himself here at Wilwood.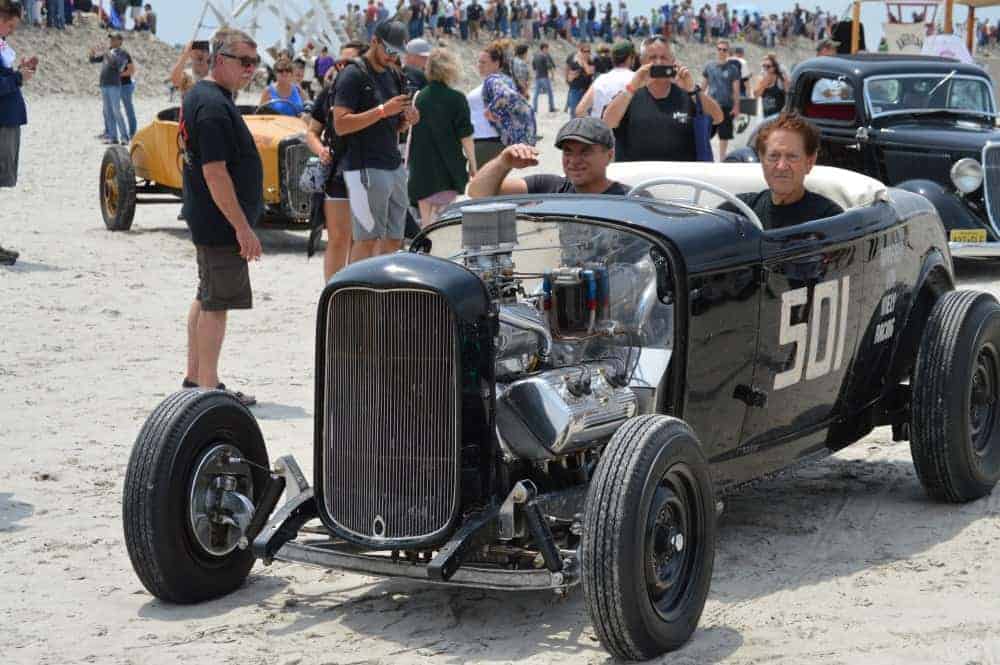 Above, Gene Winfield in the Blown Ardun Roadster, this Motor sounded every $100,000 that was put into it, a phenomenal machine and guy.
Heading out to head to his Hotel, Gene Revved the Motor and it was music, purse Music.
Loved seeing the Rides heading on out of the Beach.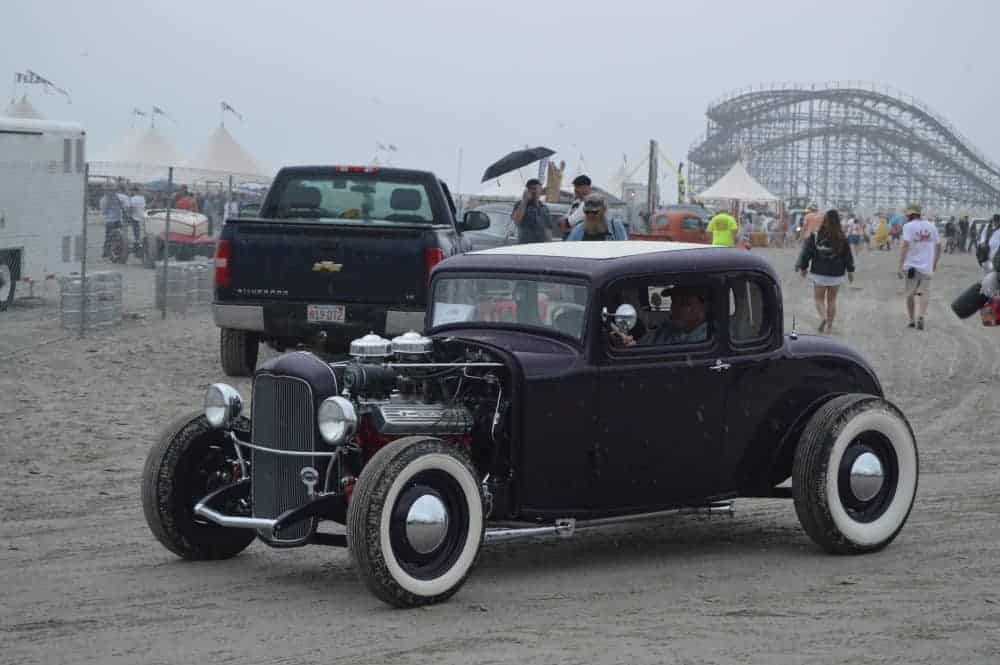 Hot Rain started to get a little thicker as a Storm was approaching, so it was a good time for us to make a move to our Bed & Breakfast where we can get changed and go eat.
These 5 windows were parked at the Car show on the beach, they couldnt race even if they wanted to, as they didnt have Flat heads or 4 Bangers, but looked cool in my eyes.
Dig the Nerf Bar and Vintage Hot Rod Trophy Topper on the Spreader Bar, two buddies having fun on the Beach.
There goes the Jalopy Racer, Great piece of American Hot Rod History right there and still running, and Racing today.
The little Silver Bullet heading back for some food and rest after a day of Sand and Sea.
Now that really is a well built 5 window on Deuce Rails and the Flatty sounded Gnarly, Great job #52.
This Old Fella had a smile all weekend and I know why in that machine, it ran really well too.
Handle Bars and flat caps were the order of the day, the Roadster ran well at Wilwood and is a good looking Hot Rod, always loved this Dark Blue Color.
T
This 4 Banger 5 Window was another Hot Rod that was right on the money, getting some of the cooler Breeze that was coming in from the storm approaching helped keep them happy.
Lisa brings home the Roadster after spending the day, teaching the Lads how to Race on the beach, loved this girl and she really has a passion for the Hot Rods, great to see this, well done Lisa.
The Toughest looking Coupe out there, this was a real head turner, the right stance and look, and great to see a coupe that has had a full chop and keeps the insert, not often you see this.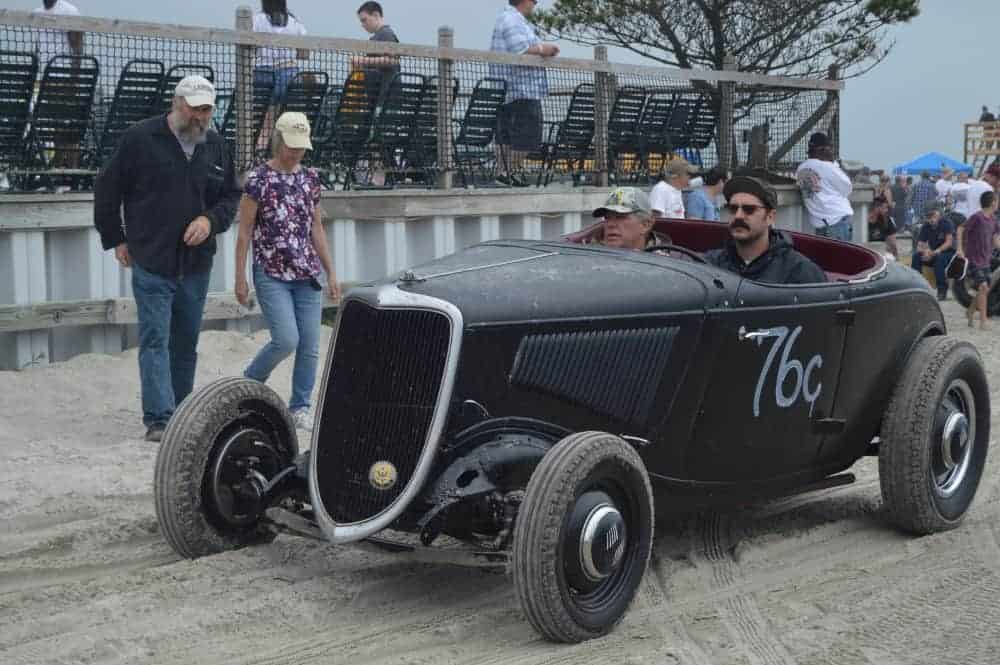 Another Ride that ran well through out the Race Of gentlemen was this 34 Roadster, so much more room than a Model A too.
As you can see, it was a little ride to be able to get off the Beach at Wilwood, but cool to  watch as the Hot Rods and Motorcycles headed out in line like Geese going to a Bread crumb Outlet, these ran all the way then under a tunnel that was beneath the Boardwalk.
The Girls also made them selves known, especially in this T- Roadster Modified, it was a great looking machine and was really consistent on the track, they sure had fun all weekend.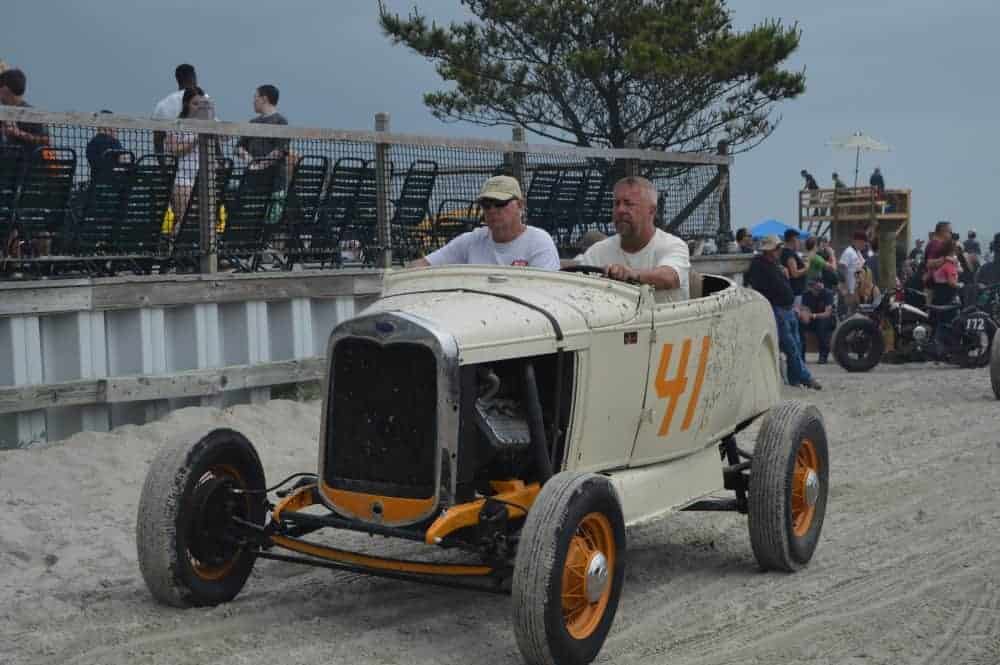 Mile High Model A Club was well represented here, no way could this get stuck in the mud.
This ole Fella ran all weekend but never lit that Cigar, but I saw him make quite a few runs in this Roadster and the Flathead sounded really healthy.
This East Coast Unchopped and Channeled Coupe is reminisent of all the old small format Hot Rod magazines I read Decades ago and was great for me to see for myself.
Service Car was another cool sight as you really never see these and to take it out on the beach and open it up was a real treat and glad he bought this along, great job Sir.
Having fun in the 28 with his Girl as they head out from the track to get some food for the night after spending time Racing, I am surprised how this has no Sand all over the body.
This 1928 Black Roadster was right in every-way, from Motor to Interior, I loved this look and have always Like Henry Fords Black lacquer Paint scheme.
This Bloke was having fun all weekend too, a great Vintage Harley that pulled pretty well and got up to a fair amount of speed in a short distance, sits well too.
Scott had a Blast all weekend in his Roadster, him and His Girly had such fun I am sure, this Roadster is dialed in and gave it all when he was under the flag.
This FORD 1936 Five Window with Ribbed Bumpers, Hollywood Flippers looked really cool.
Many people loved this Yellow 29 and I sure did too, a Timely piece that catches the spirit of Years of Drag Racing gone by to the present, a super example of Drag Racing.
Looking like this was a barn Find, this 28 got lotsa of great looks from spectators, I loved this A-Bone and he am sure enjoyed this weekend driving it.
Heading home with the Mrs and nice to see some Brit stuff Blapping around the Beach at Wilwood New Jersey.
Outta my way I'm coming through, this Rail was put together right and am looking forward to see this with a Body on top of the frame next time.
Hoping that we all get the chance to do this back in California again as we have as many Vintage Rides down here and so many more Beaches too, lets do it California!!!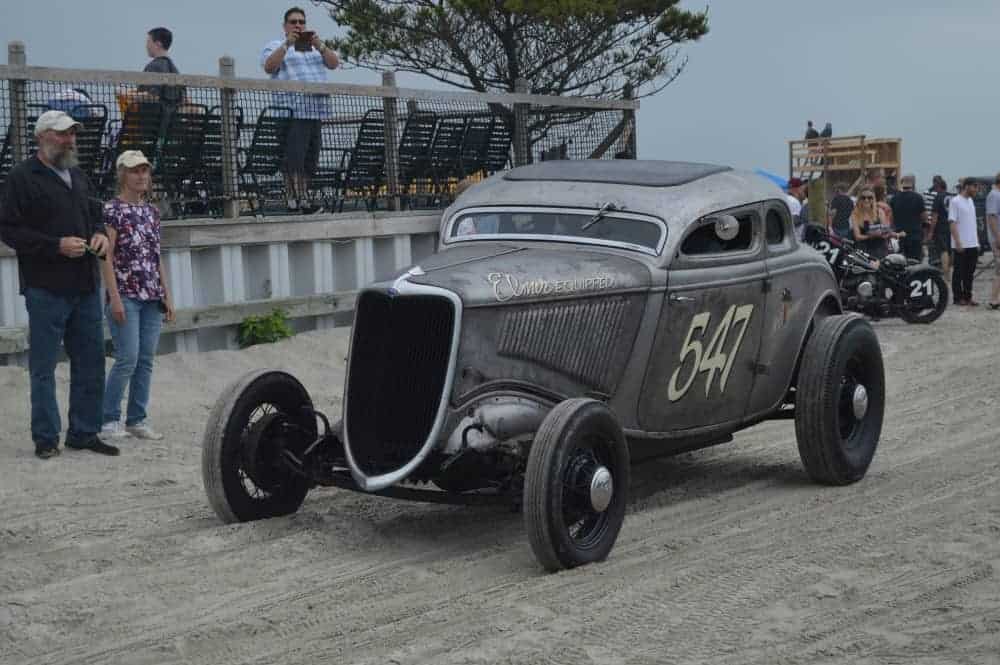 Meaner than a scolded Cat, this 5 Window would look great anywhere, If Elmer did anything to this ride, then it would of been done right and, it looks right to me.
Another period Coupe and this time East Coast TY RODS 5 Window, amazing Historical HOT ROD and was stoked to be able to see this for myself.
Indian heading home after thrashing about in the sand.
Check this Harley out, looks the parts and rides really well, they sure love their Motorcycles out here on the East Side of the Country too.
Another fella on his Hawg and sitting well on the sand as he heads home to have a few Brewskis to get that sand taste from out of his mouth.
Trying to get back to their Hotel before the heavy Rain arrives as a Storm was indeed approaching.
Du'Vall and Hallock Windshield look great, but not so when they have a top up, just looks a little weird, but thats just me, each to their own, with out the top they look Killer.
The Rain was just starting and we knew it would down pour later so many people made sure they were on their way back before the storm took full effect here in New Jersey.
OH OH! Here comes the Rain- Take Cover !!!
Old School AV8 heading home as we were about to leave too.
This Lady Loved her Harley and had many Runs on the beach and seemed to enjoy it all, thats a cool Girl right there.
Unusual rear tail lights on the 29 as it sped passed me on its way home.
This Flathead sounded so mean, I listened to it idle and wished I had chatted to him as it was really a dialled in Flathead, Great job mate that made my day listening to it.
I have Always liked Indians and we were spoiled at the Race Of Gentlemen with plenty of them Racing the Harleys at Wildwood.
How bad ass is this Flathead Roadster, Super Bell axle, Roll bar and long Radius Rods made this a Nostalgic step back in time for me.
Louvered deck lid, Classic Push Bar, Moon caps and Firestones with a Roll bar, just a great HOT ROD that looked fast even when it was parked up.
Mom and Dad heading home, bet they never told the kids what they were up to this weekend.
Yellow Peril heading home after having the day driving up and down the Beach, so much room when they are not chopped eh?
Now thats a super Happy Face, the Double deuce heading South Bound.
Scott Sheehan heading back to the Hotel with his girl after a day of spraying Sand over everybody that watched him today.
Scott had a full day of get squirly and loved it, this is a great Roadster with a strong Flathead Motor for sure.
This 5 Window didnt race as it isnt a Flathead or 4 Banger but, sure a neat HOT ROD none the less and sits well on the sand.
So glad that Jennifer and I made the 2500 mile trip to the East side of the country to check out TROG, it sure was fun for us and enjoyed the whole 4 days away, I wasn't sure what to expect and was pleasantly surprised at how much fun it was for us.  Thanks for reading the Blog, I didnt type much as I figured the photos would really speak for them selves, I know there is a lot of photos but- If you are like me and dig the Nostalgia Hot Rods and Motorcycles, then I am sure that you smiled at a few of the snaps I managed to take.
Thank you for reading and hope you follow me on here.  Hope to see you at an event, come up and say hello as it is always great meeting like minded people such as Me and Jennifer.
Comments
comments