Vesco Honda build so far.
Well, I was lucky enough to get a call from a film Producer, they are doing a TV Commercial this weekend and needed a couple of bikes to use, so I let them take my Sportster Cafe and this Vesco Brat, as its not finished yet but pretty much altogether now.
But wanted to share a few photos of how she is right now as its getting closer to be able to ride, that will be quite exiting as it had not run since the 1980's, I have fired her up a few times now and happy with the idle and the oil pressure, so this week I shall be able to fire her up and take the bike for a quick run around the block and see what happens.
This gas tank needs painting and I have side covers for it now, just need painting etc, thats why you can see all the electrical and the oil tank, but once it is painted and side covers fitted, the bike will look a lot better.
What then? Well not sure, depends on how the bike runs and handles to be honest, but this coming weekend, Jennifer and I will load the bike up and go to EL MIRAGE, to watch the races, meet some friends and to ride this about a bit.  Sure it will get covered in dirt and dust but, if I am to strip and rebuild this into a show bike, thats not going to matter as dirt wipes off right?
The gas tank and side covers later will be painted a Yellow color, just wanted something really different, so we shall see how that goes.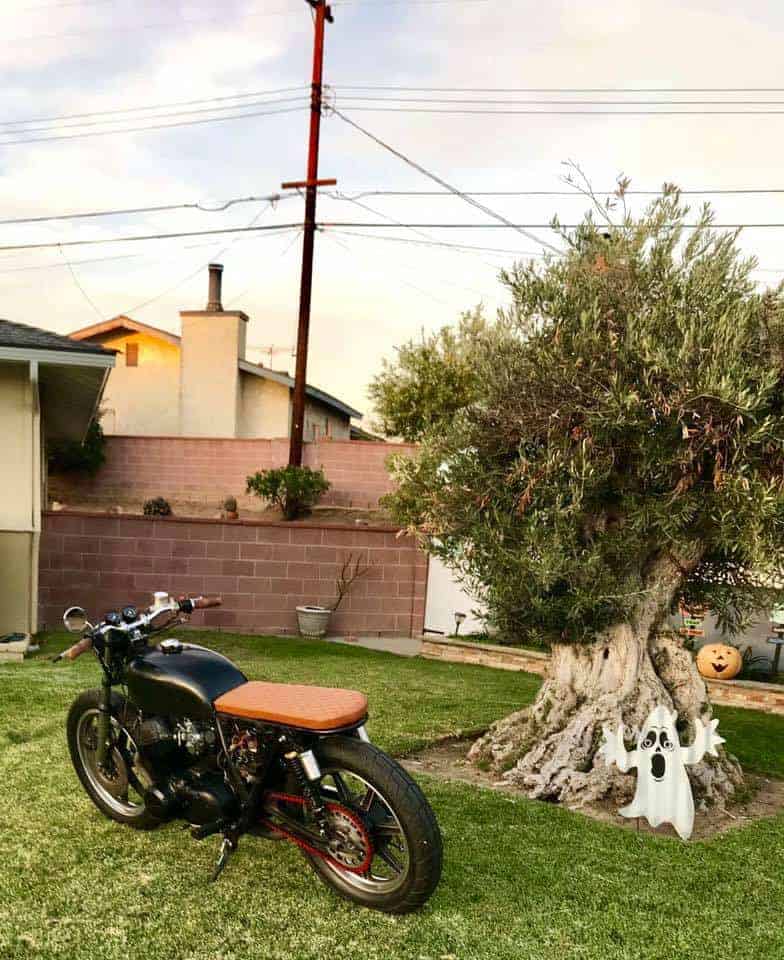 I changed the front headlight from a 7 inch to a more compact 5.75 version, and to be honest, i really like the look of this on the bike, so will be keeping that on there.
I fitted New foot pegs too, as the old ones were so bent out of shape, this will make for a fun ride, the Brat seat has soft Leather and memory foam, so another bonus there to ride on the dry lake.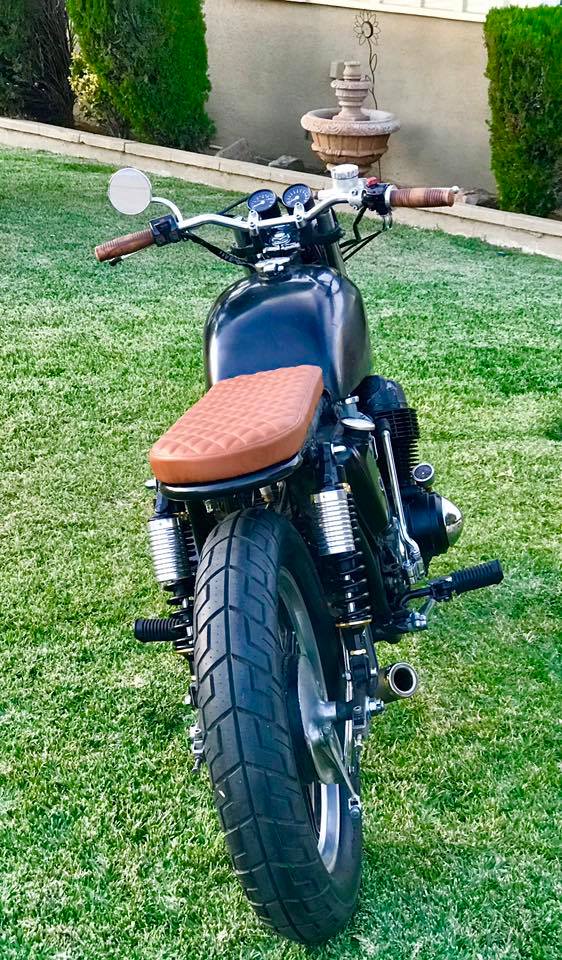 I also used my Own brand of handle bars, these are the Euro-Tracker Bars I have had hand formed, then triple chromed and I do love the way they lay on the bike and give the whole machine a different look and feel for that matter.
Yes, its not a finished bike, but- you have to get a bike going to see what the issues are before pulling it all apart and throwing all your time, money and hard effort into a project.
I also pulled the old rusty rims off and had a set of Original Lester wheels that came off a CR750 Honda, the front wheel is dated 1978 and the rear is 1977, the front is a 19 inch and rear is an 18 inch set up, these are getting harder to locate these  days and wanted to use them.
I did change out the swing arm as the old one had been chromed back in the day and the elements had gotten to it and it was as rusty as the Titanic's Crapper, but I am thinking of remaking some Boxed swing arms again and will offer them on my website when available.
I had noticed that the Kick stand on the bike was an old 70's Chopper one and it did not sit well, you had to push the side stand all the way forward for it to stay, I looked closer and noticed that some of the frame bracket has broken off many years ago and that is why the side stand would not stand upright.
My trusty Miller Mig welder helped me out and I built up a platform again and used one of my own kickstands, and now it sits right, and am happy with the look of it now.
The shocks were pretty knackered on the bike, so i chose some aftermarket SRC piggy backs, they work fine and are Liquid Nitrogen filled and sets the stance where I want it to be honest.
My 4 into 1 I had fitted great but, this time I wanted to cut the tail pipe right back and fit the baffle just before the turn out, for a more aggressive look and I really do like the look of this system and it sounds pretty tough to say the least.
Later on when I strip the bike down, I will clean up the Lester Rims and re-paint them and add some Knobby Tires, but I am in two minds whether to change the front end for a CBR or, stick with the traditional fork set up and just rebuild the fork lowers and add New Upper tubes that will be 2 inches shorter. The front brake works and thats surprising for how many years it has been sat, its functioning but will of course totally rebuild that or fit newer brakes as I am a dealer for Beringer and may fit their set up, but all depends on funds etc.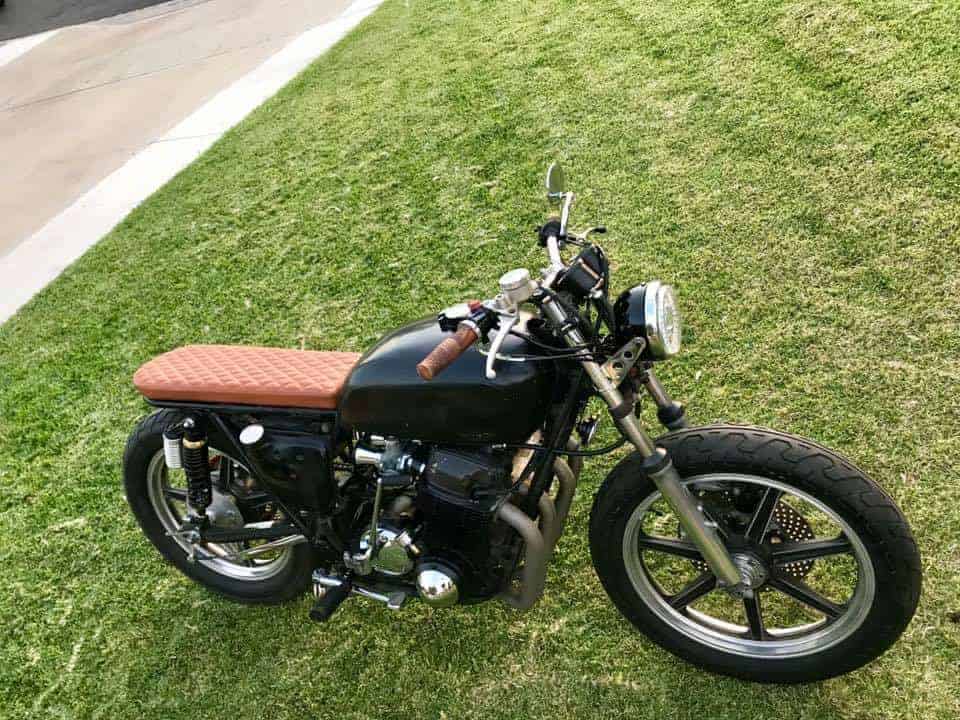 It is all to easy to let a Custom build get away with you, financially, I have created some awesome machines for customers but, if you start to add a modified engine, you will be into $5000 in a flash just in the engine itself, these bikes are fun and fast enough, you really do not need a big cam and heavy duty head studs but if you want response, just port and polish the head and go no bigger than a 3/4 street cam.
I love the stock ignition system as they are dependable, I am not a fan of electronic ignition systems and points take very little maintenance, if you keep it simple, you disperse any issues with modified stuff, most of the time its a waste of money as many that have bigger displacements have over heating issues  or head gaskets blow and for what? 10 MPH? Just have fun with your bike, a good pipe and jetting is more than enough for many roads here, of course if you are on a race track, thats a different game all together , but just watch your budget on these machines, as it can easily get away from you and you then tally all your receipts up and have a small heart attack when you add it all up at the end of the build.
So for right now, I will run this old bugger around with a painted gas tank and covers but the rest as she is, as I want to put a few miles on her to see how the motor responds to daily life, then- when I am ready I shall pull back off the road and strip the bike and create a cool Brat bike thats fun to ride and easy on the eye.
Of course I offer these for sale, as thats what I am in business to do, its hard to let them go but I have a New Scrambler I use for riding about and it makes it a whole lot easier to let another creation go off into the sunset and then, the fun begins with another creation.
So, its a Sunday and I have taken a couple of photos and blogged on here today, she is looking pretty fun now and YES of course if someone wanted to Purchase this machine from me as is I would probably sell it, as I love create machines from junkers that have not run for years, but I shall still add more bits and pieces to this machine until I am ready to tear it all apart once more.
This Vesco Brat has a really cool ride stance and I am glad I took a chance and grabbed this inline four, its a fun ride and more to come too.
Hope you enjoyed my Blog today and of course I put the build up on my face book too. steve richard carpenter or carpys cafe racers or carpys garage you can look at any of them pages too.
Thanks for reading and have fun with your project.
Comments
comments