Little 250 Brat from Oversea's
Well, here today I wanted to Blog about these couple of Argentinians who have created a little 250 trail bike and transformed it into a little Brat machine to Blap around on.
Funny thing is, I have started to collect a few parts to create my own little bike, mine is a 250 but it is a YAMAHA but none the less- I have a little Dual sports bike thats going to get something similar done to change the look and handling of the bike.
Now, if you are not into Brat bikes, thats OK, no need to look any further, some people do not like the balloon tires, shortened frame and Low styling, its a Personal choice, me? I love it, anything thats Motorcycle related is cool, but I also like to show what people have been creating, its a refreshing look and to see people really getting into building Custom Motorcycles is the fresh air that we need in this industry, the little 250 below is a prime example of what the trend for the better word is right now, you may not like it all but I am sure there are some bits you will think, "Hey thats pretty Cool".
Now, these Two fella's "Antonio Lupiañez and Salvador Alasino of Vida Bandida motorcycles are a couple of Argentinian Industrial designers and, in their spare time, they play about with Motorcycles.
So, their Motorcycle of choice was an old Honda 250 cc trail bike. " The Tornado"  And if memory serves me correctly, the original Tornado was an XR250 Honda, as I could tell by the fins on the side of the engine cover on the right hand side.
With a wapping 23 HP, you are not going to win too many races at the traffic lights, but the look of this machine is very cool, a little port work and a larger Carb would help this big time but none the less, a tasty little Brat has been made by reconfiguring parts and changing parts of the chassis to suit its change from a Mono shock to a Twin shock, something I am contemplating on the XT250 I am slowly collecting bits for.
The front end had the forks machined and re sprung and removed a huge 170 mm if material to get the stance that they were looking for, Jeez, by the look of the travel on the fork now, I dont think i'd even ride off a cerb in a hurry, but they wanted a low slung bike and thats what they got. albeit you will most probably need a bottle of Advil by the time you got to your destination.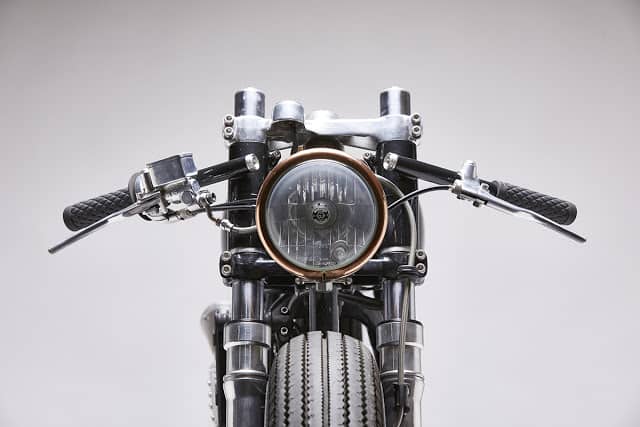 As you can see by the photo, not much travel in them forks but it does look a menacing machine, with its small Sportster headlight with a Copper Bezel, it shows a little Nostalgia on the front end, the guy made up a set of Clip ons and to fill the upper tubes up they made steel covers to Fatten the top end up, you can see that the triple trees have been cleaned and polished and the fork tubes pulled up through the trees for an even lower stance.
The Arse end got the cutting treatment and with the rear Triangle sub-frame dis-guarded and a new angle duplex style sub rail replaced, they then sent about and made a short hoop and fabricated a seat to fill that void, then upholstered in the early Tuck n Roll design with 2 inches of high density foam to look after your Butt grapes. Also notice the short short short rear fender, enough to stop the dirt from flicking up and leaving a trail of debris on the back of your favorite jacket. A flash light lens and a machined tube with Brass accents were machined and there you go.
The stock exhaust system was ugly and needed a custom set up, so a stainless steel Blunderbuss style system was Tig welded up and flows quite freely around the frame and breathes better due to a K&N filter.
The engine had some of the side cases  removed and polished to a high luster, but the engine is stock, the oil cooler was moved out of the way to the right of the frame and catches more air too cool the little motor a little more easily. A good move I think and wonder how many start to do this on their builds?
A set of Sportster rear shocks now reside each side of the swing arm, and I prefer twin shocks bikes as thats my era. Although there does not seem to be too much travel there , and with my fat arse on it that rear fender would be scraping like a knife on a lathe.
But on a fun scale, this is off the clock, what a great little bike and unique to many, I really like it and am sure some of you will too, don't hate on it as this had a lot of work and well done for thinking outside the box of bikes made into Cafe and Brats, I love this. I bet is a blast to run around town on.
Smaller Harley Gas tank looks like it should of been there from the factory, the guys cut the old fittings off and welded new ears on and fitted it, so the tank was sat level and of course the electrics can now hide out of the way under that steel Petrol unit. 16 Inch rims have the Big wall square tires shoehorned on but I have always liked Balloon tires, so good job.
Like I said, I am hoarding a few parts to work on my 250 Yamaha XT later and was stoked to see someone have a go with a Honda, this is a new sub Culture that I like, I mean, anything to do with Customizing a motorcycle is great in my eyes.
I have also seen a subtle change on their machine as they have redesigned their seat as it is now Black with Diamond stitching, I started Diamond stitching about 10 years ago on my machines and still do today as I love that 1960's Custom look to it.
Them Forks and rear shocks function OK else they would never of been able to get across this scrub-land and three of their machines on display is very cool to see.
Nice little shot by the lake, this Vida Bandida Tornado must of been fun to create and also not too expensive as parts are all over Ebay for these bikes.
So, if you have a little ole Dirt bike collecting cobwebs in your garage, shed or storage yard, what a great platform to tear apart and reconfigure into something completly different from its original guise.
I hope you enjoyed my Blog today, if you have gotten to this part of it, well, at least you have read it, I just love sharing stuff that I like and hope that you like what I have offered up, it makes the world of Motorcycling so much smaller and us more closer as a Custom Motorcycle enthusiast I applaud these 2 guys, great job.
Go out in your shed, or round your mates house and give them a hand, building and creating these 2 wheeled machines is so much fun. Yeah I know that you dont like the Big tires but, I always have, Yeah I know they dont handle well, but for Bar hoping or round the town bike they are fun.
Comments
comments